"I'm arriving in Rome at the Leonardo Da Vinci Airport and I'm unsure of my Travel Options into the city – So how do I get to Rome?" This is a question posted daily on travel boards by visitors heading to Rome for the first time. And, as there is no, one, BEST option… it can be quite confusing. Unfortunately, unlike many other larger European cities (Madrid, Athens, Copenhagen, etc.) there is no metro service from the Airport to the City. At the end of this article is a chart that summarizes the current FCO transportation options.
---
---
While there is no metro, there is a dedicated train – called the Leonardo Express – that runs from the Airport to the primary train station, Roma Termini, located near to the center of Rome – much like the Gatwick Express or Heathrow Express operate in London. Depending on the location of your accommodations and the number of people in your party, this may or may not be the most economical option.
For example, if you have four people and you want to get to a hotel near the Spanish Steps. To ride the Leonardo Express into town, the current rate is €14 per person. Once you arrive at Roma Termini, you would probably get into a taxi (an additional €7 – €10), or ride the metro (€1.50 each). Or you could get a taxi from the FCO Airport direct to your hotel, which is located in the fixed-rate taxi zone. The current taxi fare from FCO to central Rome is €48 for up to four people and their luggage. If you rode the Leonardo Express and then the metro, you'd pay this:
Leonardo Express (€14 x 4) €56
Metro Tickets (€1.50 x 4) €6.00
Total €62.00
So in this example, it would less expensive to just take the taxi – at the current prices. Let's look at all the options.
---
The Buses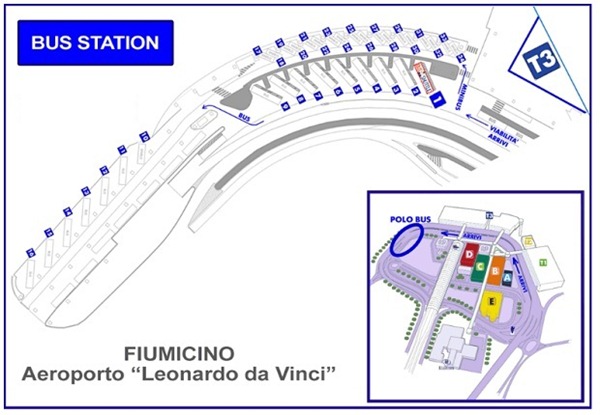 The cheapest method is often not the fastest method. Currently, the least expensive mode of transportation to and from the FCO airport is by bus. There are multiple bus operators at FCO and they've built a special "bus depot" located just south of Terminal 3. The bus prices range from €4.50 to €8. When you ride any bus into Rome, you will be impacted by the amount of traffic. The three primary buses from FCO are the Cotral Bus Airport Bus, the Terravision Bus, and the SITBus Shuttle. Click on each link for more details on their prices, schedules, and route times.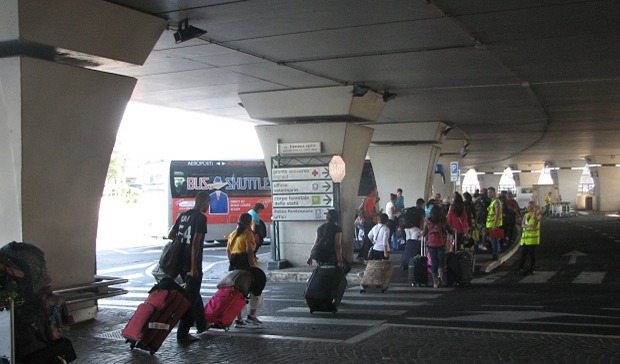 The Trains
The next least expensive option may be the trains. The FCO train station is very close to Terminal 3 (see the blue/yellow arrow in the map above). If you arrive through the T3 Arrivals Terminal, the train station is an easy walk using underground escalators or overhead walkways. The two train choices:
The Leonardo Express is a non-stop train that will deposit you at Track #25 at Roma Termini, Rome's largest train station and the center of the transportation system in Rome. It is currently priced at €14. It is scheduled to leave the FCO train station every 30 minutes – at :08 and :38 after the hour. It departs from FCO, as per this schedule, from 06:38 through 23:38.

The other train option is the FR1 – often called the FM1. The FR1 or FM1, it's the same train. The FR1 is a metropolitan service (hence the "FM" title) and it connects the Fiumicino Airport with different stations in Rome. Unlike the Leonardo Express, it does not go to the Roma Termini station and it makes many, many stops. The FR1 does stop at the stations of Roma Trastevere, Roma Ostiense, Roma Tuscolana and Roma Tiburtina. The service also stops at many other stations within Rome's metropolitan area and goes as far as Fara Sabina and Orte, two stations outside Rome.
The current fare to get to any of the FR1 stops in the city of Rome is €8. This train is a great option if you're staying in the Trastevere or Ostiense areas. It runs every 15 minutes during peak periods, Monday – Saturday. On Sundays and holidays… and early morning or late evening, it runs about every 15 minutes. It is a commuter train, and inexpensive, so it can get crowded.
The Automobiles
The automobile options would include taxis, shared shuttles, private shuttles, and rental cars.
The taxis in Rome have a well-deserved negative reputation. If the taxi union has its way, the proposed rate changes will make taxis in Rome among the highest priced in Europe – and the world! Some of the less scrupulous drivers are already working on that price increase! So do be careful.
First, avoid anyone that walks up to you and asks if you need a taxi. Despite their official-looking "airport credentials" hanging around their neck, they are illegal operators. Yet they operate openly (and blatantly) which is confusing to many visitors. Why don't the police shut these guys down to protect the newly arrived traveler… and the reputation of Roma? Who knows! As we say here… T.I.I. – This is Italy!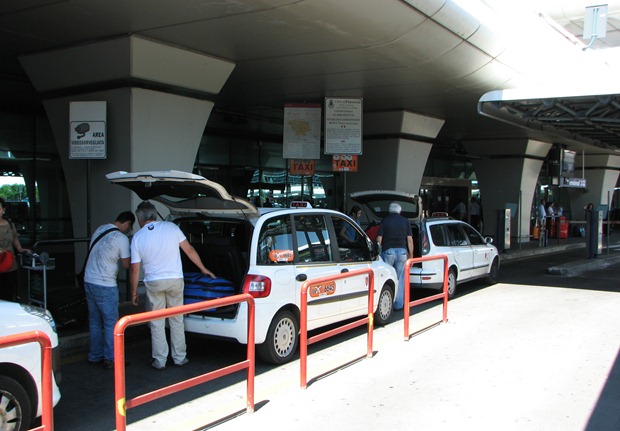 So you have to protect yourself. Only go to the taxi queue (in photo above). Don't stop on the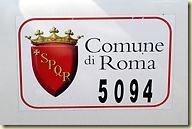 way to the queue. Once in line, make sure you get in a taxi cab that has the official symbol of the City of Roma on the door – and NOT a "black-market" taxi. The Roma taxis will be a fixed-rate, €48 fee into the centro area of town. The Fiumicino taxi runs the same route – also supposed to be at €48. So do look before getting inside. Usually the taxi drivers "police" themselves, but again, T.I.I. If you're not going into the centro area, you will be on the meter.
When we're returning home from a trip by taxi, we often called the ride, the "flight after the flight." Don't be surprised if your driver hits speeds of 165 km/hr heading into Rome. Once, my wife asked the driver to stop texting as we flew into town well over 140 km/hr. I've actually never seen a taxi have an accident coming or going to FCO…
There are numerous private and shared shuttle services into the city. I advise you to book in advance. If you head to a stall – or are interrupted and secure transportation with a "helpful" driver – you'll definitely pay more. If you book in advance, your driver will be waiting outside the Arrivals Area with a sign. As you exit from the secured T3 Arrivals area into the Non-Secured T3 Arrivals area – you'll come through a set of frosted doors – there will be a mass of people (See the above photos). Usually the drivers stand BEHIND these folks in the top photo so you may have to go in search of your driver and your name.
In the bottom photo, the young lady, circled in green, is looking into the frosted doors for her party. The two gentlemen, circled in yellow, are drivers waiting for their clients. You can see that they ARE NOT up on the rail in an obvious spot. Rather, they are standing behind the crowds, holding their sign – with your name on it – but not actively seeking you. Thus, you have to go find them. So don't panic if you exit into the non-secured area and you don't see your driver waiting. He's probably there – just engaged in a conversation with other drivers.
Prices and services very dramatically. It's often a good idea to check references by looking at the travel boards. Folks always ask me for recommendations… I will say that I primarily stick with people I know, so perhaps my preferences are more personal than professional. My go-to-guy for years is Alfredo at www.romashuttle.com . He's helped me many, many times and also folks I've worked with. I'm using him next month for a 04:30 AM pick-up. His prices are consistent and he's never left me standing at the curb – even at 04:30 AM!
Another option, head to our Airport Transportation Page. I've used this option before and been quite pleased with the quick response, price options, and service! Just complete the form on the Airport Transportation Page and you will get free, no-obligation quotes through email.
Research your choice and get contact numbers in case you need to make that early-morning, Where the heck are you? call. (In all my years of using shuttles in Rome or reserving them for folks, I've only had to make that call once – to a company that's now out of business). You can also reserve taxis for the next day. We've done that often. Many cab companies will text your Italian mobile phone to let you know the driver is on the way.

---
Summary
Trains, Planes and Automobiles… and buses! Okay, I had to use that ……… Um, ask your parents! So you can see there are many options to get from FCO to the city of Rome. Use whatever fits your timeframes, budget, luggage needs, and comfort level. Certainly door-to-door service by a private shuttle or limousine service would probably be the most comfortable – and most expensive. If you're headed to the airport early in the morning, there are more challenges than most folks face when arriving. Here's a chart, with links, to the current Airport transportation options.
---
Transport Between
Rome Fiumicino Airport & Rome City Centre
Transport
Fees
Comments




Cotral Bus Airport Bus
€4.50
From FCO to Roma Termini

€6
Non-stop every 30-50 minutes to Roma Termini

SITBus Shuttle
€8
One-stop every 45-50 minutes to Piazza Cavour and Roma Termini

Local Train (FM1)
€8
Local train from airport to various stops in Rome

Leonardo Express Train
€14+
Non-stop every 30 minutes to Termini Station

Local Train With Metro, Bus, or Tram
€9.50
Local train from airport to various stops in Rome – change to the metro, bus, or tram system

Shared Shuttle Van to/from Hotel
€19 – 25
– Shared transfer in mini van (Multiple stops)
– Private Door to Door, per vehicle

Rome Licensed Taxi From Taxi Queue
1-4 passengers
€48
Flat fare from airport taxi rank to within Rome walls
Private Car Service
1-3 passengers
€55-60
– personal meet and greet in airport
– Some include credit card payments
– different vehicles to suit passengers/luggage

Private Car Service
4-5 passengers
€65 – 85
– personal meet and greet in airport
– Some include credit card payments
– different vehicles to suit passengers/luggage

Private Car Service
6-8 passengers
€90+
– personal meet and greet in airport
– Some include credit card payments
– different vehicles to suit passengers/luggage
So getting to Rome, although not as easy as some cities, does offer many options and price ranges. I'd suggest clicking on any of the links in this article to gather information that will make your airport to city transition easier and more cost effective.
As a Travel Advisor, I also book many transfers into town… So you can Contact Me for more information. Good Luck!
---
If you are interested in Luxury Travel Advice, Information, and Support…
Please contact me, Ron in Rome, at Ron Phillips Travel

An Independent Advisor for Brownell Travel
A Virtuoso® Agency

Website: www.ronphillipstravel.com
Email: info@ronphillipstravel.com
Phone: (404) 474-3851
FAX: (678) 528-2672
And if you'd like more updates on travel specials, news, and events LIKE us on Facebook at

---