One of the often stated concerns is, "How can I best make my train connection?'" For many folks, riding a train in Europe might be their first train ride ever. And certainly changing trains can be a challenge. There are a few steps you can take to make your connection, and thus your journey, easier. In this article we'll focus on what you can do before you depart from home, what to do once you have your ticket(s), and how to successfully transition from arriving on one train, getting to the correct platform, and then onto your next train. So here are some basic guidelines to make your connection easier.
---
Before You Depart From Home
First bit of advice, and you'll hear it from many experienced travelers, DON'T OVERPACK! You do not want to be dragging 2-3 heavy bags down the narrow aisles of a train, trying to get to the exit doors, and then down the stairs of a train. Ask yourself, "Do I really need to carry "all this stuff" across Europe?"
Head to the Trenitalia website and check out your train(s) route(s). At this post, Booking on the Trenitalia Website, there are step-by-step instructions on how to drill down into your train route and see ALL the stops your train will make on it's journey to your destination. Know the stop before yours!
It might help to know what type of station you're headed into. Basically, there are two types of stations, either a terminus or a pass-through. Roma Termini, as the name implies is a terminus station. Trains enter this station and they "park." To get out of the station, they have to back out… At these stations, trains tend to sit parked, often up to 20 minutes before departing. The article, Arriving at Roma Termini, has many pictures and two maps that can help you familiarize yourself with this HUGE station. It is the busiest in Italy and, although chaotic, you often have MORE time at a larger stations like Roma Termini to make a connection. Other popular terminus stations would include Milano Centrale, Firenze SMN, and Venezia Santa Lucia.
Roma Trastevere or Roma San Pietro are pass-through stations – almost all stations in Italy are. At these stations, the trains stops – for about a minute – and then continues on their route. Yes, these are the stations where you need to be ready to get off… or you won't! Note in the chart below that the arrival and departure times at these stations are ONLY two minutes apart.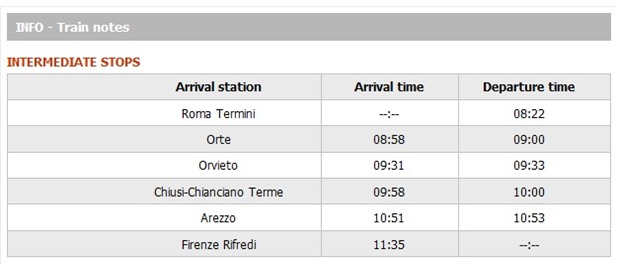 It doesn't hurt to have a printout of the itinerary so you know all the stops along the way and what time you're supposed to be where. That way, if the train is late, you can better guess what time you'll actually arrive – and better make your connection!
---
Once You Have Your Ticket
Whether you buy your tickets in advance, as suggested in this article, Booking on the Trenitalia Website, or you wait until you get to Italy and head to the strain station and use an in-station kiosk, once you have your tickets in hand, make a close inspection. On a reserved seat train, knowing your carriage number and seat numbers will be helpful… but MOST IMPORTANTLY, know your train numbers!
The train number is ALWAYS on every ticket with a seat reservation. So this would include all Trenitalia trains except the Regionales. So as you look at the display boards, you'll see the train numbers, as circled in yellow in the photo below.

But you are on a Regionale train – or as you look around, the boards you see DO NOT show ANY numbers. That's why you need to know your train's ultimate destination and scheduled departure time. Your Regionale ticket is good for two months (until you validate it) thus it could be used on any number of trains… this hour or next – so know your last stop! If you've done your pre-trip research you'd also know the next two regionale train numbers! On the example above, the last train, REG 7282 is a Regionale train with the last stop being at Velletri. As you see in the example below, some of the overhead display boards DO NOT display train numbers. Knowing your train's last destination and time of departure is imperative!

Unfortunately, the Trenitalia website no longer shows an entire train route from start to end; it only displays the route as far as you ask to go – NOT the final destination. Currently, you'll have to wait until you get to a station and look at the Arrival and Departure posters (a picutre of one is further below in this article). When you find these posters, check out the LAST destination on your route. On all the OVERHEAD electronic info boards or the TV monitors throughout smaller stations, this LAST DESTINATION will be the name listed for that route – like the Vellertti example above! In another example, you may be headed to Florence (Firenze SMN) but the train's last stop may be Milan. Thus, your train would be listed on the boards as Milano C.LE. So if you go looking for your train by destination name as you're connecting, you'll be in trouble unless it's the last stop! Train numbers WILL solve this problem… so think train number or FINAL destination when making a connection!
If you have a multiple connection route, I'd have all my tickets purchased at my first station. That way you don't have to be looking for a kiosk and completing a sales transaction when you should be running for a train! Regionale tickets are no problem as they are open to multiple trains. If you have a reserved seat on a fast train and you miss your train, just head to the Trenitalia counter and get an exchange. MINI-fares are less flexible so do give yourself some time between connections if you're buying this type of ticket.
Once You Are on the Train
Okay, you're on the train, headed to a small town in the middle of nowhere and you have to make a connection. (We've done this TOO many times!). What can you to relieve the concerns you have about making a tight connection at a station you've never been to – in a country where you don't speak the language? No worries!
First, be ready! As we suggested earlier, know your route. Get your bathroom breaks out of the way BEFORE you get within twenty or so minutes of your connection. Make sure all your guidebooks, glasses, or anything else you've been using are stowed before the STOP before your STOP occurs. As the train passes the STOP before yours, know you have to start moving towards the train doors. If it's a short amount of time, you'll see other folks moving! As you enter your connection station in the train, you should be STANDING AT the train's exit doors, all bags in hand. If you stay in your seat until the train stops, you'll be fighting the flow of incoming passengers who are looking for their seat.
When the train doors open., now is not the time to be polite. As the exiting party, you have the right of way. SO GO! I always try to exit through the same doors I entered the train on – that way I know those doors work! Sometimes this is not possible as the tracks may be on the opposite side from where you boarded, but having been burned once – THE DOORS WOULD NOT OPEN and we had to run through the train to the next set of doors – I've found myself watching the doors at previous stops so I KNEW they would open!
---
Making Your Connection
As you exit the train, often times you can follow the crowd… There are overhead announcements, but frankly I can never hear or understand them in the larger stations. Often the smaller stations do not make announcements. So i would rely on visual aids. Your best asset – the overhead display boards. In smaller stations, there will be smaller TV screens that outline the arriving and departing trains. USE THE DISPLAYS!
If you're headed to connect on a "fast" train, then look for your train number. If your connection is a Regionale train, then look for the final destination of your train. Once you see the boards, you may find your train… but there may be NO platform posted yet. Great, you've got some extra time! Or, you see the board and your platform – head for it.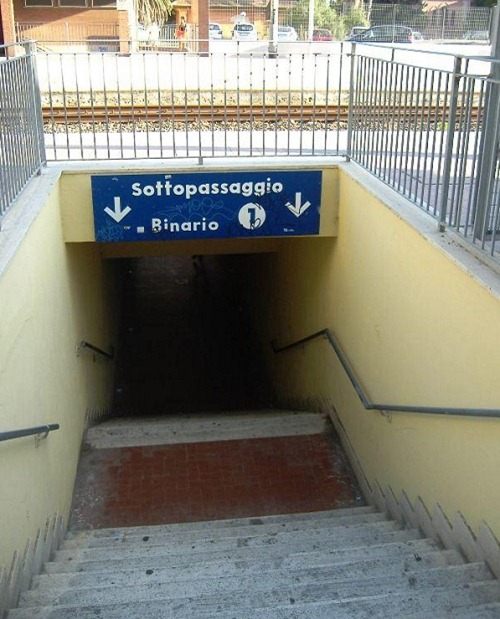 To get to another platform, you may have to go UNDER the tracks. You'll see an escalator or stairs – head for the sottopassaggio (underpass) to get to another track, then come up the other side to your platform. If you have heavy luggage (but you shouldn't!) find the elevator. In very small stations, you'll see paths to just walk ACROSS the tracks! The platforms are numbered in order… Sometimes your train may be coming in on the SAME track as the train you just got off of… so just stand and wait for your train.
Okay, you don't see your train on any of the boards. So, you can head for the glass enclosed cases that show arrivals and departures.In the post, Riding Trains in Italy, is a detailed explanation of these posters. For each departing (or arriving) train there is a projected platform listed. These are good indicators but in larger stations, these are JUST indicators. In the smaller stations, these posters hold more true to form.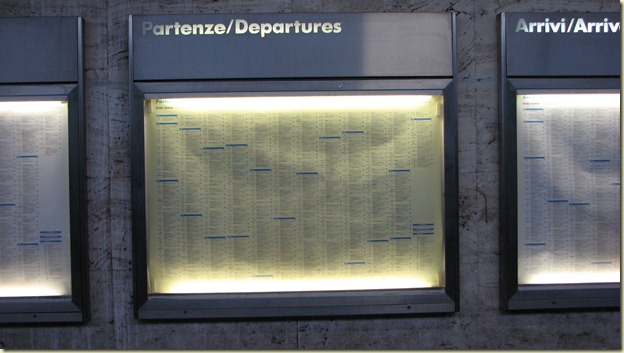 Lastly, the best option may be to find a conductor on the platform. It may be best not to confuse them with your Italian (or lack of), so just show them your ticket with a questioning look! They'll point you in the correct direction. Another option is – once you get to the platform – to ask any English speakers if this is the correct platform. And if your Italian is passable, ask a local!
Once your train arrives, jump on. If you're late arriving to the platform and it looks like the train may pull out… go to the first car you get to and jump on there. Ignore the rules about first class and second class cars. Get into the train as quickly as possible.Once on the train, you can walk through all the cars to get to the correct car… This way you won't get left on the platform.
Always give yourself more than 8-10 minutes to change trains. In a larger station you might have to search and also rely more on the display boards.
---



Limiting yourself to only carry-on luggage is a great choice when flying. It's also quite helpful on trains as you can store your smaller, carry-on sized bags behind or over your train seat. At train stations in Italy, you'll be hard-pressed to find porter service… and those narrow entry stairs on the trains seem to get higher the heavier your bags are! So consider traveling ONLY with a carry-on bag. Above are some great buys.
For USA guests, see more Carry-On Luggage Options at our Travel Store, Magellan's Travel Supplies, or look in amazon.com. Non-USA Guests can search for luggage at amazon.co.uk.
---
If you are interested in more travel support, contact me – Ron in Rome – at:
Ron Phillips Travel
An Independent Advisor for Brownell Travel – A Virtuoso® Agency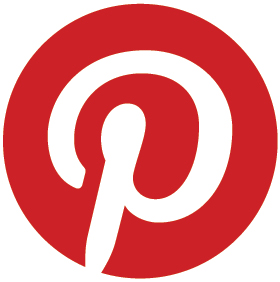 Website: www.ronphillipstravel.com
Email: info@ronphillipstravel.com
Phone: (404) 474-3851
FAX: (678) 528-2672
And if you'd like more updates on travel specials, news, and events LIKE us on Facebook at

---