Starting July 15, 2011 there's a new travel option to and from Leonardo Da Vinci Airport. Terravision, which has been in and out of the FCO airport in the past few years is returning. Terravision is a major bus service provider in Europe. In the UK, they operate out of Stansted, Luton, Gatwick, and Liverpool airports. In Italy, with the addition of FCO, they also offer services at Ciampino, Pisa, Bergamo Orio al Serio, Trapani, Verona, and Torino. The UK and Italy are their major business holdings, but they are also provide transport at the Bratislava, Girona, Perpignan, Malta, Skavsta, and Innsbruck airports.
---
Here's the notification they posted on their website:

Service available for journeys starting from July 15, 2011
In partnership with Alivision – a major Bus Transportation company – Terravision is proud to announce that we're now operating the airport bus service from Fiumicino Airport to Rome city centre. With departures every 30 minutes from Fiumicino Airport to Rome city centre and return – Intermediate stop at Fiumicino city centre. The shuttle bus service is fast and direct from Fiumicino airport to Rome Termini Station, which is Rome's public transport hub, right in the city centre and a great spot to start exploring the eternal city!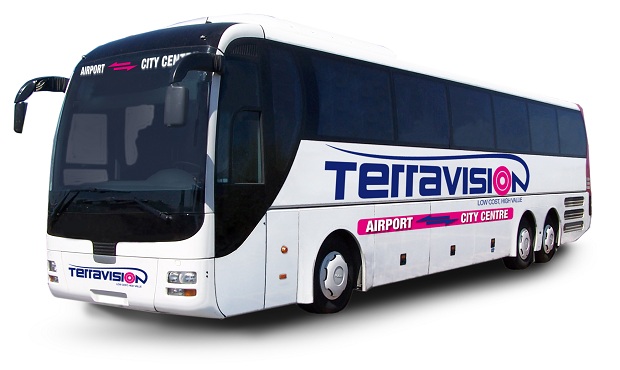 Terravision started their services at Rome's Ciampino Airport in 2002. Primarily committed for years to solely inexpensive airport transport, they are now branching into half-day or full-day tourism products like the half-day guided city tour in Rome. In 2008, Terravision began offering franchise opportunities and this has opened up new routes. Recently, they have created the Terracafè, allowing customers to benefit from lounge and bar services, as well as buy tickets to wherever they are looking to go.
In Rome, the Terravision starts at Roma Termini, Ciampino Airport, and Terminal 3 at FCO. At the Roma Termini train station, the bus route begins at Via Marsala, 29 – just in front of the Terracafè. At Ciampino, it's directly out front of the primary terminal. And at FCO, you would walk out of the Terminal 3 Arrivals area and head to the "bus depot," parking spot #3. The SITBus Shuttle also departs from this same location, outside Terminal 3. Below is a SITBus Shuttle Map (pulled from their website) of the SITBUS parking slot (#1). Cirlced in red is the #3 slot where the Terravision will park. You can get a good idea of their locations in reference to T3.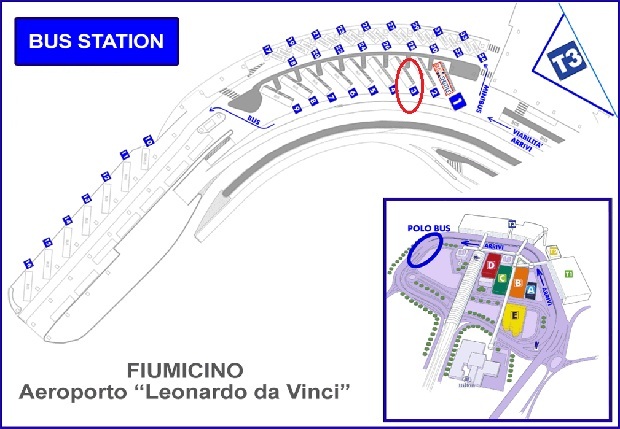 The Terravision bus also stops in the town of Fiumicino at the intersecion of Via della stazione di Fiumicino and Via Portuense. The Terravision bus now becomes the least expensive – although certainly not fastest – direct transportation option into central Rome.
To zoom in, click on the "+" sign when you hover your mouse over the picture … or for a larger "stand-alone" PDF of the timetable above, click on The Terravision FCO/Rome Timetable. Unfortunately, if you have a 06:00 flight, the Terravision will not get you there early enough – projecting a 05:28 arrival at FCO. The SITBus Shuttle currently initially departs at 05:00 and arrives at 05:50. It will be interesting to see if there are schedule or service changes in the next few months.
---
You can book your tickets for the Terravision bus online – click here!
Use the online form to select your departure and/or arrival, date, time, # of people, etc. You can even "pre-order" items from the Terracafè menu and add to your reservation. You can pay with your PayPal account or a major credit card account. Print out your tickets and then show them to the Terravision staff at the bus stop. The online ticket prices are as follows:

• Adult One-way € 4.00
• Adult Return € 8.00
Journey time • 55 Minutes from Fiumicino airport to Rome Termini
If you do not buy your tickets online, you can buy them at the airport counters or at the in the Roma Termini train station. You do need to be at the bus stop 15-20 minutes prior to the scheduled departure time of your coach. There will probably be a line to get on the bus. Upon boarding the bus, show your ticket(s) to the Terravision personnel in front of the coach (or to the driver).
If you purchase a return (round-trip) ticket, on the 2nd leg of your trip, you must go to the counter or the Terracafè to pick up a boarding pass. If you go wait in line to get on the bus, you won't be allowed on the bus UNLESS you have this boarding pass. On single journeys, your email or purchased ticket covers you… but the 2nd leg of the return tickets acts differently. If you arrive late and miss your scheduled bus, you will be able to board the following coach with your existing ticket and no penalty fare will be applied! I would definitely arrive early to secure my spot on my scheduled coach.
From their website: Why choose Terravision shuttle bus service from Fiumicino airport to Rome?
• Travel in comfort: All of our coaches are comfortable, well equipped coach and equipped with all modern facilities
• Save money: Our bus transfer from Fimicino airport is the cheapest way to get to Rome city centre.
• Stay organized. Purchase your ticket online and plan your trip beforehand.
• Convenience. The Terravision bus stop is located outside Terracafè, where we serve delicious foods and beverages.
• For all this, choose our shuttle bus service for transfers between Fiumicino airport and Rome city centre!
Above: the bus at the Roma Termini station. Below: The Terravision counter at Ciampino Airport
My experiences using the Terravision bus service from Ciampino has been okay. The buses are clean, the process organized, but always crowded. If you check the travel boards there have been complaints at Ciampino because often the buses have been packed – and on occasion, there's a wait for the next bus. Because easyjet and Ryanair "suggest and sell" Terravision, there have been long lines waiting to board a Terravision coach at Ciampino after one of these two companies land a plane. I'm hoping their partnership with Alivision (who also work many international airports) will insure they have worked out any logistical problems.
At the Ciampino airport, transportation services to the city are more limited. At FCO, you have the SITBus Shuttle, COTRAL, the FM1 train, the Leonardo Express, taxis, and many, many more private shuttles vendors. Let's hope competition will encourage Terravision to do better than they have in past years at Ciampino. Certainly if you're taking a bus into town, their price will pull folks from the SITBus Shuttle group. And undoubtedly, the customer flow and monetary opportunities at FCO are far greater than at Ciampino.
UPDATE: Since writing this article I have utlized the Terravision service to go from FCO to Rome after the Terravision service resumed. I have to say I was pleasantly surprised – and impressed. The ticket purchasing and loading was all done quite quickly and professionally. And most importantly, the bus left ON TIME! Good to see Terravision has put together a solid program at FCO.
---
There are very few videos available on the Terravision bus service in Rome. Above is one clip. In it, you can see everyone lined up at the Roma Termini train station waiting to get on the bus (to Ciampino). The Terravision "official" is in the yellow rain-jacket. Note how she is checking for tickets and counting the number of people. Obviously, there are more people line that can fit on this bus. At the end of the clip, she stops the line and those folks behind the rope-line will have to wait for the next bus.
---
If you are interested in Luxury Travel Advice, Information, and Support…
Please contact me, Ron in Rome, at Ron Phillips Travel

An Independent Advisor for Brownell Travel
A Virtuoso® Agency

Website: www.ronphillipstravel.com
Email: info@ronphillipstravel.com
Phone: (404) 474-3851
FAX: (678) 528-2672
And if you'd like more updates on travel specials, news, and events LIKE us on Facebook at

---