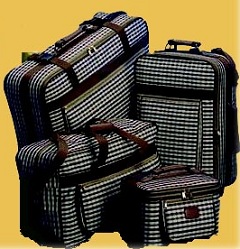 For many travelers, storing your luggage on a brief stay in a city – traveling by train or plane – can be a problem. Most of the larger cities and airports do have a "LEFT LUGGAGE" service (deposito bagagli). The fees are very reasonable and I've used this service at multiple train stations and airports throughout Europe. It is quite pratical and your goods will be secure. With the terrorism concerns of today's world, storage lockers are almost a thing of past in stations across Europe, so Left Luggage may be your best storage option.
It's really a simple process. You take your luggage and your ID (Passport) to the Left Luggage counter and drop off your bags. Depending on the clerk working the counter, he/she may or may not check your ID. You will then get a receipt for your deposited luggage. Upon your return from sightseeing, head to the counter, show your receipt, pay your hourly rate (in most cases), and you're off – it's that simple.
A word to the wise – DO NOTE what time the facility is open… and be there before it closes! Also, give yourself plenty of time on your return if your making a train or plane connection. Sometimes the lines – and speed of service – can be quite slow. You do not want to be waiting in line when your train pulls out! At larger stations, we often get our luggage first, then purchase our tickets (through a kiosk) to our next location. I've seen lines at the Roma Termini station that stretch for 20-30 minutes – easily. If you head to the Left Luggage Counter after an AV or International train has arrived, you could be in for a long wait! So do plan accordingly and give yourself some time!
Below is some information on some of the more popular locations and some luggage storage solutions. The pricing and hours are AS OF December 2010 and are subject to change.
---

Larger Airports
Leonardo Da Vinci Airport -  Fiumicino (FCO)
The Left Luggage at FCO, Leonardo Da Vinci Airport, is located at Terminal 3, on the ground floor  – in the International Arrivals area. It's open – according to the ADR website  – from 06:30 – 23:30 every day.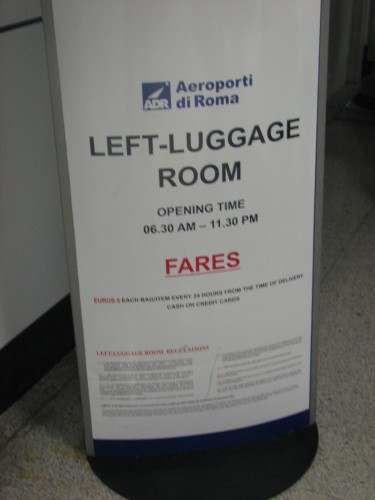 The charges are currently listed at €6 per item per 24 hour period. In the T3 Arrivals terminal, the Left Luggage room is at the farthest point from where you exit the secured area, just before you get to the Bus Depot. For more information, and a map showing the location of the Left Luggage facility at Leonardo Da Vinci airport, see our post, Terminal 3 Arrivals Area at the FCO Airport. The telephone number for the Left Luggage facility at FCO is +39 (06) 6595 3541.
Giovan Battista Pastine Airport -Ciampino (CIA)
Ciampino airport, with annual traffic of more than 4 million passengers, DOES NOT have a Left Luggage service. So if you're coming through (CIA) you'll have to make "other" arrangements.  Many passengers drop their luggage at the Roma Termini Train Station.

Malpensa – Milan (MXP)
Malpensa is the intercontinental airport of the North Italy. It is about 50 kilometers from the center of Milan.The Left-Luggage office at MXP us located in the Arrivals floor; the ground floor of Terminal 1. It is open every day from 06:00 – 22:00. The current fees are listed as € 3,50 to € 4,00 per piece per 24 hour period.  The telephone number is +39 (02) 5858 0298
Marco Polo Airport – Venice (VCE)
The Marco Polo Airport is located 12km (7.5 miles) from Venice by land and 10km (6 miles) by water… so it may not be the best place to store your luggage, but if you're on a "day-trip," here is the Airport info. The Left Luggage depot is in the Arrivals area, behind the bar on the ground floor. The Left Luggage depot is operated by the Trasbagagli Cooperative (call +39 (04) 1260 5043) and is open every day from 05:30 to 21:00. Luggage deposited is screened by Save Security. The direct phone at the Left-luggage facilities is +39 (04) 171 3719.
Sunset at FLR – photo from pbase.com
Amerigo Vespucci Airport – Peretola (FLR)
Located about 4 kilometers from the center of Florence, The information office provides tourist information and also functions as the Left Luggage office, issues flight insurance policies, and sells telephone cards, bus tickets and train tickets to all national destinations.
Galileo Galilei Airport -Pisa (PSA)
The Pisa International Airport is one of the two main airports in Tuscany, together with the Peretola Airport in Florence. This airport is located by the coast, about 1 kilometer from the center of Pisa. The Left Luggage service is managed by the Information Office and is located inside the passenger terminal of the airport. it is open everyday from 09:00 to 19:00 pm for deposits and from 08:00 to 20:00 pm for collections. For more information call the information desk at +39 (050) 849 300.

Aeroporto Internazionale di Napoli – Naples (NAP)
The Naples airport is situated 7km (4 miles) northeast of Naples. The Left Luggage office at the Naples airport operates a 24 hour service 7 days a week (including Sundays and Bank holidays). It is situated in the "Quick Parking" area which is to be found outside the arrivals section of the main terminal building. The charge for each item of Left Luggage is 5 Euros for the first 24 hours or fraction thereof. For information call: +39 081 789 6366. Note – if you go to the Naples Airport webpage there is NO mention of this service; Thus the baggage room service is not prominently advertised and you will not find signs pointing you there: just follow signs to the valet parking.
---
---
Larger Train Stations
Many of the larger train stations in Italy do have Left Luggage facilities. Here's some info on those stations most discussed on the travel boards.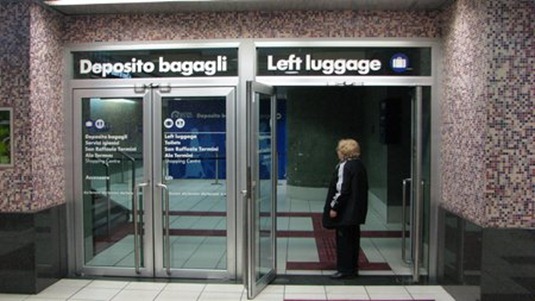 Roma Termini – Rome
Located in the northern side of town, Roma Termini is a good option for travelers to drop off their luggage. The Left Luggage depot is located in the lower level of the station, "underneath" Track 24. If you get to the car rental or tourist info center… it's directly BELOW this area. This counter can be accessed via the moving walkway on the basement level of the Ala Termini wing. If you're walking towards the tracks from the front of the Station, it will be to your right and downstairs. The Left Luggage is open 7 days a week from 06:00 – 24:00.
Charges listed as follows:
•4,00 € the first 5 hours
•0,60 € per hour from 6th to 12th hour
•0,20 € per hour from 13th hour on
•Contacts: +39 06 474 4777

Roma Tiburtina – Rome
Roma Tiburtina is the second-largest railway station in Rome, after Roma Termini. The station is located in the northeast section of the city and is the starting point for many over-night trains. It is well connected to Rome by bus and metro services. It does have a Left Luggage facility
NOTE: The remaining train stations in Rome – including Roma Trastevere, Roma San Pietro, Roma Ostiense, and Roma Aurelia DO NOT have Left Luggage Services.
Santa Maria Novella Firenze – Florence (Firenze SMN)
Florence's primary train station is called Firenze Santa Maria Novella. Located near central Florence, the station is a walkable distance away from major attractions in Florence such as the Duomo. The Left Luggage office at the Florence train station is located at the start of track 16. The operating hours for the Left Luggage facility are from 06:00 – 24:00.
Left Luggage rates at the Florence train station are 3.80 EUR for the first 5 hours, 0.60 EUR for each additional hour from the 6th-12th hour and 0.20 EUR for each additional hour after 12 hours. The phone number is +39 055 2352190.
Pisa Centrale – Pisa
The hours of operation are for the Pisa Centrale Left Luggage are 06:00 to 21:00. The counter is located on the east section of the train station. From this train station it's about a 15-minute walk to the Field of Miracles (Piazza dei Miracoli). You can get there much quicker by jumping on the bus. We bought our bus tickets in the Tabaccchi shop in Pisa Centrale after dropping off our bags. Note – Pisa San Rossore, the other train station in town, DOES NOT have luggage storage… so make sure you're headed to the correct station!
NOTE – These two stations are ONLY stations in the Tuscany region that offer baggage storage. For most folks this may be a non-issue because Tuscany is one area folks enjoy driving!
---

Venezia Santa Lucia – Venice
The main station in Venice does have a Left Luggage counter. This counter is on the ground floor of the station, close to the platform 1. It is open daily from  06:00 – 24:00 and the rates are as follows:
Charges listed as follows:
•4,00 € the first 5 hours
•0,60 € per hour from 6th to 12th hour
•0,20 € per hour from 13th hour on
The phone number for the Left Luggage at S. Lucia station is +39 041 785 531.
Venice has other options available to you if you need to store luggage. In  Piazzale Roma (where buses and taxis enter and leave Venice), the Cooperativa Trasbaglia Venezia offers a deposito bagagli service. This service is open daily from 06:00 to 21:00 at the cost of € 5,00 per piece for each 24 hours. The phone number for this service is +39 041 523 1107.
In addition, if your cruising into town, check out the Venice Cruise Terminal's Marittima and San Basilio buildings, where Left Luggage offices are normally open on days when cruise ships are arriving and departing.

Napoli Centrale – Naples
If you're connecting and heading to Pompeii, this station might be a great spot to store your luggage. And frankly it may be safer here than anywhere else in Naples! The Left Luggage counter is located on the ground floor. It is open every day from 07:00 – 23:00. The current rates are:
Charges listed as follows:
•4,00 € the first 5 hours
•0,60 € per hour from 6th to 12th hour
•0,20 € per hour from 13th hour on
The telephone number for Left Luggage at Napoli Centrale is +39 081 5672 181.
---

Luggage Storage By Region
Below is a list of all the Regions in Italy. Beside each region name are the stations in that region that have Left Luggage facilities (according to the Trenitalia website). In some regions, as you will note, there are NO facilities. Veneto has the most opportunities to leave your luggage – including the two stops in Venice. If you click on the name of the region, it will display the "features" (in Italian) of all the stations in that region. The headers translate loosely to: Ticket Office, Regional Self Service, Self Service kiosks, Regional Ticket Sales available, Urban links, Suburban links, Bike Parking, Car Parking, and Luggage deposit facilities.
---







Rick Steves features many, many luggage options – from the standard carry-on to the large 26 roll-about, these bags are water and stain resistant. Great for trips to Europe! Many of Rick's bags are among the lightest in their class. Click on any to get more information. For more luggage or travel accessories, head to our Travel Store, Magellan's Travel Supplies, or look in amazon.com. Non-USA Guests can search for travel accessories at amazon.co.uk.
---
If you are interested in more travel support, contact me – Ron in Rome – at:
Ron Phillips Travel
An Independent Advisor for Brownell Travel – A Virtuoso® Agency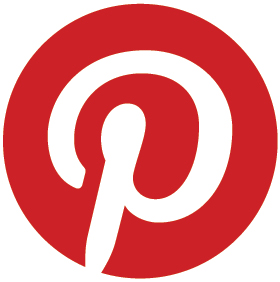 Website: www.ronphillipstravel.com
Email: info@ronphillipstravel.com
Phone: (404) 474-3851
FAX: (678) 528-2672
And if you'd like more updates on travel specials, news, and events LIKE us on Facebook at

---