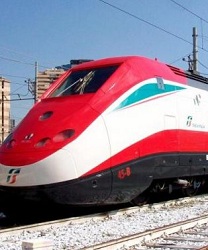 UPDATED Now more than ever, the Trenitalia website is accepting more and more USA credit cards. Many American travelers are reporting success using their MasterCard or VISA credit cards. Hopefully this trend will continue and the website will become even more accepting. Because US credit cards were NOT accepted, many visitors only used the Trenitalia website as a reference source – how to figure out what trains run, when and to where – and what's it going to cost me. For that reason, we'd like to present a posting that describes "How to use" the Trenitalia website.
---
---
Note – this post reflects the updates to the Trenitalia website, effective March 2012.
Previously in this website is an article,
Booking on the Trenitalia Website
. Now we've posted the updates here, but in a separate post. Why?
Because some folks are still getting directed to the "old website." Currently this older version is still up and running at www.trenitalia.it/homepage_en.html. Why Trenitalia allows the two sites to run concurrently is unknown to us, but you can still book tickets… "the old way." Not sure how long this "old site" will stay up? It would be difficult to support two different approaches to buying tickets. Perhaps by the time you read this, the "old site" will be taken down.
The new method for buying tickets, found at this "new" Trenitalia link is far easier to use, and similar to the Le Frecce section of the Trenitalia website. Confused yet? It's Trenitalia!
Hopefully, as the newest version of the site becomes more established, they will consolidate, and thus remove the old site and the old method of buying tickets. The version you'll be reading about in this post is much, much easier and user-friendly!
---

The Online Option
First, let's talk about using the online service and going ticketless in Italy! As per the Trenitalia website, Ticketless is the purchasing solution that lets you board your train without having to pick up a printed train ticket. The ticketless option is accepted on all trains – except International and Regionale trains. It is accepted both in 1st and 2nd class, as well as the Couchette, Wagon Lits and Excelsior services.
You can buy ticketless tickets on the Trenitalia website, by calling the call center ((+39 06 68475475), or from certified travel agencies. By buying ticketless tickets, you can avoid the waiting times when you have to purchase at the train station kiosks or desks. See our post, "Going Ticketless" and Using PNR Codes on Trenitalia for more help on how to use this "ticketless" solution on the trains.
For on-line purchases you will be sent an email with a purchase confirmation and all the information on your selected journey. If you purchase through a certified travel agency, the Call Center, or on the Trenitalia website, you will be sent your booking code (PNR) and, if requested, your Booking Change code (CP) along with indications of the carriage and the seat(s) assigned. (We'll discuss the PNR and CP later in this posting).
Ticketless tickets are easy to use – Once you board, simply present your PNR Code to the on-board personnel (conductor) and they will print our your payment receipt if it has not been previously requested or simply register your presence on board. That's it – pretty darn easy!
The advantage of booking online is you can score major discounts, get your tickets in advance, and avoid paying handling fees and up-charges to middlemen like RailEurope, ItaliaRail, EuroRailways, etc. The current discount of choice is the MINI discount. See our MINI ticket posting for more details. With the MINI discount you can save up to 70% on your tickets! Frankly, if you cannot get a discounted ticket, I would wait until I got to Italy and purchase tickets. The exceptions to this rule would be if you are traveling on a major holiday, if you have "locked" down your routes, days, and times, or if you're traveling on a very popular, but limited route. For example,
I'm not sure I'd book Rome to Florence in advance unless I got a discounted ticket. The reason: There are more than 50 runs each day between these cities. But certain times of the year in Italy it seems all trains are crowded. You need to be aware of:
The month of August – everything is on Holiday schedule this month!
Easter weekend, which includes Good Friday through Easter Monday
April 25th, May 1st, June 2 (all National Holidays) – be careful if these are falling near a weekend as Italians like to add a few extra days!
December 7 (Milan only) and December 8
Christmas week, New Year's Day, and January 6th
Now, this posting is as current as the Trenitalia website and may look different once you read this article. These pictures and information are updated as of March 2012. All information, webpage photos, etc. comes directly from the Trenitalia website. Hopefully, this will help you save some money buying tickets in advance through Trenitalia… and not through the many middlemen such as RailEurope, ItaliaRail, EuroRailways. So let's explore the Trenitalia website.



---

Registering on the Trenitalia Website
If you're having trouble geting your credit card approved, which has improved incredibly since November 2010, then it may be helpful to register on the Trenitalia site. To buy tickets on most sections of the Trenitalia website you do not need to be registered. But as fickle as this website is regarding credit cards, it's probably not a bad idea to get every advantage you can. In addition, if you have an issue with your tickets, and you ARE registered, it is much easier for Trenitalia to find and access your ticket information.
The Trenitalia website also claims that customers registered on Trenitalia link can manage their purchases by logging in, going to Purchased Travel and access the journey you wish to modify. Online, Trenitalia says you can:
– change your booking.
– manage your ticket
– request a refund
– request compensation for delay
– add or void passengers on your journey
If you don't feel you need to register, you still can purchase tickets as a guest. To purchase without registering, skip on down to the Starting the Online Booking Process header, which begins the instructions for buying a ticket online.
If you would like to register, here are some helpful instructions. First, when you go to the Trenitalia website your starting page will look something like this: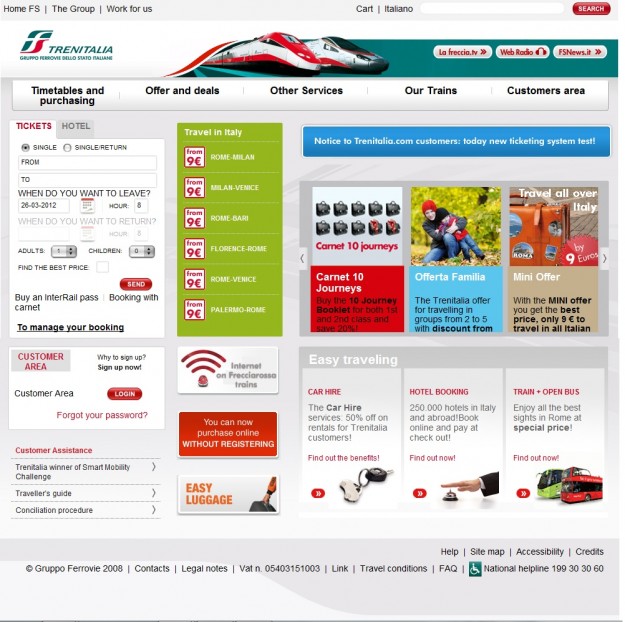 When you go through the registration process, you'll get a username and a password. To start the process, look at the first page of the Trenitalia website. Move midway down the page on the left side and you'll see this section:

The area denoted by the yellow rectangle in the top left of the picture, is the Customer Area where you need to register. Click on the Sign up now link and you'll go to this page: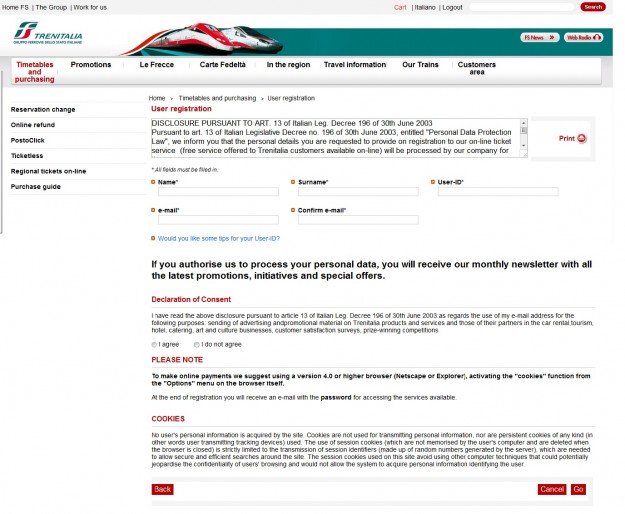 Enter your first and last name, and create a USER-ID for yourself – something easy to remember. Next, enter your email address and then re-enter your email address to confirm. Upon approval, at the end of registration you will receive an e-mail with the password for accessing the services available to you – which would include buying tickets online.
So page down and select the "GO" button after you've finished entering all info. As far as the Declaration of Consent, I choose "I do not agree" so I will not get emails in Italian from multiple companies! Note – if you fail to choose, I agree or I do not agree, a pop-up box (in Italian) will warn you that you have not comepleted the entire form. Go back, make a choice, and then click the GO button again

You'll get this confirmation page. Check your email – In the email you get from Trenitalia you will receive a "temporary" password. Click on the link in the email and you will be taken to this page to "change" your password. The page is sometimes sent in Italian so translations for each line are as follows:
Enter user ID
Enter your current password
Choose your new password at least 8 characters
Enter and confirm your new password

Enter your information and click on the bottom right of the page – AVANTI. The next page will tell you that your password has successfully been changed. : Cambio Password – La tua password è stata inserita con successo translates to Change Password – Your password has been changed successfully.

Looking at this page, go to the top right, and Click on English, circled in blue in the photo above. Once you do that, you'll be taken back to a different looking "home page." Next, you can start looking for train tickets and route options.

---

The online booking process starts on the Home page of the Trenitalia website. Based on your entries, the Trenitalia system starts the search for your train routes.The system will identify and present all possible journey proposals. By default, the listed routes will be ordered by departure time.
For more information on any of the routes, we'll show you how to get detailed information, including the stations and departure/arrival times that your train will stop at on its way to your final destination and also the services available on board the train. So here we go!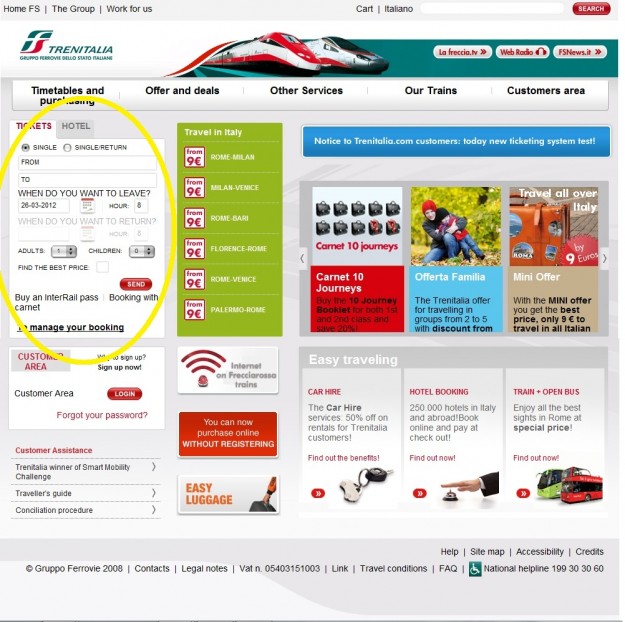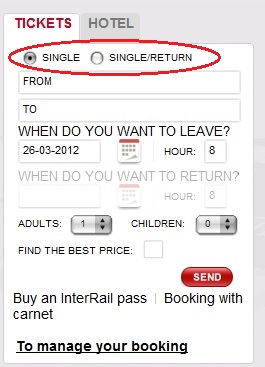 The Home Page (above) has a tremendous amount of options. We're going to focus on one section, Routes. It is highlighted by the yellow circle on the home page. On the left, we've pulled this section out of the home page (above). At the very top of this box you can see – in bold RED lettering – the header: TICKETS.
Below that, circled in red, you have the option for SINGLE or SINGLE/RETURN (round-trip) tickets. Note, on the Trenitalia website, unless there is a specific promotion, RETURN (round-trip) tickets are no different in price than buying each leg separately. It just makes the transaction easier for you to pay for all legs at one time … but price-wise, each leg will be cost-calculated individually.
You'll note that the "WHEN DO YOU WANT TO RETURN?" section of the box is "greyed-out." That because, by default, all ticket routing starts with the SINGLE option selected. To get access to the "WHEN DO YOU WANT TO RETURN?" option, you will have to select SINGLE/RETURN. In addition, another common problem with this revised version is that – by default – today's date and time automatically "drop in" to the Route selection box. So make sure before you start searching to enter your requested date and time
Looking at this route selection box, for example purposes, we'll start by doing a SINGLE (one-way) trip. The next box down has FROM entered and the next box down, TO. These are your entry points for your starting point and desired destination.
In this newest version of the Trenitalia booking site, English names for the train stations don't seem to work. Unlike previous versions by Trenitalia, you cannot type in Rome or Florence. If you do so, it may select a station you don't want – or kick you to a new page with a highlighted RED header saying, Invalid Departure Station/Invalid Arrival Station. So you'll have to learn a few Italian Station names. Here are the ones most first time-visitors use:
Roma Termini – Rome's Primary Train Station
Firenze S. M. Novella – Florence's Central Train Station
(sometimes referred to as Firenze SMN)
Milano Centrale – Milan's Primary Train Station
Napoli Centrale – Naple's Primary Train Station
Fiumicino Aeroporto – The Fiumicino (FCO) Airport Train Station
(also know as the Leonardo Da Vinci Airport)
The good news is that if you know the first few letters of the train station you're headed to, the Trenitalia site will start to offer you "station options" to select in a drop-down box. But you'll have to know the Italian names – starting out with F-L-O to see a Florence, Italy station will not work!
Also, if you type in Roma for Rome, you might see the station listed as Roma (Tutte Le Stazioni). What this means is ALL STATIONS IN ROME. Thus, Trenitalia will start calculating a route with ANY station in Rome as your starting point. If you need to leave from a specific station in Rome, you'll need to enter that station name. In addition to Roma Termini and the Fiumicino (FCO) Airport train stations the other, most-used, stations in Rome are:
Roma Tiburtina – NE Rome and connected by the B Metro Line
Roma Ostiense – Connections: B Metro and the Roma Lido train to Ostia Antica
Roma Trastevere – Catch the FR1 train here to the Airport or the #8 Tram
Roma San PietroLocated about a 8-10 minute walk from St. Peter's Square
Below your FROM and TO boxes are the date and time entry points. Note, when you enter the dates, it is in the European format so the "day of the month" comes first, followed by the "month of the year." You can click on the calendar rather than just entering the dates. Next to the date entry box is the time of day. Times are in the 24-hour format so 3 PM is entered as "15."
If you are only doing a SINGLE ticket (and not a round-trip) you would only enter the top row; the bottom, "WHEN DO YOU WANT TO RETURN?," is still greyed-out. For a one-way or SINGLE ticket, once you've enter your starting point, your destination, your departure date, and departure time…then select Send on the bottom right of the box.
---
---

An Example
We're going to do an example planning a SINGLE trip from Rome to Florence on Wednesday, April 4, 2012. We want to start our trip after 3 PM in the afternoon, so we have to enter "15" as the time. When we complete our box, just before hitting send, it should look like this: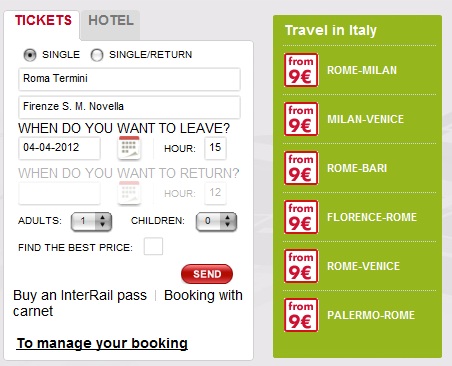 Note the stations are listed by their Italian names and NOT Rome and Florence. And you can see the calendar dates entered in the European format. Once we hit Send we will move to a new section, the The Choice of Travel page.
---

The CHOICE OF TRAVEL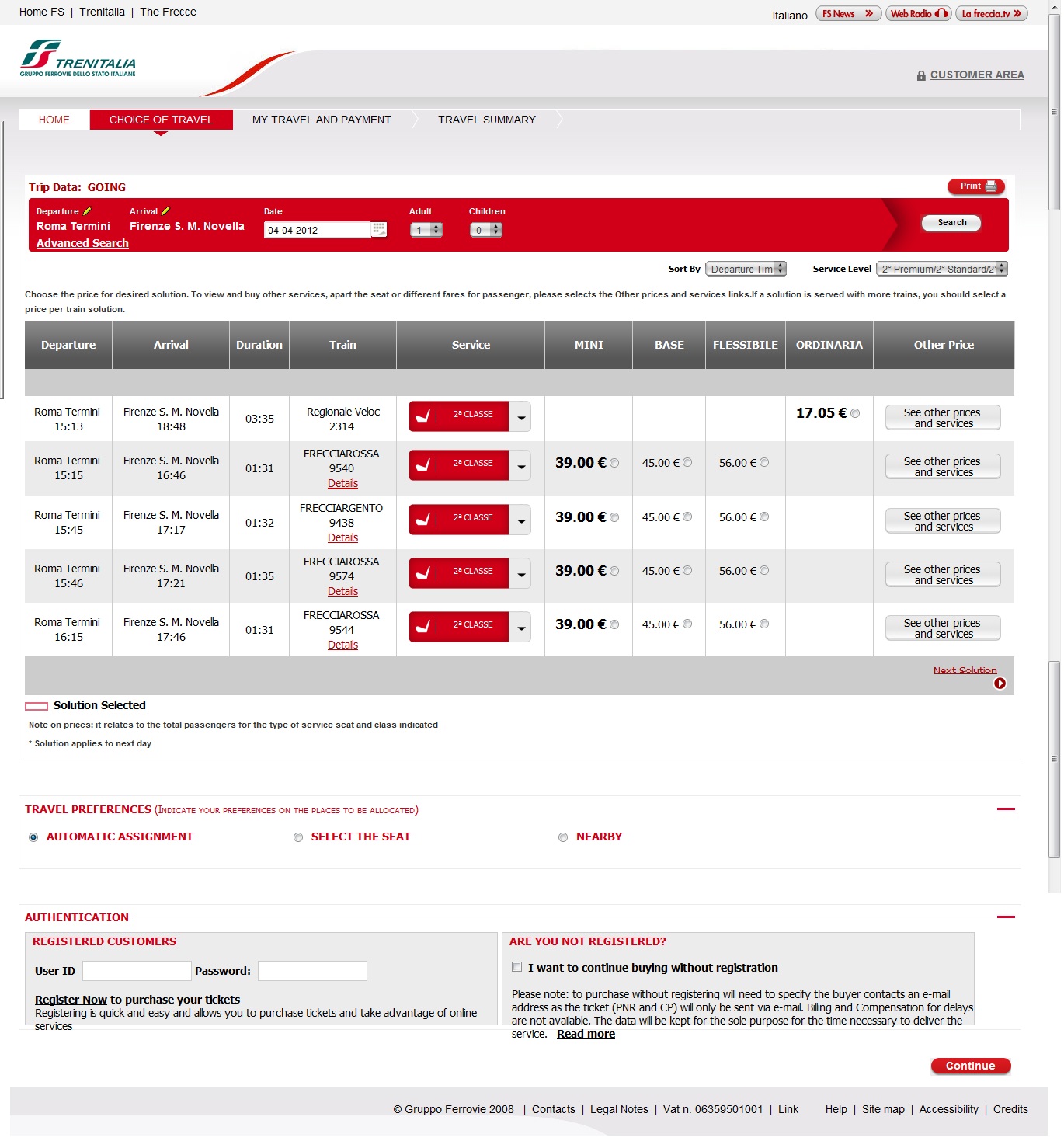 This is probably the most important page you'll look at – and it has a ton of information on it… much of of hidden. So we are going to break it down into sections that are easier to read. If you've used the Le Frecce section of the Trenitalia website in the past, this should look familiar! Because this page is SO WIDE, we'll break it into Left and Right sections.

Zooming in, on the top LEFT side of this same page you get the above information. This is a recap of what you entered on the previous page. You can see the departure and arrival stations, and the number of tickets we've selected: 1 Adult. Do make sure you have the correct stations listed here. Both Rome and Florence have multiple stations. Heading to Florence, 99% of all tourists want to arrive at Firenze Santa Maria Novella. This is the downtown train station, very close to the Duomo and the center of town. If you select the wrong station you could be miles from your destination. And many trains into Florence are non-stop, so you won't have the opportunity to jump off at the "other" station. Verify here before buying your tickets!

On the top RIGHT side of the page, you can see that you can sort your routes by Departure time, Arrival time, or the Duration of the journey. The default, as shown, is routes listed by "Departure." Further right you can see an option to change the level of service. The default service level is 2nd class. Some trains have 1st and 2nd class – some just 2nd class. Some of the newer trains have four classes of service! In the dop down box here, it's only two selections (really 1st or 2nd) but the other options are bundled within your first and second class selections… Basically, pick 1st or 2nd – it's already defaulted at 2nd class!

---
Route Information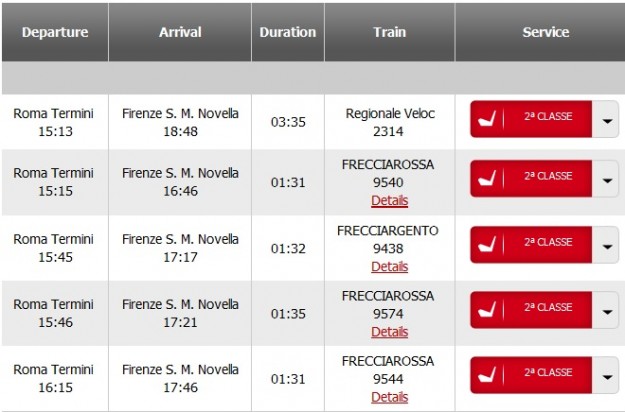 Moving down the page, now on the LEFT side you get the view above. This is a breakdown of the Departure Station, the Arrival Station, the duration – or amount of time the trip will take from point to point and may include several trains if you have a longer route, the type of train and train number (VERY IMPORTANT), and the level of service you have selected.
Look at the first option. It leaves Roma Termini at 15:13 in the afternoon. It does not arrive at the Florence station, Firenze S.M. Novella, until 18:48. That's almost 7 PM! The reason: it's a Regionale Train. It makes many, many stops on it's 'local" run from Rome to Florence. The trip duration is a staggering three hours and thirty-five minutes. Cheap, but slow.
For most visitors, this is probably NOT an option you would consider – due to the amount of time this will eat up. But look at the next train, departing at 15:15 – or 3:15 PM. This is a FRECCIAROSSA train; one of the premier trains in Italy! This train takes only one hour and thirty-one minutes to make the run to Florence – and it's non-stop! You can see that just in a one-hour span, five trains are headed to this Florence station! Four of those five are high-speed trains. So you do have many options.
The train names followed by a train number are the AV trains… the fastest, most comfortable, and yes – the most expensive! In the AV trains, Le Frecce translates as The Arrows; so Frecciargento is the Silver Arrow, Frecciarossa is the Red Arrow, and Frecciabianca is the White Arrow. How fast can these trains go? Here's a look at my GPS clocking us heading south on the Frecciarossa (Red Arrow):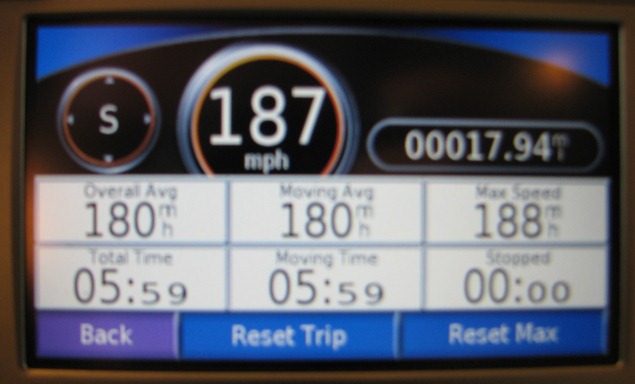 ---
The TRAIN Column
The TRAIN column data is probably one of the most important, and overlooked bits of information. Here's why – when you go to the train station and look on the Display Boards (either a "clacker" or electronic board), they list the final destination of the train… and the train number. Now if you're headed to Florence and your train continues on to Milan, the board may display Milano Centrale… which would make no sense to you. But the train number will always STAY the same no matter where the final destination is. So always know – and always look for – your train number.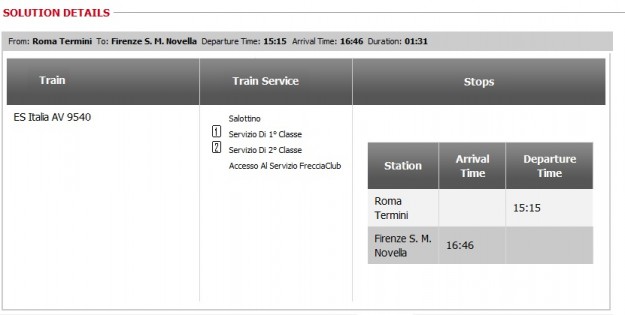 If you click on the red "Details" link just under the Train name or number in the TRAIN column, you'll get an entire breakdown of the route, including the stops you'll make. You can see that in our example, it's non-stop.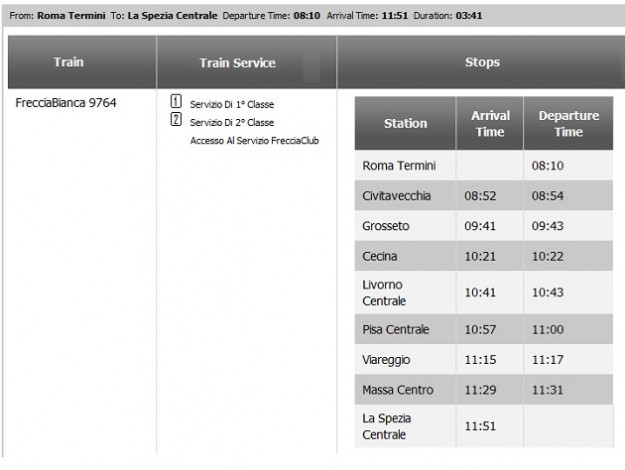 Just to give you a reference point, here's another route I pulled up and in this example you can see the stations and times the train will stop.
---
The SERVICE Column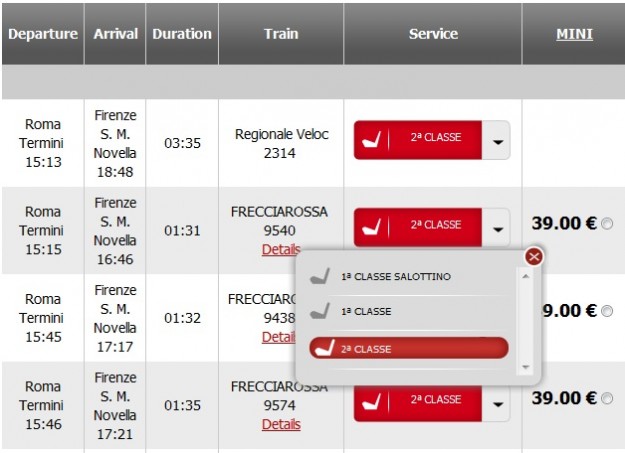 If you click on one of the down arrows in the Service Column, you may get something similar to the picture above. A drop-down box will appear that details the levels of service available on this train. Some will just say 2nd class. Here, we have three options available. The 1st Class Salottino is a smaller, compartment-area. Great if you have a business group traveling together but an area few tourist need – or would want to pay the additional fees. If you change the level of service, the prices will all change!
---
The Pricing Section of the Page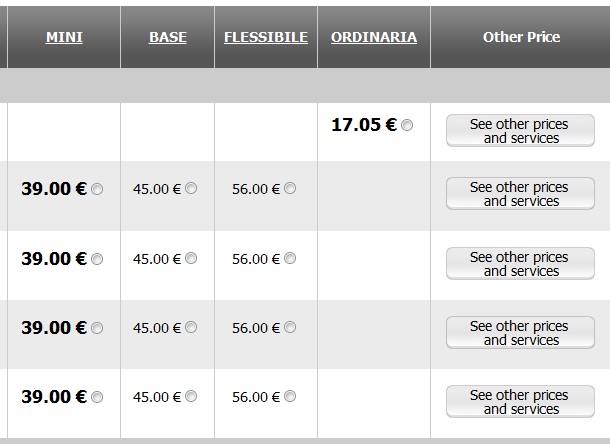 On the right side of the page are the prices – and again, if you change the level of service… from say 2nd class to 1st class, the prices will also update. For many folks buying online, the first column, for MINI tickets is what you're looking for. Read more about MINI fares here. You can see the different levels of pricing for each ticket. For more information on these types of Trenitalia tickets, click here.
You can also click on each of the headers and get a Trenitalia description of all the options. The one description you won't find is for the ORDINARIA ticket. These are online tickets available only for Regional trains – which is why you don't see a listing for the other four train options in this column. And since Regionale tickets aren't discounted, there are no MINI or BASE option pricings.
You can see that for train at this time of day, the MINI price for one adult ticket is €39 – that's only €6 less than the €45 BASE price… which is the 'standard" price and the best price you can get if you walk up to a counter or kiosk 30 minutes before that train departs.
---
The "See other prices and services" Button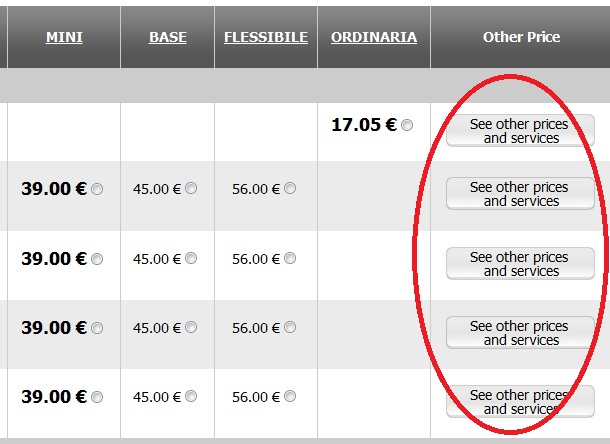 If you look on the far right side of this page, you see a button labeled "See other prices and services." For each train you can see other pricing options and OTHER levels of service- like an Executive option.
Most folks will not need these options. But if you clicked you might see ticket options listed: BASE, FLESSIBILE, A/R IN GIORNATA, FAMILIA 20%, C.ARGENTO RAILPLUS, C. SPEC. III ISOL. C. SPEC. VIII T5 ISOLATA, CARTA VERDE RAIL PLUS, CARTA BLU TITOLARE, CARTA BLU ACCOMPAGNATORE, C. SPEC.III ACC. TITOLARE, C. SPEC.III ACC. ACCOMPAGNATOR, C. SPEC.VIII T.5 ACC. TITOLARE, C. SPEC.VIII T.5 ACC. ACCOMPAG, DIRITTO AMMISSIONE PERS.LE FS, DIRITTO AMMISSIONE, MINI, CARTAFRECCIA DAY, BIMBI GRATIS TITOLARE, BIMBI GRATIS ACCOMPAGNATORE, and INTERNAZIONALI BNL D'ITALIA.
Yes, there are many, many ticket options. For a visitor, you would probably only use the ones in the main window (MINI, BASE, and FLESSIBLE) – or you might select this button to see the FAMILIA 20% option. You might read this article for more information on the Family Ticketing options. Note – children 4 and under ride free (but in your seat) and children 5-12 are considered children and help you qualify for the family discount. Actually, family is a misnomer as there does not have to be any proof of relation – just age. So if you take your neighbor's kids, you can still qualify for the family discount – if they're between 5 and 12.
For most visitors – unless you are taveling as a family – you would never need to select this option as most visitors are not eligible for any of these discounts (Many Italians aren't eligible either!).
---
Selecting a Train Route and Choosing a Seat

Let's say we want to depart on the 15:15 train (although I'd probably look later or earlier to see if I could get a better MINI priced ticket). To choose this route – and purchase a MINI ticket – click on the "selection button" next to the €39 prince. Once you do, a red box will surround your selection – just like the photo above.

Now that you've made your train route selection, page down and make your seat selection. The default setting is AUTOMATIC ASSIGNMENT. On high-speed trains, seat reservations are required. Booking on the Trenitalia website, the reservation fee is INCLUDED in the price of the ticket – so there will be no additional fees.
For other types of trains, you may have other options in this section. They might include the type of seat or, for overnight journeys, the accommodation in couchette or Wagon Lits. For Couchettes and Wagon Lits, you can – if you prefer – indicate an upper or lower berth or a compartment for say, ladies only.
If someone you know has already bought tickets, then the "Seat Near to" button allows you to try and get in the same carriage and sit near or close to them. Choosing this option, you will be promoted to enter their information. The website will search for the closest available seats.
As you can see from the photo above, I chose the SELECT THE SEAT option. In addition, at the bottom of the page, I also selected to continue as a non-registered guest. Then select Continue.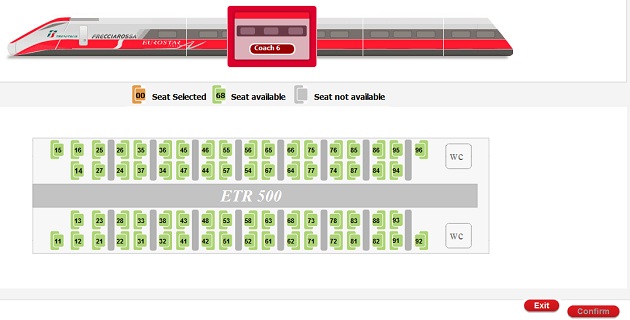 The seating page opens up next and it looks just like a seating plan on an airliner. You click on each seat to "select" your seat(s). You pick your seats(s) and then hit confirm.

Here's a close-up of my seat selection. Trenitalia highlights your seat(s) by turning them a different color. I choose seat #84 so I could look towards the luggage storage area at the end of the train.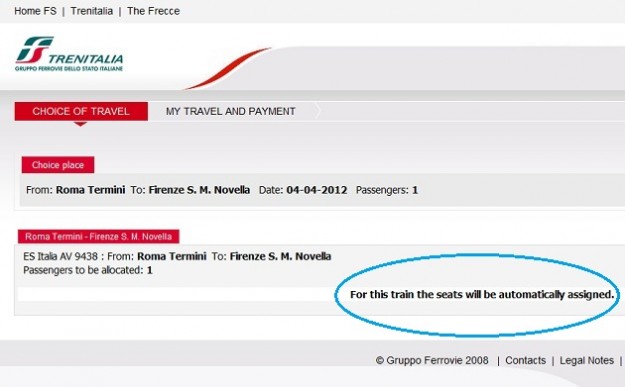 Unfortunately, as Trenitalia continues to upgrade their website, despite asking to select your seats, you might get the message above: The seats for this train will be automatically assigned.. Ouch! In the past, this section of the Trenitalia website ALWAYS assigned seats "automatically." I tried many different dates and routes and unfortunately I did get this response on a few. Hopefully, Trenitalia will get this update fully completed so there are less "bugs" like this one.
---

MY TRAVEL AND PAYMENT
Once you make your seat selection, and hit confirm, you'll move to a new section of the process, the MY TRAVEL AND PAYMENT page. You'll get a confirmation page, an opportunity to get one last look at your booking before paying, and a chance to enter person information to attach to your tickets.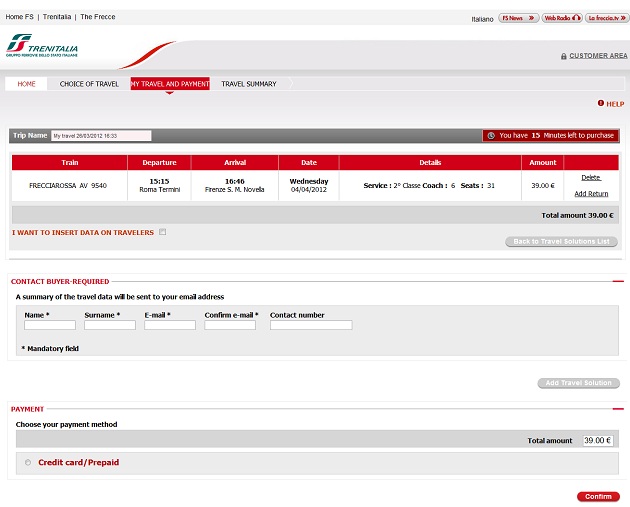 Above is a large printout of the confirmation page. The top section will again provide you the train departure time, arrival time, train number (and train name if applicable), the coach and seat number, and the price you'll pay.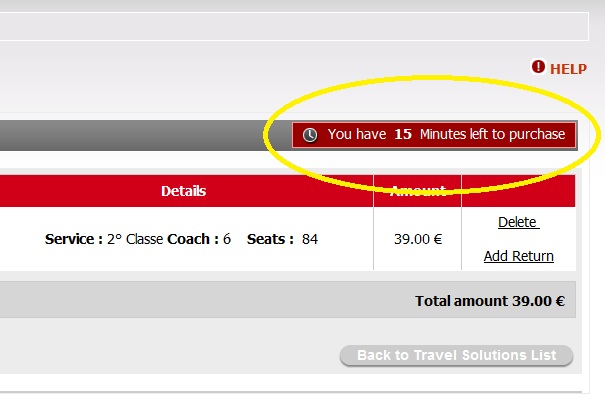 You will see a "time counter" on the top right. You now have 15 minutes from this point to COMPLETE the purchase transaction. And the clock is ticking! If you do not complete your transaction – or your credit card gets repeatedly refused… and you run out of time – then your seats go back into the general population and you'll have to start over.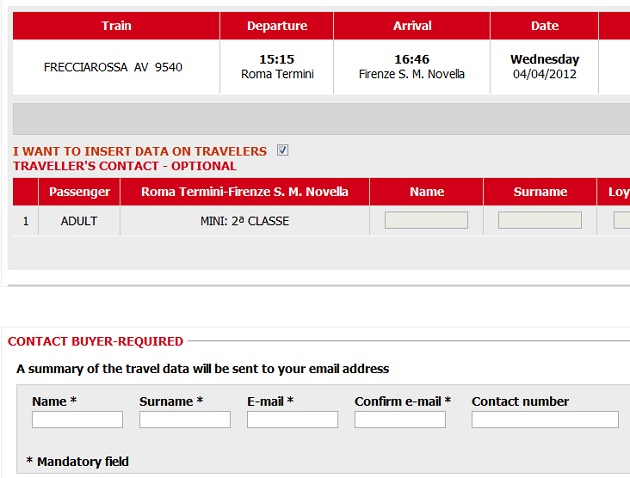 Zooming in in the top LEFT side of this form (above), you can see there is an option to add some personal information. I "selected" the "I WANT TO INSERT DATA ON TRAVELERS" button just to show you the drop-down box information. If you purchased four tickets you would get four lines of optional entry information. Frankly, I NEVER add any data here – for anyone. I don't have a Trenitalia frequent miles card and the other information is not necessary. So I DON'T usually check this section… Your tickets will be listed by the buyer's surname which you have already provided.
Just below the "I WANT TO INSERT DATA ON TRAVELERS" button is an area to enter your contact information: CONTACT BUYER-REQUIRED. This is a required area. If you are a Trenitalia registered member and you are logged in, then this area will be filled in.
If not, then you will have to complete this section BEFORE you can move on to the payment area. BE VERY CAREFUL when entering your email address as this is where your confirmation and PNR codes will be sent… Enter the wrong information and you won't get your PNR codes, which is actually your ticket. If you are pre-registered, make sure your email address is correct! When YOU ARE SURE ALL your required entry info is correct, Click on CONFIRM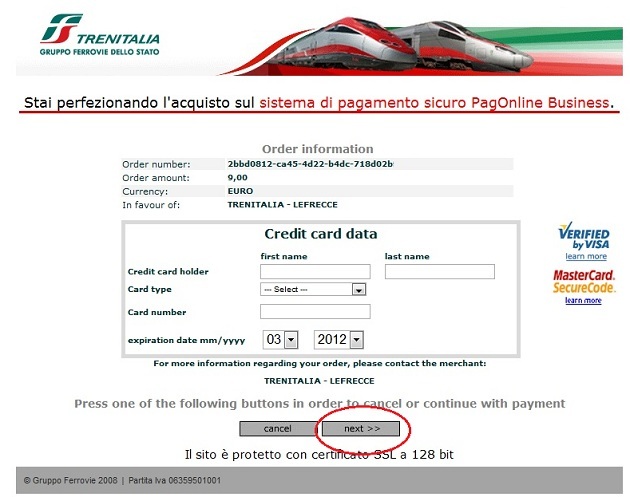 Once you click on CONFIRM, you'll be taken to the Payment entry page. (Trenitalia is now even testing allowing you to pay with PayPal!). Here you'll enter your credit card information. Make sure all info is correct. Once you hit "next" (circle in red) the transaction will take place IMMEDIATELY. So make sure that that all your info is correct and you DO want to make this trip as once you hit "next" there is NO OTHER review screen. The Payment will be processed immediately.
Years ago, this was nail-biting time! Will your credit card work? Trenitalia is much more receptive to foreign credit cards. But for some purchasers, it would perhaps be a good idea to to notify your credit card company in advance that you intend to buy tickets through the Trenitalia system. That phone call could save your hours of headaches, frustration, and even money!
---

TRAVEL SUMMARY
The TRAVEL SUMMARY section is a "post-payment" page. This is a recap of your transaction. As your purchase is completed and registered, any changes you may need will probably have to be done through the call center or at a Trenitalia counter in a train station.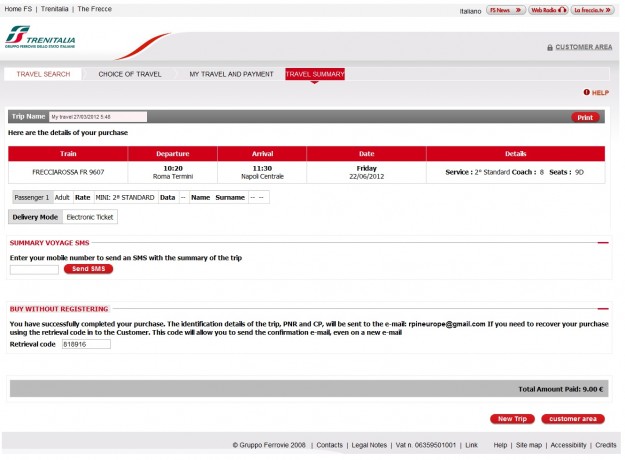 Okay, you selected "next", your screen probably flashed you a payment received notification, and you are taken to the above, "post-purchase" screen. This page again summarizes the transaction you paid for in the previous step. Note- for this example, this is a separate ticket I purchased for a trip to Naples from Rome. I actually managed to find a 9 euro fare by using a MINI fare ticket option – HOORAY!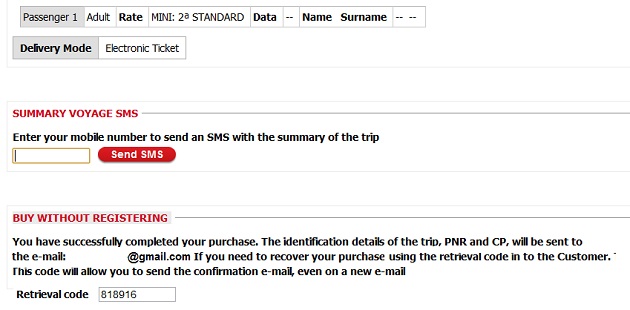 The top section is again a summary of the train you chose, including the departure and arrivals times, and your seat designation. Zooming in on the lower section (pictured above), we can see the details of this purchase.
First, this page tells you that there is 1 passenger for this route, That this is an Adult ticket at a MINI discounted fare and the seat will be in the 2nd class section of the train. Because I did not enter any name for the ticket, it does not show any info here. (Your email will be coded by your surname).
If you like, you can enter your mobile number and get an SMS. Unfortunately, it appears only to work with Italian phone numbers. I tried my Danish, UK, and US numbers and it would not send. When I entered my Italian mobile, it successfully sent a message.
Lastly, and perhaps the most important part of this page is the retrieval code at the bottom. Print this page out or write down this Retrieval Code. If you do not get an email with your PNR and CP codes, you'll need this number to re-send the email… or to get the Trenitalia folks to help you. The PNR code IS your ticket, so getting that email is a requirement! The Retrieval Code is your life-line in case the email does not come.
And that's it – you're done. The purchase process for Trenitalia is far easier than it used to be. Now go look for your email. The email should be FROM Trenitalia and the SUBjECT LINE should read: Your Trenitalia Ticket. If you do not see the email within 10 minutes of your purchase, check your SPAM or junk email box. Perhaps it's there. Without this email, you have NO Tickets!
The email will have have a PDF file attachment. This is what you need to print and bring with you to serve as a ticket (or you can just use the PNR code). In the email, you'll get a recap of your journey – again, all the departure and arrival times, and things you saw BEFORE you purchased your ticket. You'll also get the following information NOT visible on the website (This needs to be something they add to the summary page!):
Booking code (PNR):
Master code:
Pick up procedure: Ticketless
Buyer name:
CP reservation change code (CP):
Ticket Code:
The Booking Code (PNR) is imperative for riding the trains. It IS your ticket. If you have lost or forgotten your payment receipt or the PNR code, and you get on a train, you will be considered as being without a train ticket and then you will have to pay for tickets plus any applicable fines. Sometimes, depending on the conductor, if you have proof of identity that corresponds to your purchase (ID, credit card) a ticket may be issued without any charge – but don't count on this happening. Print out your email and bring it with you – treat it as you would a paper-ticket!
The CP code and Buyer Name are required to make changes – or if you have ticket issues. Without this email, your "change options" are quite limited.
You'll also see a Master Code in the email. It is a numerical code (made up of 12 figures) available only for purchases made with the ticketless procedure. The Master Code constitutes a ticket payment receipt. This code, together with the Booking Change Code (CP) can be used to change booking date and time of the ticketless tickets – if necessary.
For more information on the PNR code, and how to use it on the trains, see our posting:
Going "Ticketless" and Using PNR Codes on Trenitalia
---

Self-Service Ticket Distribution – List of Stations
You don't need to print out your ticket as the PNR code IS your ticket… but some tickets can be printed once in Italy. If you plan to print out your tickets using the self-service kiosks (automatic ticket machines), they are installed in Italy's main railway stations (see the list below). The kiosks can be used to pick up tickets bought on-line following a simple procedure that requires keying in the name and surname used for the purchase and the booking code (PNR).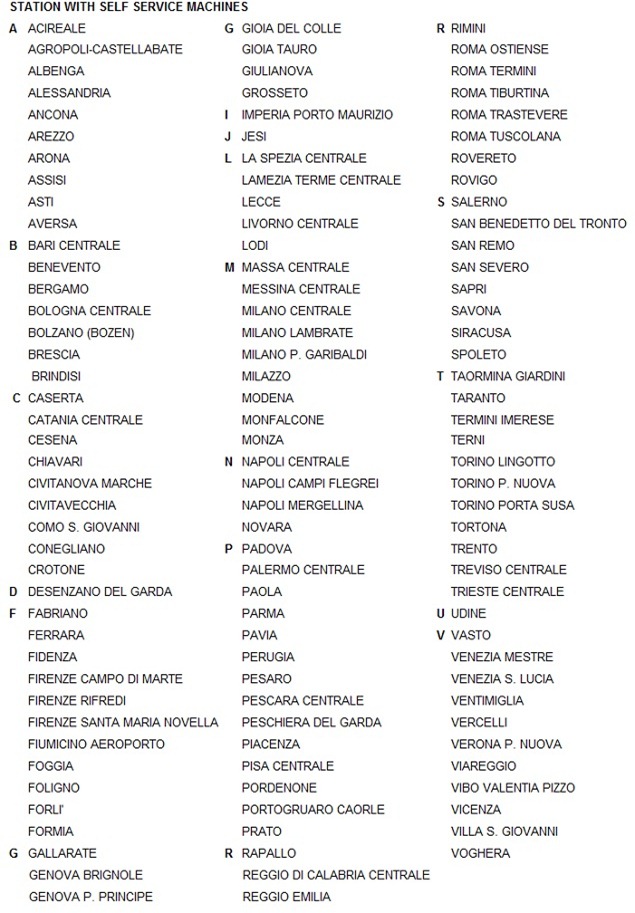 ---

Other Booking Options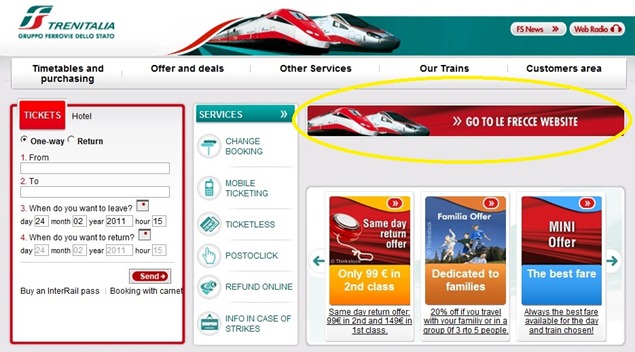 On the Trenitalia website (currently) there is another booking option if you just want to look at the Le Frecce (the Arrow) trains. These are the fastest, plushest, and most expensive – so why not have a separate booking option! On the main screen, above, click on the LE Frecce section, highlighted by the yellow circle.
Once you make this selection, you end up at this LeFrecce page.
From here, the steps are somewhat similar to the process we have already worked through. Of course, you will ONLY see the Le Freece trains on this section of the website. It does have an Advanced Search Link and the option to look in a three-day range. You pay more – you get more!
---

In Summary
So that's a basic summary of the Ticketless options at Trenitalia. Daily, the system continues to evolve and improve. The website you see may look different than this March 2012 version – and ticketless usage is certainly becoming more and more prevalent with smartphones and online capabilities. But the basics of purchasing an online ticket should remain similar. Hope this guide has helped you. Buying in advance – especially with the opportunity to purchase discounted tickets – will save you money and time. Good Luck!
---
Header: Photo: FS ETR 600 Frecciargento Trenitalia – By Stopar Carlo
---
If you are interested in Luxury Travel Advice, Information, and Support…
Please contact me, Ron in Rome, at Ron Phillips Travel

An Independent Advisor for Brownell Travel
A Virtuoso® Agency

Website: www.ronphillipstravel.com
Email: info@ronphillipstravel.com
Phone: (404) 474-3851
FAX: (678) 528-2672
And if you'd like more updates on travel specials, news, and events LIKE us on Facebook at

---