You have probably read on many travel board suggestions to pay "in cash" when purchasing services in Italy and by doing so, you could save money. But you can also book flights, like a local, and save up to 55% on your tickets. How? Rather than booking through the Alitalia USA Site, utilize the Alitalia Italian site!
The Alitalia Italian site.…well, it's in Italian – so this may be a little more work. But if you utilize a browser like Google Chrome, or a few other browsers, they can translate the site as you surf the page. Or just get out your dictionary! With savings of more than 50% on airfare, it's well worth the effort.
---
Can You Really Save 50%?
Yes, but first let's get to the Alitalia Italian site. If you've been to the Alitalia webpage before, and you chose your home country, when you type in alitalia.com you may get deferred to the site your browser remembers. In many cases, it might be the Alitalia USA Site, like below: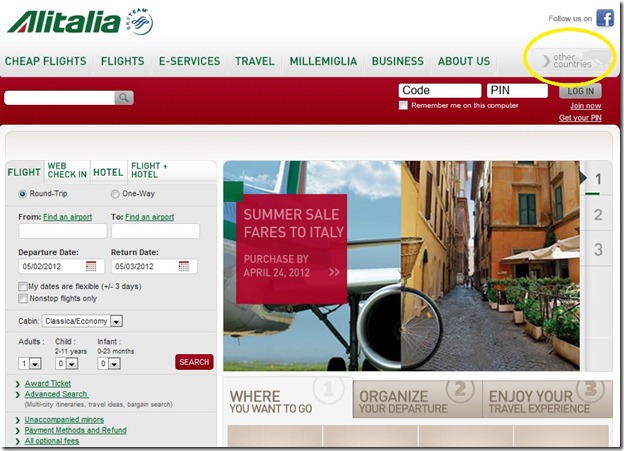 What you want to do is go to the top right side of the page and choose to select another country. It's circled in yellow in the picture above.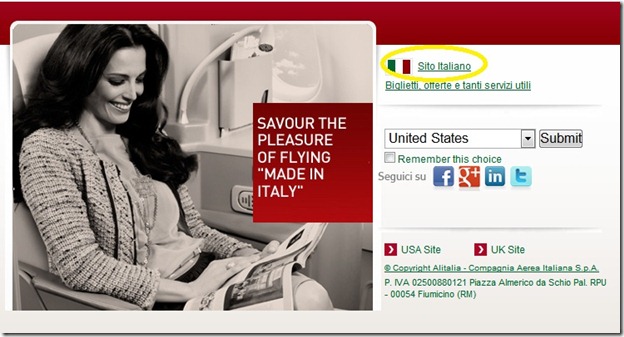 Once you choose the "select country" option, a page similar to this – depending on your country of origin – will load. We want to go to the Alitalia Italian site – the "home" site for Alitalia – so well select Sito Italiano, circled in yellow above.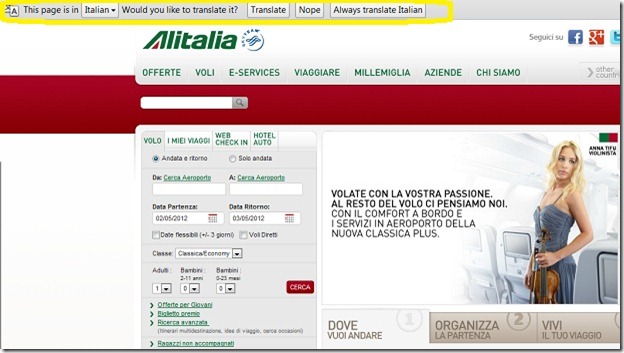 Once I make this selection, I'm transported to the Alitalia Italian webpage. Your page may look similar to the photo above. Note that I am using Google Chrome as my browser so circled in yellow is the "Do you want to translate it" option. If I choose TRANSLATE, then my page changes to this look: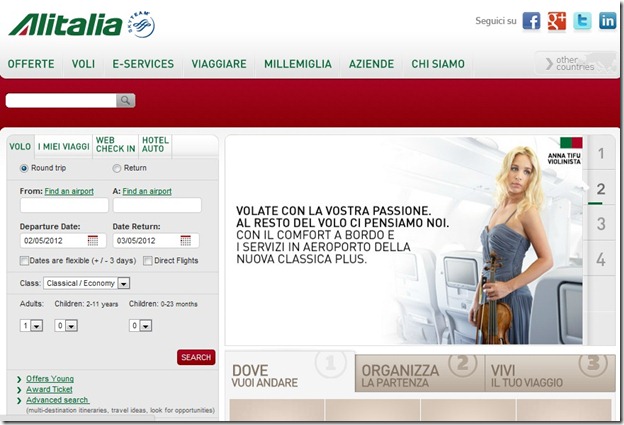 As you can see, NOT everything gets translated. But the important parts… From, To, Departure Dates, etc. do get changed to your language.
From here it's a simple booking process. I often book in Italian when using this site (it's just faster for me and sometimes the Google browser may hang up), but certainly many parts translate quite easily. Occasionally, when you are selecting a "translated" button, you may have to revert back to the original language (Italian) to go to the next step.
Sometimes when I input airports – in the English mode – the site gets confused and I get a page like this: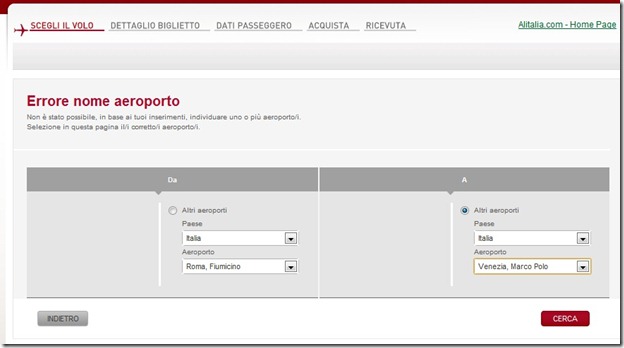 Then you have to select the airports, as I did above for our example, and hit CERCA. But the site is very easy to use.
---

---
The USA Site
Okay, this seems like a lot of work so what's the payoff? Let's look at an example. I am going to select a random flight, one-way from Rome to Venice. I also picked a day in the future, June 21. First, let's look at the results I would get if I worked through the Alitalia USA Site.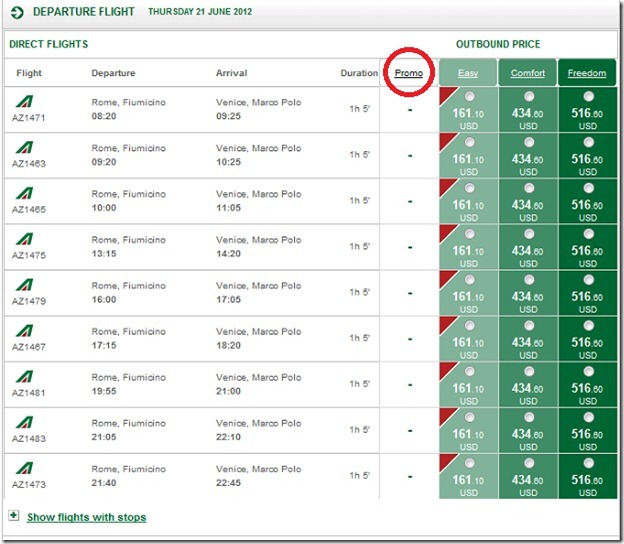 For June 21, from Rome to Venice, here are the pricing options that come up on the Alitalia USA Site. You can see that the lowest price, in the "Easy" service class is pretty much $161.10 all day. Because I choose a day in the future, these are probably the lowest prices for each of the three levels of service and ticket flexibility.
We're going to look specifically at Flight AZ1471 which departs Rome's FCO airport at 08:20 AM. The lowest price available to us is the $161.10 amount, which in todays' money is about 122€.
Note that the PROMO column, circled in red is unavailable on this Alitalia USA Site and thus no prices are available. This one of the major differences between the foreign sites and the Alitalia Italian webpage.
---
The Italian Site for Alitalia
Okay, so we have our 'best" price from the Alitalia USA Site at $161.10 or 122€. Now, let's enter the same date and route into the Alitalia Italian site. When we do, we get the options pictured below: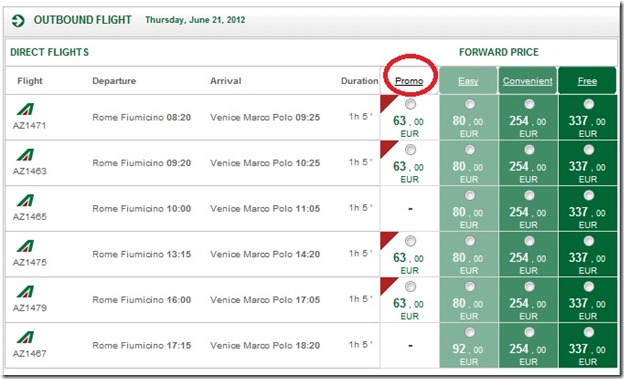 You will immediately see on the Alitalia Italian site that now the PROMO fares are available… circled in red above. This is the BIGGEST difference between the two websites. On this website, the same 08:20 flight, AZ1471, is only 63€ when using the PROMO option. If you select this flight, you'll move to the next page and see an additional "Service fee" added of 5€. Thus, our total cost, on the Italian site, for Flight AZ1471 is 68€ – which in today's money is only $89. Booking here, with the PROMO fare, you would save $72 on your ticket – that's a savings of almost 44%.
And if you're even more flexible, there's a 19:55 flight, AZ1481, that costs only 50€. Add in the 5€ service fee and your one-way flight is 55€ – or $72.50…. a savings of $88.50 . That's about 55%, so basically it would be "buy one, get one free" as compared to the Alitalia USA Site.
But that's not the only savings. Take a look at each of the "available" fares. They header names are translated a little differently, but the Alitalia USA Site – no promo options available – run $161, $434, and $516 for the three service classes. On the Alitalia Italian site, those same flights, when converted to dollars from 80€, 254€, and 337€, would cost $106, $335, and $444. Again, even without the promo fees, you save 14 – 34%, depending on the class of service you select.
Okay, so what's the catch?
Well, there are a few.
First, the Alitalia Italian site does add a "service fee" of 5€ when you purchase through their site. This type of "service fee" is very common for Euro-carriers. At these cost savings that is a minimal amount.
Second, if you purchase a PROMO fee on the Alitalia Italian site, the tickets are non-refundable and the change fees are approximately 120€, plus probably penalties for "differences between flight" costs. Alitalia does not go into a lot of detail here – it just says changes allowed with a penalty – but it might be cheaper to just buy a different PROMO fare if you have to make a flight change!
Another slight difference, if you purchase a NON-PROMO fare on the Alitalia Italian site, then the change fees are 5o€. On the Alitalia USA Site change fees are in US Currency and are $50 – so a slight difference due to the local currency.
Summary
So, if your are flying inside Italy, over to Sicily, or plan on using Alitalia – and yes, they have gotten MUCH better in service and on-time performance – then this certainly could be an option for you. Nowhere is it stated on the website, nor are there any restriction, that you have to be "a local" to use the Alitalia Italian website.
I can't take credit for discovering this pricing anomaly. I read about it some time ago on a Tripadvisor post by Vagabonda, who has amassed 40,000+ contributions since 2007. And since then I, and many other folks, have utilized this option. So kudos to Vagabonda for relaying this information on the web. Good Luck in your bookings and travels!
---
Alitalia Italian webpage: http://http://www.alitalia.com/IT_IT/
Alitalia USA Site: http://www.alitalia.com/US_EN/home/index.aspx
Header: Alitalia Flight Landing – Photo by Wikipedia
Alitalia Jumbo – Photo by All Alliance News
---
If you are interested in Luxury Travel Advice, Information, and Support…
Please contact me, Ron in Rome, at Ron Phillips Travel

An Independent Advisor for Brownell Travel
A Virtuoso® Agency

Website: www.ronphillipstravel.com
Email: info@ronphillipstravel.com
Phone: (404) 474-3851
FAX: (678) 528-2672
And if you'd like more updates on travel specials, news, and events LIKE us on Facebook at

---