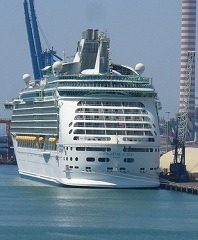 We're very fortunate to have an expert guest columnist writing this article! Zerlina is a well-regarded contributor to numerous travel boards with thousands of helpful posts and grateful travelers. If you've been on tripadvisor, Fodor's, etc. you've certainly seen Zerlina's posts. Her knowledge of Italy is incredible and she's an expert on Rome, where she has spent ten months over the years. Today she offers special insight into what to with only a day in Rome. We welcome her advice and look forward to future postings!
---
Two very frequent questions in travel forums are "How do I get from Civitavecchia to Rome?" and "What can I do in Rome in a day?" The first question has been answered here. This is my suggestion in answer to the second.
Some people may prefer organized shore excursions; others may opt for pricey one-day tours with car and driver. But with a little spirit of adventure and a good map – there's quite a good printable one here: Planetware.com – you can do a walking tour and see a great deal of Rome in a day: for only 9€, plus whatever you spend on gelato, food and admission fees.
---
How to Visit Rome for Just a Day from the Civitavecchia Port
How to Get from Rome to Civitavecchia
Riding the Buses in Rome
Riding the Metro in Rome
Metro, Bus and Train Strikes in Italy
---
Central Rome is much smaller than many people realize, and a walking tour is very doable for anyone without mobility issues who is reasonably fit. Walking times are given at the end, or in the text for optional detours.
Below is a map of each location discussed in this article. Use the "+" or "-" signs in the top left corner of the map to zoom in or out.
CLICK HERE to see this in a larger, printable Google Map
Getting There
Buy a B.I.R.G. ticket in Civitavecchia, take a Regionale to Roma Ostiense

, and transfer to Line B at the adjacent Piramide station
. On the Metro Line B head in the direction Rebibbia, go two stops and get off at the Colosseo stop

.
---
Colosseum
To my mind, the Colosseum is most impressive from the outside, and with limited time, I wouldn't go inside. But if you do want to see the interior, you can skip the l-o-n-g lines of people waiting to buy tickets by buying a ticket online here: Pierreci.it. The surcharge over the regular 12 Euro price is only 1.50 Euro, and it can save you a lot of time. Count 45 minutes to an hour if you go inside.
---
Via dei Fori Imperiali
From the Colosseum, walk along Via dei Fori Imperiali to Piazza Venezia. From the street, you'll get great views of the Roman Forum

on the left and Trajan's Column

and Trajan's Market

on the right.
View on Via dei Fori Imperiali looking towards the Colosseo. View on Via dei Fori Imperiali looking towards Piazza Venezia. The Roman Forum. Trajan's Column.Trajan's Market
---
Piazza Venezia
The gleaming white monument is the Monument to Vittorio Emanuele II

, the first king of united Italy. It is also called the Vittoriano or, less respectfully, the Wedding Cake or the Typewriter.
Mussolini's Balcony in Piazza Venezia
---
Trevi Fountain
From Piazza Venezia, walk to the Trevi Fountain

. It will be very crowded, but most people consider it a must-see.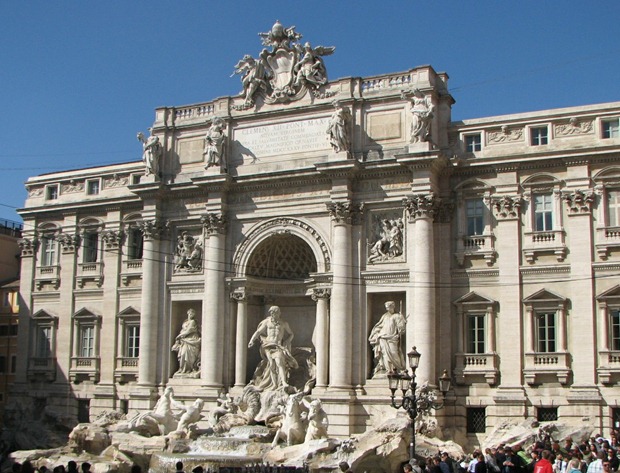 ---
Piazza di Spagna/Spanish Steps
(Optional Detour)
Many people also consider the Spanish Steps

a must-see. Personally, I'd give it a miss: It's a set of stairs, pretty ones without a doubt, but it's always crowded, and getting there takes you through some of the most touristy streets in Rome and takes time away from exploring nicer piazzas in the historic center. If you opt for it, you might want to walk across Ponte Cavour and pick up this walking tour at Castel Sant'Angelo

. Walking time from Trevi Fountain to Piazza di Spagna is about 10 minutes, from Piazza di Spagna to Castel Sant'Angelo about 20 minutes.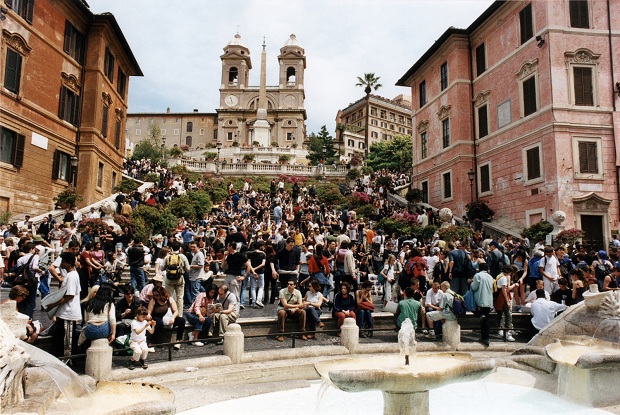 ---
Pantheon
Walking from the Trevi Fountain to the Pantheon

will take you through some of the most characteristic streets of the historic center. They are small and narrow and paved in cobblestones, and even the ones that allow traffic do not often have sidewalks.
Because the Pantheon became the Basilica of Santa Maria ad Martyres very early on, it is the most completely preserved ancient Roman building.
Very close to the Pantheon is the Church of Santa Maria sopra Minerva

, very popular with visitors and the only Gothic church in Rome. It has Bernini's Elephant and Obelisk in front.
The plain looking facade of the Church of Santa Maria sopra Minerva with Bernini's elephant out front.One of many flood markers on the front of the S. Maria sopra Minerva. Amazing how high the water was. Look on the right side of the church exterior.
---
Piazza Navona
More cobblestone streets take you to Piazza Navona

, built along the outlines of Domitian's Stadium,and considered Rome's loveliest piazza. Bernini's Fountain of the Four Rivers is the central one of the three fountains.
---
Campo dei Fiori Open-Air Market
(Optional Detour)
If you haven't gone into the Colosseum, you may be in time to visit the open-air market in Campo dei Fiori

; it winds down starting at noon or 12:30 pm and is gone by 1 pm. Monday through Saturday, it's primarily a food market; on Sunday, the limited stalls mainly sell inexpensive clothing and trinkets. It's about five minutes on foot from Piazza Navona.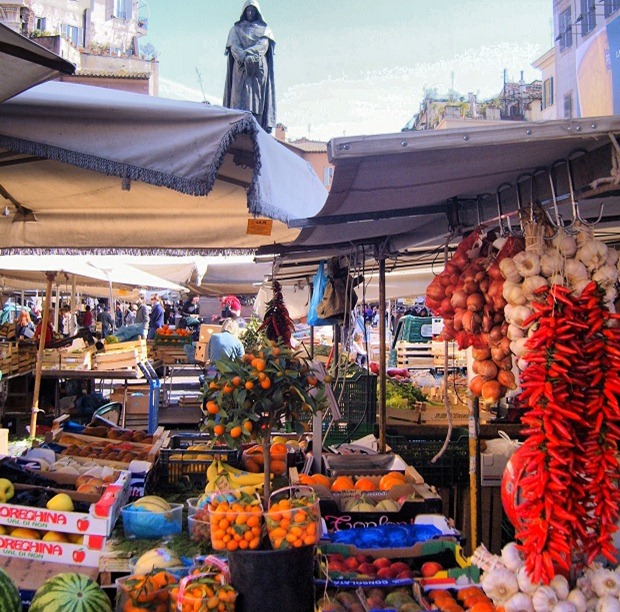 ---
Saint Peter's Square and Basilica
To get from Piazza Navona to Saint Peter's Basilica, take Via dei Coronari

, a pedestrian street lined with antique shops, and the pedestrian Ponte Sant'Angelo

with Bernini's angels. You'll see the Castel Sant'Angelo

in front of you, built by the emperor Hadrian as his mausoleum, turned by the popes into a fortified castle and now a museum. From the Castel Sant'Angelo, the Via della Conciliazione

takes you into St. Peter's Square

: the basilica is in front of you and Bernini's Colonnade surrounds you.
There is a security line to enter St. Peter's Basilica,

but it generally moves quite quickly.
Via dei CoronariPonte Sant' AngeloCastel Sant'AngeloLooking down Via della Conciliazione towards the BasilicaSt. Peter's Square
---
Vatican Museums and Sistine Chapel
(Optional Detour)
Many people can't imagine going to Rome and not seeing the Sistine Chapel. It can be done in a one-day tour, but the Sistine Chapel is part of the Vatican Museums

, a long, crowded walk from the entrance (and back again), and the chapel itself is almost always jammed with people. The visit can't be done in less than 2.5 to 3 hours. The admission fee is 15 Euro
If you decide to go, you can take the No. 492 bus from Piazza Navona (there are two stops on Corso del Rinascimento

) to the Bastioni di Michelangelo stop

, or if you've opted for the Spanish Steps, you can take Metro A from Spagna

to the Cipro/Musei Vaticani stop

. Your bus or Metro trip is covered by your BIRG ticket.
Since you can't tell in advance when you'll get there, there's no point in paying the extra 4 Euro to buy a timed-entry ticket in advance online. The guards will sometimes let you in if you're late, but they also have the option of making you stand in line. The good news is that the lines are short or non-existent after about noon or 1 pm, which is when you'll probably be there.
After the visit, you can pick up this walking tour at St. Peter's Basilica

, which is a good 10-15 minutes away on foot: it's on the other side of Vatican City, which is surrounded by walls.
The entrance to the Vatican Museums (marked by the red arrow)One of the two 492 bus stops on the Corso del Rinascimento, which runs next to Piazza NavonaThe 492 bus stop at Bastioni di Michelangelo (marked by the yellow circle). Walk to the traffic signal (marked by the red circle) and turn left to get to the Museum entrance. Note the walls of the Vatican on the left side of the picture.
---
Getting Back
As you face St. Peter's Basilica, go through the Colonnade on your left towards Via di Porta Cavalleggeri

. Take the No. 64 bus

to its terminus at Piazza Stazione San Pietro

. Take a Regionale train back to Civitavecchia.
Exiting the Left side of St. Peter's Square through the Colonnade. #1 is the colonnade you'll walk through as you exit St. Peter's Square. #2 is the ramp/tunnel that allows you to walk under the road and on to the San Pietro Train Station. #3 is the bus stop for the 64 bus if you choose to ride to the San Pietro Train Station.Roma San Pietro train station
---

---
And in Conclusion
Rome wasn't built in a day, and you can't see it in a day, but you can get a good taste of it in a day.
Different people walk at different speeds. The walking distances are not great – Colosseum to Piazza Venezia 15 minutes, Piazza Venezia to Trevi Fountain 10 minutes, Trevi Fountain to Piazza Navona 10 minutes, Piazza Navona to St. Peter's Square 25 minutes – but it will take longer if you're less energetic, if you stop to look around, take photos, buy a gelato or window shop.
You'll also want to stop for lunch at some point. The historic center is full of restaurants in all price ranges. Look for one in the side streets off the piazzas and avoid the ones that have someone outside beckoning you in.
Unless there's a strike (strikes are always announced in advance) or an unforeseen calamity, the trains are reliable. But find out in advance when your cruise ship wants you back on board, look up the train schedules at www.trenitalia.com and, for extra peace of mind, plan to take not the last train that will get you back on time but the one before that.
---
Header:Puerto de Civitavecchia – Phot by jesusspider
Click on any imported picture to see the photographer and web location
---
If you are interested in Luxury Travel Advice, Information, and Support…
Please contact me, Ron in Rome, at Ron Phillips Travel

An Independent Advisor for Brownell Travel
A Virtuoso® Agency

Website: www.ronphillipstravel.com
Email: info@ronphillipstravel.com
Phone: (404) 474-3851
FAX: (678) 528-2672
And if you'd like more updates on travel specials, news, and events LIKE us on Facebook at

---