For years we've talked about skipping the line at the Vatican Museums. On this website there are multiple postings about these Vatican options, including Purchasing Skip-the-Line Tickets from the Vatican Online, 20 Tips to Help You See the Vatican, and Skip the Line – or Not – at the Vatican Museums… But we've never talked about pre-purchasing tickets to the Colosseum and Roman forum.
Yes, in the past we've talked about the process to "avoid the line" at the Colosseum, which meant purchasing your tickets at the Forum or Palatine box office, picking them up a day early, joining a tour, or even booking through a third-party vendor where ticket prices were often marked up 20-40%. Good news! Now there is a viable, inexpensive method to purchase your Colosseum tickets online… with a minimal handling fee. Just head to the Pierreci ticket booking site for the Colosseum.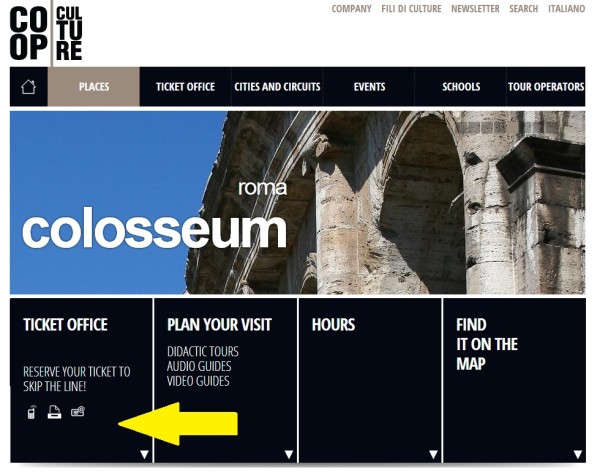 Above is a page-view of Pierreci new ticket website. Click on area designated by the yellow arrow to get to the Colosseum booking options. Unlike some of Pierreci's previous websites… this one makes sense! And it's easy to navigate. Colosseo bookings finally enter the 21st century!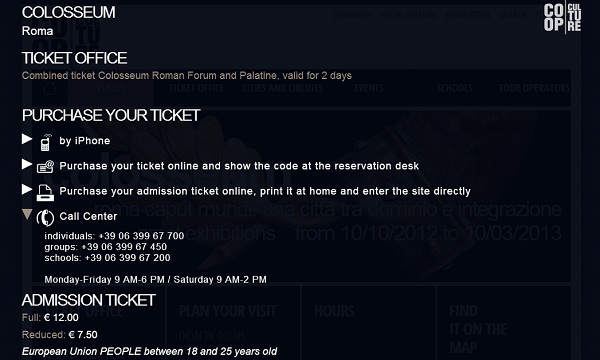 Once you "select" the Ticket Office, you"ll come to the page above.
This is the top half of the booking page for the Colosseum and you can see it offers you many options. You can use an iPhone option (but you have to download Pierreci's app first!), or you can have your "purchase code" emailed to you. So you can use an iPhone, print out your ticket from the email, or simply write the code down on a piece of paper and present it at the reservations desk. Whichever route you take, you WON'T be standing in the line that stretches for blocks around the Colosseum.
If you select the "ticket on-line" purchasing option, you'll head to this screen:
Here you can select your date, month, and year… and pre-purchase your tickets.
Very easy!
To utilize this service only cost €1.50 extra, per person, to reserve your tickets. That's a deal and a great time-saver for the busy traveler in Rome. The ticket price for most visitors is €12, so your total price per person will be €13.50. Well worth the price to book in advance and avoid the lines.
---
If you are interested in Luxury Travel Advice, Information, and Support…
Please contact me, Ron in Rome, at Ron Phillips Travel

An Independent Advisor for Brownell Travel
A Virtuoso® Agency

Website: www.ronphillipstravel.com
Email: info@ronphillipstravel.com
Phone: (404) 474-3851
FAX: (678) 528-2672
And if you'd like more updates on travel specials, news, and events LIKE us on Facebook at

---