After a long day walking around Rome, I'd often headed home from the Spanish Steps area. And if I needed a few minutes of decompression, I often found myself headed over to Via Margutta. This is a small, narrow street that runs parallel to Via del Babbuino – almost from Piazza del Popolo and almost to the Spanish Steps. I suppose many people have headed to Popolo from the Spagna area on Via dei Corso or Via del Babbuino, never knowing of this hidden treasure. For me, when you walk on this street, you could be miles away from Rome – perhaps in a small village or hilltown. The traffic noise seems to die away, filtered by the narrow street lined with ivy, art galleries, and boutique hotels.
La Fontana delle Arti,designed by the architect Pietro Lombardi, was built in 1927. It is one of many fountains built by the City of Rome wanted to celebrate the capital's neighborhoods and crafts.The fountain is thus topped by a bucket of paint brushes!
Back in the day, this area was known as the "the foreigner's quarter", where many artists lived and worked. Today it's quite the fashionable street – but simple. It became known to many Americans from the movie Roman Holiday
, with Audrey Hepburn and Gregory Peck. You see, Via Margutta, 51 was (and is) the address of Joe's (Gregory Peck's) apartment in the film. See the picture below, taken from the film Roman Holiday
, of Audrey leaving through the doorway at Via Margutta, 51 – followed by my Audrey Hepburn standing in the same doorway – Note her "Audrey Hepburn style" sun-glasses! That movie to a springboard for the street as it became more exclusive.
Truman Capote and the painter Novella Parigini lived on this street. Stravinsky and Puccini composed on Via Margutta. Picasso painted here. Elizabeth Gilbert, author of Eat, Pray, Love
reportedly stayed here – and not at the Via dei Portoghesi corner apartment where Julia Robert's resided in the movie. At the far end of Via Margutta, closest to Piazza del Popolo, is the home of the great Italian movie director, Federico Fellini, director of La Dolce Vita
, and the love of his life, the legendary Italian actress Giulietta Masina. His apartment, at Via Margutta, 110 is marked by a humorous pictorial sign outside – He used to hang out at Caffe' Canova, just around the corner in Popolo.
If you're in Rome at the end of October and beginning of November, you should swing by Via Margutta to see the festival, Centro Pittori Via Margutta, (100 painters on via Margutta). This exhibition started again in 1953 and features many different painting styles. It is a well established event and an opportunity for local artists to showcase their work. Local authorities support their efforts and cultural and often political 'heavy weights' make themselves seen. The picture below is from their website at http://www.centopittoriviamargutta.it/.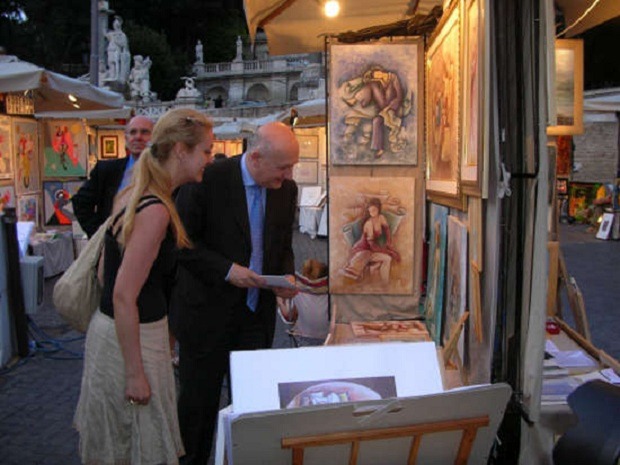 At 53B on Via Margutta is La Bottega del Marmoraro,, like walking into a different era. In this little shop Enrico Fiorentini, the owner, will chisel any words you want onto a piece of marble. His shop is decorated with many, many signs already completed and ready for sale. One day I was walking through Margutta and stopped in. Mr. Fiorentini was cooking baccala on a small grate in his fireplace… and graciously offered me a taste!
Chris Warde-Jones for The New York Times
---
If you get the opportunity – or you just need to get away from it all, like I often did in the chaos of Rome – there's no better place than Via Margutta.
---

Some videos on Via Margutta:
Click on any of the imported photos to see website and/or photographer
---
If you are interested in Luxury Travel Advice, Information, and Support…
Please contact me, Ron in Rome, at Ron Phillips Travel

An Independent Advisor for Brownell Travel
A Virtuoso® Agency

Website: www.ronphillipstravel.com
Email: info@ronphillipstravel.com
Phone: (404) 474-3851
FAX: (678) 528-2672
And if you'd like more updates on travel specials, news, and events LIKE us on Facebook at

---