When you leave Italy, probably one of the first things you miss is the food. Food prepared in Italy is unique… and incredible. We tend to travel on our stomachs so we were always looking for different restaurants and different tastes. Food in Italy is quite regional and thus there are many differences, depending on where you're visiting. I would hardly claim to be an expert… so I've enlisted the help of a few experts.
Below you'll find 30+ Italian cookbooks, among the most recommended. Some are classics, written more than 100 years ago and updated through the years. Others are from the TV-age and perhaps the authors are well known to you. Included in the text with each cookbook is ordering information that can help you get your hands on these books. If you can find the ingredients, than you're well on your way to replicating that great food in Italy. Enjoy!
---
Recipes from Emilia-Romagna, the Heartland of Northern Italian Food
By Lynne Rosetto Casper
From Publishers Weekly: This collection of recipes, history, food and folklore–surrendered by a tiny yet culinarily fertile region of Italy–was ably amassed by cooking teacher and writer Kasper. Even people "with only a passing interest in food" are likely to "recognize . . . this region's products." Among them are: Balsamic
vinegar, Parmigiano-Reggiano cheese and prosciutto di Parma. Northern Italy is also where the renowned rich Ragu Bolognese comes from; Kasper includes both a historical and a modern version, as well as a selection of kindred sauces, such as game ragu and an unusual ragu of giblets.
She pays homage to recipes ranging from the 16th century (rosewater maccheroni Romanesca) to the 18th (a Cardinal's favorite baked penne), but pays equal and fascinating attention to modern inventions: tagliatelle with carmelized onions and fresh herbs, and a lasagna of wild and fresh mushrooms. Nor does Kasper omit recipes incorporating the most famous native products. Balsamic roast chicken and sweet peas with prosciutto di Parma is an outstanding example. Rounding out various virtues are easy rules of thumb for making fresh pasta and a reliable guide to ingredients. Ordering Information
---
Italy's Most Glorious Regional Table
By Matt Kramer
Located in the northwest region of Italy, Piedmont is recognized by Italians for having the richest of the regional cuisines, reaching its pinnacle in the fall, when the white truffles and porcini mushrooms indigenous to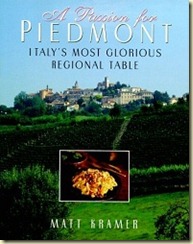 the area appear on the table. It is also home to the rice producing Po Valley, the motherland of risotto.
Matt Kramer shares his passion for Piedmont in over 150 recipes featuring the specialties of the region-from antipasti such as Vitello Tonnato to easy, classic pasta dishes such as tajarin, Piedmonts interpretation of tagliatelle, from main courses such as Chicken Braised with Sweet Red Peppers to authentic desserts like Oven-Warmed Peaches Stuffed with Crushed Amaretti Cookies and Cocoa. An entire chapter is devoted to the world class wines of Piedmont, which include the noble Barolo and Barbaresco. With descriptive prose and beautiful color photography, just as The Splendid Table did for Emilia Romagna, A Passion for Piedmont will share the regions culinary treasures. Ordering Information
---
Recipes and Traditions from Italy's Grandmothers
By Carol Field
Amazon.com Review: In Italy, the Nonna is vanishing. These grandmothers have lived though hard times and devoted their lives to feeding their husbands and children. When they are gone, valuable links with the past will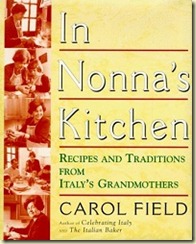 vanish with them unless their children or grandchildren take time to learn from them. Only then will someone continue to know where to find wild greens, how dough looks when it is just right, and how to prepare the dishes these inexhaustible women have made for decades.
In Nonna's Kitchen is Carol Field's recording of the lives of some of these women and the food they cook. Whether they live in the countryside, in a small town, or in a big city, their dishes are specialties found only at home, where everything is made from scratch and it does not matter if a favorite recipe takes hours or days to make. As the title indicates, these women's stories are as important as their food. Putting the two together, Field captures both the essence of the Italian spirit and the soul of Italian cooking. Ordering Information
---
Recipes from the Heart of Italy
By Maxine Clark
Discover the fascinating culture of Tuscan food and cooking in this sumptuous book. With chapters on antipasti; soups: bread and pizza; fish and seafood; meat, poultry, and game; vegetable side dishes; and sweet things the book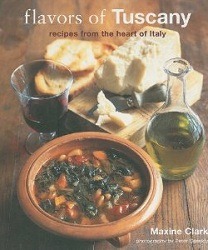 features a collection of over 75 delicious and authentic Italian recipes to try at home. Good cooks always emphasize the importance of using the best ingredients, and in addition to the recipes, Maxine Clark offers wise and witty introductions to some of Tuscany's key foods. She looks at Olives and Olive Oil; Sheep, Dogs and Tuscan Cheeses; Beans and Bean Eaters; Bread and Salt; White Cattle of the Val de Chiana (and their enormous steaks); Prosciutto and Cinghiale (wild boar); Orchards and Fields; and Wines: Super Tuscans and Vin Santo.
*Maxine Clark has spent many years in Italy teaching (and learning) about its food. This book is both a labor of love and the product of decades of research. Ordering Information
---
By Julia della Croce
Creamy risottos, fragrant vegetable casseroles, lively pasta sauces — these are just a few of the age-old pleasures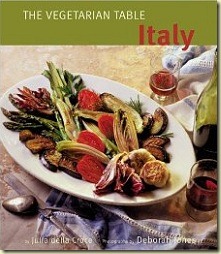 of the Italian meal now brought vividly to life in this first volume of our new Vegetarian Table series. Written by one of America's experts on Italian food and illustrated with evocative color photographs, this collection of over 75 versatile recipes celebrates the simple ingredients and delicious diversity of one of the world's most appealing culinary traditions.
Julia della Croce's culinary apprenticeship began in her mother's fine Italian home kitchen and continued during her many stays and travels in Italy. She is a freelance journalist. Ordering Information
---
Italy's bestselling cookbook adapted for American kitchens
By Ada Boni
Il Talismano is and has been for over 50 years the one great standard Italian cookbook. It is to Italians what Joy of Cooking is to Americans. Containing in simple and clear form the best recipes for all the foods that we associate with Italian cuisine, it covers all the regional variations of Italian cooking: Milanese, Bolognese, Venetian, Neapolitan, Sicilian, Veronese, and Florentine.
Appetizers range from the simply elegant, like Cantaloupe and Prosciutto and Artichoke Hearts in Olive Oil, to the sublime, like Tunnied Veal and Crostini of Mozzarella and Anchovies. Soups include Stracciatella, Fish Brodetto Rimini Style, and Tuscan Minestrone.
No part of Italy is very far from the sea, a fact reflected in the variety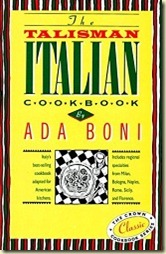 and quality of Italian seafood preparations: Flounder with Black Butter Sauce, Lobster alla Diavolo, Mullet in Piquant Sauce, Scungilli Marinara, and Shrimp Buongusto. For the landlocked there are recipes for Beefsteak alia Pizzaiola, Ossobuco, Saltimbocca, Scaloppine al Marsala, Loin of Pork with Milk, Chicken Cacciatora, Chicken Livers with Sage, Wild Duck with Lentils, and Rabbit in Egg Sauce.
Pasta is perhaps Italy's greatest contribution to world cuisine, and The Talisman contains dozens of authentic recipes like Homemade Ravioli, Green Lasagna Modena Style, and Spaghetti Marinara. There are recipes for Polenta, the Italian cornmeal preparation, as well as rice dishes and pizza.
Finally, Italian desserts are explored in full: Almond Macaroons, Pine Nut Cookies, Ricotta Pie, Zeppole, and Zuppa Inglese. There is also a glossary (complete with pronunciation guide) to Italian cooking terms.
For the American edition of The Talisman, all weights, measurements, instructions, and ingredients have been adapted to American usage. The result is a collection of recipes that are as easy to prepare as they are delicious to eat. Ordering Information
---
Authentic, amazing Italian cooking made easy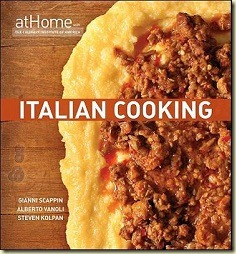 This sumptuously photographed guide to cooking all things Italian in the home kitchen will win over both beginning and experienced cooks with authentic and inventive recipes and step-by-step guidance from the experts at the CIA. Covering a variety of dishes from snacks, pickles, and preserves to pasta, meat, fish, and dessert, Italian Cooking is the perfect primer for fresh and flavorful Italian cuisine. With rustic focaccias, long-simmered soups, and entrées with aromatic herbs, these vivid recipes are irresistible. Wine suggestions and mouthwatering photographs accompany the recipes.
Includes more than 150 fantastic, approachable Italian recipes
Covers chapters on Gli Spuntini (Snacks and Little Bites), I Crudi (Raw Dishes), Le Minestre (Soupe), La Pasta Secca (Dry Pasta), La Sfoglia (Fresh Pasta), I Pesci (Fish), Le Carni (Meat), and more
Features tantalizing photos by Francesco Tonelli that illustrate cooking techniques and provide plenty of inspiration for the home cook
Italian Cooking offers a grand tour through Italian cuisine, covering regional cuisines, wines, and histories along the way. Ordering Information
---
By Marcella Hazan
Amazon.com Review: Perhaps more than any other person, Marcella Hazan is responsible for bringing Italian cuisine into the homes of American cooks. We're not talking spaghetti and meatballs here–Hazan's cuisine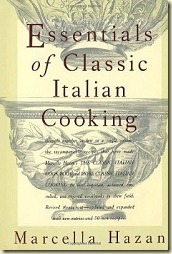 consists of polenta, risotto, squid braised with tomatoes and white wine, sautéed swiss chard with olive oil and garlic…. Twenty years ago, when Hazan first exploded into the American consciousness with The Classic Italian Cook Book and More Classic Italian Cooking, such recipes were revolutionary. With time, however, these classic dishes have become much-beloved family favorites.
Now a new generation is ready to be introduced to Marcella Hazan's way with food, and in Essentials of Italian Cooking Hazan combines her two earlier works into one update and expanded volume. In addition to the delicious collection of recipes, this book serves as a basic manual for cooks of every skill level. Recipes have been revised to reduce fat content, and a whole new chapter full of fundamental information about herbs, spices, and cheeses used in Italian kitchens–as well as details on how to select specific ingredients–has been added. New chapters, new recipes–who could ask for more than Essentials of Italian Cooking? Ordering Information
---
A Chef's Treasury of Recipes from Italy's Last Culinary Frontier
By Fabio Trabocchi
From Publishers Weekly: Trabocchi, chef at Maestro in Washington, D.C., is a native son of Le Marche, the Italian region that the New York Times recently deemed "the new Tuscany." Trabocchi grew up in the small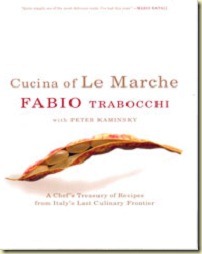 town of Santo Stefano, and with assistance from Kaminsky (Pig Perfect) he achieves a lovely style that is rather low-key in comparison to the commanding tone many chefs affect in cookbooks. Trabocchi also does an excellent job of isolating the best, most characteristic recipes from Le Marche, as cucina marchigiana is often difficult to differentiate from that of Umbria or Emilia-Romagna. Yet what makes the food of Le Marche so special is its rustic quality, which is hard to imitate in American kitchens.
It's fun to read about dishes like Roasted Suckling Pig Ascolana-Style and Turbot in Smoky Hay, but preparing them may be out of reach ("You will need to get clean green hay from a local farm," instructs the latter recipe). Fried Stuffed Olives Ascolana-Style, one of the region's classics, calls for pitting, stuffing (with a mixture of chicken liver and pork butt) and deep-frying 60 individual olives. There are less labor-intensive choices, such as Ancona's famous fish stew, and Trabocchi includes an excellent discussion of local wines. Ordering Information
---
By Gillian Riley
From Booklist: Admitting that no one book can adequately cover Italian food, Riley, a British author and food historian, promises to "convey the delights and excitement of the pursuit." She certainly does this in a scholarly yet entertaining volume. The more than 900 entries, arranged in dictionary format, read like essays. There are no recipes as such, but many dishes describe the ingredients and methods of cooking.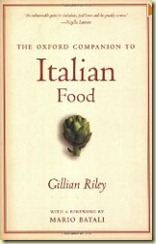 All aspects of food are mentioned—ingredients, implements and methods of cooking, chefs, regions of the country, etc. Convenience foods, Cookbooks, and Coriander are all described in entries of 2 pages. Chickpeas and Parmesan each merit 3 pages. Pig has 5 pages, followed by separate entries for the fat, head, offal, and other pig parts. Various aspects of pasta are discussed in 11 entries over 13 pages. Riley quotes excerpts from literature (some only in Italian) to illustrate the use of a food. One of her favorite writers is Andrea Camilleri. In the entry for Sand smelt, there is a half-page description of Montalbano (Camilleri's fictional detective) eating fritters made with the tiny fish. A few small but artful black-and-white photographs accompany the text. A detailed bibliography and a comprehensive index add to the usefulness of this volume as a research tool. Recommended for all culinary reference collections, but those who love Italy or Italian food will enjoy reading it for pleasure. –Christine Bulson Ordering Information
---
From Booklist: Italy's Parma region has given the world prosciutto and Parmigiano-Reggiano cheese, two products that alone bestow culinary renown. As part of the larger province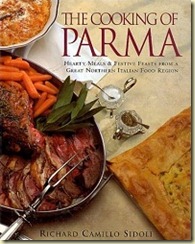 of Emilia-Romagna, Parma stands at the very summit of Italian cookery. Torta, typical of the region's specialties, makes a savory antipasto. This simple pastry dough may be filled with just about anything, but spinach or potatoes garner greatest favor. Risottos and pasta dishes make great starters to set off the region's meats and game produce. Desserts include recipes for ice creams and sherbets, which are not easy to reproduce without the proper hardware at hand. Sidoli keeps his recipes unpretentious, relying for success on the caliber of the fundamental ingredients. Recipe instructions are straightforward, but illustrations of techniques would better serve a novice who may not fully comprehend the finished product. An appendix lists sample menus, a real boon to the beginner. Mark Knoblauch Ordering Information
---
By Fred Plotkin
From the Library Journal: Eating as the rationale for traveling through Italy – where food and culture are so naturally bound together is the theme of Italophile Plotkin's latest book. His ardent admiration for the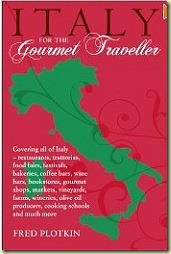 country and its cuisine is evident in his personalized tour through the nation's 22 regions, including the islands of Sicily and Sardenia. Guiding us through a land bountiful and diverse in terrain, history, and tradition, he explores each area's distinctive foods and wines.
When not traveling, Plotkin lectures and writes about things Italian and has penned The Authentic Pasta Book and Opera 101. He uses his extensive knowledge to create a catalog of helpful restaurant reviews, recipes (indexed), a glossary of food terms, profiles of cities and their local histories (indexed), and anecdotes that blend into an informative, entertaining, comprehensive guide. This selection is a treat for any travel collection. David Nudo, "Library Journal" Ordering Information
---
By Giorgio Locatelli
• "Made in Italy" is quite simply the perfect book. So many books are rattled off to accompany television series that when you come across the real thing, written in its own time and to its own agenda, it really hits you between the eyes…Buy this and you'll never want to look at another Italian cookbook again.' Gordon Ramsay,
• Times: 'This book is nothing short of a masterpiece.' Nigel Slater'
• Packed with delicious recipes, many from his restaurant, and the reminiscences from his life, it is the ultimate gift for anyone interested in Italian food.' Telegraph' (Locatelli's)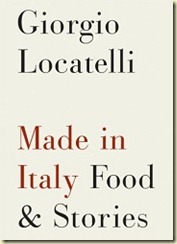 • "Made in Italy", is my Book of the Year and puts everything else I have on my Italian shelf in the shade." Nigel Slater, Observer Food Monthly
• "Made in Italy "by the flamboyant Italian chef Giorgio Locatelli is such a fashionable combination of charming anecdotes and stories about his family that could double as recipes.' Saturday Telegraph Magazine
• "A compendium that should replace everything but Marcella Hazan on your Italian shelf." Kate Colquhoun, in the Daily Telegraph
• "Books of the Year'Large and handsome…most of the recipes are painstaking and lucid, and the context embraces Giorgio, his family and professional life, while guiding us effortlessly through some of the riches of Italian foodstuffs.' Tom Jaine, The Guardian'Giorgio Locatelli's
• "Made in Italy" is a beautiful, evocative book, looking not just at traditional Italian ingredients and local recipes but also at local traditions and the memories…deserves to become a classic." Waterstones Books Quarterly
• "This book is, like all the best Italians, good-looking and just a bit irreverent. Even so, it would be a shame to leave this one on the coffee table, rather than take it into the kitchen where it belongs." Book of the Week, Time Out
Made in Italy is a 624-page, vibrantly illustrated book full of Locatelli's recipes, insight and historical detail about Italian food. He combines food narrative with hands-on expertise of a top chef. He peppers the book with evocative stories and funny and often outspoken observations on the state of food today. This is the contemporary Italian food bible, from the acknowledged master of modern Italian cooking. Ordering Information
---
By Arthur Schwartz
Amazon.com Review: Naples gave the world pizza and spaghetti with tomato sauce. In Naples at Table, Arthur Schwartz reveals the unexpected breadth and depth of dishes to be enjoyed in Naples and throughout Campania, the rich region where this culinarily underappreciated city is located.
Campania is the home of mozzarella. In fact, by Italian law, only cheese made from the milk of the water buffalo of Campania should be bear this name; the cow's-milk cheese we call mozzarella is more rightly called fior di latte, "flower of the milk."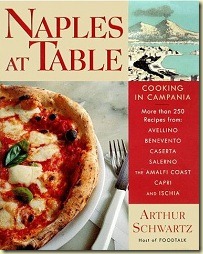 To most people, southern Italy is the land of red sauce, from the light salsa insalata, made with raw tomatoes marinated in olive oil and seasoned with salt and basil, to hefty, long-simmered, meat-flavored ragu. Schwartz introduces us to La Genovese, an onion-based sauce Neapolitans began making centuries before the tomato arrived from the New World so they could pair it with its soul mate, pasta.
Anyone interested in Italian food will find the more than 250 recipes and the almost overwhelming wealth of information in Naples at Table fascinating. There is history, going back to the ancient Greeks, and stories as only Schwartz can recount them. One of the best is how Zuppa Inglese may have gotten its name. Discover Woodman-Style Baked Pasta with Meat Sauce and Mushrooms; lusty Baccalà "Arrecanato," a casserole of salt cod and potatoes; an authentic Zuppa Inglese; and so much more as you travel around Campania with Schwartz, meeting chefs and home cooks from Naples and Salerno, Benevento up in the mountains, out along the Amalfi coast, and the jewel-like islands of Ischia and Capri. –Dana Jacobi Ordering Information
---
By Joyce Goldstein
Amazon.com Review: Jews have lived in Italy since Roman times, always part of the cultural landscape, always living in isolation of one kind or another. The word we know as ghetto comes to us from 16th-century Venice. Within the world of Jews in Italy, there are several smaller worlds: those of the native Italian Jews, of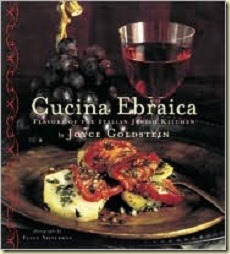 the Sephardim driven out of Spain, and of the Ashkenazim moving down from Germany and Eastern Europe. Take all those food traditions and dietary laws, squeeze them in one overarching food sensibility, and you have a very unusual way to view culture and history. Joyce Goldstein, in Cucina Ebraica, demonstrates that culture and history are edible, if not downright delicious.
Take Livornese Couscous with Meatballs, White Beans, and Greens. Couscous came to Livorno with North African Jews in the 1270s. It was a Friday-night meal, and the leftovers were served cold the next day on the Sabbath. Goldstein gives the first honest recipe for Carciofi alla Giudia (crispy fried artichokes in the Roman Jewish style) yet printed. Not all artichokes are alike, she demonstrates, and then shows you a way around the problems no one else ever manages to address to successfully cook this classic.
As she has proved in The Mediterranean Kitchen and Kitchen Conversations, Joyce Goldstein knows how to bring great food to the home kitchen. Her research is impeccable, her technique straightforward. Cucina Ebraica, this wonderful way of looking at an Italian cuisine that must answer to so many other influences, is an obvious project of love and devotion. Not to be missed. –Schuyler Ingle Ordering Information
---
By Carol Field
From Library Journal: This is the season for lavish books on Italy and its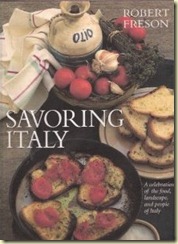 cuisine, and the successor to Freson's beautiful The Taste of France ( LJ 1/84) is a welcome addition to the genre. Carol Field, Barbara Grizzuti Harrison, and other authorities contributed chapters on the regions of Italy from north to south, accompanied by dozens of recipes for regional specialties collected from trattorias and restaurants. Both text and recipes are strikingly illustrated with more than 300 of Freson's color photographs. Whether showing a glistening marketplace display, an artfully presented plate of antipasto, or a misty hill town, all these images are stunning, but Freson has a special gift for photographing people, and some of his Italian portraits are particularly memorable. An essential purchase. Ordering Information
---
Simple Pleasures of Italy in Recipes and Stories
By Sharon Sanders
You don't have to live in Italy to live like an Italian. In Cooking Up an Italian Life, an inviting collection of meals and stories, well-known food writer Sharon Sanders unites an Italian sensibility to an American lifestyle. Sanders lived, worked, and married in Italy—one of the few foreigners ever to wed in the celebrated Church of Santa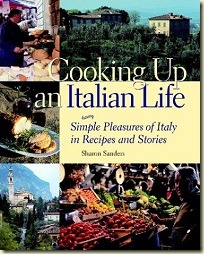 Croce. With "What I Learned About Life from the Risotto King of Milan," "I Brake for Italians, " "My Dinner with Luciano," and other spirited essays, Sanders escorts us to the Italy that is in everyone's kitchen. Keenly aware of how sharing food enhances daily living, and in tune with the simplicity people crave today, she shares nearly 200 recipes made from seasonal produce, imported basics, and ingredients found in any supermarket. Most recipes are designed as complete meals at a glance. For special times, dozens of appetizer and dessert recipes may be added to the core dinners. Cooks ready for more ambitious projects may turn to "Making Rustic Bread," "Capturing Summer Flavors for All Meals," "Making Fresh Egg Pasta," or other lessons. The affordable wine recommendations enable everyone to raise a glass and offer a hearty salute to the spirit of Italy within all of us.
Sharon Sanders' writing and recipes have appeared in Cooking Light, Food & Wine, American Health, Southwest Airlines Spirit, the New York Times, the Washington Post, and other national publications. Sanders, a Certified Culinary Professional (CCP), is a former food reporter for the Chicago Sun-Times. Ordering Information
---
Home Cooking from Italy's Farmhouse Kitchens
By Lynne Rosetto Casper
Amazon.com Review: Lynne Rossetto Kasper's authoritative first book, The Splendid Table, explored the food and culture of Emilia-Romagna, Italy's culinary heartland. In The Italian Country Table, a collection of 200 regional recipes gathered from farmhouse cooks, Kasper once again provides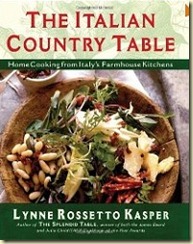 cultural investigation and authentic, workable recipes. The resulting cookbook-cum-chronicle will appeal to anyone seeking delicious, down-to-earth dishes and an introduction to cherished culinary traditions.
Covering every course of an Italian meal–from antipasti through pasta to vegetables and, of course, dessert–the book weaves recipes with vignettes exploring, for example, Puglia's ritual drying of winter tomatoes. Included also are notes on buying tips, special cooking techniques such as glazing, and discussions of culinary moment, like the nature of a true risotto Milanese. The immediately inviting recipes include such temptations as Mushrooms Stuffed with Radicchio and Asiago, Hot and Spicy Eggplant Soup, Leg of Lamb Glazed with Balsamic and Red Wine, and Espresso Ricotta Cream with Espresso Chocolate Sauce. Kasper also offers a chapter on focaccia, pizza, and bread, as well as menus, shopping sources, and a useful discussion of ingredients. (Taste before you buy, and then pause, she advises. "Aftertaste can reveal how a food's been stored, careless production, or foods going from mature to over the hill.") Concluding with a guide to Italian guest farms, folk life museums, and places to eat and shop, the book is a comprehensive introduction to basic but inspired home cooking and the traditions that both contain and nurture it. –Arthur Boehm Ordering Information
---
Amazon.com Review: First published in 1950 and revised over time, Italy's bestselling culinary "bible," Il Cucchiaio d'argento, is now available in English. The Silver Spoon boasts over 2,000 recipes and arrives in a handsome (and weighty) photo-illustrated edition complete with two ribbon markers. Its chapters make every menu stop from sauces and antipasti through cheese dishes and sweets, with many standout dishes like Genoese Pesto Minestrone, Eggplant and Ricotta Lasagna, Pork Shoulder with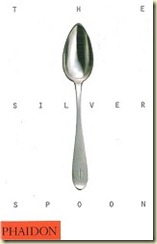 Prunes, and Chocolate and Pear Tart; the book also includes a number of "eccentricities," like sections on patty shells and bean sprouts, surely not an Italian dining staple. Meant to be inclusive, the book also offers a wide range of non-Italian, mostly French formulas, supplemented by a few "exotic" and other non-traditional entries.
Though the recipe range is vast, it must be said that American readers, anxious to cook this authentic fare, will encounter problems. Translating a cookbook from one language to another requires cultural recasting as well as word substitution, and in this the book's editors have been lax. The problems include non-idiomatic usages, for example, calling for "pans" when "pots" is needed; awkward conversions from the metric system, resulting in requirements like eleven ounces of zite; and the inclusion of ingredients like cavolo nero (Tuscan cabbage), tope (a Mediterranean fish), and pancetta copatta (ham-stuffed pancetta) that are unavailable here and for which no alternatives are suggested. In addition, the recipes themselves are often insufficiently specific or detailed–even seasoned bakers will pause before cake recipes that don't specify pan size–and can also lack yields. Space considerations have also meant printing recipes in single, one-column paragraphs, which can make place-finding while cooking difficult, and there are typos and other goofs (one recipe for four specifies six cups of sliced scallions; another requires that a marinade be "stirred frequently for five to twelve hours").
All this said, many cooks–casual and serious alike–as well as cookbook collectors, will want The Silver Spoon. It's an essential document of the Italian table and as such a classic. Indeed, it would be hard to imagine a complete cookbook library without the book–a welcome evocation of a much-beloved repertoire by those who know it best. –Arthur Boehm Original Information
---
Carluccio and Contaldo's Return to ItalyBy Antonio Carluccio and Gennaro Contaldo
Over 30 years ago Antonio Carluccio and Gennaro Contaldo separately left their native Italy for Britain where, in time, they met, worked together and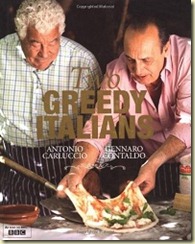 established themselves as leading authorities on Italian cooking. In this compelling book – written to accompany the primetime BBC series – the two old friends have embarked upon an amazing journey back to their homeland to reconnect with their culinary heritage, explore past and current traditions and reveal the very soul of Italian gastronomy. Containing over 100 mouthwatering recipes, this extraordinary book goes beyond the cliches to reveal real Italian food, as cooked by real Italians. It includes an intriguing combination of classic dishes and ingredients as well as others showcasing the changes in style and influences that have become a part of the Italy of today. Reflecting the insights of both men into Italy then and now, Carluccio and Contaldo's return captures the essence of its authors – their humour, their wisdom, their curiosity and, most significantly, their shared passion for good simple food. It is an essential book for anyone with a genuine interest in Italian food. Original Information
---
By Pellegrino Artusi
First published in 1891, Pellegrino Artusi's La scienza in cucina e l'arte di mangier bene has come to be recognized as the most significant Italian cookbook of modern times. It was reprinted thirteen times and had sold more than 52,000 copies in the years before Artusi's death in 1910, with the number of recipes growing from 475 to 790. And while this figure has not changed, the book has consistently remained in print.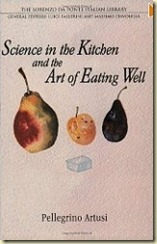 Although Artusi was himself of the upper classes and it was doubtful he had ever touched a kitchen utensil or lit a fire under a pot, he wrote the book not for professional chefs, as was the nineteenth-century custom, but for middle-class family cooks: housewives and their domestic helpers. His tone is that of a friendly advisor – humorous and nonchalant. He indulges in witty anecdotes about many of the recipes, describing his experiences and the historical relevance of particular dishes.
Artusi's masterpiece is not merely a popular cookbook; it is a landmark work in Italian culture. This English edition (first published by Marsilio Publishers in 1997) features a delightful introduction by Luigi Ballerini that traces the fascinating history of the book and explains its importance in the context of Italian history and politics. The illustrations are by the noted Italian artist Giuliano Della Casa.
"Artusi's book stands with Manzoni's great novel, I Promessi Sposi (The Betrothed), and the music of Verdi as works that not only are great unto themselves but represented a sense of identity and self-worth to a nascent country with no nationalistic feeling … Artusi chose to give Italians their definition by telling them how they ate … Anyone who seeks to know Italian food avoids Artusi at his or her peril. He is the fountainhead of modern Italian cookery." (Fred Plotkin – Gastronomica ) Ordering Information
---
Recipes from Venice's Best Restaurant
By Damiano Martin
Amazon.com Review: Owned by its chef Maria Martin and her husband Maurizio, Da Fiore is a much-lauded Venetian seafood restaurant. Son Damiano Martin's The Da Fiore Cookbook offers almost 100 recipes from the restaurant, from antipasti to desert. Whether "traditional," such as Mediterranean-Style Ceviche or Marinated Striped Bass with Aromatic Herbs, or more original, like Fried Soft-Shell Crabs on Arugula and Orange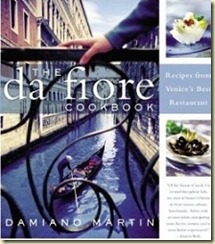 Salad and Chestnut-Filled Calamari, the simply conceived but deeply flavorful dishes are uniformly exciting. Though the recipes are easy enough to prepare, their success for the home cook will depend largely on ingredient freshness—there's no hiding place in these dishes for less than the best. Cooks should also be aware that some of the ingredients called for–imperial shrimp, for example–are either unavailable here or, like John Dory Fillets, hard to come by. (In some, but not all cases, substitutions have been suggested.)
Apart from "entrees," the book offers a tempting array of soups, pastas, and vegetable recipes such as Asparagus and Parmigiano Custard, Penette with Sea Scallops and Broccoli Florets, and Porcini Mushroom and Onion Soup. A small dessert chapter yields delicious finales like Venetian Fried Cream and Sweet Focaccia with Figs, plus an enticing selection of cookie formulas. The author also provides a brief tour of Venice, plus a discussion of its unique "flavors." Also helpful is seafood buying instruction, which includes the insight that smaller fish are more delicate and sweeter tasting than larger specimens. The book is illustrated with color photos. –Arthur Boehm Ordering Information
---
327 Simple Italian Recipes to Cook at Home
By Mario Batali
The only mandatory Italian cookbook for the home cook, Mario Batali's MOLTO ITALIANO is rich in local lore, with Batali's humorous and enthusiastic voice, familiar to those who have come to know him on his popular Food Network programs, larded through about 220 recipes of simple, healthy, seasonal Italian cooking for the American audience.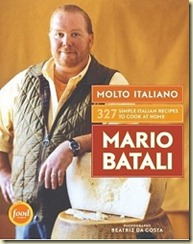 Easy to use and simple to read, some of these recipes will be those "as seen" on TV in the eight years of "Molto Mario" programs on the Food Network, including those from "Mediterranean Mario," "Mario Eats Italy," and the all–new "Ciao America with Mario Batali." Batali's distinctive voice will provide a historical and cultural perspective with a humorous bent to demystify even the more elaborate dishes as well as showing ways to shorten or simplify everything from the purchasing of good ingredients to pre–production and countdown schedules of holiday meals. Informative head notes will include bits about the provenance of the recipes and the odd historical fact.
Mario Batali's MOLTO ITALIANO will feature ten soups, thirty antipasti (many vegetarian or vegetable based), forty pasta dishes representing many of the twenty–one regions of Italy, twenty fish and shellfish dishes, twenty chicken dishes, twenty pork or lamb dishes and twenty side dishes, each of which can be served as a light meal. Add twenty desserts and a foundation of basic formation recipes and this book will be the only Italian cooking book needed in the home cook's library. Ordering Information
---
By Sophia Loren
Amazon.com Review: Sophia Loren is more than a beloved movie star–she's a cook. The author of two personal cookbooks, she's been recognized by the Italian government for her culinary prowess. In Sophia Loren's Recipes & Memories, she offers a hundred or so recipes arranged by course–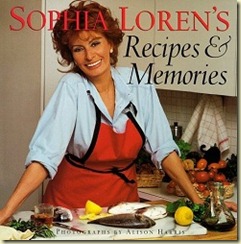 antipasti through desserts. With a like number of photos, most in color, and all sorts of Sophia memorabilia–a shot of the 16-year-old Sophia shows us just how early Sophia was Sophia–the large-format book is also filled with reminiscences of family, home, and work.
Cooks shouldn't be disappointed, though. Sophia's recipes, taken from all over Italy as well as her table, include pizzas and risottos, hearty soups, savory fish dishes, and simple but satisfying sweets. The repertoire is basic but tempting; Sophia's Saltimbocca, for example, is the familiar dish yet again, but there are a few original and "undiscovered" dishes, such as Eggplant Cooked in the Manner of Mushrooms. Standout dishes include a lovely herb-perfumed lamb stew from Naples and a sweet-savory rice dish made with turkey, chestnuts, and dried fruit. The recipes are models of clarity, and Sophia's introductory notes and other asides leave no doubt that the author is a serious, passionate cook. Reading her book and trying her recipes, we come to applaud the star in her apron as well as on the screen. –Arthur Boehm Ordering Information
---
Simple and Robust Fare Inspired by the Small Family Restaurants of Italy
By Patricia Wells
From Publishers Weekly: "We instantly identify 'trattoria' with a simple, generous, full-flavored style of food," writes Wells, and she was sufficiently impressed by trattoria cooking to travel through Italy for about a decade, looking for the best in family-owned and -operated restaurants. The 150 recipes collected here are the result, gathered from many trattorias and regions of the country, and the harvest is memorable, whether it is the sauces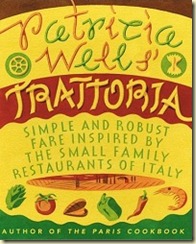 (red pesto, made with sun-dried tomatoes, garlic, hot red pepper, olives, oil and herbs) or the desserts (toasted hazelnut cake) that most intrigue you. Wells covers appetizers, pasta, rice dishes, breads, meats, fish and more with down-to-earth dispatch and flair. ("Like so many popular dishes," she cautions, "eggplant Parmesan has been banalized," and she proposes a corrective.) In between recipes come advisories: "Pay attention to salt" (she prefers sea salt to table) and "Know your beans," in this case, the dried.
From Library Journal: Wells, well known for her books on France and French cuisine has turned her attention to Italian trattoria cooking. Her new collection of informal, robust recipes, gathered from Italy's small family-run restaurants, should appeal to anyone who appreciates the unmasked flavors of high-quvors of high-quality fresh ingredients, simply but lovingly prepared. Wells's often lengthy headnotes are full of personal reminiscences but also paint a colorful picture of the country's relaxed, generous lifestyle. Wine suggestions follow each recipe, and there are sensible cooking tips throughout. Wells has many fans; recommended for most collections– Paige LaCava, – 1993 Reed Business Information, Inc. Ordering Information
---
The Classic Cookbook, Updated & Expanded
By Giuliano Bugialli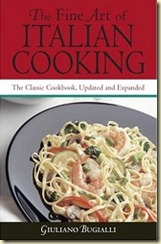 This is the definitive cookbook on Italian cuisine. The author is one of the foremost teachers of Italy's revered cooking techniques with more than 20 years of teaching and cooking experience. Giuliano Bugialli's incomparable cookbook has been updated, expanded and beautifully redesigned, including:
• Over 300 recipes from Tuscany and other regions of Italy.
• Suggested dinner menus and wine recommendations
• Chapters on pasta, breads, sauces, antipasti, meat and fish, poultry, risotto, vegetables, and desserts
• Improved ingredient lists, revised wine lists, updated notes on olive oil, Italian herbs, and cheeses
• 75 detailed, easy-to-follow line drawings.
Giuliano Bugialli is an established authority on the traditions and techniques of Italian cooking and is the most popular Italian cooking teacher and demonstrator in the United States. He is the author of seven other popular Italian cookbooks. Ordering Information
---
Recipes from the Homes, Trattorie and Restaurants of Emilia-Romagna
By Biba Caggiano
Amazon.com Review: It's been more than 40 years since Biba Caggiano came to America from her home in northern Italy's Emilia-Romagna region, and she still yearns for the luscious food that has earned the region a coveted spot on the culinary map. Long an accomplished author, television cooking-show host, and restaurateur, Caggiano still finds a constant source of inspiration in the cooking of her homeland–from the rich stuffed pasta dishes and complex ragus of Emilia to the simple grilled fish dishes and lusty brodettos (seafood stews) of Romagna.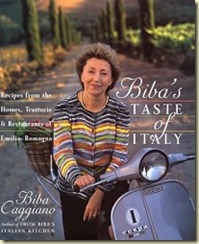 Biba's Taste of Italy is a fascinating culinary tour of Caggiano's beloved region. In chapters on every course from antipasti to dolci, Caggiano introduces readers to the succulent dishes of the area and paints a vivid portrait of both the food and the people. Her salty-sweet Eggplant Parmigiano stars the region's own Parma ham and Bolognese sausage; Seafood Risotto recalls the irresistible bounty of the Adriatic sea that laps the shores of Romagna; and the trademark of Emilia-Romagna cooking–stuffed pasta–appears frequently in dishes like Squash Ravioli with Squab Ragu and Balsamic Vinegar and Cannelloni with Meat Stuffing.
In the spirit of the region's small villages, Caggiano offers recipes for unassuming dishes like Roasted, Marinated, and Skewered Eel, in which the delicately sweet flavor of this unusual fish is expertly balanced with the simple yet robust flavors of extra-virgin olive oil, lemon juice, red wine vinegar, fresh sage, and pancetta. Roasted Stuffed Breast of Veal is a truly classic Emilian dish, and Caggiano's version–stuffed with a mixture of sautéed vegetables, Parmigiano, nutmeg, and eggs, then roasted golden brown with a crisp crust–is among the most delectable. Desserts run the gamut from the light, delicious Chestnut-Ricotta Fritters to the dense, sweet Honey-Walnut-Raisin Pie to a refreshing Strawberry Gelato.
The clear, easy-to-follow instructions accompanying each recipe make the book a joy to cook from and the beautiful page design makes it a pleasure to peruse. A brief chapter on the wines of the region and another on Where to Eat in Emilia-Romagna make the book complete. –Robin Donovan Ordering Information
---
Recipes and Memories from Italy's Adriatic Coast
By Lidia Matticchio Bastianich
Lidia Bastianich is famous for her Italian-American cooking, but this cookbook–her first–captures the distinctive cuisine of her native Istria, located on Italy's northeastern Adriatic coast near the border of the former Yugoslavia. This book is also her most personal; in addition to the recipes, she has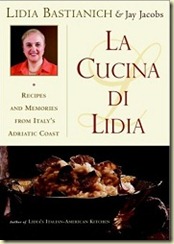 included numerous personal stories, memories, and photographs from her childhood.
With La Cucina di Lidia, you can savor antipasti such as Polenta with Fontina and Mushrooms or Shrimp and Mixed Bean Salad. Rice and pastas include Plum Gnocchi, Risotto with Squash Blossoms, and Zucchini and Tagliatelle with Leek Sauce. Entrées feature fish (Swordfish in Sweet and Sour Sauce), fowl (Roast Chicken with Rosemary and Orange), meat (Stuffed Breast of Veal), and game (Duck Roasted with Sauerkraut). Desserts range from Chocolate Zabaglione Cake to Apple-Custard Tart.
Here is an Italian cuisine infused with the flavors of Eastern Europe, the early repertoire of one of America's favorite chefs. Discover Lidia's history and memories as well as the dishes from her homeland. The stories and tastes are unforgettable. Ordering Information
---
By Ada Boni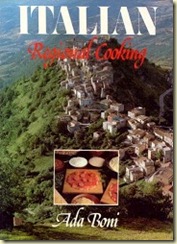 Well-know Italian cook Ada Boni takes the reader on a tour of various regions within Italy and shares the best of the recipes. In an introduction to each region – Piedmont, Lombardi, Veneto, Liguria, Emilia-Romagna, Tuscany, Umbri-The Marches, Rome-Lazio, Arbruzzo-Molise, Naples-Campagna, Calabria-Lucania, Apulia, Sicily, Sardinia – Ada Boni describes the countryside, its people, its cuisine, and its specialties, particularly its cheeses and wines. Then come the recipes. With over 600 recipes and 144 pages of full-color photos.
This gastronomic tour of the Italian provinces by that country's bestselling cookery author first appeared in the Italian magazine Arianna. With its stunning color photos, large format and exotic recipes, it did much to convince Americans that there was more to Italian cooking than spaghetti and meatballs. Ordering Information
---
Treasured Recipes and Family Traditions from Southern Italy
By Mary Amabile Palmer
Amazon.com Review: For centuries, one of Italy's best-kept culinary secrets has been the cooking of Calabria, that region occupying the toe of the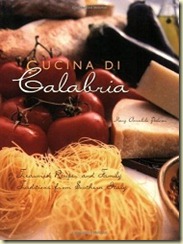 Italian boot. But in Cucina di Calabria, Mary Amabile Palmer boldly breaks the silence and introduces an exciting new cuisine to the world. Located just across the Mediterranean from North Africa–not far from Greece and Asia Minor–Calabria has long been the target of invasion and occupation; whatever the political fallout of such incursions, Calabrian cooking is all the richer for the introduction of foreign cuisine and ingredients (olives from the Greeks; eggplants and pine nuts from the Arabs)–that contribute a succulent and daring mélange of taste and texture.
In addition to the recipes themselves, Mary Amabile Palmer, a first- generation Italian American, includes anecdotes about Calabrian culture, history, traditions, and festivals, as well as recollections from her childhood. These delightful snippets provide context to the more than 200 Calabrian dishes detailed in Cucina di Calabria, making the book as much fun to read as it is to cook from. Ordering Information
---
By Susan Herrmann Loomis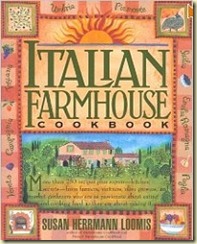 From Library Journal: For the third book in her farmhouse series, Loomis traveled all over Italy, meeting and talking with vintners, cheese makers, olive growers, balsamic vinegar makers, and farmers, gathering delicious recipes and picking up invaluable culinary secrets, or segretos. There are Stuffed Sage Leaves from Tuscany, Lush Tomato Salad from Sicily, Pasta with Fava Beans and Basil from Liguria, Braised Artichokes from the Amalfi peninsula, and more. Thoughtful wine suggestions are included with many recipes, and there are dozens of boxes and sidebars about the people Loomis met and all sorts of other topics.
Lynne Rosetto Kasper explored some of this same territory in The Italian Country Table. In fact, some of the same people are mentioned in both books and Loomis, whose ties are more to France, lacks Kasper's authority on the subject; however, she ventured farther afield than Kasper and her recipes represent a greater range of Italy's regional cooking. With its 200 simple but mouthwatering recipes, readable and informative text, and charming illustrations, her book is highly recommended. Ordering Information
---
By Edward Giobbi
Amazon.com Review:Edward Giobbi and Richard Wolff's Eat Right, Eat Well–The Italian Way is a collection of 560 tasty Italian dishes written with health in mind. Giobbi, an Italian American artist, contributes the recipes; Wolff, a cardiologist, provides the dietary advice. Nutritional information is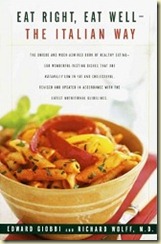 listed following each recipe (all counts are given for the whole dish, not for some tiny and unrealistic little serving), and appendices discuss the connection between diet and heart disease, weight loss, exercise, and the like.
Hardly a wheat-grass- and brown-rice-pushing health-food treatise, this book is driven by Giobbi's passion for food. Many recipes are framed by his memories of Italy and cooking with friends or by his probing analyses of ingredients. At one point, he goes so far as to list, in order of preference, his eight favorite brands of pasta. The dishes are, for the most part, simple; Pasta Primavera with pine nuts, tomatoes, and arugula is typical fare. If that doesn't strike your fancy, Giobbi offers up more than 90 other pasta dishes–try Rigatoni with Shellfish and Brandy or Pasta with Mushrooms, Asparagus, and Clams. This is food you can make, quickly and in good conscience, that hasn't forgotten that eating is fun. –David Kalil Ordering Information
---
What is Your Favorite Italian Cookbook?
If I've missed you favorite cookbook, drop me a comment and we'll add it to the comment section and try and find a link so others can purchase and use your suggestion! The differences in these cookbooks is a distinct as cooking techniques in cities 10-15 km apart in Italy. Food is a huge part of the life and culture for an Italian. These cookbooks can help you experience great Italian food. I hope you take the opportunity to make these books a part of your life – Enjoy!
Cookbook descriptions were primarily taken from Amazon.com product descriptions.
---
If you are interested in Luxury Travel Advice, Information, and Support…
Please contact me, Ron in Rome, at Ron Phillips Travel

An Independent Advisor for Brownell Travel
A Virtuoso® Agency

Website: www.ronphillipstravel.com
Email: info@ronphillipstravel.com
Phone: (404) 474-3851
FAX: (678) 528-2672
And if you'd like more updates on travel specials, news, and events LIKE us on Facebook at

---