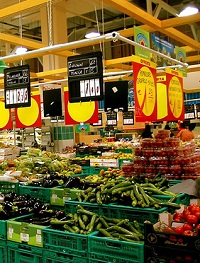 One way to save money when visiting in Rome is to head for a local market or grocery store. For a complete list of many markets in town, see our posting on Markets in Rome. There are easily more than 1,000 grocery stores in metro Rome. Many are small, single-unit, family owned businesses. Our list will focus on the "name-brand" grocery stores.
Grocery stores in Italy keep their own unique hours. Most are closed by 20:00 (8 PM) and depending on the time of year, most are closed on Sundays. There are very small stores but there are also large chains like Auchan which would rival a Wal-mart Superstore. Grocery stores here ARE NOT open 24 hours – can't say that anything is! So get your items on your way home or you will be without.
When you think of grocery stores in Italy, your impression may be of a smaller store with fewer options. There are some large grocery stores that would rival anything in your country… Here's a few photos from a recent trip to the Auchan's at Porta di Roma:
When you enter a grocery store, if you would like a shopping cart (in a bigger store), you must insert a 50 cent or 1 euro coin to "unlock" your cart from all the other carts. You'll chain it back up when you leave so you will get your coin back! Slow Travel Italy has a great explanation of how to unhook your cart:
To release a cart, you put a 1 euro coin in a slot on the handle of the cart, where the chain is attached. Pushing the coin into this slot causes the chain to release and you take the cart. You can see the coin sitting there in the slot. When you have finished your shopping, return the cart and push the chain connector from another cart into your cart and the coin pops out. Keep the coin in your car so that you always have one ready to use.
The "supermarket" explanation on Slow Travel Italy is certainly worth reading. Our first time in an Italian market 10 years ago, I wish I knew about weighing your own fruit and vegetables! We learned the hard way.
Below you'll see a map with more than 300 different food stores. I've focused on those inside the GRA… had many more on the map but it took forever for the map to load up! This may take a little time, but once loaded, it moves quickly. In this map, you'll see locations for these grocery store chains: Auchan, Billa, Carrefour, Cityper, Conad, COOP, Despar, Di per Di, Emme Piu' Supermercati, GS, In's Mercato, Panorama, Sidis, SMA, SuperElite, SIR, SuperMec, Todis, Tuodi, and many more! In addition – because they are always requested – I've added the locations for Volpetti's and Castroni's – two very popular specialty chains.
When you look at the map below, it looks OVERCROWDED by all the "pins" which represent a store location. To use this effectively, use the "PLUS" sign on the top LEFT of the Google map to zoom into to the part of Rome to which you're seeking information. You can zoom in on the map, move it side to side, and naviagate all through town!
If you get to a suggested location and the NAME of your designated grocery is different than what's on the map… don't worry! Many of these are owned by the same group. For example, Billa, Standa, and IperStanda are all owned by the same company. On the street behind our apartment, in less than one year, our local store changed from a GS to a Di-per-Di, and finally a Carrefour. This map is based on information presented by the Rome Tourism site, the websites for these grocery stores, and my personal knowledge of Rome.
---
For a larger Google Map you can print out,
Click Here
!
---
As you look at the map, each number represents a different brand. Here's a breakdown of the "pins."
(1) Brown – Auchan
(1) Red – Billa
(2) Light Blue – Carrefour
(2) Grey – Eurospar
(3) Green – Citysper
(3) Dark Blue – Eurospin
(4) Yellow – Conad
(5) Orange – Coop
(6) Dark Pink – Conad CR Market
(7) Purple – Despari
(8) Black – SuperMec
(9) Blue – di per di
(10) White – GA
(11) Grey – Interspar
(12) Orange – Conad Magherita
(13) Teal – Pam
(14) Brown – Panorama
(15) Green – Punto and Punto SMA
(15) Red – In'd Mercato
(16) Whte – Sidis
(16) Blue – SMA – Simply Market
(17) Dark Pink – Sir
(18) Yellow – SMA
(19) Grey – SuperElite
(19) Purple – SuperMarket Prati
(20) Orange – Todis
(21 Black – SuperMec
(22) Red – Tuodi
(C) Blue – Castroni
(V) Volpetti
---
If you are interested in Luxury Travel Advice, Information, and Support…
Please contact me, Ron in Rome, at Ron Phillips Travel

An Independent Advisor for Brownell Travel
A Virtuoso® Agency

Website: www.ronphillipstravel.com
Email: info@ronphillipstravel.com
Phone: (404) 474-3851
FAX: (678) 528-2672
And if you'd like more updates on travel specials, news, and events LIKE us on Facebook at

---