Ciao,
I'm Ron, an American who has lived in Rome for three years. I've started this blog to assist folks traveling to Rome. I remember our first trip to Italy. We were very excited but unprepared for the challenges we would meet. We made lots of mistakes. My goal here to to help you AVOID making those same time consuming and costly mistakes!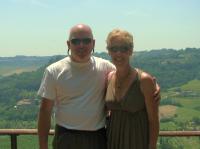 How did I end up here? It's a long story… My wife and I decided to relocate to Italy back in 2007. As an former corporate officer and vice president, I had gone through some career changes and we found ourselves asking each other, "What do we really want out of life?" We both enjoyed traveling and for the previous ten years had repeatedly traveled abroad. How could we combine traveling, our passion, with our lifestyle?
Our answer? Move to Italy – and so we did; selling our cars, our house and putting everything in storage. We carried only what we could get in suitcases and set off on an adventure… and it was an incredible adventure!
Upon arrival I encountered the many challenges that are "living in Italy." Trust me, it's not the same as vacationing here! In my many walks through town I constantly ran into fellow Americans on their vacations. Many were lost, confused, and befuddled by the chaos of Rome. I found myself helping folks. Always an individual who enjoyed research and public speaking, it was only natural I started showing folks around town as a guide. Coupled with online work,  I found myself extremely busy. I also participated in many travel boards and again tried to help folks enjoy their "dream vacation." Over and over I – and many other "experts" and expats –  provided answers to confused tourists.
So I decided to write a blog. More of an information blog. As I've said, I still remember my first time traveling to Rome and doing ALL the wrong things! I waited in the wrong lines – some for more than 2 hours! I ate at all the wrong restaurants – because they were convenient… and I got lost – even with my GPS. My wife could tell you stories about that one! (Guys, make sure you change the setting from automobile to pedestrian mode before you calculate a route… I still hear about that "walk" eight years later!).
So my goal in creating this blog is to help you by giving you the benefit of my experience, my mistakes, and my travels. While I may not be a travel or literary expert, I am a battle-scarred European travel veteran! I hope you'll enjoy my attempts to help make your trip successful and more enjoyable!
---
Update – After three wonderful years in Rome, my wife and moved to Copenhagen for two years. We were very excited to see a new part of the world but we missed Rome. In our first year in Copenhagen we returned to Rome five times! Throughout this period, I continued to update and add to the Ron in Rome website.
Due to some family issues, after two years in Denmark, we've returned to the United States and now reside in Atlanta, GA. I still post to the Ron in Rome website – I have thousands of photographs and many pages of notes!
Now, I've started a career as a Travel Advisor – starting Ron Phillips Travel. I am working as an Independent Advisor with Brownell Travel, a Virtuoso Agency. Click here to read more about my new business. I am excited to have the opportunity to help more travelers. My "insider-knowledge" and "local-experiences" will prove invaluable as a travel consultant. Because this blog has visitors from 185+ countries, I'm fortunate to operate as an international consultant with clients all over the world. And with Brownell Travel and Virtuoso, I have contacts not just in Italy, but also… all over the world. My Ron Phillips Travel website is at http://ronphillipstravel.com/
I welcome your questions on Rome… and if you need travel assistance, please contact me here or through my Ron Phillips Travel email. Or if you prefer, you can also telephone my office in Atlanta at +1 404 474-3851. I may be on the phone with another client, but I'll get back you!
Thank you for your support in the past few years. Your thoughts, comments, suggestions, updates and yes, donations, have all helped keep this website going. Thanks for your support and encouragement. I hope I'll be able to help many of you as a travel advisor. Our eventual goal is to move back to Italy and make Ron Phillips Travel truly an international agency.
Good Luck in your travels!
Ron