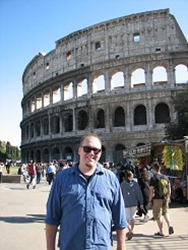 Last week our oldest son came to visit us and we headed for a whirlwind tour of … Italy. This would be his first trip to Italy and so our agenda was filled with those "must-see, first-timer" sites. Unfortunately, his time – and ours – was limited so this would be a brief and busy adventure. Our last stop would be Rome and we only had three days in the city, certainly not enough time to show him ALL the spots we enjoyed… but we hoped to whet his interest so he would want to return to our "adopted" hometown. In planning this segment of the trip, I decided early on to seek an apartment.
Having lived in Rome for years, we resided in multiple apartments, but always with annual leases. Prior to relocating to Rome we visited often, but stayed primarily in hotels because I had millions of "hotel" points and we could stay free. After moving to Copenhagen last year we have been back to Rome 6-7 times and each time stayed with friends… or were able to use their apartments or homes while they were out of town. Thus, in 10+ years of "heading to Rome," we'd never rented a 3-day apartment. We never needed to!
Renting an apartment is certainly different than getting a hotel room. When you rent an apartment, you're flying solo. No concierge handy to answer questions or do a booking for you. No on-site manager or staff to assist you – like you'd get at a B&B, pensione, or hotel. You get the keys, a brief introduction to the area and the apartment… and then you're pretty much on your own. For a first-time visitor, staying at an apartment might be a stretch. Just selecting which apartment and in what part of town can be difficult. Yet if you've been to Rome, know where you want to stay, and prefer a larger environment – with a kitchen – then an apartment might work best for you. For us, after traveling through Italy and staying at multiple, smaller B&B's, pensioni, and even a convent…. getting into a spacious 2-bedroom apartment in Rome was our best booking!
Having lived in Rome we knew where we wanted to stay. We had two primary areas – neither in the center of town. We wanted to be in Trastevere, as we had many friends living there…. or back in the Prati/Vatican area because we lived there for years and knew the markets, stores, bus routes, and the area. So perhaps the hardest choice – which part of Rome to stay in – we made early.
---
The Apartment Renting Process
Who should you rent with?
You could write a book on this subject. There are many, many agencies and private rental options for Rome. My best advice: Research, Research, Research! You have to thoroughly investigate any apartment option – including the agency – before you commit. Google will become your best friend quickly. Utilize the travel boards to investigate apartments.
Many apartments – especially those through VRBO (Vacation Rentals by Owner) – have their own "internal" rating system. I'm not sure I'd put much stock in those ratings. A recent study pointed out the VRBO apartment owners can approve or delete any comment made about their property – that tends to remove the objectivity. So if ALL the comments are INCREDIBLE, than seek another source for balanced information. Many VRBO apartments have great financial offers and solid ownership, but like any other option in Rome, do your research.
Another option to Google or Tripadvisor searches is FlipKey.com. It was launched in 2008 to help vacation rental property managers and owners promote guest reviews. In contrast to sites that let anyone post, FlipKey collects reviews by sending emails to people who actually stayed at a property much like booking.com and venere.com do with hotels.
Know what you're getting!
Sounds pretty simple but there are horror-stories of folks showing up and their rental-apartment is nothing like those pictures on the rental website. Look at the "home" site for the apartment but also seek out photo's and comments from previous visitors on other sites. I've heard of apartments that had shared bathrooms or kitchens… so do ask questions. For the area, utilize Street view by Google to "walk" through the streets surrounding the apartment location. You can get a good idea of the neighborhood.
Know exactly what's included
Most apartments in Rome say "everything's included." But what is everything? Make sure there are no hidden charges for electricity or gas usage. Is the cleaning charge part of your fee? If there is internet access, is it time or data limited? You sure don't want to go over any limits. Ask plenty of questions before you commit. Using email to get replies (thus in writing) is an effective tool. I saved EVERY email I received, pasted them all together, and then sent that LONG email to myself. Carrying my I-Pad, I had ALL the comments made about our arrangement. In your research stage, you cannot ask too many questions. I have a ton of emails to prove that!
Does the apartment meet your needs?
For us, this is primarily about bedding, a kitchen, and a washer. If you have three kids and the 2nd bedroom only has a double bed, that could be a problem. So ask for all possible bedding configurations and make sure they meet your needs – or the apartment owner/manager can make the necessary changes. It's also about the kitchen as we like to cook-in. Does it have the equipment (and we mean pots, pans, and utensils) to make this option viable? If not, move on!
Make sure there is an emergency contact person available to you
In our apartment, we turned on the oven, fired up the iron, and started the washing mashing… CLICK – we lost power! We able to immediately get in contact with our owner and he personally resolved the issue. Know who to call if you have an issue, concern, or problem. (Can't say enough about having an international-capable phone… but that's a different topic.)
Get Details in Advance
First, how will you meet the person who will give you the keys to the apartment? Make sure you arrange a time and then a fall-back contact method. Getting their mobile phone number will be helpful. We were delayed by a huge rainstorm getting to our apartment from Siena and called the owner a few times to update him on our progress (or lack of). Second, because there's no maid service like a hotel, do you have the towels and other requirements for your stay? You might ask how will they "restock" these (many don't but have a washing machine).
The Deposit
Lot's of different thoughts on this. When you work through an individual owner in Rome, a cash deposit (often through a wire-transfer or PayPal) is not unusual – in fact, it's almost the standard. Often the deposits can be fairly hefty. For many folks this is a deal breaker. This is a personal choice. There are many great apartment owners out there and they have wonderful apartments. For me, I usually work through an agency. The prices are a tad higher, but the deposits are often lower and more "secured." With an agency, you can often use a credit card for your deposit. Thus, you at least have someone (your CC company) to support you if things go bad. Most individual renters will not accept a credit card. It really comes down to your comfort level with the owner and agency you're using.
The Payment
Plan on bringing cash (Euro) for the entire rental fee to the apartment. Yes, it is almost universally"the practice" to pay up front in cash. Heck, we always paid our annual lease monthly rents in cash while living in Rome. For many visitors this may not seem customary, but Italy is a cash society. So do plan on how you're going to get and carry your rental fee amount. We used ATM's throughout Italy, as we headed to Rome, to make sure we had our rental fee in Euro. And we used a money belt – See Pickpockets in Rome – Protect Your Vacation. So do plan ahead.
Ask if a refund available if you leave early?
You can ask this, but in my limited experience, you'll be had-pressed to get your cash back. But it's a question worth asking in case your plans change or you have an emergency. As most owners will tell you, "I could have rented those days to someone else and I held this for you…"
Getting your deposit back
In most of the apartments I contacted, the return of the deposit requires the owner to come over and "walk through" with you. I had a 07:00 AM flight on a Sunday so meeting at 04:30 was not practical (for me or the owner). When I discussed this with most owners/agents I was told that the walk-through could be done the night before. I would have to coordinate that with the owner. MAKE SURE there are clear arrangements on when you will meet… and again, have contact numbers. If the owner has a deposit of €300 – €500… and you're headed back to the States at 10:30 AM, you do not want to be put in the position of having to choose between getting your deposit back or missing your plane. Just because you schedule a 06:30 AM walk-through doesn't mean they'll be there… Know your options.
In the end, I was able to get into an apartment without a deposit – a not-too-frequent arrangement – and I was able to just leave the keys on the kitchen table. A great arrangement for me and the apartment owner.
The bait-and-switch
Yes, it does happen in Rome and too often according to the travel boards you read. You book one apartment and when you get there, it is unavailable – often due to a water issue? – but "we" have this OTHER apartment for you… with either a lesser location or a higher price. Many people get upset (as well they should) and start yelling about the Better Business Bureau, etc.
Unfortunately reality is …well, more real. You'll probably not get much action from the Italian authorities. In most cases, you'll might be home from your vacation before you get a response. And when you're standing there with three kids after an 11-hour over-night flight…and one needs to go the bathroom NOW… well, reality kicks in. Where are you going to go? Most folks take the deal, grudgingly, or angrily head for a hotel.
The best way to avoid this is to know who you're dealing with. Again, research, research, research! Using a reputable company will help avoid this problem. In addition, this is why using a credit card for your deposit can be helpful.
In my research, I discovered a few interesting "options." One company recommended to me did not list the minimum stays on many of their apartments – although their header said 3-day minimums. When I contacted them about a specific apartment, I was told, despite the header, that no, it's only available for a 5-day minimum. I replied back that this would not work for me… and then I received an email that said to check back one week before I needed the apartment and if it was still available they might consider a 3-day rental. So basically, if we can't rent it for 5 days, and time is short (for them), we'll rent it to you. I found that "option" very good for them – not so good for me… Based on the tone of their emails and the restrictions (and I do realize that English is a second language for them) I decided to take my business to another vendor.
Get a Receipt
It's the law … but definitely get a signature or receipt when checking in with the owner. If money is changing hands, you definitely want protection. Our owner brought his own stamp, and stamped and signed our confirmation email.
Be courteous
Your apartment is probably in a building where other people are living… not like a hotel where everyone is visiting. So remember your surroundings. Avoid the hockey matches in the hallways, piling and crowding in the elevators, and yelling down three floors, "Did you bring the umbrella?"
For the best selection, reserve early
In my search I saw many incredible apartments… and they were all booked up for an October stay. I cannot imagine how difficult they would be in June, July, or August. So for the most options, book early and then follow up with emails to "remind" the owner/agency of your proposed arrival. Asking MORE questions is a good way to do this.
The Bottom Line
Renting an apartment in Rome can be a wonderful experience. You can save some money, have amenities unavailable in a hotel, and rub shoulders with the locals. The key is thorough and advanced planning. Again, your research will protect your vacation and enhance your experience. Although we've not rented apartments in Rome, we have in other parts of the world (often using companies like Roomorama). Whoever you use, spend time up front investigating your options.
---
Our Rome Apartment Experience
The Agency
We knew we wanted to stay in an apartment and we knew where… but it still took me some time to find an apartment. Eventually we settled on an apartment in the Prati/Vatican area.
One person who helped me with Apartments was Vicky Riechof. Through my questions, Vicky correctly interpreted that I was looking at multiple options (one of the hazards of having lived in Rome!). She then gave me a couple of recommendations, also in the same area. As a result, we selected a 2-BDR apartment recommended by Vicky about four blocks from the Ottaviano Metro. Once I had "selected" the apartment, my email conversations with Vicky continued for days! We probably had about 25 back-and-forth contacts, which is certainly more than most folks would ever have. Throughout the experience Vicky was extremely helpful, patient, candid, and open. She listened to my specific needs like the deposit return and our 04:30 AM required departure time, and worked with me and the owner. Just what you would expect when dealing with an agency. After reading, hearing, and talking with folks who had "horrible" apartment rental experiences in Rome, Vicky was incredible. She made our vacation stay in Rome a success.
A week before arrival, I contacted Vicky to "confirm" my upcoming stay. We again exchanged emails as she added helpful information to my ever-growing "summary" email. I asked Vicky to send me a profile and picture so I could add to this posting and hopefully I'll receive that and be able to add that soon. I thanked Vicky for her help in those emails and wish to do the same her publicly. Her assistance made our first Rome-apartment rental experience a success! You can contact Vicky at info@shortrentrome.com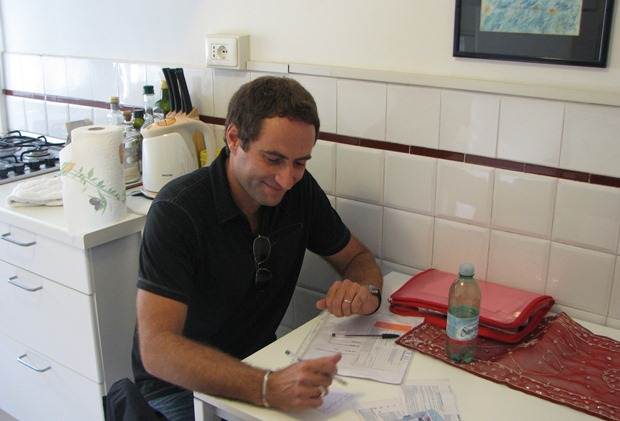 The Owner
The owner of the apartment we rented is Antonello Monti. He was wonderful! Antonello and his brother handle three apartments. He used to work for Alitalia and his English was great (far better than our Italian). As we were delayed by the October 20th rainstorm in Rome, we contacted Antonello via mobile phone. He was very flexible as we "moved" our arrival time due to numerous delays. Once we arrived at the apartment, Antonello arrived shortly thereafter. He took us into the apartment, walked us through the "systems" in the apartment (gas turn-on, washer, etc.), and told us the closest coffee spot ( a requirement for me!) and grocery stores. Even though we knew the area, it was helpful to get his insights. He gave us more contact information, his email address, and even his wife's mobile phone number.
We had a great conversation with Antonello and he consented to the photo above. He showed us his pictures of his young son, Lucca, who is just learning to walk – so every day is a new day of discovery for the Monti family. Throughout our initial meeting Antonello was professional, organized, courteous and extremely helpful. Later in our stay, when our power "went out," Antonello was promptly over and fixed the problem. Simply a breaker that I could not find. He called us and told me where the "other" breaker box was so we could easily solve the problem if it occurred again. We had worked out a no-deposit arrangement and Antonello allowed us to leave the keys in the apartment upon our departure, solving our 04:30 AM airport journey requirement. No doubt that if we head to Rome again, we'd stay in any of Antonello's apartments. He can be reached at anto_monti@yahoo.it
The Apartment
Unfortunately, I did not take any photos of the apartment so these are from the sleepinitaly.com website. The apartment matched up to the photos… In fact, the rooms actually seemed larger than what the photos projected. When you live in a small, European apartment, having extra space is important!
The apartment contains two bedrooms, one bathroom (with bathtub/shower), kitchen, a TV/Living Room with pull-out sofa, and a long entry hallway. With the "extra" bed you could easily sleep seven people in this apartment, although traffic in the bathroom would be a challenge. There is plenty of storage and the apartment receives both morning and afternoon sun. For privacy it does have pull-down wooden shades. It is on floor 5 but with an elevator.
The apartment has a flat-screen TV, gas stove, electric oven, microwave oven, washing machine, and a large kitchen table. Like our former apartment in Rome, there is a rooftop area where you can hang clothes out. My younger son lived with us in Rome for a few months. One day he came home and found his clothes folded on his bed, washed and dried. He picked them up and smelled them… asking, "What's that great odor?" Yes, our 23-year old son had never been exposed to line-dried clothes because we'd always used a dryer due to neighborhood restrictions in the USA. We did not get the opportunity to use the rooftop "dryer" at this apartment.
With the Ottaviano metro station a few blocks away, you can easily read the Spanish Steps and Trevi Fountain by metro. There are multiple buses nearby. You can use the 23 to get to and from Trastevere, the 70 and 492 buses to get downtown, and the 490 bus or 19 tram to get to the Borghese area. The Vatican Museums entrance is about a 10 minute walk from the apartment. The Mercato Trionfale, the largest indoor market in Rome, is only a five minute walk from the apartment.
The apartment is located at Via Costantino Morin, 27 (see map above). Sometimes this address is referred to as Via Morin, 27… but the taxi drivers (and Google Maps) refer to it as Via Costantino Morin, 00195 Roma, Italy.
Address: Via Costantino Morin, 27
Int: 17
Stairwell: A
Floor: 5th
Lift: yes
Door bell: INT. A 17
Summary
We had a wonderful stay in the Via Costantino Morin apartment. We knew the area, the bus routes, and appreciated being back in familiar surroundings. The apartment was comfortable – everything worked – and we had a relaxing and pleasant stay. All of our dealings with Vicky (vicky@sleepinitaly.com) and Antonello (anto_monti@yahoo.it) were professional, courteous, and extremely helpful. Their actions made our first Rome-vacation apartment stay a huge success. There are certainly many rental agencies and apartment options available to you. Based on my experience, I'd certainly recommend these two folks. But whomever you go with, DO YOUR RESEARCH! Have a great time in Rome – we did!
---
If you are interested in Luxury Travel Advice, Information, and Support…
Please contact me, Ron in Rome, at Ron Phillips Travel

An Independent Advisor for Brownell Travel
A Virtuoso® Agency

Website: www.ronphillipstravel.com
Email: info@ronphillipstravel.com
Phone: (404) 474-3851
FAX: (678) 528-2672
And if you'd like more updates on travel specials, news, and events LIKE us on Facebook at

---