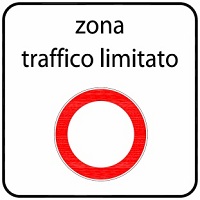 Zona a Traffico Limitato – the words bring fear to any foreign visitor brave enough to drive in Italy. The dreaded ZTL. That place you don't know you've been until 10 months after you've left Italy and you get a "registered mail" from a local Italian Police Department. Basically, it's the do not drive area of a town… or at least, do not drive without permission! Unfortunately, Rome has one of the largest ZTL zone areas in Europe. What are these "zones" and how can you avoid them?
---
Why you may need an International Driver's Permit
How and where to Park in Rome
Car Rental Locations in Rome and surrounding cities
Random Traffic Stops in Italy
Riding a Scooter in Rome – Read and Ride at own risk!
---
What is a ZTL and the the purpose of the ZTL areas?
Here is the description of the Rome ZTL from the Roma Agenzia Mobilita – they enforce the policies.
With an area of 4.2 sq. km area with limited traffic area of the City of Rome is among the largest in Europe. The original nucleus have been added in recent years. Major portions of cities, especially those in which the balance between livability and quality of the urban traffic was heavily tilted in favor of the latter. The objectives of this policy of regulation of access are clear: to protect the immense historical and archaeological heritage of our city, protecting the quality of life for entire neighborhoods and promote the use of public transport to encourage the reduction of environmental pollution.
I think the Roma Explorer.IT website definition is probably closer to point:

The goals to be pursued with the limited traffic area are: maintaining security and traffic control in the city center during the busiest times, control of the level of pollution, and in conjunction with the pay parking, try to discourage private car use and raise funds to be used for measures to improve the circulation in the city.
The Rome ZTL area is protected by special "gates" that are designed to discourage entry to folks who do not have a ZTL pass. Pass-holders would include residents, delivery personnel, service personnel, etc. The "gates" are not really gates, but usually a median with ZTL signage, warnings, and of course… a camera to take your picture if you drive past. Here are some photos of the ZTL signage you'll see:
As you can see, there are many different "looks" to entering a ZTL area, and that's probably what starts the confusion. With the plethora of signs in the city, the traffic, the small roads, your lack of knowledge of the area, your GPS (and your spouse) chanting "recalculating," and those crazy guys on the motorini… it's easy to just drive past one of these ZTL signs. And people do it every day – and if you're REALLY LOST, you'll circle around and drive past this sign 2 or 3 times….. CHA-CHING! You've just earned three ZTL violations.
---
How do they know – and I know – I broke the law?
Every car that passes a ZTL camera is photographed and then the license plates of the cars are compared to the ZTL "passes" on file. You can see the camera hanging in between the two signs in the last picture above, and the cameras are highlighted by the red arrows on the previous photo. If your license plate is not recognized as a pass holder, then you are subject to a fine. The amount of the fines, rarely listed on any website, depend on the community you are in. The fines can range from €25 – €125. Now if you unknowingly drive past a ZTL sign ten times during your week in Rome, you will have ten separate tickets.
Normally the way you "discover" you're going to be fined is you get a charge on your credit card from your car rental agency. Each time you drive past a camera, the police will contact the owner of the automobile. In your case, it's your rental or leasing agent. The agency will tell the police who was "in possession" of the car on that date and time. Then, according to your rental agreement, the agency will usually charge YOUR credit card $25-$30 for EACH time they have to tell the police who you were. So if you get 4 charges on your VISA card of $30 each, you can expect four registered letters coming your way!
---
How do I avoid these ZTL areas?
The easiest way – don't drive in Rome! But if you must drive here, know where the ZTL zones are BEFORE you drive into Rome. Here are two maps. The first will be the ZTL areas in the day (usually prior to 18:00 or 6 PM). The second is the ZTL areas at night – the area of the restrictions does change between night and day. The restricted areas are shaded in yellow in the DAY Map and blue in the NIGHT MAP.
DAY ZTL AREAS – ROME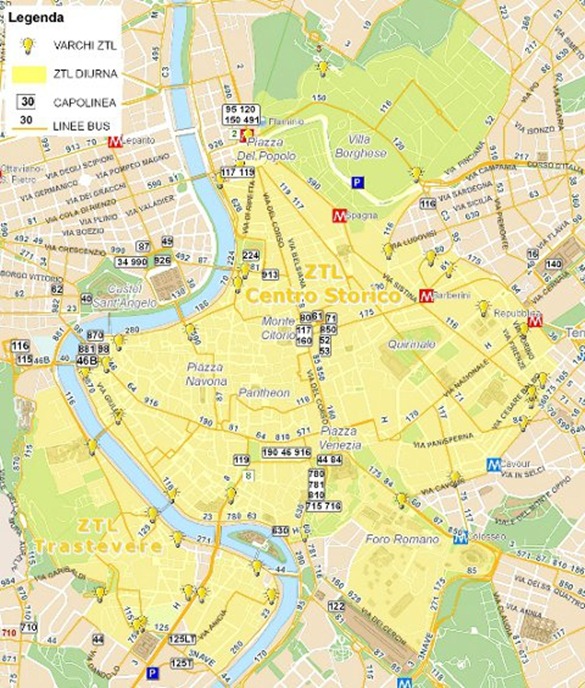 NIGHT ZTL AREAS – ROME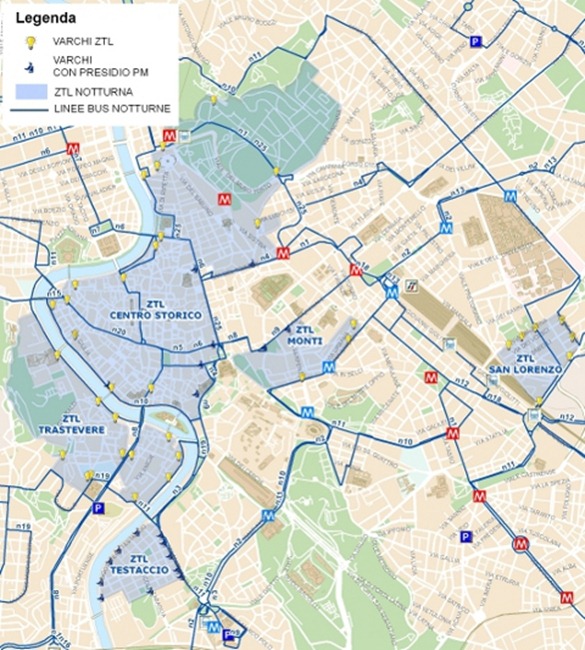 The VARCHI ZTL markers on the map – denoted by Light Bulbs – are the "gates"… or more simply, this is where the cameras are as you enter that ZTL area. The schedules for when the ZTL is active are determined by what zone you are in… there are about seven different zones and thus there are multiple "time frames." Confused yet?
ZTL Daytime Rome
The areas A / B / C / D / E / F are "active" from 6.30 to 18.00, Monday to Friday and from 14.00 to 18.00 on Saturdays. As you saw in one of the pictures above, VARCO ATTIVO means the ZTL area is active and thus the area protected. Drive past this without a pass and you are in violation.
Il "Tridentino" (the area that includes Via del Corso, Piazza del Popolo, the surrounding streets including Via del Corso, between it and a side street until Piazza Augusto Imperatore Ripetta and on the other side of Trinity Avenue Steps and Via Gabriele d'Annunzio) controlled by the traffic police, is "restricted" from 10.00 to 18.00, excluding holidays.
Trastevere is "active" from 6.30 to 10.00, excluding holidays. The cards issued to residents, resident, crafts, workshops and night workers in this field are NOT valid for other areas of ZTL. Along those same lines, just because you have a pass to get your hotel in one "zone," like Trastevere or San Lorenzo, does not mean you can enter through another gate without concern. Verify with your accommodation. Obviously, central Rome is not a place you want to take a casual, leisurely drive – it COULD get expensive!
ZTL Nighttime Rome
The LTZ is active at night in Centro Storico, Monti, Testaccio and Trastevere from the hours of 23.00 to 3.00, the nights of Friday and Saturday.
At San Lorenzo, the ZTL is active at night in the months from May to July and from September to October, Wednesday through Saturday from 21:00 to 3:00, from November to April, Friday and Saturday from 21:00 to 3:00.
Holders of allowed ZTL "X" pass can park in all areas of ZTL (ABCDEFG), but starting from 18:00, have to pay parking in the blue lines. The motorcycles and mopeds have free access to ZTL every day, every hour, day or night. This is why I used to ride a motorino and why you will see so many motorini downtown. There are no restrictions to driving them in ZTL areas and parking is a breeze. So all through the small back-streets of Rome you'll always find motorini.
All these maps are fairly dificult to read, so I created my own Google Map with the entry points (gates) for the current ZTL areas in Rome. Do make sure you check any updated info before driving downtown. But this map should make ALL the others easier to read:
This Google Map combines all the above maps. Using these maps you should be able to figure out where your accommodation is – and more importanly, whether or not you are staying in a ZTL area. You'll see the 23 Central Rome gates marked in red numbers that match the map just above the Google Map. In addition, there are more gates, marked by black numbers, that represent the gates or ZTL entry points in Trastevere. So it appears presently, the city has 34 separate check-points for ZTL violations. I suggest you locate your hotel on the map and print out a copy for your use.
Note on the map in the top right section the "green sqare." This marks the location of the Roma Termini Train Station. As you can see, it is clearly outside the ZTL Area… but if you head the wrong way, you can easily drive into a ZTL zone from this location. Leaving Roma Termini, head north or east and you'll be fine. Along those same lines, if you're coming from the north on A-1 (from Florence) or from the east on A-24, you will have a clear, NON-ZTL journey into Roma Termini to drop off your rental car! BTW, the link for this map is http://tinyurl.com/ZTL-Roma
---
To simply the Rome ZTL driving restrictions, most (but not all) fall under this guideline:
Rome Historical Center (Sect. A-F in the fabrizio.tommasi map above)
6:30 AM – 6:00 PM Mon – Fri
2:00 PM – 6:00 PM Sat.
11:00 PM – 03:00 AM Friday and Saturday
Trastevere (Section G in the fabrizio.tommasi map)
6:30 AM – 10:00 AM Mon – Sat.
11:00 PM – 03:00 AM Fri and Saturday
Note that there are NO restrictions on Sundays. This is a great day to sneak into the city! Early morning Sundays are a wonderful time to drive in Rome. This is when I took my wife out and taught her to ride on the motorino. But be warned, on Sunday afternoons in the Summer the traffic in downtown Rome can be terrible with the futbol matches, folks returning from the beach or lakes.. and of course, with no ZTL traffic restrictions in the city.
---

But my hotel is in one of these ZONES – What do I do?
If you are renting a car and driving into the city, contact your hotel/B&B/Apartment agency to find out if they are in the ZTL and if they can get you permission to enter. They also may have advice on the nearest place to park and unload your luggage. Upon arrival the hotel has to send a fax with the number of the license plate of your car and days of your stay to the STA.ROMA fax at 0039 06 57 11 82 59 to avoid the fine. (http://www.sta.roma.it). If they fail to do this, you will be in violation. Most "reputable" hotels handle this task quite easily. But DO take copious notes of who you talked to and VERIFY upon arrival that this "task" has been completed! I would even ask for a copy of the FAX or a receipt/notification that they contacted the STA …. Failure to get "a ZTL exception" may result in an expensive stay in Rome.
Once you have successfully received your exception, you are allowed into the ZTL area for the duration of your stay. You can drive in and out of the zone as often as you like. But you still have to park and most hotels DO NOT have parking. So our post on parking garages in Rome, or follow the suggestions below.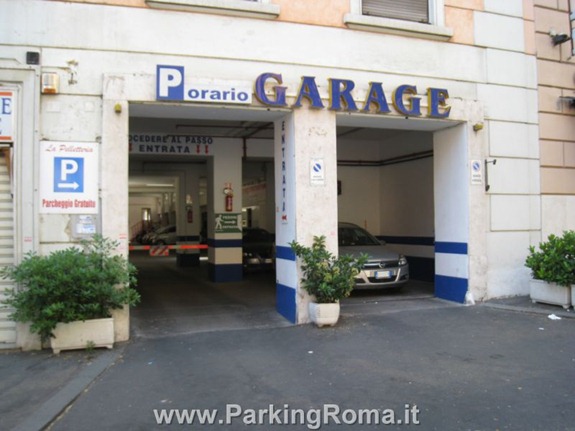 In the downtown area, there are primarily three "colors" of parking lines. The white-line parking spots are FREE – good luck finding one open – and you can park there for up to three hours (although I've never been fined for parking there for DAYS, which is why there are NONE open!). The yellow-lined spots are probably not for you – this is for handicapped, disabled, diplomatic corps parking, police, etc. Then there are the blue-striped parking spots; the most prevalent in downtown Rome. These you must pay for and pay for by the hour (the parking garage is sounding good right about now!).
You can park your car in areas with blue stripes, paying approx. €1,00 per hour and taking advantage of discounts (€ 0.20 per 15 minutes, € 4.00 for 8 hours, € 70.00 for the whole month).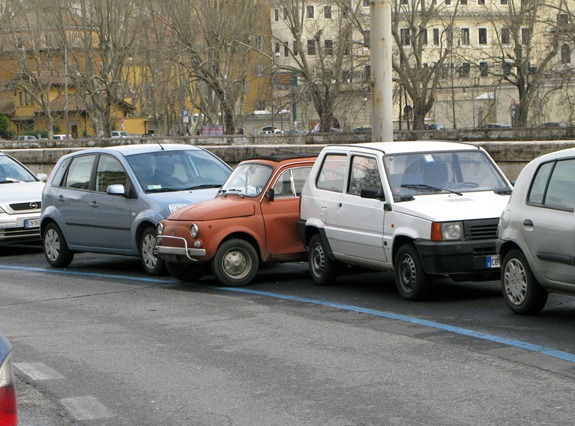 Parking can be a stressful experience in Italy. There are almost literally no rules and the ones that exist are almost never enforced. You'll see cars parked on the sidewalk, in alleys, double-parker, etc. With the blue-lined parking there is normally a parking meter/box nearby where you will have to put in money for the amount of time you plan on parking and the machine will then issue a ticket that you will need to put on your dashboard for proof of payment.
Depending on where you are parking, there will be signage that tells you when payment (by the hour) is required. On my street, it was up through 18:00 or 6 PM. They started enforcing the law, again on my street, at 8 AM. So we would wake up, run downstairs, and buy a ticket if we forgot to do so earlier… to avoid any parking fines. In the last three years of driving in the city, I've received one parking ticket. It cost me €38. And of course, I paid for it at … the Post Office – but that's another story!
Parking is permitted in any direction on the street. This means that if you are heading in one direction but you see a spot on the opposite side of the street, no problem just pull into the space in the opposite direction!
I would definitely ask the hotel where you are staying about the parking restrictions in your area… or where the nearest parking garage is.
---
I see a ZTL sign up ahead – What do I do?
You're driving through town and you come upon a ZTL sign 100 meters in front of you. What do you do? Well, don't drive by it or you will be fined (unless you have an exception through your hotel/B&B/apartment). What do the experienced locals do when they see these signs? See the first two videos below.
As a local, you – of course – STOP and back up, down the street, to avoid the ZTL. "Traffic and pedestrians be damned, I'm not gonna pay that fine!"
And what do you do – as a local – to beat the system. Notice in the video below, all the vehicles driving on the WRONG side of the road at the top of the hill. The cameras catch you as you drive past … but if you enter the ZTL on the WRONG SIDE of the road, there's no camera there! The cameras are aligned to catch people driving past… but in the "correct" lane. Thus, all these folks you see "driving into the picture from above, on the RIGHT side of the median" are breaking the law!
Lest you think the above video is a single-event, look at a different video below. Note in the opening scene, a BUS enters in the "incorrect" lane, avoiding the ZTL cameras… Gotta Love it!
Or you can turn on your flashers – which makes everything LEGAL when driving in Italy – and head down a one-way street the wrong way to avoid the ZTL. There are thousands of examples of these ZTL episodes on YouTube.
If you're driving in downtown Rome, you may also have to contend with pedestrian zones. (Not that many Romans – especially on motorini – seem to worry about this). To get a look at the pedestrian areas, go to www.visual.paginegialle.it. In the boxes at the top left of the screen, enter >roma< and >pantheon< in the 2nd and 3rd boxes. You should get a street map view of the city. If it's a photo, click on "Mappa" on the right side of the screen. The pedestrian areas will be highlighted in a light purple shade.
---
What do I do if I get a ZTL ticket?
To recap, the challenges that lead to a ZTL violation include:
Italian road signs are confusing and cluttered at best – and in a different language then you are used to.
There are no flashing lights or anything to warn you of an upcoming ZTL until you are upon it – and in traffic.
There's no way out. Once you get close to a ZTL "gate", there is often no place to turn off or turn around. That's why you see the videos of folks backing down a street. Sometimes that's impossible to do when you're in AM traffic.
Most GPS units, including those used by rental car companies, do not have any notification of an upcoming ZTL.
You're lost and in your confusion you drive past ZTL cameras… repeatedly.
Despite all your careful preparation, you get a notification by registered mail that you have violated the ZTL rules – what do you do?
First, let me stress in NO WAY would I suggest or condone that you do not pay the fine. It's the law, the Italian law, and you were a guest in their country. If you read comments posted to this website from folks and decide not to pay, please do not email me if you end up with problems! Any advice I give – or that you see on probably any website – is done informally. I am not a legal expert in Italian law, nor claim to be. For assistance and advice on the payment of traffic fines, you might contact motoring organizations, embassies, the police in your country of origin…. or YOUR lawyer! Sorry to "go legal" there but this is a "public" blog and in today's world sometimes things just have to be said….
If you go to any travel board on Italy, you'll often see this type of posting: "I was in Italy and drove into a ZTL area and……" And you'll also notice that there is a lively debate on what action you should take. Some folks outright say, "I'll never pay it, they won't come get me in the US." Others are concerned about future car rentals or trips to Italy.
Frankly I am not going to get into this debate. There are plenty of sites that offer advice on how to "handle" a ticket. You will probably be notified by the local police or an Italian Collection agency working for the police. The Official Notification must be sent by registered (or recorded delivery of) mail.
On this subject, I like the thoughts of Alex Roe on Blog from Italy; a blog I borrowed heavily from when creating this post. I think he offers solid advice and options… and there are many updates and comments to his posting. Once section in particular stands out to me:
"Note first, and as I mentioned at the start of this section, the time the Italian authorities have to send out fines is changing – but one crucial aspect is not – the statutory time limit – which is the length of time which passes before a case can no longer be perused under Italian law. This period is 5 years from the date of the offence was committed, as far as both Al, who has been reading up on this, and I am aware.

While ignoring these fines is an option, it is not an option I can recommend. Not paying may cause you problems if you return to Italy within 5 years or so of an alleged offence."
To be honest, many folks will read this and say, "I had a ticket a few years ago and I've not had any trouble." And frankly, sometimes the Italian system of record keeping is still 18th century (I could tell you stories of my "Charles Dickens" experience at the Questura (police station)). But as their system and follow-up improves, the odds of a negative experience heighten.
You can protect yourself by keeping all your rental car documentation. Also, any info you get from the hotel if you stay in a ZTL zone – including a receipt that says they contacted the local authorities to grant you permission. (DO MAKE SURE YOU ASK before coming if your hotel can do this. Some hotels are not "registered" and cannot get you this exception!). Write down the names of everyone you talked to regarding any ZTL authorizations and keep in a safe place. After all, you may not receive a notification until a year later!
Then, be patient through the process. Alex's site (and there also others out there also) offers some solid insights into the appeal process. Just throwing this ticket away, now in electronic age of 2011, may not be the wisest decision you've ever made. I've read, but have no personal experience, that some smaller Italian communities, frustrated by American's lack of "response" to a traffic violation, are now attempting to have the violation judgment "attached" to your credit report as an unpaid debt. Again, this is an unfounded rumor, but it would be an effective way to "coax" people to pay their fines.
---
Summary
The easiest way to avoid these … is not to drive in the city. Or, it you have to, drive when the ZTL restrictions are not in place – for example, after 18:00. If you "avoid" the ZTL time frames – say, come into Rome on a Sunday (or after 6 PM) and park your car in a garage – then you can depart Rome with no worries. Or lastly, follow the procedures outlined in this post – Do contact your hotel/B&B well in advance if you're driving into a ZTL zone. There are very few exceptions to enforcement of this law, so be careful and be prepared. Of course, I avoid these ZTL's by driving a motorino, just as thousands of Romans do daily! For those of you who like using phone apps, here's one for ZTL's in Rome.
Do make sure you get an International Driver's Permit (IDP) if you are an American. They ARE required by law for you…. and be careful out there. Good Luck!
Header: Quattro Fontane 270° Panorama – Photo by digipic
---
If you are interested in Luxury Travel Advice, Information, and Support…
Please contact me, Ron in Rome, at Ron Phillips Travel

An Independent Advisor for Brownell Travel
A Virtuoso® Agency

Website: www.ronphillipstravel.com
Email: info@ronphillipstravel.com
Phone: (404) 474-3851
FAX: (678) 528-2672
And if you'd like more updates on travel specials, news, and events LIKE us on Facebook at

---