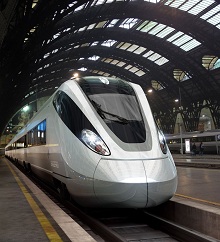 Special thanks to GAC who wrote our article on the differences between 1st and 2nd class trains. In recent postings on travel boards, GAC updated everyone on the most recent changes to the the Trenitalia Promotional Fares. Gone are the old Meno 15 and Meno 30 fares – which required you to purchase your tickets well in advance. The savings were great but because the Trenitalia website rejected multiple country credit cards (especially USA credit cards), these promotions were often unavailable to US visitors.
---
UPDATE: Effective June 10, 2012, the MINI fare is no longer being sold by Trenitalia. For information on the "current Trenitalia discounted ticket" promotion, see THIS POSTING!
---
It was the ultimate CATCH-22; Great fares but not attainable for the average visitor. Now there's a new promo version that is similar, in some ways, to the old AMICA fare of years ago. Interesting, the old adage – the more things change the more they stay the same – certainly applies in this case. But what is MORE exciting is that with changes made to the Trenitalia system, NOW, you can use most foreign credits cards on the Trenitalia website… which makes these discounted fares available to more visitors.
---
Riding Trains in Italy
How to buy Train Tickets Online at the Trenitalia Website
How to buy Train Tickets at a Kiosk in Italy
The Different Train tickets Available in Italy
Should you Purchase 1st or 2nd Class Tickets?
---
Here are GAC's comments on this promo ticket, called the MINI Fare discounted ticket: The Trenitalia website has just announced a significant revamping of its promotional fares effective January 24, 2011.

• The PROMO AUTUNNO, MENO 15, and the MENO 30 fares are abolished.
• A new "MINI" fare will be offered, for both first and second class, on a capacity-controlled basis, which will reportedly be the most advantageous fare for the particular train selected. The discounted fare will not be combinable with any other discount (including the discount for children between 4 and 12, unless this fare happens to be lower, in which case it controls).
• The "MINI" fare will be offered on ALL trains EXCEPT the "regionale" trains. These are the open-seating, local and commuter-style trains.
• The "MINI" fare must be purchased no later than MIDNIGHT, TWO DAYS PRIOR to your travel day. This is a change from the originally issued time-frame.
• The "MINI" fare will allow only one reservation change, no later than midnight (23:59) PRIOR to the scheduled departure of the original scheduled train. The new reservation must be for the SAME city pairs, on the SAME category of train, with a departure date or time AFTER (not before) the originally scheduled departure. The traveler must pay the difference between the regular fare and the discounted fare. Changes are processed ONLY at manned ticket windows or at the authorized travel agency in Italy which issued the ticket. NO CHANGES ALLOWED VIA THE WEBSITE
• The "MINI" fare can be refunded, with a 50% forfeiture, no later than midnight (23:59) PRIOR to the scheduled departure of the scheduled train. Refunds are processed ONLY at manned ticket windows or at the authorized travel agency in Italy which sold the ticket –Note – There are NO no refunds FOR MINI tickets with a value under 10 Euro
• No "hop on" privileges allowed to other trains without a properly issued reservation change (as described above).
• The MINI fares give a discount between 10% and 70% off the "base" fare. Discounts tend to get SMALLER the closer the travel date approaches. There is usually no advantage to wait to purchase the MINI fare (as long as one's travel fares are fixed).
• MINI fares are often lower for trains departing at less popular hours (outside of peak commuter times), or trains arriving at or departing from secondary stations such as Venice Mestre, Florence Rifredi/Campo di Marte or Rome Tiburtina as opposed to Roma Termini or Venezia San Lucia.
• MINI fares are available in both first and second class. Sometimes, the percentage discount in first class is greater than for the same train in second class (because MINI fares are all-capacity controlled).
• MINI fares are available in both first and second class. Sometimes, the percentage discount in first class is greater than for the same train in second class (because MINI fares are all-capacity controlled).
• MINI fares vary according to travel date, specific train, and class of service.
• Once schedules and fares have been uploaded to the Trenitalia website, MINI fares can usually be purchased up to FOUR MONTHS in advance (although this is not a "hard" rule).
• As contrasted to the MINI fares, regular "Base" fares do NOT increase as the travel date approaches (UNLESS there is a system-wide tariff change).
• Everything you've read or memorized about the previous promotional fares and their tricky and byzantine "rules" are relegated to the "garbage heap of history"!!!
• As contrasted to the FAST trains, it's usually a very bad idea to purchase an electronic ticket for the unreserved regionale trains. Electronic tickets have significant restrictions which traditional paper tickets (purchased in Italy) don't have, and advanced purchases for the regionale trains don't generate any real benefits (aside for the convenience of not having to buy them in Italy).
The following "other" fares will remain:
"Base"
"Flessibile"
"A/R in Giornata"
"Familia"
Real all about this new fare: Trenitalia Mini Fare – In Italian
---
Saving Money…
As noted, this "new" promo system came into play after January 24, 2011. The good news is the fares are INCREDIBLE and you can get them the two days before you need a ticket. Zerlina, another esteemed poster, pointed out these examples in a travel board contribution. For trains the day of January 25:
| | | | |
| --- | --- | --- | --- |
| Route | Base Fare | Mini Fare | You SAVE |
| Rome – Venice | 73€ | 29€ | 60% |
| Rome – Florence | 44€ | 19€ | 57% |
| Rome – Naples | 44€ | 19€ | 57% |
Zerlina also points out the bad news. These fares, unfortunately, are subject to availability – which will be determined by Trenitalia. For example, the early morning trains on January 25, 2011 – the first day of the sale – DO NOT have the 19€ fare available… already! If you go in the early AM, the MINI Fare is listed as 35€.
So you may head to a station to purchase tickets for the two days hence and the limited "promo fares" tickets – with the GREAT prices above – will be "sold out." The MINI fares may be reduced, but not as deeply as the FULL 57-60% discount that you see on the popular routes available. You'll still get a MINI Fare….but only Trenitalia knows the discounted amount at point of sale. Thus, Trenitalia will determine the distribution, pricing, and availability of the promo tickets – and as Zerlina aptly points out, can thus control the ticket pricing (much like airlines do).
Yet, this is STILL a better system than is currently available to many visitors. The Meno 15 and Meno 30 tickets, although discounted – were not as deep as these full MINI discounts… nor where they available to many American visitors because of the frustrating Credit Card policies on the Trenitalia website. On Holidays, I'd imagine that MINI ticket discounts would be probably unavailable, or only slightly discounted, as the trains will full or even sold out. Yet what a great option – and wonderful surprise – to get a 19€ fare to Florence or Naples from Rome!
---

Availability?
The "MINI" routes are not always obvious… you may have to do some searching – especially if you have a route with multiple, connecting trains. In Italy, train routes "stand alone," so you may have to do your "MINI" search route-by-route.
Unfortunately the MINI fares may be scarce – After all, Trenitalia does control which routes and times get the discounted fare. As you would guess, the less traveled – say mid-afternoon routes – have far more availability of the MINI fares. So supply and demand will definitely come into play… and again, control is all in the hands of the folks at Trenitalia!
Trenitalia will manage the fares and can change the rates quite quickly – so we may see a far more fluid 'fare system;" Again, much like the airline industry. So Trenitalia will offer, in essence, MULTIPLE discounts. This gives them far more flexibility than the limiting MENO 15 or MENO 30 they had in place before.
One important point, the MINI fare may NOT be the choice if you have to make a reservation less than two days prior to your scheduled time. Before the MINI fare – you were allowed with other discounted fares – to get on a later departing train and pay an administrative fee (€8). With the MINI ticket, if you miss your train – for any reason not contributed to by Trenitalia – the ticket you are holding in your hand MAY BE worthless. You may then be required to buy a separate, full price fare to continue to your journey. As GAC points out in a board posting, "Bottom Line: if there is a reasonable chance of missing your reserved train, DON'T select the "MINI" promotional fare, but instead stick with the "Base" fare." So pre-booking a MINI ticket on a day you're arriving by plane is not recommended.
The amount of the discount fares you get with the MINI will depend on your route, the time of day, type of train, number of tickets sold, etc… but mostly they will be determined by Trenitalia! Your MINI discounts could range from 20% to 67% off the base fare. On some routes, NO MINI fares may be offered. So the MINI fares could be deeper than the MENO 15 and MENO 30… or they could be as little as 20%… or they may not even be available. The good news is, if available, you can purchase these tickets without having to buy 7 or more days in advance.
---
Summary
A reminder from GAC… REMEMBER always to inquire about the availability of the "MINI" promotional fares when purchasing a ticket for any fast Trenitalia train (i.e. AV, ES, ES-City, IC), even as late as the two days prior to travel! They might still be available, you just never know. (Personal note – we did just this for a route to Naples from Rome two weeks ago, and got MINI tickets BOTH ways – saving us 30% the day before traveling – so do check!).
REMEMBER also that there are no "MINI" fares or other promotional fares for ANY of the unreserved "regionale" trains (apart from 50% discounts for children between the ages of 4 and 12, and FREE travel for toddlers under the age of 4 year and one day, who don't occupy a seat).
This is the current Trenitalia Promo… but certainly not the last. But I certainly like these options better than the Meno 15 and Meno 30 for visitors. Again, they provide a better option to purchase your tickets upon arrival rather than buying in advance through a middleman like RailEurope. They also will make single-trip, point-to-point, ticket purchasing more viable (again) than the rail pass options.
Thanks to GAC and Zerlina for their insight into these Trenitalia ticket price changes! Good Luck in your search!
Header photo is from the Trenitalia website
---
If you are interested in Luxury Travel Advice, Information, and Support…
Please contact me, Ron in Rome, at Ron Phillips Travel

An Independent Advisor for Brownell Travel
A Virtuoso® Agency

Website: www.ronphillipstravel.com
Email: info@ronphillipstravel.com
Phone: (404) 474-3851
FAX: (678) 528-2672
And if you'd like more updates on travel specials, news, and events LIKE us on Facebook at

---