Driving in Italy…If the thought of THAT is not stressful enough, there seems to be a lot of confusion about what is an International Driver Permit – also known as an IDP. Do I need this IDP-thing? DO rental vendors ask for it? Is an IDP required by law in Italy? What about all those websites that advertise and sell "international drivers' license?" What's that all about?
---
---
Often the best place to get info is to go to the source! So if you first go to the website for the U.S. Department of State, they say this…..
International Driving Permits

"Although many countries do not recognize U.S. driver's licenses, most countries accept an International Driving Permit (IDP). IDPs are honored in more than 150 countries outside the United States. (See AAA's application form for the list of countries). An IDP functions as an official translation of a U.S. driver's license into ten foreign languages. These licenses are not intended to replace valid U.S. state licenses and should only be used as a supplement to a valid U.S. license. IDPs are not valid in an individual's country of residence.

Before departure, you can obtain an IDP from an automobile association authorized by the U.S. Department of State to issue IDPs. Article 24 of the United Nations Convention on Road Traffic (1949) authorizes the U.S. Department of State to empower certain organizations to issue IDPs to those who hold valid U.S. driver's licenses.

The Department designated the American Automobile Association (AAA) and the American Automobile Touring Alliance (through the National Auto Club) as the only authorized distributors of IDPs."

For more information, see the U.S. Department of State Travel Tips and Safety website
---

So directly we have a few questions answered. First, the IDP DOES NOT replace your US driver's license. You must STILL carry your valid US license if you are traveling in the 150+ countries that honor the IDP.
Second, only two "agencies" are designated by the US government to provide IDP's… and the most common and most used is AAA. In many towns you'll find multiple AAA offices. Their IDP website is http://www.aaa.com/PPInternational/Int_IDP.html . The National Auto Club IDP page is at this website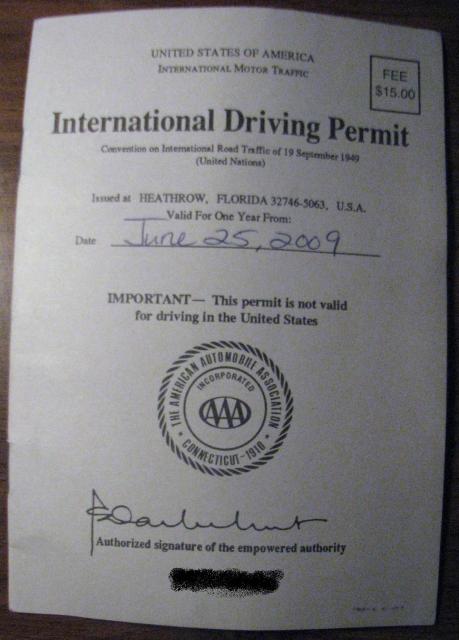 Third, all those vendors online that will SELL YOU an International Drivers LICENSE are really selling you something that is invalid. There is NO single, one-driver's-license-fits-all. So avoid these web scams and save your money. IDP's are valid, as outlined above, in specific countries – and that does include Italy.
Using an "international driver's license," sold from a vendor on the web, is not just a bad idea, it's illegal in many countries! There are many "scam" alerts out there regarding these false papers. Check out the scam alerts and verbiage on the U.S. Department of State and the AAA sites – you do not want to go this route!
NOTE: Since I am member of Google AdSense you may even see ads for an International Driver License NEXT TO THIS POST! If they are present, it is important to know that I do not select, subscribe to, nor support these ads as they are randomly "positioned" by AdSense. Their presence here is NOT indicative of any support by me. I was certainly surprised to see them accompanying this posting on a few occasions.
Essentially, an IDP is proof that you hold a valid driver's license in your own country. It also provides a translation so that local police and other authorities can read and understand your US license in their own language.
Traveling with an IDP has many advantages. The IDP is printed in several languages-the five official UN languages (English, French, Spanish, Russian, and Chinese) plus German, Arabic, Italian, the Scandinavian languages, and Portuguese. It is valid in all the signatory countries and more than 150 others. It will be your "support" paperwork if you have any issue.
---

Okay, but do I really need one in Italy?
This question seems to breed even more confusion. Many US travelers come to Italy and proudly pull out their "freshly minted" IDP and the rental vendors look at them, and wave dismissively. And you're thinking, "I could have saved $15!"
Well, whether or not the vendor checks (and larger brands do) is not relevant. It is the law since 2005 that in Italy you must have an IDP to support your US license – and you must carry both!
On the

IdeaMerge International Leasing

webpage, they state… Austria, Belgium, Bosnia-Herzegovina, Bulgaria, Greece, Hungary,

Italy

, Poland, Portugal, Romania, Spain, Ukraine, and Vatican City do, by law, require non-Europeans to carry an International Driving Permit (IDP) along with their domestic license

Look at this

NAVIQUAN site

. They say: "The most stringent requirements in this respect seem to exist in

Italy

where the law requires an official translation of you original driver's license – thus, making IDP an ideal device to satisfy this requirement."

Or how about the

Italian State Police Site

:

(Translated)

"It is necessary to have an international license or your American state license accompanied by an official translation in Italian. Because this same rule is valid for the entire EU, we suggest applying for an international driver permit so that you can drive throughout Europe and avoid having to carry multiple translations of your American license."

From the Italian ACI Department of Motor Vehicles Site: (Translated) "Drivers with licenses or international permits from a foreign country not of the EU may drive a vehicle for as long as their home license is valid as long as they have not been residents of Italy for more than a year. If the license or permit does not conform to the international conventions, you must have an official translation into Italian or an equivalent document (IDP)."

Check out the

ENIT: Italian Tourism Site

. Here, they state that to drive in Italy, a US citizen must (1) Obtain an international driving permit, or (2) Obtain a valid translation into Italian of your US drivers license from an accredited translator.
Trust me – moving here we had to have many documents translated. Just our marriage license (one page) was $95 per copy! The IDP is the cheaper, more common, and also far easier method than the translation options as requested in the three Italian sites above.
But you've read ALL these stories of, "No one ever asked to see my IDP…" Trust me, if you have an accident, or scrape a wall in a tight alley in your rental car, you'll wish you have one then. This issue is typical of MANY Italian legal matters… There seems to be a law for EVERYTHING – including IDP's. Yet these laws are often randomly and inconsistently enforced (Have you seen the way folks drive over here?).
Are you willing to take your chances? You're an American driving in a foreign country in a rental car. If they're going to apply the law to ANYONE, it's probably going to be you! After all, in the eyes of many Italians (including the polizia), as an American you can afford it! So don't take chances – it's not worth the risk.
There are often rolling roadblocks where the Italian police will do a License Check of all cars – Italian nationals and tourists. The IDP can help get you through these much quicker. I think it might be far more difficult for you to explain in Italian why you do not have an IDP? As a non-EU citizen you are often required to pay fines on the spot for moving violations. Last I heard, not having an IDP started about €75. Okay, before you start throwing stones, yes, this is very rarely enforced at a roadblock stop. Again, why take the chance. Think about this way" you're a guest in their country and you are not complying with their law…. 'Nuff said!
---

How do you get an International Driving Permit?
Very simple. Before you leave the US, you can obtain an IDP at a local office of one of the two automobile associations authorized by the U.S. Department of State: the American Automobile Association and the American Automobile Touring Alliance (through the National Auto Club). Most folks head to the AAA office as they are often more convenient.
To get an IDP, you must be at least 18, you have to present your VALID US state driver's license, you complete the "official" form, and you'll have to bring two passport sized photos. You can get these photos at Kinko's, other copy stores, some Drug Stores, sometimes at the AAA office itself, or make your own – I use a program called Passport Photo I purchased on line at http://www.onthegosoft.com/ . Last year I paid $15 for my IDP and it took about five minutes.
You can also get these on line – Check out both the AAA and National Auto Club sites for application and online availability and pricing.
---

Some tips
The IDP is good for one year from when you receive it. You do not "'renew" these but just reapply. Which means each year you will have to spend $15, bring two more passport photos, etc. You cannot use an expired IDP anymore than you can use a non-valid US state-issued rivers' license. Thus plan your trips around your expiration dates and get a new one if necessary.
If you are going to ride a motorcycle in Italy (above 125cc.) you will need "certification" on your IDP. Thus, take your motorcycle and automobile state-issued license (if applicable) with you when you go to the AAA office to get your IDP. They will only STAMP (and thus certify) the sections of your IDP that you present credentials for. And you can't "update" or change an IDP… you would just have to get ANOTHER one if you do it separately. Save yourself some time and money and take ALL your licenses with you when you get your IDP.
Driving in Italy is indeed a privilege… and out in the country can be quite fun. We love to drive through Tuscany, the mountains, Lake Area, and the Amalfi coast. Come prepared with this small investment and you'll have a great time! Good Luck in your travels!
Header: High Road – Photo by robert manz
---
If you are interested in Luxury Travel Advice, Information, and Support…
Please contact me, Ron in Rome, at Ron Phillips Travel

An Independent Advisor for Brownell Travel
A Virtuoso® Agency

Website: www.ronphillipstravel.com
Email: info@ronphillipstravel.com
Phone: (404) 474-3851
FAX: (678) 528-2672
And if you'd like more updates on travel specials, news, and events LIKE us on Facebook at

---