In separate postings, we've discussed purchasing a train ticket online – and also using the kiosks to buy train tickets, so let's talk about riding trains in Italy! Here, train travel is much less expensive than in other parts of Europe. But on the downside, the trains tend to be more crowded, especially the Regional or Local lines. Seats can be hard to find on these trains and you may find yourself standing. We'll talk about some ways to avoid that!
---
---
Riding the trains is a great experience. For many Americans, when they ride a train in Europe, it might be their first time ever on rails. Trains are wonderful! First, you can relax and enjoy the scenery! No worries about which road, turn or street sign to look for. Traveling by train is FAR LESS stressful than driving – especially in Italy. You'll also have time to read, talk, play cards, write out your postcards, and even get up and walk around! There is no check-in like at an airport and trains can also get you into or very close to the center of most cities in Europe – without the hassle of navigating streets whose names you cannot pronounce anyway! There are no traffic jams to worry and best of – NO CONCERNS about parking or ZTL areas! We enjoy riding the trains in Italy.
Trains in Italy
You will see many different trains in Italy. Let's try and work through the myriad of choices. We'll start with the fastest and most expensive… and work our way to the workhorses, the local trains.

Alta Velocità

The newest train in the Trenitalia field is the Eurostar Italia Alta Velocità (AV) . This train began operation in late 2008 and runs on a limited, but very fast, schedule. How fast? They advertise you can get from Rome to Milan (nonstop) in less than 3 hours and 30 minutes. You can get from Milan to Bologna in just 1 hour and 5 minutes! And how about Rome to Naples in 1 hour 20 minutes? The Frecciarossa Eurostar Italia

Alta Velocità runs up to 350 kph – that's over 210 miles an hour! They hope to add more of these fast trains to their fleet and create more routes to Florence, Naples, and other major cities from Rome and Milan. These trains are state of the art and the highest level of comfort of any train in Italy! There are electrical sockets at your seat, large tables, and comfortable armchairs. For a price you can get there FAST and in STYLE!

Eurostar
Eurostar Train

The Eurostar (listed as ES and ES Fast) is not the train that runs from Paris to London… this is the Italian version and it's second in comfort only to the newer Alta Velocità. (Actually, the Italian Eurostar was first to claim the name Eurostar!). These trains are quiet, fast, comfortable, and do have air-conditioning. They are MORE expensive than trains detailed below and they primarily run between larger cities in Italy. If you are headed to a small town, you can ride a Eurostar to a major city, but then you will have to switch to a local (and much slower) train. Like the Eurostar Italia Alta Velocità, the Eurostar always requires a reservation in advance along with your ticket. Here you get a specific seat, which as you learned in our previous posts, you can select. These trains are also fast, up to 250 kph or 180 miles an hour!

Eurostar Intercity
Eurostar Intercity

The Eurostar City Italia is another new entry to the fleet. Like it's other Eurostar branded relatives, this train is comfortable, air-conditioned, and fast. It has power sockets at all seats and roomy armchairs. The train carriages have been entirely redesigned to better meet your needs. I've only been on one of these and it was quite a difference from the Regional train that formerly had that route. Brand new and well-designed… they need MORE of these online.

IC Trains
IC Plus entering station

The next level is the Intercity (IC) trains. These trains were designed to combine value and quality. On the IC train runs, you'll also need (and get) a reserved seat. These trains, unlike their Eurostar counterparts, travel ALL over the Trenitalia system, often going to smaller towns. They do offer air-conditioning, fairly comfortable seating, and a bar bistro or minibar service. There are almost 170 Intercity trains reaching 240 stations every day. It quite an extensive network. What's the difference between an Intercity and an Intercity Plus?
The Intercity Plus trains, more than half of the IC fleet, have been refurbished with new seat covers, new carpets, larger trash cans, etc. So if you can book one or the other, go with the IC Plus. Be forewarned, on some of the busier routes the IC Plus trains don't look much different than the IC cars they are replacing! UPDATE – All trains in this class have NOW been renamed IC … the IC PLus designation is NO LONGER used… so you may get a refurbished train, or you may not – Good Luck!

Regionale Trains
Regionale Train

On the low end of the scale are the Regionale (R) trains, and other local and suburban trains. These are the smaller and slower trains which connect Italy's towns and villages with the big cities. They make many more stops and often do not have air-conditioning or first class seating. They can become very crowded. Yet they are quite inexpensive and if you've got the time, they can save you some money.
These trains are perfect for short hops between small towns or if you are making a connection. On these trains there IS NO ASSIGNED seating… so first come, first serve! When you buy your ticket, THESE are the types tickets that you MUST VALIDATE before getting on the train. Because these trains are SO crowded, especially in the summer, you might ask for a first class ticket (if available) to ensure you get a seat! Just ask "Prima Classe, per favore!"
---
Do I Need A Seat Reservation?
You may be wondering, what's the the difference between a ticket and a reservation,? Look at it this way: If you buy a plane ticket, that's all you will need to allow you to board a plane – even on Airlines with open seating (which there are many in Europe!). In Italy (and most of Europe), the system for trains is different. Buying a ticket just means you paid for a journey between point A and point B. It does not have any association with a specific date or time, and most trains in Italy require nothing more than a valid ticket for transport (We're talking the bulk of the work-force, the Regionale (R) trains).
Trains like the Eurostar Italia Alta Velocità, Eurostar, and Intercity trains, also DO require a reservation – which guarantees you a specific seat on a specific train on a specific day and time. This is the difference. Many folks buy rail passes and do not realize in Italy (and other countries) they will have to pay a reservation fee to guarantee a seat on a specific train… Trenitalia builds the reservation fee into all their pricing on their website, at a counter, and on a kiosk when you buy a point-to-point ticket (called a P2P ticket also).
Expert opinion "insert" from bvlenci on TA: "IC trains have optional reservations while ICPlus trains have mandatory reservations. The English language version of the trenitalia site uses the word "mandatory" when they mean "optional" on the ticket type box for the IC trains, which causes no end of confusion. [In Italian "posto a sedere con prenotazione" means "reserved seat" and "posto a sedere" just means "seat". You can see these two choices if you look at the Italian language page for an IC train, and you'll also see that on the English language page, they are translated as "mandatory reservation" and "seats".] When reservations are optional, it's better to get them, because they cost only 3 euros, and it's hard to find where the unreserved seats are on the train. You may settle into your seat only to be forced out when the person who reserved it arrives, by which time the train could be full and you would be left standing."
---

Reading the Train Schedules
In every Italian train station you will find huge posters that represent the daily train schedules – "Arrivi" are the Arrivals and "Partenze" are the Departures, and usually Arrivals are on white paper while Departures are on yellow or gold. Once you find the "Partenze" or departures schedule, you can locate the train you want to take. On the "Partenze" (Departures) Poster the trains are listed in order by their time of departure FROM the station you are at. The poster is sectioned off by each hour in 24-hour clock time. Move quickly to what time you want to leave and you can locate your train faster! Time is represented as the twenty four hour schedule, ie. one o'clock in the afternoon is 13:00.
Departure Schedule Poster in Roma Termini
Once you find your train you will see every stop the train will make on it's trip to the it's final destination. This can be helpful to know, especially if you are going to a larger city with multiple train stations. It's always a good idea to make note of the previous or perhaps even, two previous stops before yours. That way, when you pass these stations you can be prepared to get off at your stop.
Also you will see notations that will indicate if your train has wheelchair access, can you bring your bike on, etc. In addition, look for special notations regarding weekend and holiday schedules. There often ARE significant reductions on weekends and Holidays. Make sure you check that the train you're looking at DOES RUN on weekends and Holidays!
Two other things to look for. The HEADER of your train (in bold print) represents the final destination city of the train. For example, if you are getting off in Firenze (Florence) … and your train's last stop is MILANO (Milan), that's what will be posted as the HEADER on this poster. And this is the city which will be posted on the track signage and departure boards – so do know the FINAL destination of your train. VERY IMPORTANT: If you're making connections, know the final destinations for your connection route also as you will be required to look for that FINAL DESTINATION name at your "connection" station!
If you are changing trains, once you get off at your connection, find the "Partenze" board in that station and see which track your incoming train is supposed to depart from… so basically you're doing the same thing you did when you got on the train at the start of your journey! If your time frame is tight ,hurry to an info official and just ask … or have your destination written (in Italian) so you can show them. They will direct you!
Lastly, the track from which your train SHOULD depart is shown on the far right under Binario (or BIN). Now, please note that this is the track the train is scheduled to depart from and that does not always happen. Perhaps 70% of the time it does. But do go stand by that track and wait for your train # and Final Destination to be posted on the departure boards.
Also, these boards often are not updated until 5 minutes before your train is scheduled to leave. So be alert and keep an eye on what Binario your train IS leaving from. All of the info you will need to discover where to get on your train will be on the Departures boards overhead (see the "departures board" example below).

Roma Termini Departure Schedule Poster – extreme close up!

From a Roma Termini "Partenze" board:
The above is a close-up of an outbound train departing from Termini at 11:05 AM. It is the first train departing after the 11 o'clock hour. From the above info you see the departure time (11:05), the train number (2310), and that this is an (R) or Regional Train.
The FINAL DESTINATION is the Firenze, Santa Maria Novella Station, arriving at 14:47 (or 2:47 PM). Below the (R), these symbols show that this train has 1st and 2nd class seating. It has also has provisions for wheelchair and bicycle access. Below that, this train runs only from Monday through Friday.
Counting, you can see that this train has 16 stops between Roma Termini and it's final destination. After the name of the each station you can see when the train is scheduled to depart from that station. On the far right, track #4 (in blue circle) is denoted as the platform this train is scheduled to depart from.
---

Validating Your Ticket and Station Departure Boards
Okay, you've seen your train's departure "posted" on the overhead Departure board, and lucky you… it's the track it's supposed to leave from – and you're standing right there! If you are on an Regionale (R), or a train with NO reserved seat, YOU MUST VALIDATE YOUR TICKET! Look for the yellow or orange boxes and validate your ticket BEFORE YOU BOARD.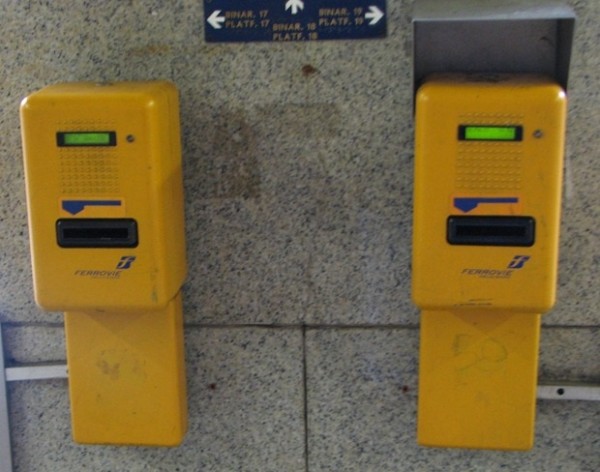 Insert the end into the yellow box and make sure it properly stamps the ticket and you can see the "stamp." It will print the time and date which now represents the first use of your ticket, and this makes your ticket "valid" for the journey. There are stiff fines for not validating your ticket. If the ticket has not been validated and you board the train, when the conductor comes along you will be fined – usually at least €25 + the cost of the ticket. Ignorance is not an acceptable excuse and no amount of debate will help. So validate or you'll have to pay the fine.
From the Trenitalia Website – regarding Ticket Validation:
The time-length validity of your ticket starts from validation by stamping them in the dedicated machines ("obliteratrici") at the stations. The journey must be completed within 24 hours from validation (in Trentino, by midnight of the day of issue).
For distances longer than 200 km, the trip must be completed within 6 hours from validation (in Lombardy within 3 hours, for distances of up to 50 km). Tickets for journeys on regional trains with departure and destination stations in different regions are valid for 6 hours from stamping

Ovehead Departure Board

Let's Look at the Departure board above. This is a small board located in Roma Termini. The "main" board is located in the upper level, fronting the main arrival and departure area. This board says "Partenze" on the left so we know it's a departure board. The date is the 4th on a Wednesday. The time now is 8:50 AM (Note – all times will be on the 24-hour clock).
Looking at the headers of the board, we have DESTINAZIONE (Destination), CAT (Category or type of Train), ORARIO (Scheduled time of Departure), ORAEFF (PROJECTED time of Departure), and BIN (Track number the train will be departing from_. On the first line, the FINAL DESTINATION of this train is Venezia S. L (Venice St. Lucia Station). It's a Eurostar Italia Alta Velocità (AV) that's scheduled to depart at 8:50 AM from track #7. There is no "projection" of any delay so this train is scheduled to leave on time. Check out the 2nd departure on the right side of the board… this train to NETTUNO is delayed from an original 9:07 departure to a projected 9:12 departure. Also note that the train to CAMPOBASSO has no departure track displayed as of yet – very common.

Binario 3 at Roma Termini

In this picture, note the track info board, located over the platform and to the left of the train. All these signs are electronically tied together so they all show similar information. Here's a close-up:


This "track signage" shows you that we are looking at Binario 3 (track 3). The FINAL DESTINATION for this train is Firenze, SMN (Florence, Santa Maria Novella Station). This is a Regional train (REG in the classifica slot) and is scheduled to depart at 9:05 AM. You can see from the clock that that's about 9 minutes from now. Under the "ora effettiva" there is no time listed so this train is "projected" to depart on time. The principal stops of this this train (prinicipali fermate) are listed on the monitor in the left of this picture.
---
Boarding your Train
You've got the ticket… if necessary, you've validated your ticket… and you found the right Binario (track). Head out the platform for your train! Do know that in larger stations like Roma Termini the trains pull into the station and you can see them "head-on," like the picture above. In many stations you may have to walk underground using an underpass (sottopassagio) to get to the proper track, as the trains are not stopping for any length of time, but just passing through – The "track signage," pictured above, is the same no matter how large or small the station! One word of caution – BE ON TIME! Even in Italy, yes, EVEN IN ITALY , trains CAN leave on time – believe it or not! If your train is scheduled to leave at 9:05 you need to be ON THE TRAIN before 9:05!
You have to climb these stairs with your luggage on the high-speed trains.
Photo by Ciccio Pizzettaro
Once you get to your train, just jump on, At some point you will have to show your ticket to the conductor so keep it where you can get to it. There are usually racks overhead and also luggage "stalls" at the ends of the carriage for your larger baggage. Smaller luggage (carry-on size) can go overhead. Many folks bring a bike chain and LOCK their luggage through the straps to these luggage racks at the end of the car. Not a bad idea if you're uncomfortable! Because the luggage racks are near the train doors, they can be susceptible to theft – either lock them up or keep your eye on them! Also note that in some trains where seats are situated back-to-back there are small spaces between the seatbacks where you can put your smaller, thinner bags.
If you do not have a reservation – a Regionale (R), or a local train – the only thing you have to look for is the class of car that corresponds to the ticket you bought. If you are traveling first class, look for the cars with the "1" by the door, and if you are in second class, look for the "2 " by the door. Then just get on and find an open seat. If you are not sure whether a seat is available, you can ask people sitting nearby by pointing at the seat and saying, "Libero?" or "Occupato?" ("Free?" and "Taken?", respectively.)
A 2nd class car denoted by the big, red 2. The digital display tells you this is Carriage #6.
Photo by Ciccio Pizzettaro
If you have a reservation, on your ticket will be listed the carrozza (car) and the sedia (seat) you should be sitting in. First, find the car number on the train and hop on. Again, First class cars will all have a large number "1" near the door, and second class cars will have a number "2". Reserved seating trains also note the carrozza (car number) on the exterior. Once on the train, there are many different styles of reserved seating cars and you'll have to search out your seats. The seat numbers often DO NOT run sequentially – but you will find your seat locations, just like you selected on the kiosk! If you find someone in your seat, just show them your reservation and they will move – this is fairly common, as most Italians do not make reservations and will just hop on the train and wait for someone to tell them the seat is reserved. If you are not running to catch your train, it is always better to find your specific car before boarding. It can pretty hectic with the luggage, small aisles and lots of traffic.
Once you've stowed your luggage, hung up your coat, and adjusted the shade, you're ready to roll!

Eurostar Frecciargento Train 1st Class. Photo by MARK'N MARKUS

2nd class on a Eurostar Italia ETR500 train.

Regionale train headed to Tivoli. Photo by MARK'N MARKUS

Upper Deck on a Regionale Commuter train
---
Some hints
For a 2nd class ticket one-way to Florence, you can say, "Firenze, secondo classe, andata" If you want the same ticket roundtrip, it's "Firenze, seconda classe, ritorno!" "Posto a sedere " means reserved seat.
Because we travel trains often – and for long distances – we try to go prepared. Either we bring sandwiches and drinks from home, or we head to the Conad Grocery Store in the basement of the Roma Termini Station. This is a very good sized grocery store that caters to the traveler – and the prices are not too bad. You can get bottled water for 30 centesimo (Feb. 2011), the best price in town. They also have salads, sandwiches, snacks, pizza, fresh bred, cheeses, fruits, drinks – everything! You are allowed to bring food on the trains and we try to do so. It's great to have a picnic rolling through the Tuscan countryside at 150 mph! If you forget, the larger trains do have a "dining car" but the prices are very expensive. Better to come prepared.
Having a good book is a great way to pass the time. Many folks are researching their next stop with their guidebooks. On the newer Eurostars there are power outlets at every seat so you can fire up your laptop. There is talk of Wifi in the near future! We've played cards on the Florence to Rome route at 10 PM in a four-seat arrangement with a table between us – and had great fun! (Probably kept some folks up!). You'll also meet many travelers from all over the world on the trains. These conversations can give you other folk's unique perspective on travel in Italy.
When you reach your destination… there's no baggage claim or security, just grab your bags and jump off the train at your destination station. Congrats – you're now an experienced train traveler!
---
---
Some Videos that may help you!
Header: Freccia Rossa – Photo by Ezio Macchione
---
If you are interested in Luxury Travel Advice, Information, and Support…
Please contact me, Ron in Rome, at Ron Phillips Travel

An Independent Advisor for Brownell Travel
A Virtuoso® Agency

Website: www.ronphillipstravel.com
Email: info@ronphillipstravel.com
Phone: (404) 474-3851
FAX: (678) 528-2672
And if you'd like more updates on travel specials, news, and events LIKE us on Facebook at

---