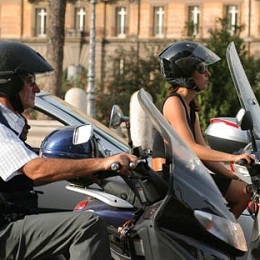 On travel boards I often see folks asking, should I rent a scooter to see Rome or Naples? The responses are often one-sided – Not just no, but NO, NO, NO, NO….NO! I certainly understand this as we drive a ride a motorino (scooter) and it can be quite challenging. The motorino rules are simple in Rome; there are NO RULES! For people who live here – and who have been "taught" this system – this can be a great advantage. For everyone else, it can be downright frightening!
Motorini follow their own path, weaving through cars, driving on the opposite side of the center line, (against oncoming traffic), not stopping a red lights (That was for me?), driving on the sidewalks, driving through crosswalks along with the pedestrians, parking anywhere (including the sidewalks), with the primarily goal of getting from point A to point B as fast as humanly possible. There's always that age-old question in the US… if you come to a red light at 2 AM and you can see for miles in all directions, do you stop and wait for the light to change or just roll through it… In Rome, they think this question is ridiculous as many motorini drivers are not stopping at 12 noon – much less 2 AM!
The Vespa, the faceplate for the Italian scooter, was created out of the ruins of World War II. With a background in aeronautical engineering, Enrico Piaggio built the first prototype around 1944. Due to its unique shape, it was nicknamed the "Paperino" (the Italian name for Donald Duck). This design was not realistic and comfortable, so the bike was reworked, and the "Vespa" was born. Vespa in Italian means wasp! Piaggio's goal was to create a mode of transportation for the masses… today he would be amazed at how his product changed the face of Italy. Certainly, the Vespa is a major part of Italy culture – and Italian chaos!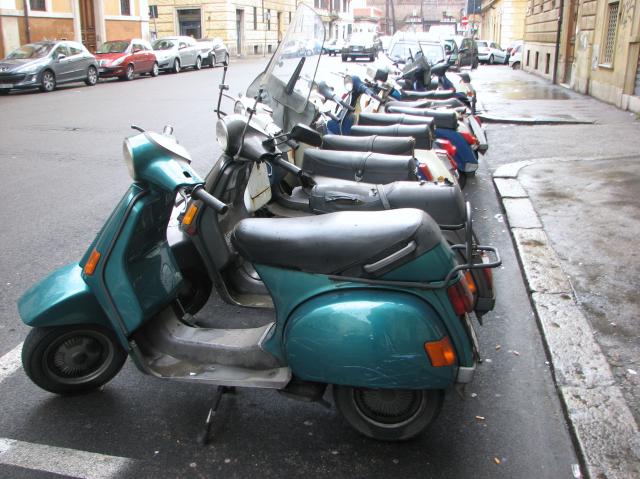 We've taken a motorino through Rome, driven to Civitavecchia, rode the ferry to Sardinia, drove the mountains in Sardinia, been in the foothills around Rome, down to Anzio, up to Tuscany, and had incredible adventures. The ferry story bears repeating. We rode from Rome up SS1 to Civitavecchia on a 50cc – okay, so it's not really legal to ride two folks on this version… and it's not really legal to drive on the highway with this bike… but T.I.I. (This is Italy) so off we went. The trip took almost two hours as we were loaded down with backpacks, an ice chest, and other paraphernalia. Our top speed… down a steep hill … was about 45 MPH. We were both wearing shorts, flip-flops, I with no shirt and my wife wearing a bikini top.
As we arrived at the port we saw the line of cars waiting to get on the ferry – almost a mile long! But, like any experienced motorino driver in Italy, we just pulled over to the left, and drove past ALL these cars in the opposite lane and went directly to the gate entrance. The guard looked us, smiled, and then "checked us in," slapping a sticker on our windshield and said, "Go over there. That's where the bikes park." We got off our small motorino, and started looking for our shirts … and up pulled the real riders on their Harley's and Trans-Alp bikes. They pulled off their leathers, gloves, etc. and they had some fun with us… but we were all "bikers" today! And of course we had an ice chest filled with beer – which we shared with our new friends!!!!!!
The ferry arrived, off-loaded and now it was time to get on. Bikes were put on first – how cool is that! (We also got off first!). So we all climbed onto our bikes, the Harley' s belching, the Trans-Alps bikes roaring, and us… putt-putting up the ramp among them. I'm sure folks with video cameras had a treat with that sight. Once on board they strapped our bikes to the side wall of the ship to make room for all the cars. Because we were first on board we also got the best seats on the boat! We spent the trip over to Sardinia watching the opening ceremonies of the Olympics with a multi-national crowd. It was quite a unique experience.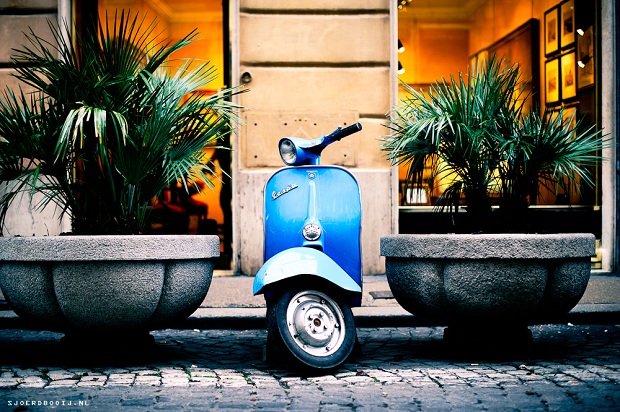 So yes, you can have great experience riding a motorino. BUT, I would advise against doing so unless you are an experienced motorcycle driver. Rome IS NOT the place to learn to ride a scooter/motorcycle. Frankly, it's dangerous. There are many challenges to riding a bike. First and foremost, there are the OTHER motorino drivers. These guys will cut in front of you, drive on the right side of cars, and race from light to light (if they stop!). I've been broadsided by a motorino driver who was texting as he rode his bike. We crashed to the ground, the red light we were at changed to green, and everyone behind us starting honking for us to get out of the way! Luckily I survived with only a badly bruised ankle and a slightly dented bike. You really have to be aware of the other motorino drivers and whoever drives the fastest and gets to that "hole" first, has the right of way.
Most motorino drivers DO NOT have a motorcycle license. You can drive a motorino up to 125cc with no motorcycle license required – a valid car driver's license will suffice. Anything 150cc and up does requires a valid motorcycle license. So many of the folks driving these bikes have never had a motorcycle course, and probably have never even seen a motorcycle drivers' manual. These are "bikes" in that sense of the word – which is why many folks choose not to follow the rules – for cars or motorcycles! That lack of knowledge breeds a unique motorino driver – and many kids at the age of 14 are already driving motorini… You can see why you're number one concern must be other motorino drivers.
The following YouTube video was posted a couple of years ago by abbracci. It is of a friend who who lives in Rome and filmed himself driving through the city on his scooter. It's a little little choppy in the beginning, but it will give you a perspective of how folks do drive in Rome. Watch as he gets into traffic and you'll get a better appreciation for how frightening this can be. If you rent a scooter, this is who you will be driving with.
But there are other worries too…. Taxi drivers, buses, and the assertive Roman drivers can make a trip quite harrowing. It doesn't matter if you're driving conservatively as they are certainly not! Lines on the road in Italy as just "reminders," no one really follows them. A two-lane road in the US can become a 4 or 5 line road very quickly here. A friend described it to me quite accurately. He said when you drive here you react to the people around you –not the lines on the road. If the person to your left moves towards you, then you move to the right… and so does the person on the right of you… And then when a person on right adjusts and moves back toward you, you'll go to your left. So traffic on a Roman road is not driving straight ahead… it weaves like a snake moving down the road, always changing direction and perspective.
That's not your only challenge. Often times it's just knowing where you're going. Roads here change names often and don't even think about reading a map while riding. We've done the GPS thing on a motorino with hilarious results. Then there are the bus and taxi lanes you cannot drive in… the highways and autostrada a 125 cc cannot drive on… the one-way roads that end abruptly… and don't get me started on signage in Rome!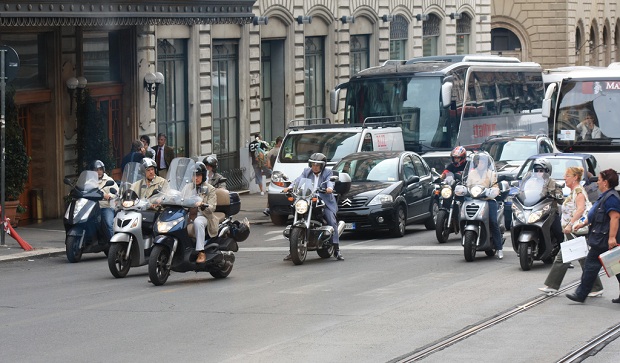 Things happen on a motorino very quickly – especially if you're not familiar with the roads. There are pedestrians in crosswalks, red lights, and potholes. The cobblestone is wonderful to look at … but when you're driving a motorino, some of these roads will loosen your fillings! And if you hit a pothole – of which there are thousands, brace yourself! When it rains, if you are an inexperienced rider, you do not want to be on a bike in Rome. Then you can't see depth of the potholes. If you don't get wet, and you will get wet, you could drive into one of these without warning – OUCH!
So you still want to do drive a motorino? Okay, this is NOT the movie Roman Holiday, and you've been warned! I'd suggest you rent in Tuscany or in the countryside as driving there is a TOTALLY different experience than a larger city like Rome or Naples. That said, here are some guidelines I'd suggest:
Ride a motorcycle/scooter/motorino in your hometown before trying it in Italy. If you're an experienced rider, all the better!
Make sure your health insurance works over here (I'm NOT kidding!)
Pick up an IDP (International driver's permit) before coming over at your local AAA office. It is the law in Italy although I doubt a Scooter rental company will bother with this. You will probably need it if you have an "incidente." See this post for more info:

IDP Questions

.
Before coming, read up on signage in Italy and the driving rules here. SlowTravel Italy has a great section on all the different signage and driving rules.
Bring your IDP (unless your country has an agreement with Italy) and a valid driver's license as you will need these to legally ride a motorino.
Pick a reputable Scooter rental vendor. There are many and a few are, well… dubious. If the equipment is not first-rate, don't rent there. If it's held together by duct tape, don't rent there!
Read and fully understand your liability when you rent. Some companies offer "additional" insurance programs. DO KNOW what your responsibilities are BEFORE you sign on the dotted line.
Take plenty of pictures of the bike BEFORE you leave the rental agency. Make sure they SEE you taking these pictures!
Make sure the bike has "papers." Ask the vendor what you will have to show if you are stopped by the police. This is important as you are a tourist and there are many "rolling roadblocks." Not having proper paperwork is the responsibility of the driver, not the rental company.
Helmets are required in Italy so make sure you have those before leaving – Nuff said…
If you are in-town, head for a side street and get used to the bike before hitting traffic.
Have a rough idea of where you want to go – at least until you're used to driving in the city.
That said, you're ready to GO… And Good Luck! We've had a great deal of enjoyment riding our motorino around Rome. It's an easy way to see the city, drive through the narrow back streets, oark almost anywhere, and just get around. I sure our experiences are similar to motorcycle enthusiats everywhere. But do know that it will be different here in Italy – accept it, embrace it, and enjoy it!
I'll leave you with one last video from YouTube, riding a motorino through the streets of Naples – Be careful!
Header: Scooters in Rome – Photo by Jess Spear
---
If you are interested in Luxury Travel Advice, Information, and Support…
Please contact me, Ron in Rome, at Ron Phillips Travel

An Independent Advisor for Brownell Travel
A Virtuoso® Agency

Website: www.ronphillipstravel.com
Email: info@ronphillipstravel.com
Phone: (404) 474-3851
FAX: (678) 528-2672
And if you'd like more updates on travel specials, news, and events LIKE us on Facebook at

---