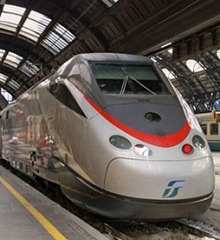 In the past few months, more and more people are reporting that they are able to use their American credit cards on the Trenitalia website – good news for US travelers wanting to get discounted tickets and avoid using a middlemen such as RailEurope, ItaliaRail, or EuroRailways. Unfortunately, there remain challenges to buying tickets with some US credit cards. For those of you who are still struggling to get the Trenitalia website to accept your credit card, this post – detailing how to buy tickets at an in-station kiosk – may assist you.
A couple of years ago I wrote a step-by-step, instructional guide to buying tickets called Buying Train Tickets. It has always been one of the most-read postings on this site. Now, Trenitalia has introduced new kiosks so it's time to update – but we'll leave the old post online as some of the smaller train stations have not yet changed over their self-service kiosks. Buying train tickets at a kiosk is easy, can be done in a multiple of languages (including English), can save you time, and help you avoid language issues.
You could purchase your tickets inside the train station at a Trenitalia desk. Unfortunately, in many smaller train stations these counters are often closed. In the larger train stations the counters are often packed, as your see in the picture above, taken in the Roma Termini station. So the kiosks, which are quite easy to use, could be your best alternative.
Here's are two photos from Roma Termini station. The top photo is a bank of the "older" kiosks. The second photo (directly above) is a bank of the new kiosks at Roma Termini. There are far more kiosks in the Roma Termini station then when the "older" kiosks were still in use. If you feel more comfortable using the older machines, head over near Track 1 where there is a bank of the "previous kiosks." I'm sure as people get more acclimated to the new machines, they will replace these also.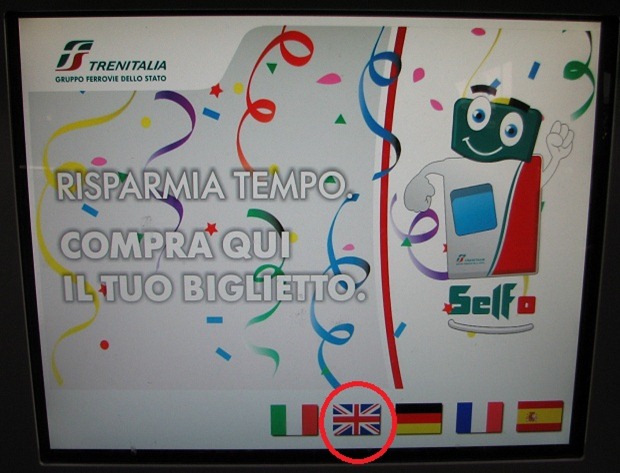 As you walk up to the kiosks, this is the screen you will see. To select the language you would like to work in, press on any of the flags you see along the bottom of the screen. Circled in red is the British flag… if you're going to work in English.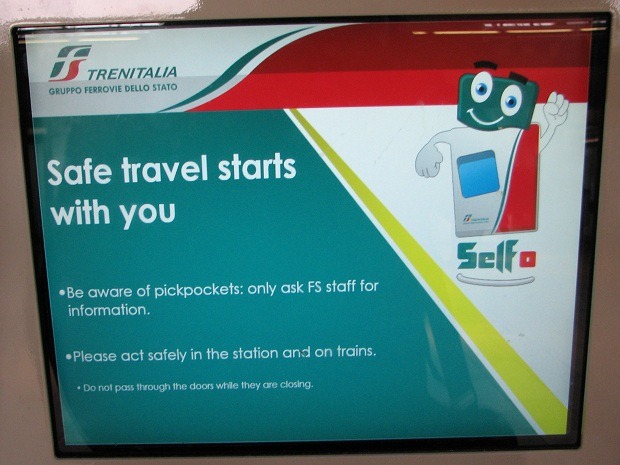 After you select your language, up will pop this screen that warns you to be careful when you are buying tickets. You may be approached by folks who claim they want to help you… These people hang around the station and attempt to gain income by "helping" travelers. Their primary goal is to "help" themselves – not you!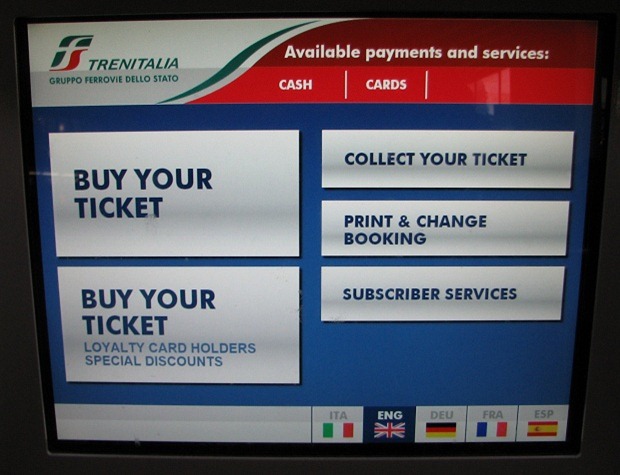 Automatically, after the safety screen, this screen is displayed. For almost ALL visitors, you will select the top left choice. "BUY YOUR TICKET." The bottom left choice is for loyalty card holders… which probably will not be you! The other choices are for folks who already have tickets or made their purchases online. So for our example, I selected the top left option and we will buy a ticket.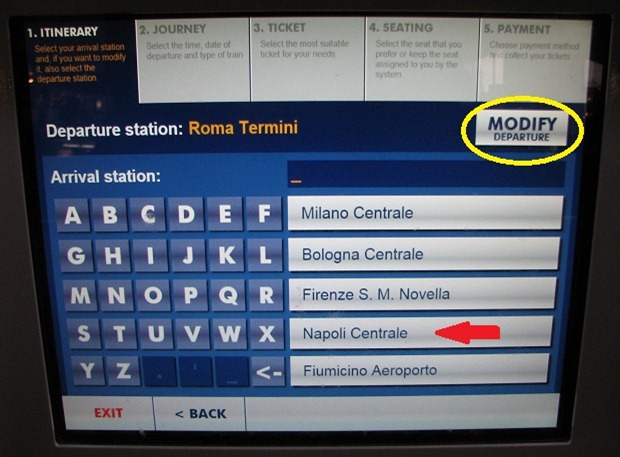 Since we are standing at a kiosk in the Roma Termini Station, you can see the default departure station is set at Roma Termini. If you would like to change your departure station, the yellow-circled button will allow you to change your departure station. In this example, we are headed to Naples, so we will select Napoli Centrale, marked here by the red arrow. We push Napoli Centrale and the next screen uploads.
Since it is now 12:08 (see time in the middle of the screen above), the machine defaults to today's date and lists the next trains to depart. We took these pictures on February 16, 2011 – you see the date listed on the top left of the screen. Remember, when you are in Europe the dates are listed DD/MM/YEAR. On the far right, circled in yellow, is the button you would use to select a different date/time. In this example, I DID push touch this choice – we will continue this exercise after we look at the details of this screen.
---
style="display:inline-block;width:468px;height:60px"
data-ad-client="ca-pub-1389838275310421"
data-ad-slot="7002328864">
On the top, you have the date and current time. Next, the screen displays your departure and destination stations (Roma Termini to Napoli Centrale). Below this header, there is a Details section which gives you info in this train and route. The next column outlines the trip Departure, Arrival, and Trip times. There are NO train changes… so no numbers in the next column. Under the Trains column, you can learn what type of train you will be riding in… and here we have a Regional Train, and AV, and IC, and a ES train.
The next two columns reflect the BASE price for 1st Class and 2nd Class tickets. Note on the first train, a regional train, there is NO 1st class available. If you like any of these trains – or would like to see "discount" prices for a route, touch the SELECT button. You can see on this screen quite clearly that certain trains are faster, and more expensive, than others. The good news is that wherever you go, you can always hit the BACK button (Bottom left of the screen) on any page. If you want a later train on this date, then touch the NEXT SOLUTIONS button on the bottom right.
Again, we're going to change the date in our example – as I want to purchase a MINI discounted ticket – so we will shoot for the next day. The MINI ticket must be bought BEFORE midnight of the day you will travel – or more simply, purchase on the previous day up until midnight.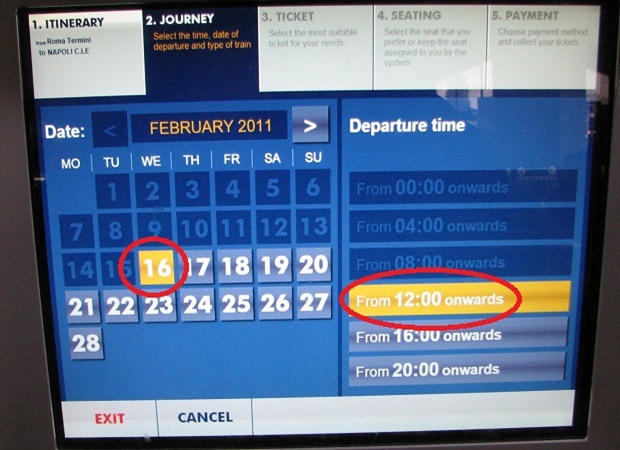 Once you select to modify the date, up pops the screen above. Note, the kiosk has defaulted back to the current date and time – both circled in red in this example.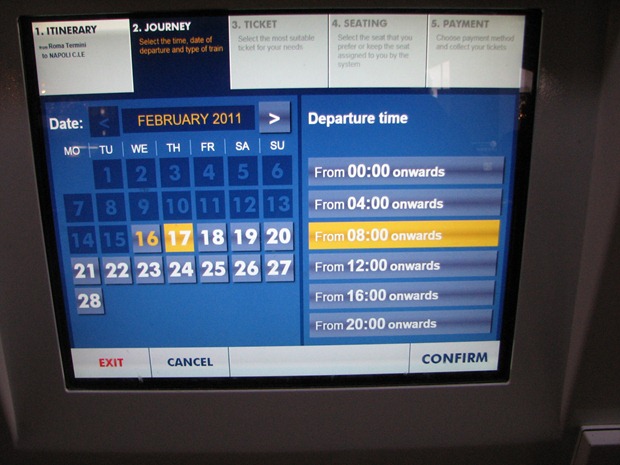 Since we want to leave the next day, we select the 17th, and also pick the 8 AM – 12 PM period. Once you select these choices, the kiosk highlights your selections in the burnt orange color. Touch another time or date and the color will change. Note how the "number 16" – today's date – still remains highlighted. Once you have your dates, select CONFIRM on the bottom right.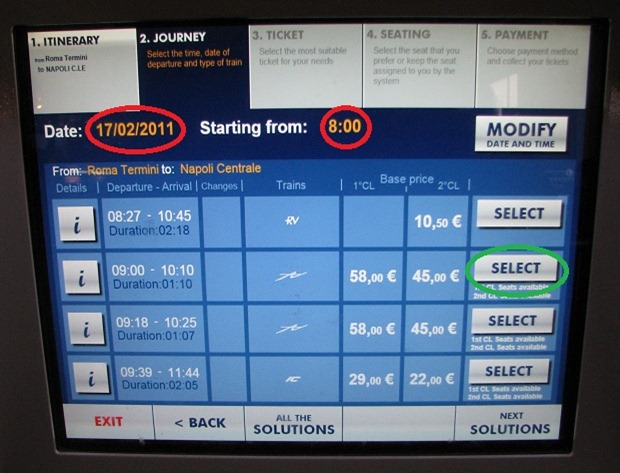 Now you can see the date and time – circled in red – in the above photo. Just below the red circles, you can see the route: Roma Termini to Napoli Centrale. The kiosk then lists all the available trains, starting after 8 AM on February 17th. We're going to look at the 9:00 AM train from Roma Termini station. You can see the train only takes an hour and ten minutes to reach Naples! On the right side, you touch SELECT and up will pop the screen below – which asks you what kind of ticket you would like…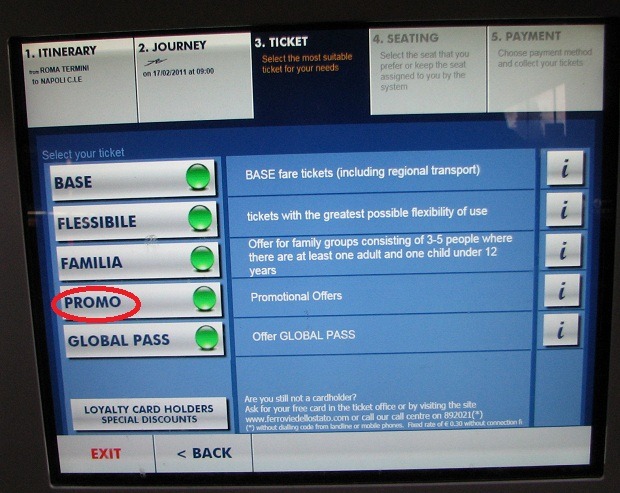 If you look at the top of this photo, you can see we are on Step 3 – TICKET. We've already selected the Itinerary. the Journey, and now we are working through the Ticket Options. Listed here are five different choices. Do note that if there are NO PROMO tickets available for this trip, you may only see four choices… so the kiosks are intuitive. Let's look at the choices (For more details, see our posting on Different Types of Train Tickets).
The BASE ticket is your standard ticket. It's the "foundation" from which all other tickets are priced. For some routes, especially regional runs, this may be your least expensive option. There are different restrictions on BASE tickets for each type of train – Regionale, AV, ES City, etc. If there are no PROMO tickets available, BASE tickets may be your least expensive option.
As the name says, the FLESSIBLE (or flexible) ticket is the easiest to change, has the fewest restrictions, and thus costs – on average – about 25% MORE then a BASE ticket. Flexibility does has its price! The FAMILIA (family) ticket can provide HUGE savings for a family traveling in Italy. There are restrictions so do your research (see the Trenitalia site or look here on our website for more info).
---
---
The PROMO selection is probably your best friend – and your best money-saver. Remember, we chose to travel the next day in order to qualify for the MINI discount. So if this tab is available on your screen, I'd certainly look at the prices available. For probably 98% of travelers, the GLOBAL PASS selection will not apply. You can also see that there is a tab for LOYALTY CARD HOLDERS. Unless you're staying in Italy for an extended time – and riding many, many trains – you probably will never use this selection.
The "i" or info choices on the far right of the screen gives you more details on each choice… almost the same information you would find on the Trenitalia website.
For our example, we want to use the PROMO function and purchase our ticket using the MINI discount.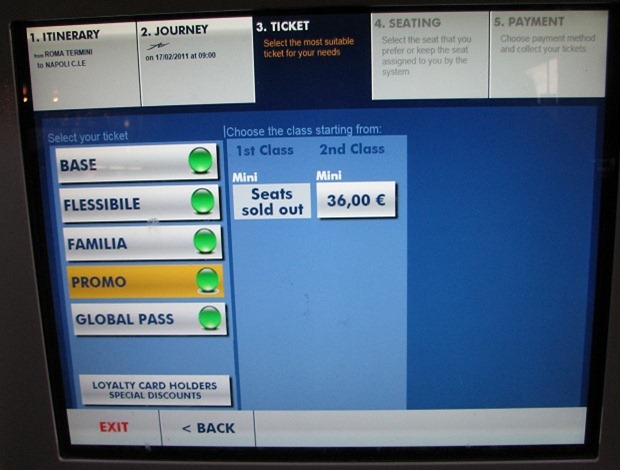 When we make our PROMO choice, the screen above pops up. Note that the PROMO choice is highlighted in yellow – so you know which type of ticket you are looking at. For this train, the 1st Class MINI tickets are sold out. The 2nd class tickets, which usually cost €45 will cost you €36 – so you save 20% if you press the €36 selection.
Unfortunately, there are a few quirks in the MINI system –as the amount of MINI tickets available are controlled by Trenitalia. I'm about to show you a "quirk" so if this happens to you… don't worry. Just hit the BACK button on the bottom of the screen and make another choice. The BACK buttons are great as you can "reverse" yourself page by page – all the way back to the START screen. So don't worry about making a mistake… just go BACK!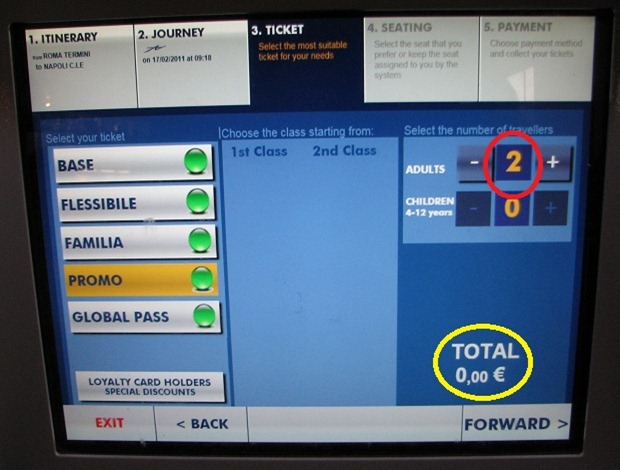 OK – here's our "quirk." I selected PROMO and then choose 2 tickets – see the red circled choice. But look down at the bottom right of the screen. The TOTAL – circled in yellow – is 0,00€. It should read 72,00€ as we purchased two €36 tickets. Intrigued, I choose the FORWARD button on the bottom right.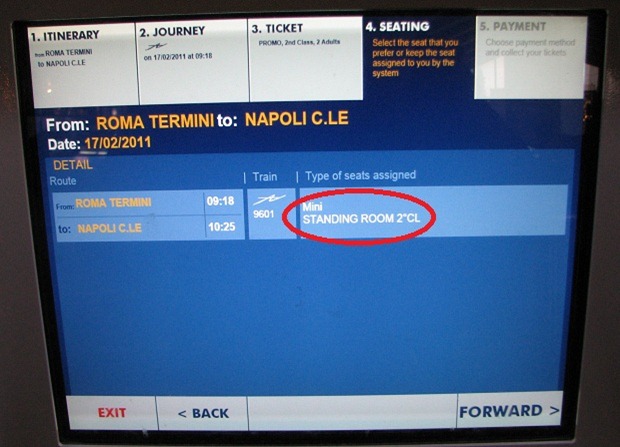 Note at the very top of the screen we are now in Step 4 which is the SEATING decision in the purchase. Again, we're looking at a "quirk" in the system… so it now shows that we have been given STANDING ROOM ONLY in 2nd Class. Now, since this is an AV train, seats must be assigned… so I choose FORWARD again and … BAM … the kiosk froze up, gave me an error message…. and kicked me out of the transaction. So I just started over! We will continue our example as I "get back" to this screen in my transaction.
The seating phase is similar to the old kiosk system – except it does not give you a "picture" of the seats you select (I miss that – but it hardly worked anyway!). You can choose seats on the aisle, on the window, and vis a vis (face to face). Just like the old system, if someone is already on the train with a purchased ticket, you can enter their car and seat number and try and get a seat close by. Do remember, the seating numbering on these trains often make NO sense at all. On an ETR 500, side-by-side might be 54 and 56; while face-to-face would be 35 and 36. So don't be alarmed if your seat numbers are not sequential.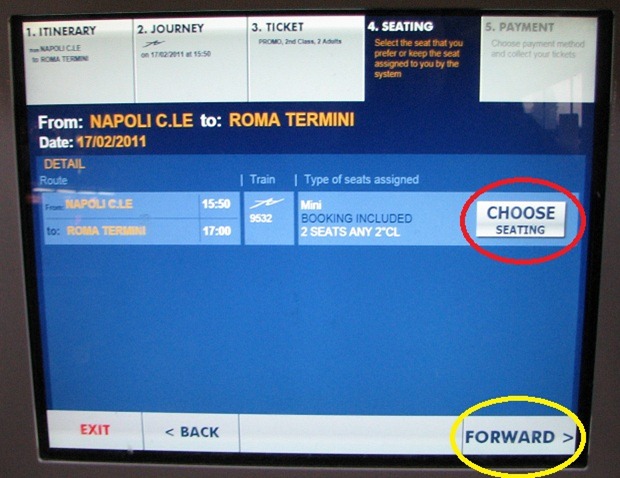 After I re-entered from the main screen I got back to the seating selections. This is where we diverted with our quirk. Here, we're choosing our return route at 15:50. In the screen above, we have selected our Itinerary, Journey, and tickets. Again, Step 4 Seating. This screen is so much easier to read than the older kiosks. You can see the route, times, types of seats, etc. So we touch the CHOOSE Seating (circled in red) and select FORWARD (circled in yellow).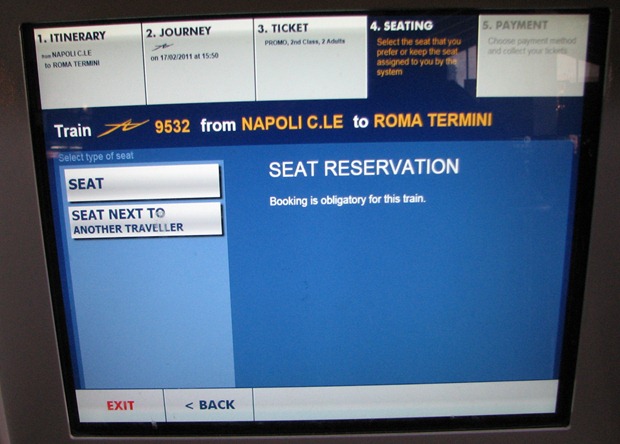 We choose the seating and we're moving on!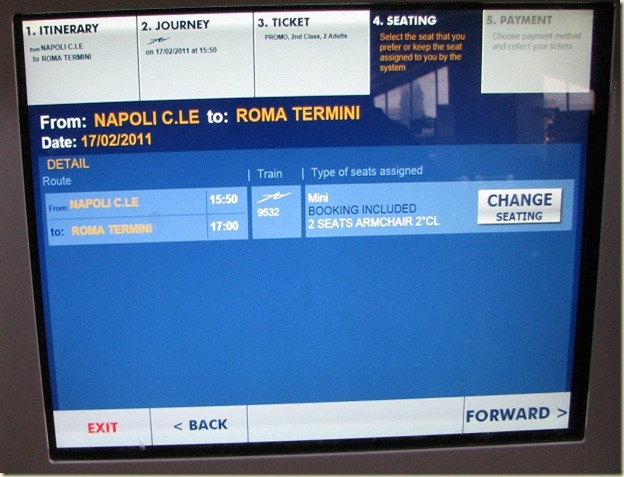 Here is the last screen before payment – for a train heading from Naples to Roma Termini. We can go back and CHANGE Seating. In our case, we're ready and thus select FORWARD on the bottom right of the screen.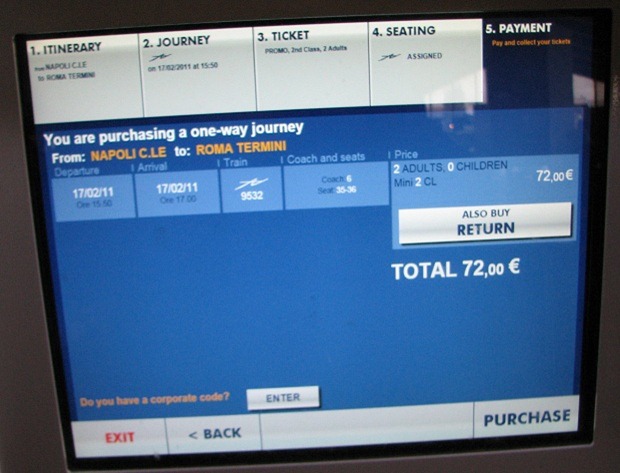 As you can see from the top right side of the screen, we are now in Step 5, the PAYMENT section of our process. The screen lays out your entire purchase. We're headed from Napoli Centrale to Roma Termini at 15:50 in the afternoon of February 17, 2011. We're on a AV train and in 2nd Class. The seats are listed in the fourth column. And in the last column we see we are purchasing 2 Adult tickets for a total of 72,00€. If we're not happy with our info, we can hit the BACK button and return to the Step which needs to be changed… But we're looking good, so we push the PURCHASE selection on the bottom right of the screen.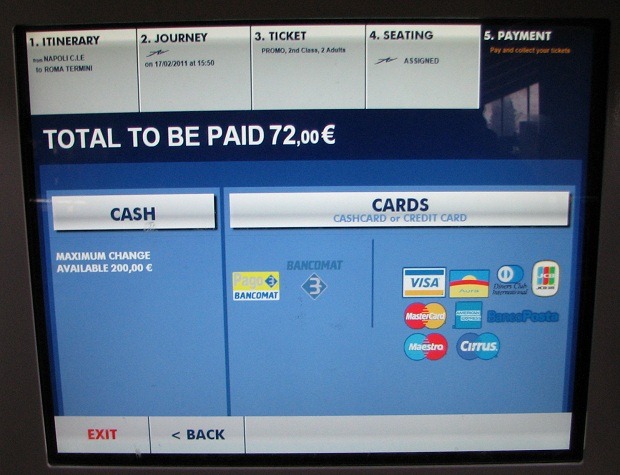 At this screen, you select CASH or CREDIT. American credit cards will work! On the screen you see the accepted types of credit cards. We will use the Credit Card option.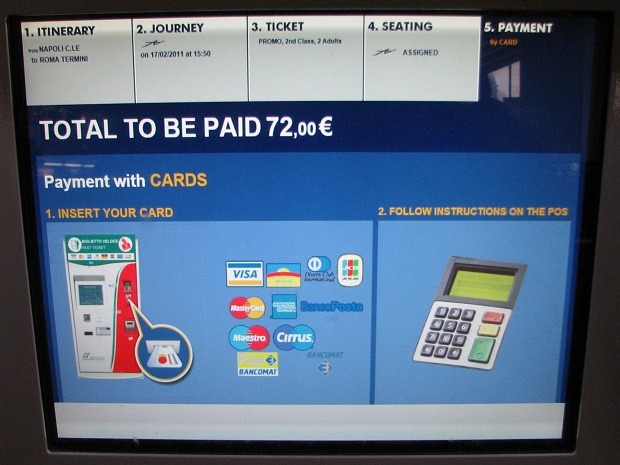 Once the Credit Card choice is made, the screen shows you where – and how – to insert your credit card. It also tells you to follow the instruction on the pin-pad which is located on the right side of the kiosk.
These pictures show a close-up of the kiosk keypad for credit and debit cards. The close-up of the keypad (below) shows that the instructions are in Italian. They're still working to update and change this to the language on the screens – but it's a work in progress. Yet it is fairly easy to understand.
_______________________________
Here's a different summary screen when I boooked an Outgoing and Return trip – or as Americans would say, a roundtrip ticket. In this example, I am headed down to Naples from Rome… and then back the same afternoon. (We actually did this trip!)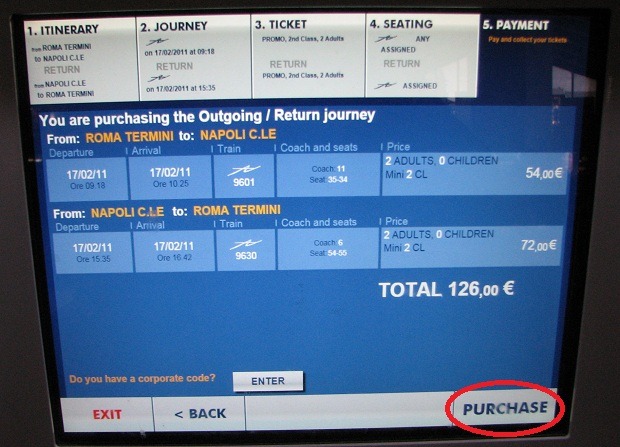 These are both MINI discounted tickets. The outgoing MINI tickets only cost €54 and the return journey is €72. Our total is thus, €126. MINI fares – as in this example – may not be the same price. It all depends on availability, time of day, and most importantly – where Trenitalia sets the price. In this example, we select PURCHASE and move to the next screens.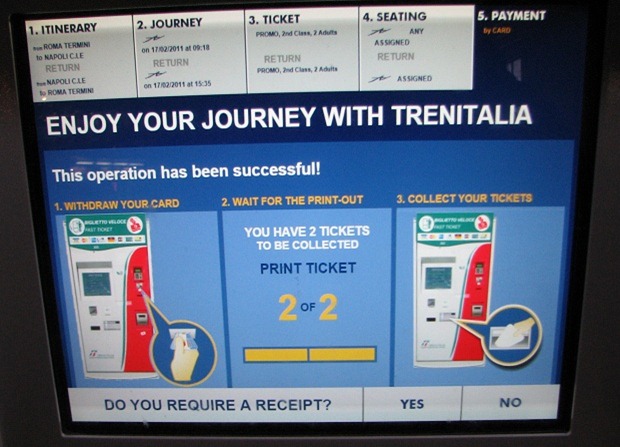 Once we have completed the credit card entry into the keypad – and we've successfully paid – you get this screen. This is your last screen and reminds you to pick up ALL your tickets. We have a roundtrip journey so we have to collect two separate tickets. The screen also tells you to remove your credit card and then shows you (on the right) where to collect your tickets. You're done. Treat your tickets like cash… because some folks in the station would be happy to collect them for you – then go cash them in minus any fees. So be careful.
_______________________________
Many travelers ask if they can buy all their tickets at one time. You certainly can – but you may have to change your departure and/or arrival stations manually. Say you are in Naples but you want to buy your tickets to depart from another train station – like Roma Termini. Back at the very first screen, choose the Change departure station tab – circled in red below.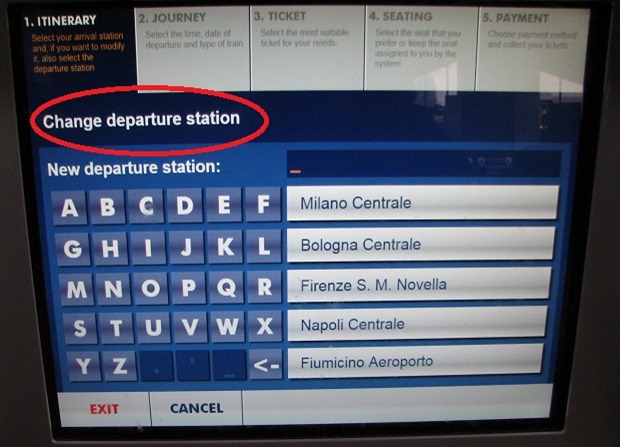 You can choose one of the stations on the right side… but notice that Roma Termini is not listed. Thus you can use the letters on the LEFT side of the screen and enter the name of the train terminal you want to depart from. Note that you see names in Italian, even though we are in the English language system. So it's important to know the names – in Italian – of the train stations you are traveling to. A little research in advance on the Trenitalia website can save you some heartache!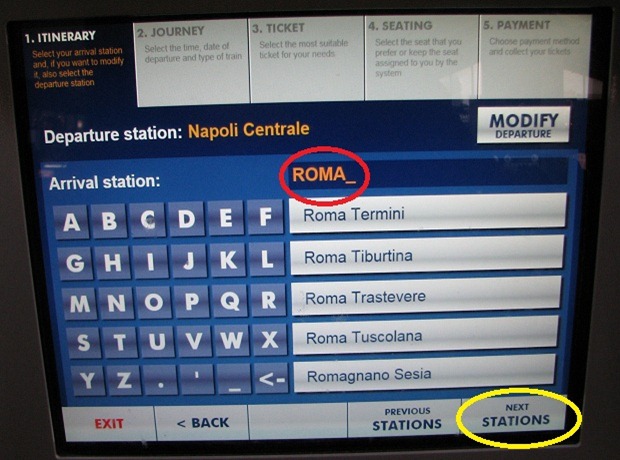 Using the keypad, I enter R-O-M-A (circled in red) and as I enter letters, the stations on the right load corresponding to the letters I have entered. Once I got to the Roma stations, I used the NEXT STATIONS key (circled in yellow) to avoid having to type more letters. There, at the top right of the stations, you can see Roma Termini. So it is quite easy to enter Departure and Arrival stations and purchase all your tickets. This may work to your advantage as you can look for MINI tickets.
Using the BACK function, you can select a route, look at the available MINI discounts (under PROMO), and if you want go BACK and choose a separate route to compare prices! I looked at about 6 different options before I started working through the routes and MINI prices I wanted.
---
---
Other Kiosks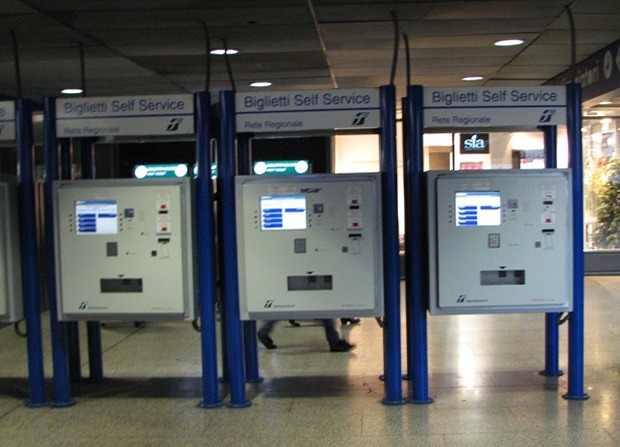 You may also see these kiosks in the train stations. This is a bank of Ticket Machines at Roma Termini Station. They often look older and slightly more battered. They do not have the high-tech screens of the other kiosks. What are these and can I use them? Well, these are primarily for Regionale Trains. You can buy regionale tickets on the other kiosks but these are sometimes faster and certainly fewer people – mostly locals – are using them.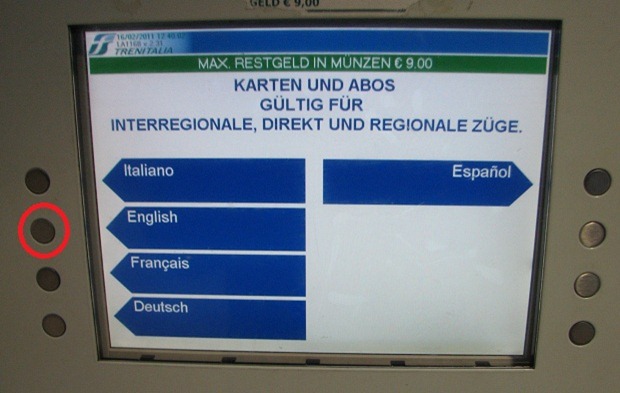 The machines do have an English option. Press the button next to "English" (circled in red in this photo).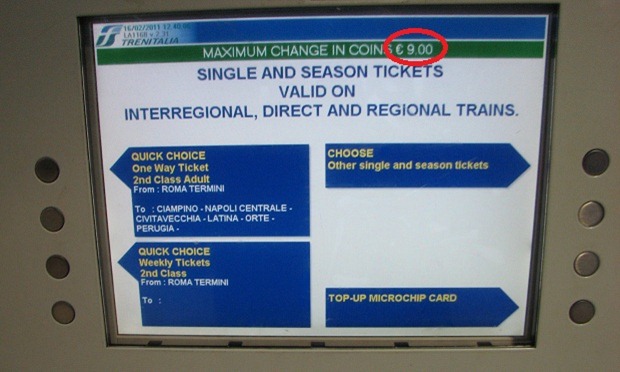 Once you choose English, the machines move to the next step. Here you have "quick choice" options to some of the more popular routes from Roma Termini (or whatever station you are standing in). Note the header – The maximum change you can get out of this machine is €9. So don't put a €20 note in this machine expecting change. If you pick the "CHOOSE other single and season tickets" option you'll get the screen below: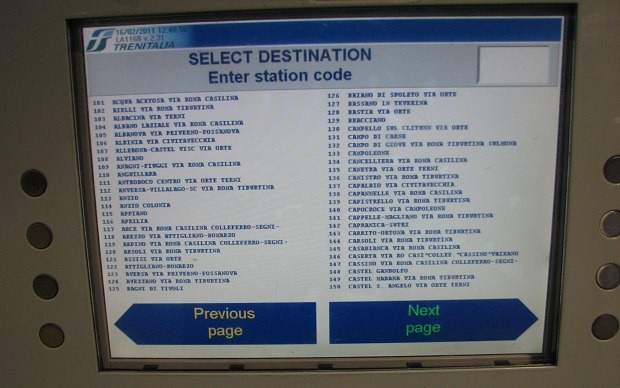 In alphabetical order, stations are listed that the regional trains will run to. The stations are assigned a three-digit number. See the close-up below.

When prompted, you enter the correct three-digit code and move onto the purchase screen. Locals of course know their home-station three-digit code and you'll see them move quickly through these screens when making a ticket purchase. Any ticket purchased on these machine MUST be validated!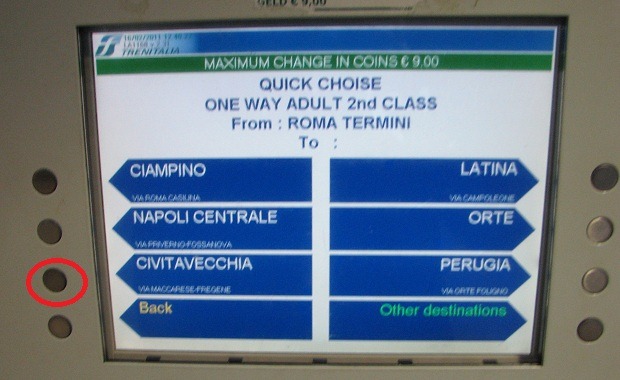 To show you an example, I selected the Quick Choice from screen 1. That's the top left button on the screen directly after the language choice screen. Here I select Civitavecchia, the sea port, by pushing the button to the left (circled in red)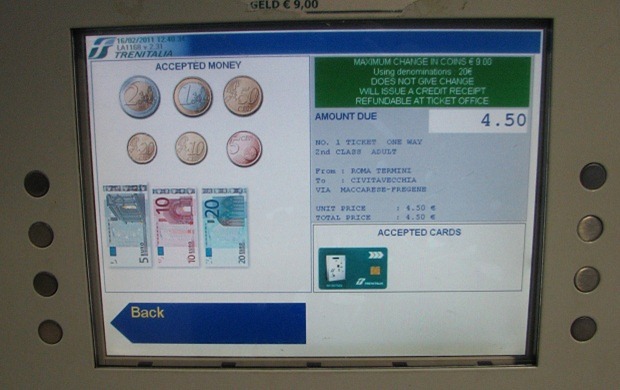 Immediately the machine moved to the payment screen – which unless you have a Trenitalia card – you will be paying cash. Note, there are no 1st class options on this train and the total cost is €4.50. The coin and bills it will accept for this transaction are shown also. Again, you don't want to drop a €20 note in this machine for a €4.50 fare as you'll only get €9 in change.
_______________________________
Whichever type of machine you choose, make sure you collect all your tickets, credit cards, and change. You'll see many folks walking through the terminal "looking" in machine after machine. They are looking for that unfortunate soul that left their credit card, tickets or change in a kiosk – This happens ALL THE TIME. If it's a ticket, they will then take it and cash it in. For a first class ticket, they could net 75-100 euro. So be careful and take all your belongings with you! In addition, folks may try and "assist" you. Tell them no thanks and do not accept their help. They are not doing this for free and will want a tip. Also, many cities have multiple train stations and these folks are just interested in you thinking they have helped you. They could care less what station you end up at. I did note that the police are doing a better job of moving these folks out of the ticket purchase areas… but do be careful.
---

---
You can also go to a ticket window and talk to a real person to buy your tickets. Often the lines are long (especially during the busy season) and the agents can be abrupt. If you do get in these lines, make sure you know what you need when you get to the window…. You can also buy tickets at no additional charge at any travel agent shop with the FS logo on the window! Do also remember, whether you purchase at a kiosk, travel agent, or ticket counter, if you will be changing trains midway through your journey, get a ticket for EACH leg of the trip.
You can purchase train tickets and reservations up to two months in advance of your actual trip, so if you are in a busy city during the peak summer travel season, you might pop into the train station a couple of days before your actual travel date in order to purchase whatever you need without worrying about missing your train. To get the MINI discounts – and some are up to 67% – you must buy the ticket before midnight the day of the trip.
Now you have your ticket and you're ready to ride the train. Do remember, If you bought a Regional or local ticket and were NOT asked about seat assignments, you MUST validate your ticket at one of the the yellow boxes. If you have assigned seating, like we just did, no validation is necessary.
Congratulations, you're got your ticket and you're ready to to ride!
New kiosks in Napoli Centrale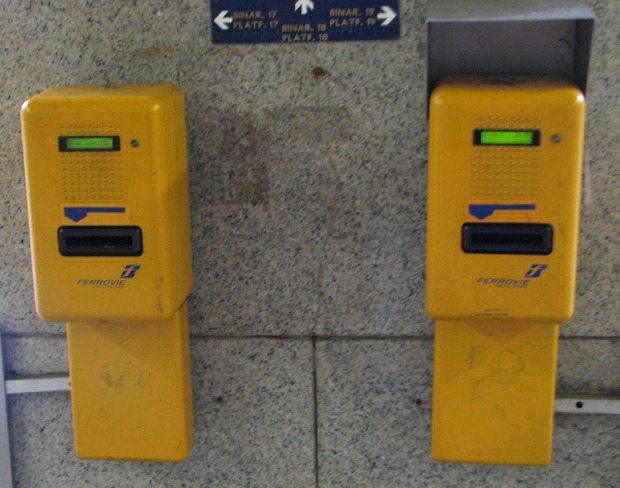 Ticket Validation boxes at Roma Termini
---
If you are interested in Luxury Travel Advice, Information, and Support…
Please contact me, Ron in Rome, at Ron Phillips Travel

An Independent Advisor for Brownell Travel
A Virtuoso® Agency

Website: www.ronphillipstravel.com
Email: info@ronphillipstravel.com
Phone: (404) 474-3851
FAX: (678) 528-2672
And if you'd like more updates on travel specials, news, and events LIKE us on Facebook at

---