UPDATE NOTE: Trenitalia has changed it's online ticket purchase options. Now, tickets are far easier to buy than this example, posted in February 2011. For the updated method – see our posting, Trenitalia and Booking Online, Using the Trenitalia Website – Updated. There you will get the new link and the "new' system… which is far more streamlined and much easier to use.
Why is this posting still up? Because currently, many people still get to the "older" online Trenitalia system. So until they remove this option, some people may actually prefer to book from this site: www.trenitalia.it/homepage_en.html. We're not sure how much longer this Trenitalia link will be active, or how long they will support these "older" booking procedures, but we will leave this report up for those that may stumble across it.
We strongly advise to book Trenitalia tickets from this link to utilize the newer and easier procedures. Again, head over to Trenitalia and Booking Online, Using the Trenitalia Website – Updated for the "how-to" on the revised Trenitalia website.
And so here is the original, yet soon to be outdated – posting on Booking Trenitalia tickets on Line.
______________________________________________________
Now more than ever, the Trenitalia website is accepting more and more USA credit cards. Many American travelers are reporting success using their MasterCard or VISA credit cards. Hopefully this trend will continue and the website will become even more accepting. Because US credit cards were NOT accepted, many visitors only used the Trenitalia website as a reference source – how to figure out what trains run, when and to where – and what's it going to cost me. For that reason, we'd like to present a posting that describes "How to use" the Trenitalia website.
---
---
The Online Option
First though, let's talk about using the online service and going ticketless in Italy! As per the Trenitalia website, Ticketless is the purchasing solution that lets you board your train without having to pick up a printed train ticket. The ticketless option is accepted on all trains – except International and Regionale trains. It is accepted both in 1st and 2nd class, as well as the Couchette, Wagon Lits and Excelsior services.
You can buy ticketless tickets on the Trenitalia website, by calling the call center ((+39 06 68475475), or from certified travel agencies. By buying ticketless tickets, you can avoid the waiting times when you have to purchase at the train station kiosks or desks. See our post, "Going Ticketless" and Using PNR Codes on Trenitalia for more help on how to use this "ticketless" solution on the trains.
For on-line purchases you will be sent an email with a purchase confirmation and all the information on your selected journey. If you purchase through a certified travel agency, the Call Center, or on the Trenitalia website, you will be sent your booking code (PNR) and, if requested, your Booking Change code (CP) along with indications of the carriage and the seat(s) assigned. (We'll discuss the PNR and CP later in this posting).
Ticketless tickets are easy to use – Once you board, simply present your PNR Code to the on-board personnel (conductor) and they will print our your payment receipt if it has not been previously requested or simply register your presence on board. That's it – pretty darn easy!
The advantage of booking online is you can score major discounts, get your tickets in advance, and avoid paying handling fees and up-charges to middlemen like RailEurope, ItaliaRail, EuroRailways, etc. The current discount of choice is the MINI discount. See our MINI ticket posting for more details. With the MINI discount you can save up to 70% on your tickets! Frankly, if you cannot get a discounted ticket, I would wait until I got to Italy and purchase tickets. The exceptions to this rule would be if you are traveling on a major holiday, if you have "locked" down your routes, days, and times, or if you're traveling on a very popular, but limited route. For example,
I'm not sure I'd book Rome to Florence in advance unless I got a discounted ticket. The reason: There are more than 50 runs each day between these cities. But certain times of the year in Italy it seems all trains are crowded. You need to be aware of:
The month of August – everything is on Holiday schedule this month!
Easter weekend, which includes Good Friday through Easter Monday
April 25th, May 1st, June 2 (all National Holidays) – be careful if these are falling near a weekend as Italians like to add a few extra days!
December 7 (Milan only) and December 8
Christmas week, New Year's Day, and January 6th
Now, this posting is as current as the Trenitalia website and may look different once you read this article. These pictures and information are updated as of March 2012. All information, webpage photos, etc. comes directly from the Trenitalia website. Hopefully, this will help you save some money buying tickets in advance through Trenitalia… and not through the many middlemen such as RailEurope, ItaliaRail, EuroRailways. So let's explore the Trenitalia website – www.trenitalia.it/homepage_en.html.
---

Registering on the Trenitalia Website
If you're having trouble geting your credit card approved, which has improved incredibly since November 2010, then it may be helpful to register on the Trenitalia site. If you don't feel you need to register, you still can purchase tickets as a guest. If you don't need to register, skip on down to the Journey Choice header, which begins the instructions for buying a ticket online. When you go to the Trenitalia website your page will look something like this: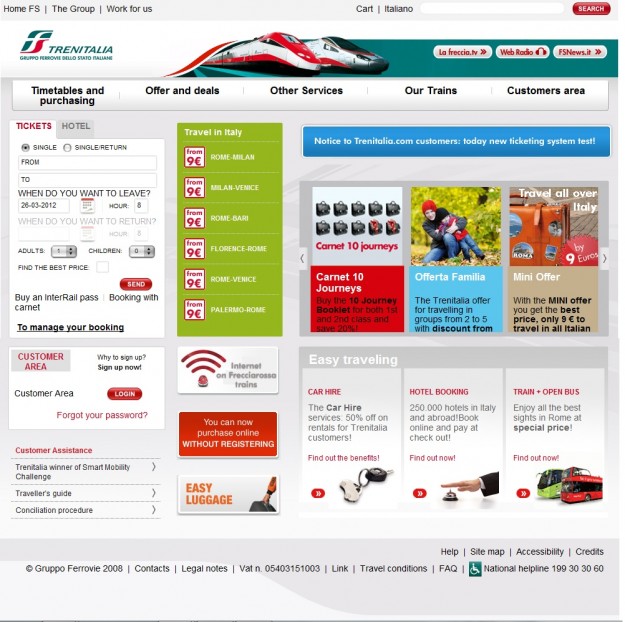 To buy tickets on most sections of the Trenitalia website you do not need to be registered. But as fickle as this website is regarding credit cards, it's probably not a bad idea to get every advantage you can. When you register, you'll get a username and a password. To register, looking at the first page of the Trenitalia website, move midway down the page on the left side and you'll see this section: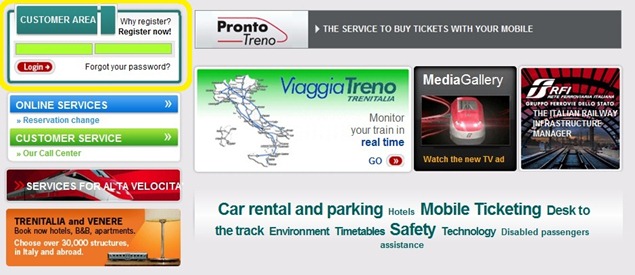 Denoted by the yellow rectangle, in the top left of the picture, is the Customer Area, where you need to register. Click on the "Register Now" link and you'll be taken to this page: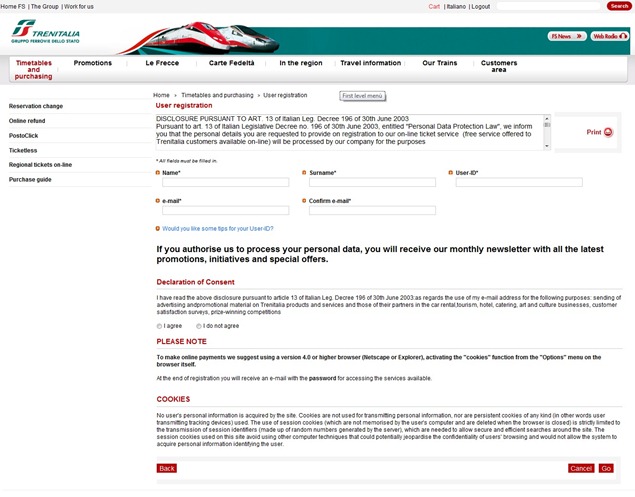 Enter your first and last name, and create a USER-ID for yourself. Next enter your email address and then re-enter your email to confirm. Upon approval, at the end of registration you will receive an e-mail with the password for accessing the services available to you –which would include buying tickets online. So page down and select the "GO" button after you've finished entering all info. As far as the Declaration of Consent, I choose "I do not agree" so I will not get emails in Italian from multiple companies!

The site may "crunch" for 20-35 seconds, so go get a caffe and come back! Check your email – In the email you get from Trenitalia you will receive a "temporary" password. Click on the link in the email and you will be taken to this page to "change" your password. The page is in Italian so translations for each line are as follows:
Enter user ID
Enter your current password
Choose your new password at least 8 characters
Enter and confirm your new password

Enter your information and click on the bottom right of the page – AVANTI. The next page will tell you that your password has successfully been changed. : Cambio Password – La tua password è stata inserita con successo translates to Change Password – Your password has been changed successfully.

Looking at this page, go to the top right, and Click on English, circled in blue in the photo above. Once you do that, you'll be taken back to a different looking "home page." This – see below – is where you will start looking for train tickets and route options.
---
Step 1 – Journey Choice
The Journey Choice section is Step 1 of the booking process. Here, the Trenitalia system searches for the train routes based on your departure and arrival entries. The system identifies and presents all the possible journey proposals. By default, the listed routes are ordered by departure time.
Each route generated by the Trenitalia website gives you a departure time, arrival time, journey duration, any stations to change at, train number and category (e.g. Eurostar, Intercity and regional etc.), the standard BASE fare for an adult in 1st and 2nd class, and the button for making the selection. If the Select button is enabled, this means you can buy the related ticket on-line. Otherwise you must go directly to the station or approved travel agency – This Select button will not be enabled for some regionale trains as you cannot buy those tickets online.
For more information on any of the routes, we'll show you how to get detailed information, including the stations and departure/arrival times that your train will stop at on its way to your final destination and also the services available on board the train. So here we go!
The Home Page (above) has a tremendous amount of options. We're going to focus on one section, Routes! On the left, we've pulled this section out of the home page. At the very top, you can see – surrounded in RED – the header, TICKETS. Below that, circled in yellow, you have the option for One-way or Return (roundtrip) tickets. Note, on the Trenitalia website, unless there is a specific promotion, Return tickets are no different in price than buying each leg separately. It just makes the transaction easier for you to pay for all legs at one time … but price-wise, each leg will be booked individually.
Next up you have #1 and #2. These are the FROM and TO entry points for your trip. Note that some English versions of the Italian city names, like Rome, Florence, or Venice, will work in these boxes… but it is a very, very good idea to enter (and learn or write down) the Italian name of the train station you're headed to. Rome and Florence for example, have numerous train stations. In Rome, you can go to Roma Tiburtina, Roma Termini, Roma Trastevere, Rome San Pietro, and so on. A good one to know for Rome: Roma Aeroporto. This is the name for the Leonardo Da Vinci Airport (Fiumicino – FCO).
#3 is your departure time and date. Note in Europe that all dates start with the day, then the month, then the year. If you are planning a One-way trip, you would only complete #3. The #4 entry is for the Return leg if you are booking a roundtrip. In most cases, you'll probably just leave this untouched. Because I have selected One-Way at the top of this box, #4 is "greyed-out" and I am unable to make any changes in this section. When you've made your choices, select Send on the bottom right of the box.
An Example
We're going to do an example planning a One-Way trip from Rome to Florence on Wednesday, April 6, 2011. We want to start our trip after 8 AM in the morning. When we complete our box, just before hitting send, it should look like this: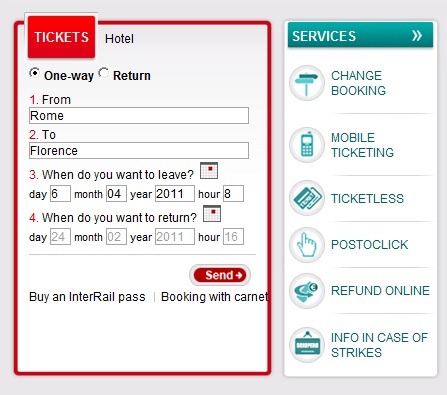 ______________________________________________________
Once we hit the Send button, we are sent to a page that looks like this.
This is probably the most important page you'll look at – and it has a ton of information on it… much of of hidden. So we are going to break it down into sections that are easier to read. Because this page is SO WIDE, we'll break it into Left and Right sections.
On the LEFT side of the Page you get this information.
First, you see on the top that our departure stations will be ALL Stations in Rome (Tutte Le Stazioni). In the grey header, you can read Departure, Arrival, Length of Journey, and Train No.
Let's start with the Departure column. On the first line you can see the train leaves at 8:05 AM – All numbers will be in 24-hour Clock format. The name underneath the time is the starting station. ROMA TE representing Roma Termini. You can see that there are MANY trains departing to Florence – five in less than forty minutes. On the very bottom, you see ROMA TE and also RO TIB. This shows that the 8:43 train stops at another ROME station on its way to Florence.
Next, look at the Arrival Column. The 8:05 AM train from Roma Termini arrives at Firenze Campo Di Marte station. THIS IS IMPORTANT! Florence has multiple train stations and the train station that 99% of all tourists want to arrive at is Firenze Santa Maria Novella, or FI. SMN – which is where the 8:15 AM train is headed. The Firenze Santa Maria Novella station is the downtown train station, very close to the Duomo and the center of town. For most of you, this is where you want to go. If you select the wrong station you could be miles from your destination. And both of these trains – the 8:05 and 8:15 AM trains – are NONSTOP. So you won't have the opportunity to jump off at the other station… the 8:05 AM train is just not going there!
To make it a little more complicated, look at the train arriving at 11:35. This train stops at Firenze Rifredi – another train station in Florence, and again, it's not near downtown. So so make sure as you are buying tickets – online or at the train station – that you know EXACTLY where you are headed! Sounds like something simple, but you'd be surprised how many folks make this mistake.
If you look at the bottom train, arriving at 12:47, it DOES stop at two Florence stations… but it is a regional train. That brings us to the next column, the length of the journey. You can see the 8:05, 8:15, and 8:33 trains are the fastest, taking about an hour and a half to get from Rome to their Florence stations. The 8:22 and 8:43 train journeys run 3 and 4 hours respectively… and so yes, you will pay for speed!
The next column is the train number (and in some cases – name). This is probably one of the most important, and overlooked, bits of information. Here's why – when you go to the train station and look on the Display Boards (either a "clacker" or electronic board), they list the final destination of the train… and the train number. Now if you're headed to Florence and your train continues on to Milan, the board may display Milano Centrale… which would make no sense to you. But the train number will always STAY the same no matter where the final destination is. So always know – and always look for – your train number.
The train numbers followed by a name are the AV trains… the fastest, most comfortable, and yes – the most expensive! In the AV trains, Le Frecce translates as The Arrows; so Frecciargento is the Silver Arrow, Frecciarossa is the Red Arrow, and Frecciabianca is the White Arrow. How fast can these trains go? Here's a look at my GPS clocking us heading south on the Frecciarossa (Red Arrow):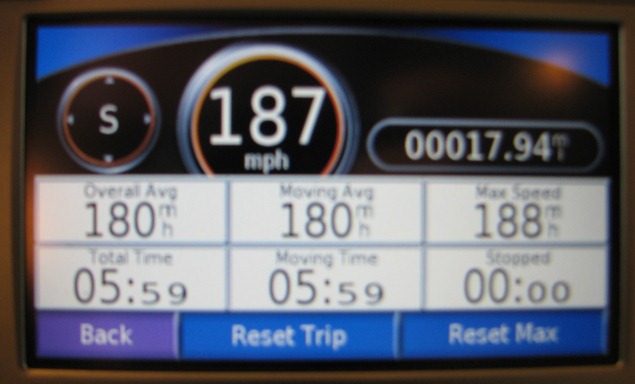 Now, let's go back to the BOTTOM left of this screen. If you were to click on all solutions, it gives you all the possible solutions – this is generally used by folks who have screened out trains,stations, etc… so you can see every option. The next button gives you the next five trains leaving to Florence (starting at 8:45 AM and running through 10:05 AM), and if you clicked it again it would proceed further into the day.
The last selection on the left, the link option, is great if you like to explore. If you click on it, it shows you train and bus options (connections) – in Tuscany – that you could link to upon arrival. It's almost TOO much info. Frankly I've never used it except as a cross-reference when we were just wandering. Unfortunately, all the info on this page is in Italian. Let's move on to the right side of the page!
The RIGHT side of the page.
At the top, on the right side, you can see that you can sort your train travels by departure time, journey time, and by number of changes. You can see that the departure time is "greyed out." This indicates how you are now displaying the route information. Departure time is the default setting.
You can also see that we choose Florence – which it changed to Firenze… Now do understand, we could have told the train to ONLY look at station Firenze Santa Maria Novella arrivals and then our information would reflect just that station. Again, if we wanted to see all stations, we'd go back and click on the all solutions button on the left side of the page. Lastly, above the header you see the date: 6/4/2011. This is the date you are seeking tickets on – not today's date! And again, this is April 6, 2011 – not June 4, 2011. In Europe, it's written as dd/mm/yyyy.
In the grey header we see Train Category, 1st Class, 2nd Class and Select. The train category tells you what type of train you'll be on. Here we have AV trains, an IC train, and lastly, a Regionale train. The next two columns are the BASE prices for 1st and 2nd class tickets on this train. These BASE prices do not reflect ANY discounts. There are also other rates we'll look at, but BASE is where Trenitalia calculates from.
You'll notice that there are NO prices listed for the Regionale Train. You cannot buy "ticketless" regionale train tickets online. There is a method to buy some regionale fares online, but you have to print out a PDF file and bring it with you – see Trenitalia's page Regional Tickets online for more info on booking a regionale train online. The good news is: Regionale tickets never sell out. The bad news: there's no assigned seating so you may not have a seat and some runs can get VERY crowded!
Once you make up your mind on your route choice, you click on the Select button.
On the bottom of the page, you can use the PRINT button to get a printed copy of the page you are looking at. The EDIT button will allow you to go back out and revise your travel route… and the CONTINUE button moves you on to the next screen.
Details by Selection is a VERY useful button. First, you have to make a route selection up on the top of the page – so let's choose the 8:15 AM train to Firenze Santa Maria Novella… which is where most folks are headed! Click on the Select button for the 8:15 train and then the Details by Selection. A new section will appear at the bottom of the page.

Again, this is very small and difficult to read, so we will also break this into a LEFT and RIGHT View.
Zooming in on the LEFT side, we see this.
In this section, it gives you info you can easily see in the "upper" portion of the page. The type of train and train number and the Departure station. Down at the bottom, the previous button will show you all this info for the PREVIOUS TRAIN, which on our sheet is the 8:05 AM train. On the right side of the page, seen below is MORE – and better – stuff!

The 8:15 at the top left is the remainder of the "departure" info. Then we have the Arrival Station – always important in a town with multiple stations. Next is the arrival time for the train in Florence, followed by the time (length) of the journey. Accommodations reflect what services are offered on the train. Below, you see in the chart the breakdown of what these services are. These same symbols are on the charts in the train stations, but here you have the key – so always great to know in advance what's on your train.
The "R" (with a box around it) comment says that reservations must be made in Italy. That's actually not quite true – an interesting translation. What the "R" (with a box around it) really represents is that you MUST HAVE reservations (and thus a seating assignment) on this train. So anytime you see a "boxed R" on the posters in the train station or this website, you'll need a seating reservation. If you are traveling with a rail pass, this is VERY good to know – as you'll have to purchase a seat reservation.
Note – Just so you don't get confused. Under types of trains you many see a slanted R – no boxes. This represents a regionale train and remember, these DO NOT need a seating reservation. So look for the BOX around the ""R"! At the very bottom of the page is the next button – which shows you the NEXT train. In our example, that's the 8:22 AM train.
The last button is the info button. Select this button and you get MORE information on your selected train. Another screen will open under the current screen and this will show you all the stops – and times – your train will make.
For our train at 8:15 AM, the info screen looks like this.
From this, you can see that the 8:15 AM train is a NONSTOP train, departing from Roma Termini and arriving at Firenze SMN at 9:50 AM. For a different example, let's look at the 8:22 AM train's info box: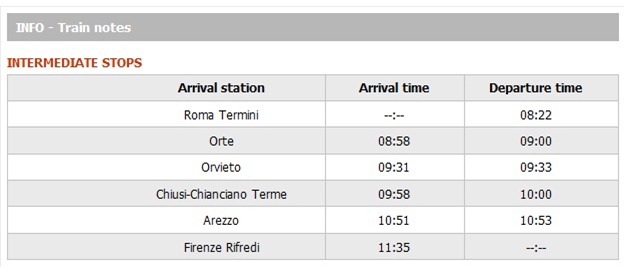 The 8:22 AM train's info box.
As you can see from this example, the 8:22 train makes numerous stops on it's way to the final destination, Firenze Rifredi. You can see what time the train will stop at each stop and how long it will remain in the station. This information is tremendously helpful if you are riding to an intermediate stop, like Orvieto. Using this info, you can see what the stop is BEFORE your stop (Orte) and how long from the previous stop to your stop (17 minutes).
Thus, you can gather your luggage and get ready… because as you can see, these trains do not wait long at each train station – on average 2 minutes. If you were getting off at Orvieto, you'd want to be standing by the exit door of your carriage, luggage in hand, as the train pulls in.
Okay – so we've looked at most of the info on this page, so let's move to the next step. For our example, we're going to select the 8:15 AM train and push the CONTINUE button.
---
Step 2 – Fares and Preferences
Okay, we've now made if off the first section of booking a tickt, choosing the route we want to take. We choose the 8:15 AM train. Now that we know where we're going, we have to figure out what we're going to pay for this route. And there are many options.
This is the FARES Choice screen.
Again, we'll break this down section by section. In the Fares Choice page, you can select the price, class, and type of ticket you want to purchase for the journey you have selected. First, select the rate you want to pay. Then you have to enter the number of adults and children passengers (the total number of places cannot be more than 5).
Note – children 4 and under ride free (but in your seat) and children 5-12 are considered children and help you qualify for the family discount. Actually, family is a misnomer as there does not have to be any proof of relation – just age. So if you take your neighbor's kids, you can still qualify for the family discount – if they're between 5 and 12. Next, select the class of ticket (1st or 2nd) you want to buy.
In the top left section of this page, you have the types of tickets available for this route. Zooming in, here is a view of this section:
Close-up of the top-LEFT section of the FARES Choice page
As you can see from the top header, we're now on Step 2- Fares and preferences. Below, you see the Departure stations and now you get to select the number of adults, children, and whether you want a 1st or 2nd class ticket. For this route, there are three options to choose from: Flessibile, BASE, and MINI. Each ticket has different types of restrictions.If you click on the "More Fares" tab, you get an entire list of other ticket options. Perhaps the only ticket that might apply would be a youth or student ticket. For details on these "other" ticket options, see our post on Types of Train Tickets in Italy. For most foreign visitors, these "other" tickets would not be an option…
To look at one viable option for visitors, let's say we have two adults and two children. If you enter that in the form (see example below), you see that a different option shows up… the Family ticket. The children get 50% off the base far and the adults get 20% off their tickets. The BASE fare is €45 for one person. Thus, the Family rate for these four individuals would be €117.
Note the Familia line, now added as an opton
Now – going back to our example with the FLESSIBLE, BASE and MINI tickets….. On the top, right side of this page, you'll see:
The top, RIGHT section of the Fares Choice Page.
These are the prices for the different tickets. You can see that the 2nd class MINI ticket is about 30% less than the BASE ticket. Once you make your selection of any of these three choices, then you will see numbers "drop in" below on the sheet.
______________________________________________________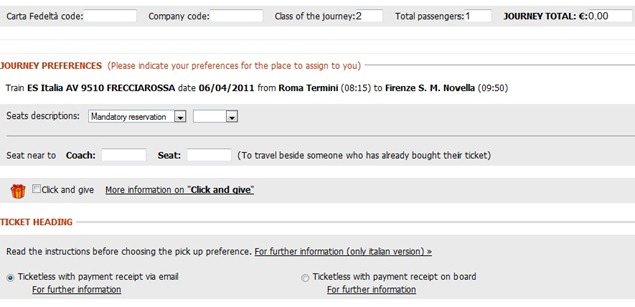 Moving down the sheet, you see the Carta Fedita code and Company Code on the very top ine of this cloe-up. As a visitor, 99% of you will ignore these options. Once you input your class and # of passengers in the top section, they drop in here on this top line – and then based on which ticket you selected, the website calculates your trip costs
The next section, called JOURNEY PREFERENCES, is all about seat selection. Note how the train number, date and time are displayed so you can verify you have the proper route.

As you can see in the close-up, on our train it is a Mandatory reservation train and in the next block you can select window, aisle, or middle – based on the train floor plan.
For other types of trains, you have other options in this section. They might include the type of seat or, for overnight journeys, the accommodation in couchette or Wagon Lits. For Couchettes and Wagon Lits, you can – if you prefer – indicate an upper or lower berth or a compartment for say, ladies only. If you're looking at these overnight options, the icon to the right indicates whether the price and accommodation chosen are available (green) or unavailable (red). In this case you must select another rate or another accommodation.

If someone you know has already bought tickets, then the "Seat Near to" line allows you to try and get in the same carriage and sit near or close to them. Enter their information here, and the website will search for the closest available seats.
______________________________________________________
The "gift box" line allows you to give the gift of a ticket – Click on the "click and give" link for more information.
______________________________________________________

In the next section, you can select your ticket delivery option. You can only use the Home Delivery option if the letter (ticket) is to be mailed in Italy. Thus, most of you WILL NOT be using that option. You then have three options in the online delivery format. They're highlighted below in red.
Ticketless – With this pick-up solution, printed tickets are not issued. You have two options using the ticketless selection – You choose whether to obtain the payment receipt by email or on the train.

Ticketless with payment receipt sent by email – If you have opted for payment receipt by email, it will be emailed to the email account you have given. When on the train you will have to either present the printed payment receipt or tell your Booking Code PNR to the on-board personnel (conductor).
Ticketless with payment receipt given on board – If you have chosen to receive the receipt on board, you must show the Trenitalia staff the email confirmation received from Trenitalia, or tell our staff your the Booking Code (PNR). They will then be able to issue you a payment receipt. On request you can also receive a text message on your mobile summarizing the transaction.

Ticket pick-up at the self-service kiosks in a main station– Picking up tickets at the stations with ticket kiosks is free. It also has the advantage of being available up until the train departure. Before choosing the to pick-up a ticket at a self-service machine, you must check that this machine service is provided at the station of departure/pick-up (See the list of stations at the end of this article). If there is no self-service machine at the departure station, you can also pick up tickets at the station ticket desk, if open. To pick up tickets at the self-service machines, you must have the PNR booking code received via email after on-line purchasing and the name and surname used when buying. (You'll enter that info lower on this web screen)
Do note: with ticketless tickets you cannot travel by the regional or international trains (except for the Cisalpino ones but only on routes in Italy); in this case, the on-board staff will have to deal with you as if you had no ticket.
Of all these options, I would go with the Ticketless with payment receipt sent by email option. The hard copy email and receipt-in-hand can be quite helpful in case you run into problems.
______________________________________________________
Now at the very bottom of the page we have the User Validation area. It looks like this:


Zooming in on the left side of this form, you get this information. Here you enter your user ID and password. This enables you to LOGIN to your pre-registered Trenitalia account – which we set up at the start of this posting.

On the right side of this section, you have this information. If you have not registered, you can register now (I never like trying to register in the middle of a transaction… which is why we did it first… but that option is there). If you've gone this far without registering, I would choose the I want to pursue the purchase without registering option – If so, click on the box!

If you click on the purchase without registering option, then the box above pops up at the bottom of the page. The print at the top reads, "Note that for this purchase, you must specify a valid email address. The identification of the ticket (PNR and CP) are sent via email to the specified address. Billing and Compensation for delays are not available." Basically, to use the online and PNR functions, Trenitalia has to send it to you via email. If you put the wrong email in here…. you'll never get your confirmation – despite having paid for it in the net section. So do make sure you email is correct and valid.
Splitting this form in the middle for a close-up, we see this info on the left side:

The Firstname, Lastname entries are quite important. These are the names you will have to enter into a kiosk if you are to print out your ticket using the PNR code. If you are "logged in" and NOT using this purchase without registering option, the computer takes the names (first and last) you used to set up your Trenitalia account when you registered. You also see here the place to enter your E-mail.

On the right side if the form, above, you can see that there is a section to CONFIRM your email (you're not allowed to cut and paste in the CONFIRM box – you have to manually enter your email address again). When you're done with this page, click on CONTINUE!
---
Step 3 – Summary and Payment
Now we're at the most nail-biting time! Will your credit card work? It would be a good idea to to notify your credit card company in advance that you intend to buy tickets through the Trenitalia system. This phone call could save your hours of headaches and some money!
If you look at the header, you can see we're in the second to last section, the summary and payment section. For our example, I selected one seat in the 8:15 AM train and choose the MINI option.

So as you can see below, the summary and payment page starts with a recap of my purchase. Also note that there is a time limit (15 minutes). If you do not complete your transaction – or your credit card get repeatedly refused… and you run out of time – then your seats go back into the general population and you'll have to start over. Below is my summary, which tops the summary and payment section.

The next section is your shopping cart. At the very bottom you click on the CREDIT CARD OR PREPAID tab to move to the payment screen.
At the payment page you'll see this screen
______________________________________________________
From the Trenitalia Secure Payment System
The on-line ticket purchasing system uses the most up-to-date security technology available today for web transactions. To pay train tickets purchased on-line, passengers can use Visa, Mastercard, American Express (Italian AMEX cards only) and Diners credit cards or prepaid cards.
Trenitalia avails itself of a secure payment system, conceived and managed by the UniCredit bank group. The secure payment system allows on-line purchases to be made in greatest ease and with fullest guarantee of security and privacy. The transactions are indeed not conducted with instruments managed by Trenitalia but through the servers using the secure technology of the UniCredit bank group. After making payment, a message appears confirming the transaction on a page of the Trenitalia site. For clarifications on transactions by credit card made on Trenitalia's website, we suggest you contact your credit card service provider.
To guarantee greatest customer security, the international Visa and MasterCard circuits require that credit card transactions respect the following security measures:
the typing in of a three-digit security number on the back of the credit card, near the area reserved for the signature.
the authentication by the customer on the appropriate pop up using data that have been given previously to that same customer by the card issuer ("Verified by Visa" and "SecurCode" standard).
For payment systems to work properly, you must use a version of the browser (Netscape or Explorer) which is 4.0 o later, and in which the "cookies" function is enabled. In the event of a transaction being unsuccessful we recommend repeating the on-line booking and purchasing procedure from the beginning. You can do this by selecting "Timetable – Tickets purchase" from the main menu of the Trenitalia site and not the "Back" button of your browser. In order to get the invoice, you must apply for the ticket office in the departure station before train departure. Our staff will print the train ticket and issue the invoice.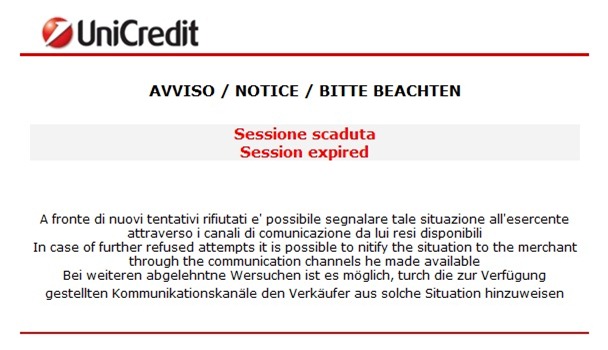 If you fail to complete the transaction in a timely manner, or if you're credit card is refused, you get a message like the above notification.
For security reasons, the value of the tickets purchased in a month cannot exceed €1.000 euro. If you expect to exceed the monthly spending limit associated to your user profile, you can apply in writing for an increase by sending a fax to 06/44104036 or an email to areaclienti@trenitalia.it stating:
– your User ID,
– a contact telephone number
– a photocopy of a valid identity document
– a photocopy of your tax code number
– a brief explanation of why you want to increase your spending limit, or to be authorized to use more credit cards
Within 48 hours you will receive the outcome of your request by email.
---
Step 4 – Purchase Confirmation
When you complete your transaction – and your credit card goes through (HOORAY!) – print a copy of your order confirmation while you're on the website. Don't worry if you forget, you will get an email to support your ticketless purchase and you can get all the info you need from this email. Remember, you cannot use the direct mail option for ticket delivery unless you're getting the letter in Italy, thus most US visitors will be using the ticketless solution. In the email from Trenitalia you'll receive a Booking Code (PNR), Booking Change Code (CP), and a Master Code.
The email confirmation you receive – in place of a printed ticket – will contain the Booking Code (known as the PNR). The confirmation PNR code consists of 6 letters and numbers. In this confirmation email will also be your ticket information: the seat(s), carriage, date, time, number of passengers, fare code and rules of the train route(s) you selected – much like the summary page we saw above.
This e-ticket will allow you to travel "ticketless." You can board a train with only the PNR code! The conductor will "issue" you a paper ticket after checking you PNR code. NOTE – On very few routes the email may require you to "print a ticket upon departure" at one of the kiosks in the train station before boarding- IT WILL SAY THIS IN YOUR EMAIL INSTRUCTIONS. You'll need your PNR code to access your purchase at the kiosk. It's quite simple to use the kiosks to get your "paper" ticket. Just follow the instructions – in your language of choice – on the kiosks. Below is a photo of the "Start" screen on a kiosk in Roma Termini Station. You would select the top right option: COLLECT YOUR TICKET.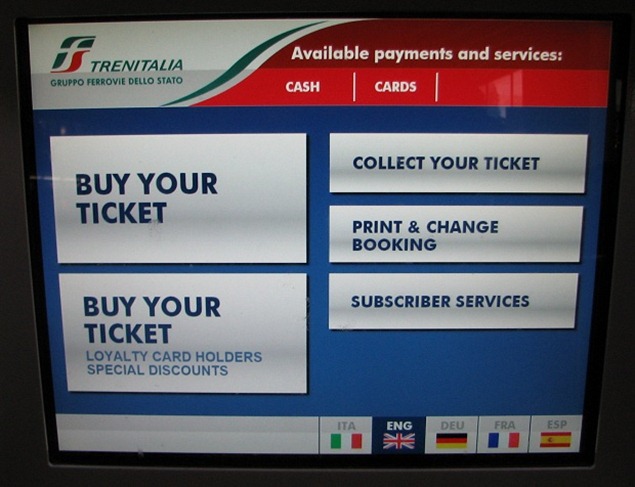 Again, you need to pay close attention to the email confirmation you receive as the specific requirements of your train tickets are included within. As we said, some trains (very few) require the printed ticket in advance, Most through do not no – it's in the email. (Soon, probably by the time you're traveling – Trenitalia has promised that a PNR code will work on all their trains). If you have numerous online tickets for multiple routes, you can certainly print them all out at your first train station visit. Again, pay close attention to what your itinerary includes (in the email) prior to leaving for Italy or getting on a train.
IMPORTANT TO NOTE: If you have lost or forgotten your payment receipt or the PNR code, and you get on a train, you may be considered as being without a train ticket and then you will have to pay for tickets plus any applicable fines. Sometimes, depending on the conductor, if you have proof of identity that corresponds to your purchase (ID, credit card) a ticket may be issued without any charge – but don't count on this happening. Print out your email and bring it with you – treat it as you would a paper-ticket!
In your email, you'll also get a Master Code. It is a numerical code (made up of 12 figures) available only for purchases made with the ticketless procedure. The Master Code constitutes a ticket payment receipt. This code, together with the Booking Change Code (CP), can be used to change booking date and time of the ticketless tickets – if necessary.
______________________________________________________
Self-Service Ticket Distribution – List of Stations
If you plan to print out your tickets using the self-service kiosks (automatic ticket machines), they are installed in Italy's main railway stations (see the list below). The kiosks can be used to pick up tickets bought on-line following a simple procedure that requires keying in the name and surname used for the purchase and the booking code (PNR).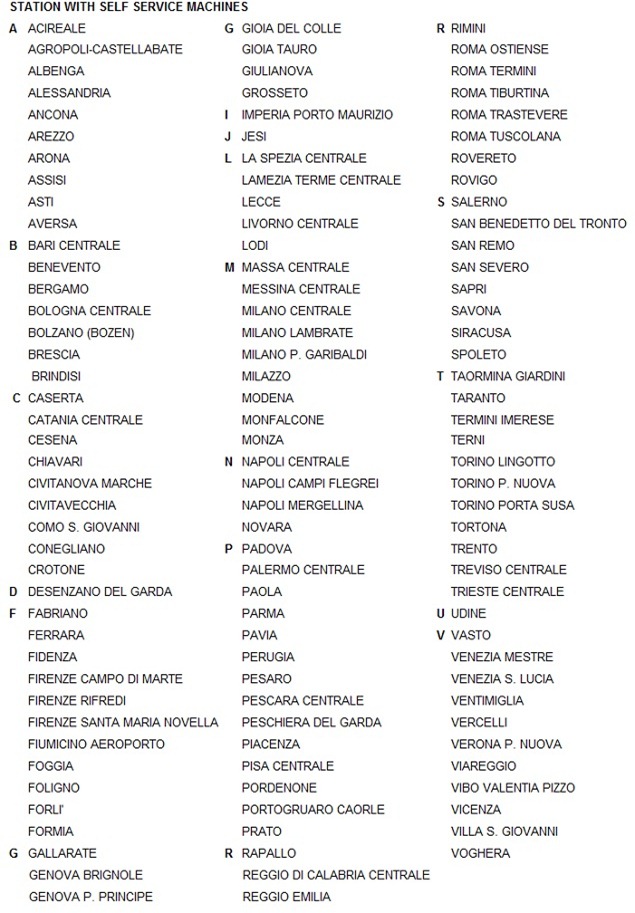 ---
Other Booking Options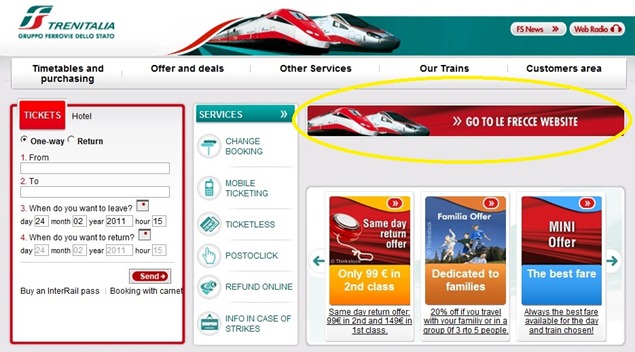 On the Trenitalia website (currently) there is another booking option if you just want to look at the Le Frecce (the Arrow) trains. These are the fastest, plushest, and most expensive – so why not have a separate booking option! On the main screen, above, click on the LE Frecce section, highlighted by the yellow circle.
Once you make this selection, you end up at this LeFrecce page.
From here, the steps are somewhat similar to the process we have already worked through. Of course, you will ONLY see the Le Freece trains on this section of the website. It does have an Advanced Search Link and the option to look in a three-day range. You pay more – you get more! The section does have a great looking summary page which I suppose will eventually spread to the entire website. If I select a one-way trip from Roma Termini to Milano Centrale on April 6, 2011… and press CONFIRM, here's the page I get: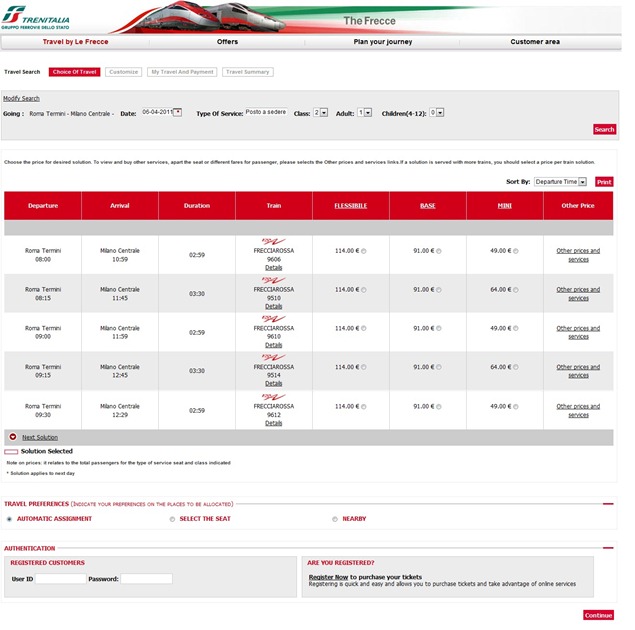 What's great about this page is the right side, where they list out the Flessible, Base and MINI prices for each route.
Note how the 1st MINI priced ticket, departing at 8:00 AM is only €49, while the 2nd route, at 8:15 is €64 – and the 8:00 train is thirty minutes LESS in duration! This view allows you far more flexibility when choosing a route.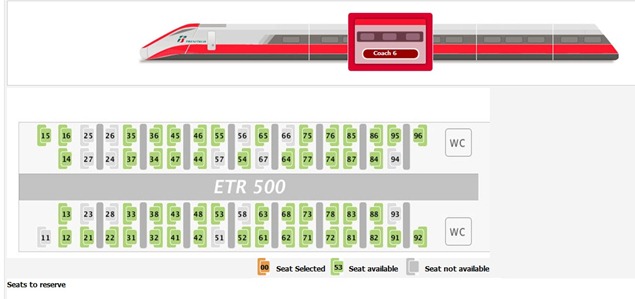 The other thing I like about booking here is the "Select a Seat" option. You can actually choose the EXACT seats you want. How revolutionary is that! The diagram looks like an airplane layout. As you can see, plenty of seats available in this car. Once you select your seat(s), you click CONFIRM and you get this screen: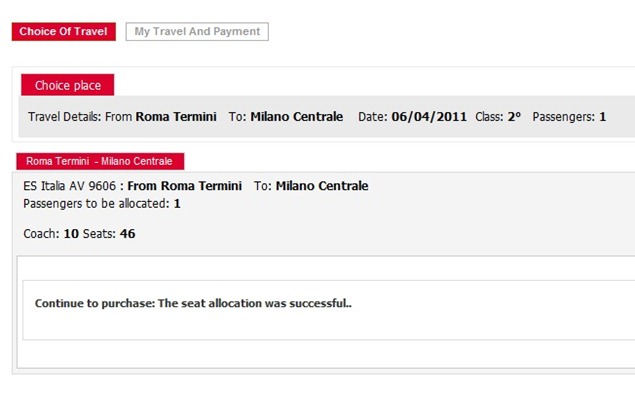 You then can move on to the Purchase section. This is a great option if you want to ride the fast trains and select exactly where you and your party would like to sit. Hopefully they will soon get this technology available on the rest of the website and on the kiosks in the station. It would sure save some headaches when trying to purchase a ticket with more than 5 people and getting them to sit together!
---
In Summary
So that's a basic summary of the Ticketless options at Trenitalia. Daily, the system continues to evolve and improve. The website you see may look different than this February 2011 version – and ticketless usage is certainly becoming more and more prevalent with smartphones and online capabilities. But the basics of purchasing an online ticket should remain similar. Hope this guide has helped you. Buying in advance – especially with the opportunity to purchase discounted tickets – will save you money and time. Good Luck!
---
Header: Photo from the Trenitalia website
---
If you are interested in Luxury Travel Advice, Information, and Support…
Please contact me, Ron in Rome, at Ron Phillips Travel

An Independent Advisor for Brownell Travel
A Virtuoso® Agency

Website: www.ronphillipstravel.com
Email: info@ronphillipstravel.com
Phone: (404) 474-3851
FAX: (678) 528-2672
And if you'd like more updates on travel specials, news, and events LIKE us on Facebook at

---