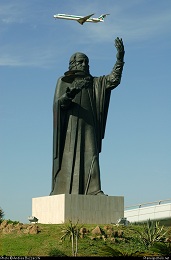 The first step of a vacation in Rome is just getting there! Sometimes that can prove to be quite a task, especially if you've never traveled to Europe. If you're flying from the US, you're most likely to arrive at Leonardo Da Vinci Airport, more commonly known as Fiumicino (FCO).
The Airport is about 16 miles southwest of the city of Rome… and can be a challenge to get to the airport. You can reach the airport by car, train, bus, taxi, or private shuttle. We'll explore each of these options. Currently, the airport consists of Terminal 1, Terminal 2, Terminal 3, and Terminal 5.
You can find links with maps of each of these terminals at this section of the FCO website. Fiumicino is not the prettiest airport and perhaps not the cleanest in Italy. Most of the time – unless folks go on strike – it does get the job done!
---
---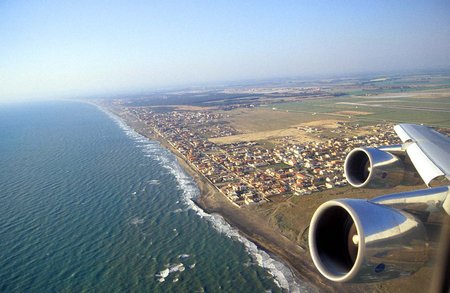 What most folks do not realize it just how close Rome, and the airport, is to the Tyrrhenian Sea. Looking over the wing of this departing plane, you can see the runaways in the top right corner of this picture.The airport is within half a mile of the sea!
The airport has undergone some renovations and more are ongoing. Terminal 5, the new departures terminal for all US flagged carriers, opened in May 2008. If you are traveling on Delta, United, American, Continental, US Airways, any other US flagged carrier, or EL AL then you will DEPART from this terminal. Note this is for departures only. This terminal was built to isolate US carriers so higher levels of security could be enforced in the post 911 era. Once you check in here you are bused to a Satellite Departure gate – Gate G on the map below – from which all US carrier flights depart!
Above, a map of the Terminal layouts; an overhead view of the G Gates Area.
All arriving passengers from the USA (and other NON-Schengen countries) are being processed through the Terminal 3 Arrivals Area. In most cases, if you are on an American flagged plane you will arrive at a G Gate, a Satellite Terminal Arrivals Area. After exiting the plane you will ride a "Sky-Train" from the Satellite Gate into the Arrivals area of Terminal 3. There you will go through Passport Control (Make sure to go to the NON-EU citizen lines if you're carrying a US passport) and then head for your luggage carousel.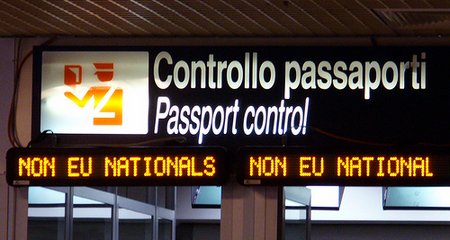 When you enter the Baggage Claim area the first luggage belt is Number 4. The belts are numbered sequentially throughout the Terminal 3 Arrivals area, until you get to the Arrivals area exit doors – which are closest to belt number Number 10. Most US carriers' luggage is loaded on Numbers 4-8. Waiting for your checked luggage to be off-loaded will probably be the LONGEST part of your exit from the airport. The baggage folks at FCO are, well…. laid back. Plan on at least 30 minutes. We have waited as long as an hour for my luggage to show, buoyed only by the fact that no one else on my flight had theirs yet! Priority luggage tags are hit and miss at FCO – Welcome to Italy! As we say here, "piano, piano." This means – slowly, slowly. After all, you're in Italy now and things move at a different pace!
After you get your luggage you'll walk past the customs officials as you head toward the frosted glass doors that mark the exit into the Terminal 3 Arrivals area. Don't stop to talk to them unless you have something to declare (You Don't!). Just head through those doors and into the Terminal 3 Arrivals Public Access Area. For more info on arriving in the T3 area, see Terminal 3 Arrivals at Fiumicino Airport.
You'll find you are on the lower level of the terminal. Dragging your luggage, staggering from the load and the impact of jet lag, you're now faced with the challenge of how to get to your hotel which is probably about 20 miles away.
---

Now we'll talk transportation!
If you booked a private shuttle on line – or by phone – this is where they will meet you. Once you come out the frosted, sliding glass doors into the terminal be prepared to SEARCH for your name. Many of the shuttle drivers tend to hang out together and talk while waiting on … YOU! So they probably WILL NOT be right up from where you can see them. For more info, see our post on Where to Meet at FCO. More than likely they are about 25-40 feet from the door so don't panic if you do not see them right away! Once you find them, they'll escort you to their vehicle and of you go! There are many shuttle companies in Rome. On the travel boards the most suggested are Rome Cabs and Roma Shuttles. Both are quite reputable and do a good job. There are MANY, MANY others. The ride into town will cost from €45-85 depending on which service you select, number of folks, and where you're hotel is. I've used many shuttle services for two persons at less than €45. For first-timer's to Rome, a shuttle service may be the best option as you will be taken directly to your accommodations by the driver.
BEWARE the taxi and shuttle "gatherers!" These folks will greet you as you enter into the Arrivals Area. They will be wearing "official" badges and ask you, in good English, "Do you need a Taxi?" Avoid them at all costs… just say no and head for the Official Taxi Stand! These folks are working for unlicensed and unmetered can drivers and your bill will be whatever they think they can get from you!
Taxis
A taxi is a viable way to get into the city. If you are staying inside the Aurelian walls (or the downtown, Centro area) then the cabs have a set fee. If the taxi drivers have their way, the fixed-rate fee will increase to €45 for up to four passengers – but that hasn't happened yet. "Large luggage" will cost you €1 each. If you have more passengers, a tremendous amount of luggage, or you are NOT traveling downtown, be prepared to pay more – perhaps LOT'S MORE. If you are staying downtown, WHEN YOU GET INTO THE CAB, and before it departs, CONFIRM the €40 rate with the driver. Once this is done, you can sit back and relax. Often it is a good idea to have the name of your hotel, address, and phone number written down on paper. Your Italian might have sounded good back in the States, but here they may not have a clue where you're trying to go. If you can get the hotel name and address written in Italian, all the better!
Should you tip your taxi or shuttle driver? Most folks who use these services say yes. In Italy tips are "different." Certainly 10% is considered a GREAT tip and anything over that would be excessive unless deserving. Many Europeans do not tip, so it's your call. Most drivers, when dealing with Americans (as they do every day), expect some form of tip.
An "Official" Rome Taxi Cab

VERY IMPORTANT – The official taxi stand you will probably use at Fiumicino Airport is just outside Terminal 3 Arrivals. To get there from your arrival point, exit the frosted, sliding glass doors in Terminal 3 Arrivals and head slightly to the right and straight out onto the sidewalk outside the terminal. You will start to see taxis lined up. Walk to the front of the queue and there you can get into your cab. ONLY USE an official Rome cab! Above is the picture of an official Roman Taxi!
---

Trains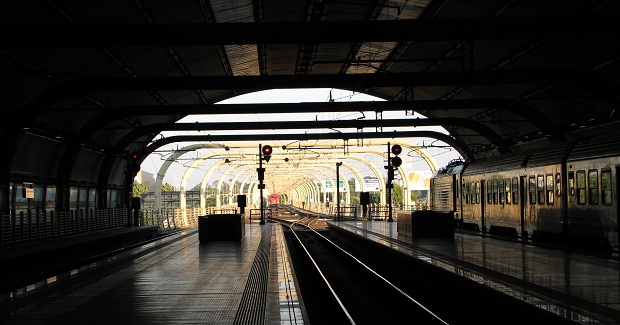 There are two trains you can take from the Airport into town. The most commonly used is the The Leonardo Express. This is a nonstop train from the Airport to the Roma Termini train station in downtown Rome. Roma Termini is the center of the public transportation system. There, the two metro lines (A and B) meet. It is the largest train station in the city. It also is a major bus station and has three official taxi stands. So if you journey in from the Airport on the Leonardo Express you have many transport options.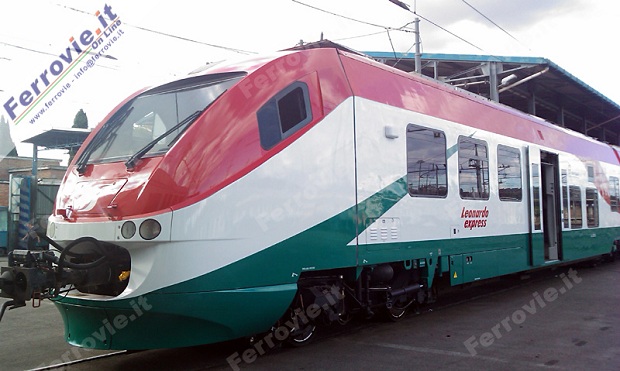 Currently, the Leonardo Express costs €14 (Price change eff. 4/2010). From the Airport, the Leonardo Express is scheduled to depart at 05 and 35 minutes past the hour. The trip takes about 31 minutes and the trains currently arrive at Track #24 in Termini. Children under 12 can ride this train free when accompanying an adult. If there is a train strike, busses will replace trains to get you into town. If you have a large party you can buy the "carnet" (booklet) of 10 vouchers at the special price of €85 (with an overall saving of €25).
The second train from the Airport is a regional train, the FR1 Metropolitan. It DOES NOT stop at Roma Termini Station, but has many stops coming into Rome including Roma Trastevere, Roma Ostiense, and Roma Tiburtina. You can connect to a Tram outside Roma Trastevere train station to head into the Center of Rome or Trastevere. At Ostiense you can change to the Metro, hopping on the B Line at Piramide. This train is currently priced at €8.00 (price change eff. 4/2010).
IMPORTANT – before getting on either train you MUST validate your ticket in one of the yellow boxes along the tracks. You'll see a series of these just before the tracks start. Insert your ticket(s) into the boxes until you hear an audible click. Then, MAKE SURE your ticket has been time stamped by the machine. Both these trains are "open seating" so you sit where you like. But because of this the ticket would be valid on the next train, or the next. So the validation ties you to THIS train. Failure to do so will result in fines, paid on the spot to the conductor, and starting at €50. This is not the way to start your vacation. Be sure to VALIDATE!
Make sure you validate before getting on the train!

The train station at Fiumicino is located near the Terminal 3 Arrivals area. To get there from Terminals 1, 2, or 3, exit into the Arrivals area and TURN RIGHT. From Terminal 3 arrivals, exit through the frosted, sliding glass doors, go right about 150 yards. You'll see plenty of signage! As you head right, look for an escalator DOWN. This is the walk way under the road and to the train station. Take this down, go under the road, then two levels of escalators up… head RIGHT at the top and you're in the train station. Here you can purchase your Leonardo Express and FM1 tickets. Through agents on duty you can also purchase other train tickets if you want to continue from Roma Termini. You can even get metro tickets at the Tabacchi shop here on the platform.

---

Buses
Another into town would be the bus. There are a few services available but their times are more limited. The largest group, COTRAL, focuses on late evening – early morning trips. With the traffic issues in Rome, this would be the last resort. Even without traffic these buses take a minimum of 70 minutes according to their schedules. Take the train! Here are a few websites for buses:
COTRAL
Terravision
Schiaffini
SitBus Shuttle
---
This video, put together by Rome Walks, can give you some insight into getting into Rome from FCO. The video is a few years old, and some of the prices and signage have changed (like Terminal B-C is now terminal 3). Yet the video will give you more insight into FCO and hopefully ease your "arrival" concerns:
Hopefully this post will give you some idea of what to expect at Fiumicino. After a long flight "over the pond" Fiumicino may not be the prettiest, cleanest, or most efficient airport in Europe… but it does work, in its own kind of quirky way. Living here, we just adapt to FCO.
Header: FCO – Photo by micmol
---
If you are interested in Luxury Travel Advice, Information, and Support…
Please contact me, Ron in Rome, at Ron Phillips Travel

An Independent Advisor for Brownell Travel
A Virtuoso® Agency

Website: www.ronphillipstravel.com
Email: info@ronphillipstravel.com
Phone: (404) 474-3851
FAX: (678) 528-2672
And if you'd like more updates on travel specials, news, and events LIKE us on Facebook at

---