Roma Termini! The name brings different images to everyone who hears it. For locals, it's a busy connection point for the two metro lines, multiple bus routes, and Airport, Regional, National and International trains. For tourists arriving in Rome for their first visit, it's often perceived as chaotic, dirty, and "filled with gypsies, rip-off taxi drivers, and beggars."
Okay, so BOTH images are probably true … and a few more. If all roads lead to Rome, most segments of the transportation system lead to Roma Termini! You can stop there, shop there, eat there, meet there, rent a car there, and leave from there! It's truly the transportation hub of Rome. It's been called a few other things too…and some not too kind!
---
---
The first Termini station was built in the 1860's. No, this is not it. The station was named after the ancient Baths of Diocletian, which can be found across the street from the main entrance of the station. The current building was inaugurated in 1950 and has undergone several updates since then (Trust me, it has!). Because of the extremely long, modernist façade in travertine and by the gravity-defying double curve of the cantilever roof in reinforced concrete, it was often nicknamed the "Dinosaur."
Roma Termini Station runs almost all day… from 4:30 AM until 1:30 AM each day – almost 24 hours! It's a busy, happening place! Almost 475,000 people pass through Termini EACH DAY – or more than 150 million visitors a year! I'm often through the Station on the metro 2-3 times in a single day.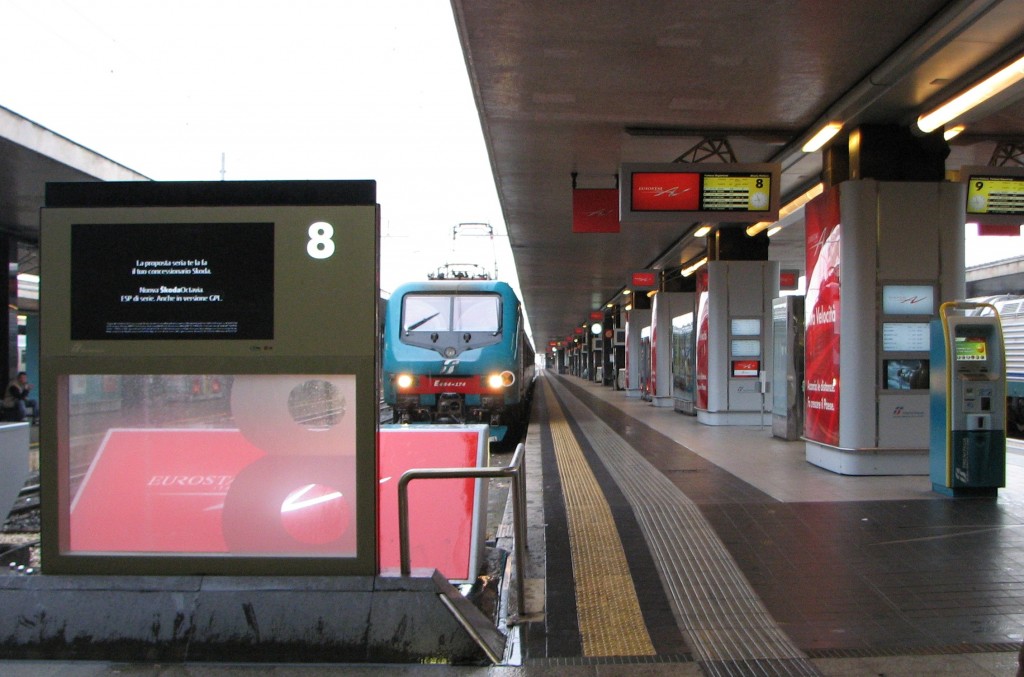 If you're arriving into Roma Termini station by train, you're most likely coming from another city in Italy or on the The Leonardo Express. For many trains, their FINAL destination is Termini. In Italy, tracks are called "Binari." There are two track "areas "in the Roma Termini Station. The first is the main area and it has 24 tracks. If you're entering the Station on a train, Binari #24 will be to your far left and track #1 will be to your far right. Conversely, if you're in the station waiting for a train, the tracks are numbered from left to right, 1 to 24.
---
The Satellite Tracks
There is also a set of "satellite" tracks. These tracks are numbers 25-29 and they are in the second "area" of the station. These tracks are FAR OUT from the station and adjacent to track #24. In the picture above, we are approaching Track 25, where the Leonardo Express once parked. Now it's arriving and departing from Track 24 – thank goodness. But many of the trains to and from Civitavecchia, the cruise port for Rome, arrive at these satellite tracks.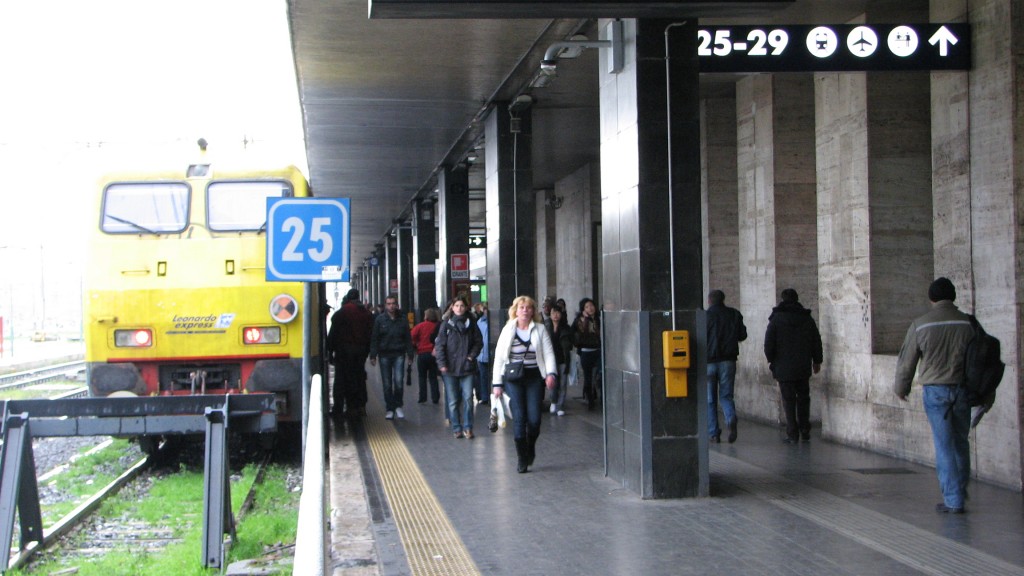 Note the yellow validation box mounted on the pole as you head for the train. If you arrive here you will have a 10-12 minute walk into the main area of the station. If you're departing from one of these tracks, start hiking now! It's a haul. If you go to the basement level of the station – one floor down from ground level – there are moving sidewalks that will get you out to the satellite tracks. But you'll still have to walk… and walk… and walk.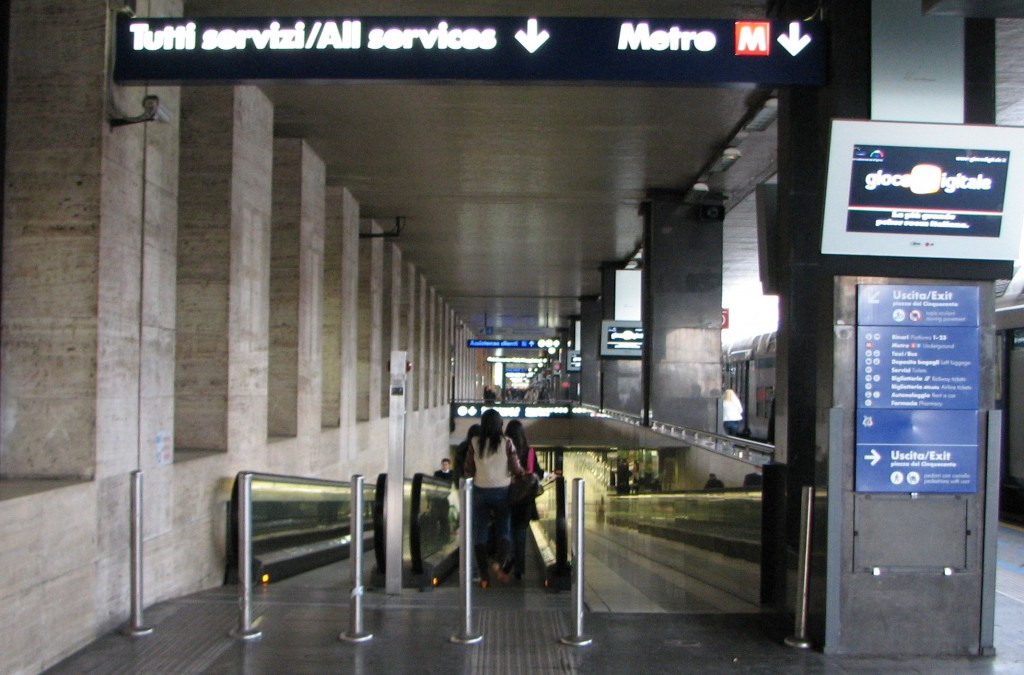 Pictured above is the ramp, approaching it FROM Tracks 25 through 29. The ramp will be on your left as you head for the station. And then on the lower level you see these walking sidewalks: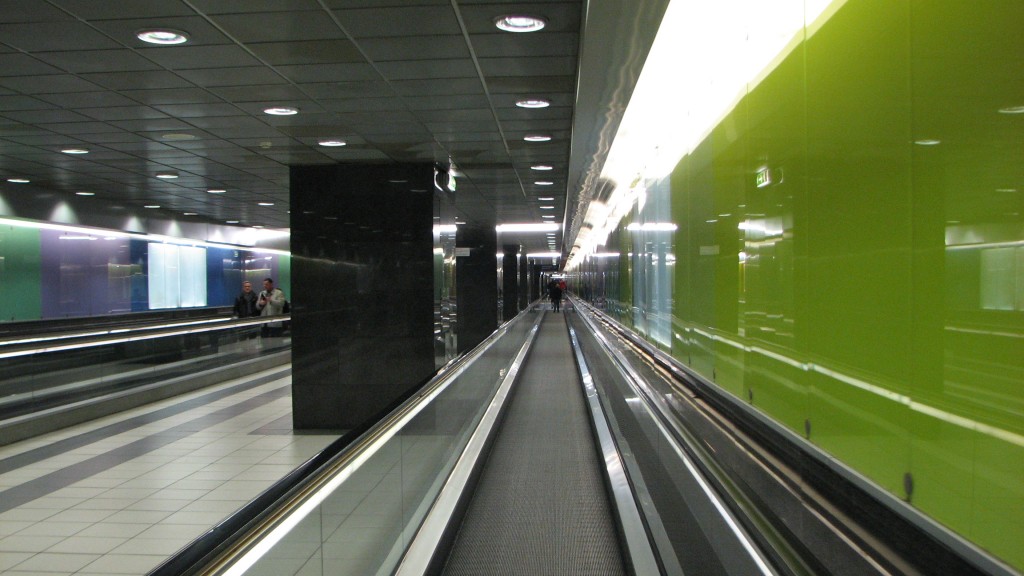 Above is the underground "walking sidewalk." When working, it can get you out to the satellite gates quicker. Like airplanes arriving at the airport, trains in Roma Termini do not always "arrive" at the scheduled track. Keep an eye on the arrival boards if you're meeting someone!
---
Arrival Boards

Here's an example of one of the many "abbreviated" Arrival Boards through out the station, The Main Arrival board has much more info and trains posted! Note that on this board it is 8:29 AM and many Binari (BIN) – arrival platforms – have not been posted. This is very common. Often trains are posted but the track they will arrive at will not be posted until sometimes as the train pulls in… So you have to watch the boards!

And a departure board – if these are hanging from the ceiling, in a hall for example, usually one side is Arrivals and the other Departures.

---
Taxi and Bus Options at Roma Termini
Upon arrival, grab all your luggage and head down the platform away from the train. In the main area, tracks 1-24, you arrive almost in the heart of the Station. To get to the taxi stand head straight out the front doors which are directly in front of you but you have to walk through the station.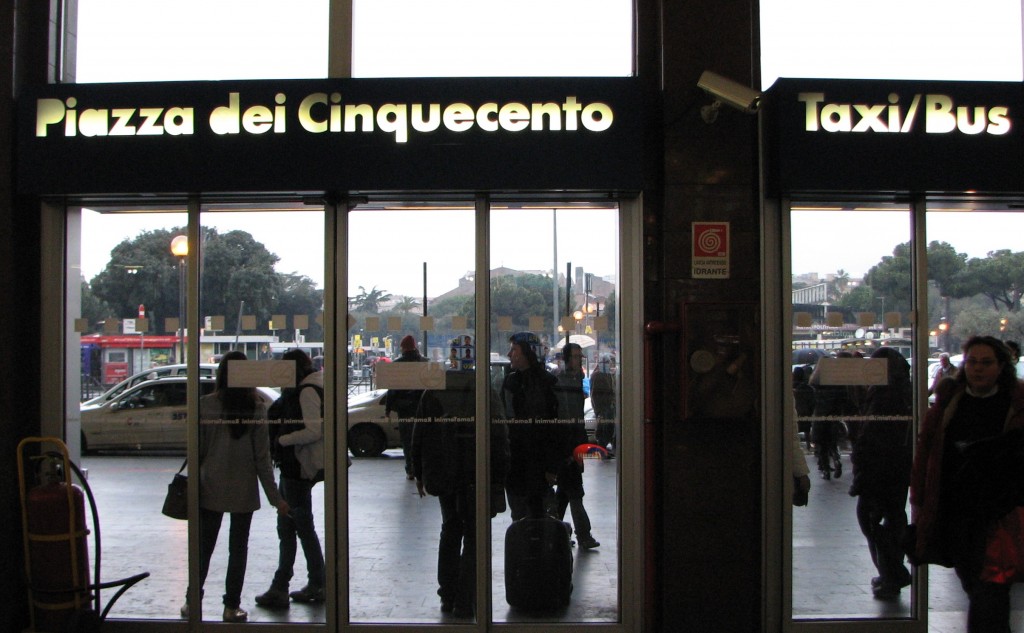 Once you get to the front, the Official Taxi Stand is to your left. You'll see many taxis lined up! Head for the far left where the queue starts and get in line. You could be approached by taxi drivers standing off to the side who will ask, "Do you need a taxi – no waiting!" Stay in line. Do not get in a non-official taxi. Most are unmetered and illegal. Taxis in Rome are only supposed to accept fares AT Taxi Stands, so stay in line and you'll be fine. Again, if you have your destination written down (in Italian!) you can show it to the taxi driver. Most parts of Rome are no more than a 10-15 Euro cab ride from Termini… usually it's much less.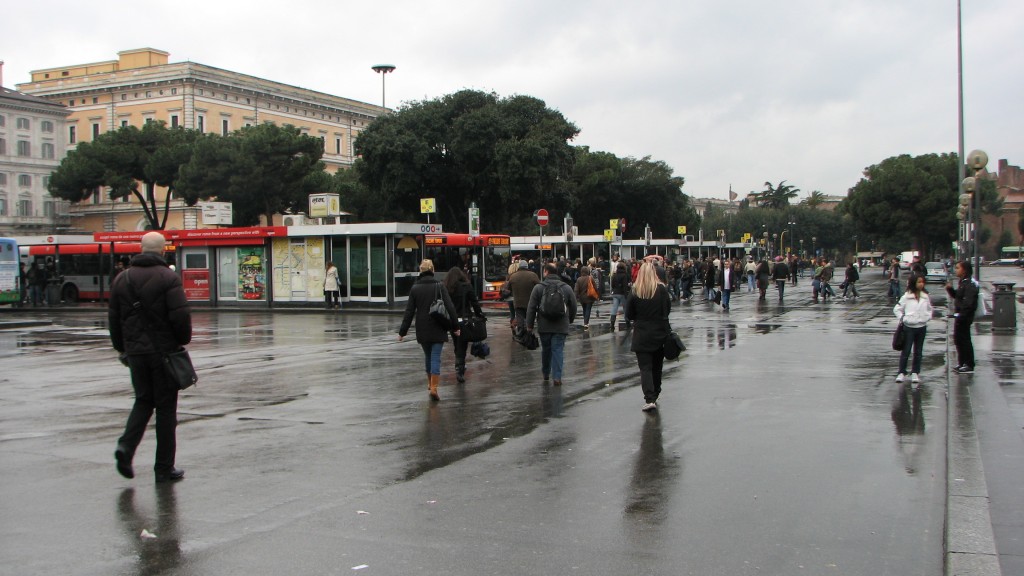 If you plan to ride a bus from Termini, most buses depart from Piazza dei Cinquecento, the square in front of the Station. Again, depart your train, stay on the ground floor, and walk straight out the front doors. Bear to your left and you'll see many buses lined up. Termini is a major bus stop, the largest in town. As you walk along the "islands" where the buses park look for your bus number. If the bus is there, jump on – but do remember YOU MUST HAVE A BUS TICKET before you get on the bus. Very few (5%????) of the buses have machines to sell tickets on the bus. There are Tabacchi shops in the station and stalls outside where you can buy a bus ticket. We'll talk about bus and metro riding in separate posts on this website.
---

The Metro at Roma Termini
If you're going to ride the metro, again you will need a ticket before you can do so. The metro is located BELOW the train station, and BELOW the lower or basement level. So you could say it is 2 floors below ground. The B line is probably 2 floors down – the A line is below that!

Look for the signs in the station for Metro A or Metro B (see above). There are probably more signs for B… Coming from the Trains, most folks head downstairs and to the left to get to the Metro… there you can get on Line A or B. There are escalators to get down to the metro but there is, depending on which way you go, one set of stairs (7-10 steps) you'll have to haul your luggage down.

---
Renting a Car at Roma Termini
If you're renting a car – Good Luck! You're a brave soul to drive in or out of Rome. To get your car, head to your LEFT once you get off the trains in the main section of the station. The Car Rentals counters are in the newer wing of the Terminal, next to the Post Office and the Upim department store. Again, from inside the train station, walk along the tracks following the signs toward Terminal Fiumicino. Look for the yellow sign for the post office (Posta (PT)).

Here you will find the major companies – Avis, Hertz, Thrifty, Dollar, Sixt, Europcar, National, Maggiore and some local agencies such as Targarent Travelcar and Tirreno. Once you get your paper work done, you'll have to walk east (LEFT from the Car Rental Area) along Via Giovanni Giolitti to the parking garage where most of the rental car agencies park. If you're returning your car, this will be where you'll drop it off. There are different procedures in the Garage depending on who you are renting from. Welcome to your first driving experience in Rome… Again, good luck – do bring or rent a GPS unit!
---
Left Luggage
Many folks are just in Rome for a day and ask where they can store their luggage. Roma Termini is probably the best option. The left luggage and lost property facilities are located in the terminal on the Lower level. They are downstairs form Track #24 and can be accessed via the moving walkway on the basement level of the Ala Termini wing. If you're walking towards the tracks from the front of the Station, it will be to your right and downstairs.
The Left Luggage is open 7 days a week from 6 AM – 12 midnight (06.00 – 24.00). Do know that you need to leave yourself PLENTY OF TIME when you are picking up your luggage as the lines can get very long – especially if an International Train has just come in. You don't want to be standing in line waiting on your luggage when your train pulls out! The Left Luggage is VERY safe, efficient, and convenient!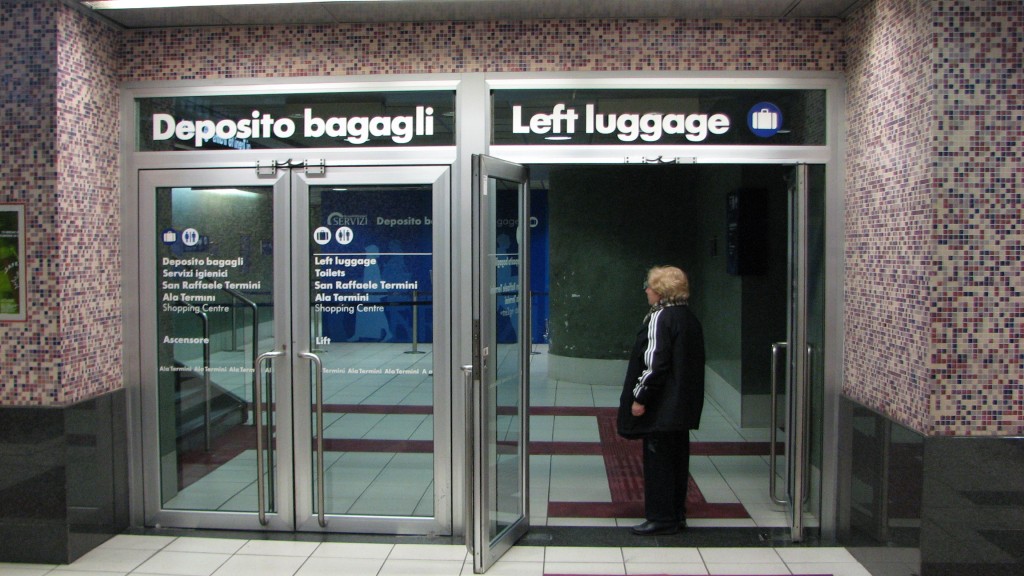 Charges
•4,00 € the first 5 hours
•0,60 € per hour from 6th to 12th hour
•0,20 € per hour from 13th hour on
•Contacts: +39 06 474 4777


---
Roma Termini "Experiences"
Roma Termini is an efficient train station. It moves almost half a million folks every day! But it's probably not the romantic image people have of train stations in Europe. It's chaotic, but business-like. It's dirty and grungy, but enthralling! There are two McDonald's in the station, and one just outside on Via Giolitti, but it also has 100 other stores, restaurants, and a GREAT Conad grocery store.
But you have to be careful here. Like any urban environment: BE AWARE OF YOUR SURROUNDINGS! Some of my experiences…
Once I was walking back from dropping off my rental car, headed to the Official Taxi Stand. A taxi driver approached me as I walked back down Via G. Giolitti and offered to take me to my hotel. I'd taken the trip often and knew it would cost me €5-7. The driver said he would take me for €40. Yep, if I had NOT known better I'd been out the money. So always head for the official Taxi Stands…
But even at the Official Taxi Stand you can encounter challenges. As we got into a taxi there a younger gypsy girl stepped up to help me – and the driver – load my luggage into the trunk. I told her I did not need her help but she persisted. I asked the taxi driver to jump in here and "assist me!" At this point the young lady became angry that I would not "allow her to help me" and started to curse me and the taxi driver. Obviously she was planning on me tipping her for this "assistance."
Also be careful when you are purchasing tickets at the kiosks in Termini. Folks will come up to you and offer to help you buy your ticket – often without you even asking. They will ask you where you're going and then reach over you to push buttons on the touch screen. Then upon completion they will ask for a tip. Don't go down this path. First, they really do not care where you are going and there are multiple train stations in some cities… and you could end up in the wrong place.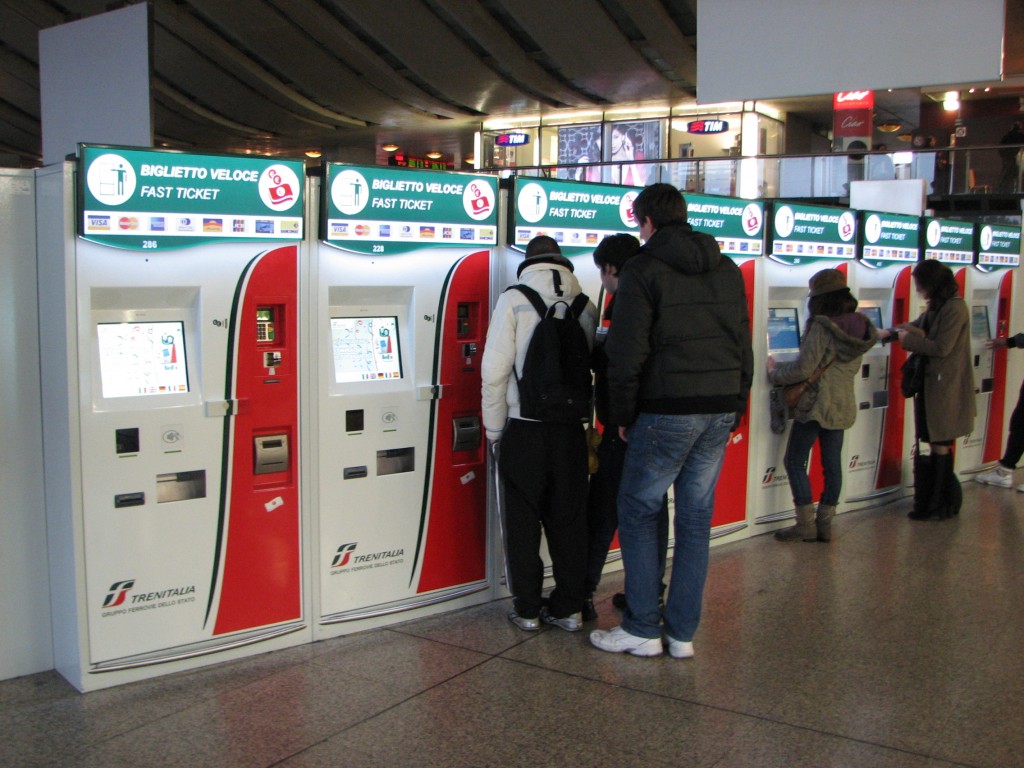 Always make sure you get your ticket, change, credit card, etc. from the kiosks when you purchase a ticket. Folks will walk behind you flicking open the ticket depository and change areas and grab whatever you leave. If you forget to grab your tickets… then they will take them and cash them in. It cost them a few Euros to do this but they're just taking that from the price of your ticket! Also, gypsies and homeless folks will stand by waiting for you to complete your transaction and ask for the change. Be careful and alert.
If there's a place to take security the a higher level, it's in Roma Termini. For inexperienced travellers, an anti-theft shoulder bag would be a good idea. In addition, if I was new to Rome, I'd certainly wear a money belt at Roma Termini.
Another scam at Termini is the "lost student." Folks will approach you claiming they just need ten more Euros to get home (or whatever amount they think you will give them). They sometimes will even let you buy them a ticket – then go cash it in! I'm through the ticketing area maybe two-three times a week and I always see these same "students." Trust me, they live in Rome…
That said, Roma Termini is a safe area. The crimes committed are not violent crimes, mostly pick-pocketing and petty theft. Be alert and you'll be fine. When in doubt just say "NO" forcibly or walk away. I enjoy traveling though Termini and it now feels like a small station!
---
More Photos of Roma Termini Station
Bori Bookstore
A "clacker" board – departures and arrivals

Main floor Shopping at Roma Termini
One of the many electronic display boards in Roma Termini
A regionale train parked, and another arriving

Ticket validation machines
Another electronic display board. On the far right you see 1 CL Testa and 1 CL Coda. The Coda means that the 1st Class section of the train will be arriving closest to you, at the start of the platform. The Testa signage means that you will be walking and walking, as the 1st class section of the train is farthest away, at the far end of the platform.
Cafe near the start of Track 24

The entrance to the Conad grocery store

Photos from inside the Conad grocery store
A busy lunch at the downstairs McDonalds
The satellite tracks (#'s 26-29). About 10 minutes walking from the main section of the station



Header: FCO – Photo by micmol
---
If you are interested in Luxury Travel Advice, Information, and Support…
Please contact me, Ron in Rome, at Ron Phillips Travel

An Independent Advisor for Brownell Travel
A Virtuoso® Agency

Website: www.ronphillipstravel.com
Email: info@ronphillipstravel.com
Phone: (404) 474-3851
FAX: (678) 528-2672
And if you'd like more updates on travel specials, news, and events LIKE us on Facebook at

---