One of the biggest debates on an Italian travel board is often, "Should I ride in 1st or 2nd class on a train?" Followed closely by, "What's the difference between 1st and 2nd class?" And also course, "Is is worth the cost to purchase a 1st class ticket?"
For most folks, it's a matter of personal preference… and budget. After all, both classes

arrive at the next station at the same time! There are some differences in 1st versus 2nd, but certainly not as distinct as those on an international flight across the pond from the USA. Many budget travelers would argue it's rarely worth the charge to upgrade to 1st class and would only do so if 2nd class sold out on their selected train. Others would NEVER ride in 2nd class – again, it's a matter of preference!
---
Riding the Trains in Italy
How to Buy Tickets Online at the Trenitalia Website
Buying Tickets Using a Train Station Kiosk
The Different Train tickets Available in Italy
Why Buy the Discounted MINI-Tickets at Trenitalia?
---
Hopefully we can give you some information that will enable you to make a more educated choice. To do so, I've enlisted the assistance of a veteran travel board poster, GAC, "an Italophile living in Los Angeles who posts extensively on several travel websites." The following post is a summary of GAC's multiple travel site comments.
One note: Trenitalia is constantly "evolving" their trains and train set-ups. So these are general rules of application and advice – subject to the many changes implemented by Trenitalia. In addition, there are trains of "various" ages in Italy so your train may be slightly different.
The Fast Trains
First, we will focus on the fastest. most expensive, (and some would say, most comfortable) trains – the AV (Frecciarossa/Frecciargento), ES-Fast (sometimes Frecciargento), ES, and ES-City (Frecciabianca) trains. Often called collectively, "Eurostar" by many travelers, these are probably the most traveled by visitors, especially if you are traveling between the larger cities, Rome, Florence, Venice, Naples or Milan.
ETR500 Eurostar Italia 'Frecciarossa' – 2nd class- photo from wikipedia

Seats
The seats in 1st class – (AV 2nd class pictured directly above; the header at the top of the page shows 1st class seating) – are slightly wider (more hip and shoulder room), and there is more leg room as well because there are fewer seat rows in 1st class.1st class has electrically pivoting seats; 2nd class are manually pivoting. (Seats pivot forward to afford a modest recline). The 1st class seat fabrics are "nicer" than 2nd class. It's like having an "upgraded" cloth fabric on a passenger car.There usually is slightly more leg room in 1st class (which may not be true in all cases, as it depends on the railcar configuration). Usually, 1st class seating is three-across, 2nd class is four-across. Consequently, 1st class has more seat and shoulder room.
These instructions will help you make your seat pivot out and forward on AV, ES, ES-City, IC and most regionale trains (first class only):
• Supporting yourself with your middle back against the vertical seat back, push down and forward (outward) on the bottom seat cushion, using your thighs for strength, until the bottom seat cushion is fully deployed forward and out, enabling you to recline your back (this reduces leg room slightly).
• Many first class seats on the AV and ES (and ES-City?) trains have electric cradles to pivot the bottom seat cushion out and forward. Using physical strength won't work here.
2nd Class ETR500 – Notice how the seat next to the window is slightly pivoted forward.

Ambiance
Clientele in 1st class is often noticeably different than in 2nd class. You usually don't see young travelers with backpacks or students in first class. You will see more business people, government officials, and often American tourists in 1st class. Usually there are far less seats occupied in 1st class versus 2nd class, so your ride in 1st may be quieter. In addition, because there are fewer seats per railcar in first class, seat density is lower, and railcars are usually quieter (fewer people talking to each other or on cell phones). So less seating available, and less seats occupied in 1st class. This is not a "hard" rule, just a "rule of thumb."
During hot weather, because of lower seat density in 1st class, the air conditioning gives the impression of working better than in 2nd class.
A 1st class railcar typically has 48-52 seats. A 2nd class railcar typically has 68-72 seats. Actual seating configuration can vary according to the series of railcar used.
On AV Frecciarossa trains, 1st class passengers are offered a complimentary "welcome drink" (juice or coffee), plus a sweet or salty snack, plus (a.m. departures only) an Italian-language newspaper. Market value is 3 Euros. Beverages and snacks may be purchased for nominal amounts from the bar in the cafe car (An AV dining car is shown above). Many, but not all, AV Frecciarossa and Frecciargento trains have sit-down restaurant cars with waiter service. The Trenitalia website identifies those AV trains with restaurant car service. Other train categories do NOT have restaurant service.

Portability
1st class seats are supposed to all have electrical sockets for high-tech portable gear such as laptops, DVD players, etc. 2nd class seats are also receiving these upgrades.
Also, you can very often wedge large and heavy luggage between the seat rows in both first and second class (when the rows face each other), although this sometimes requires you to place tall luggage on its side. It's safer (and easier) to stow heavy luggage here rather than in the overhead racks. GAC recommends 1st class for travelers who are LADEN DOWN with LOTS OF BIG AND HEAVY LUGGAGE.
Older model (ETR 450, 460 and 480) Eurostar Italia trains are somewhat less impressive: fewer railcars, fewer seats, etc. The oldest model ES trains (ETR 450) are used between Rome and Ancona (passing through Spoleto and Foligno), and between Rome and Perugia (passing through Spoleto, Foligno and Assisi). These convoys do NOT have a restaurant car, but rather a snack/beverage service on a rolling cart.
GAC's FAST-TRAIN ASSESSMENT SUMMARY: For a trip of under five hours, either first or second class is perfectly fine for the vast majority of travelers. People who are particularly "demanding" or "finicky," or who have a strong dislike for crowded venues, should gravitate toward first class.
---

Intercity (IC) Trains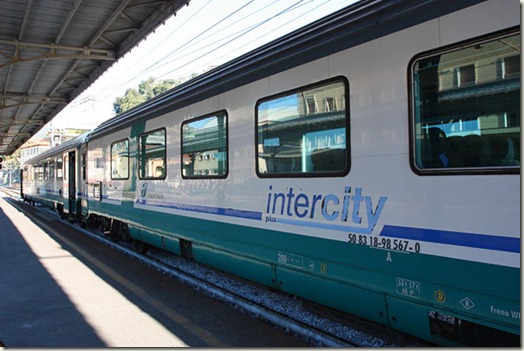 The IC trains are a useful "budget" alternative to the faster and nicer AV, ES-Fast, ES and ES-City trains. Here are the differences between 1st and 2nd class on traditional Intercity (IC) trains (those with separate seating compartments with sliding glass doors):
1st Class on an IC Train – picture from – Anthony's blog

Seating
Because there are 11 compartments per second class railcar, but only 9 compartments per 1st class railcar, there is more legroom in first class. THERE IS NO DIFFERENCE IN SEAT AND SHOULDER ROOM, because seats are all THREE across in the compartments. Typically, each IC convoy has eight second class, and only two 1st "I-class" railcars. Convoy compositions can change depending on seasonality and route.
Again, seat fabrics are "nicer" in first class. IC first class versus second class might be a bit cleaner and "tidier", especially if the IC train has not received much maintenance.

2nd class on an IC Train – photo from www.seat61.com

Ambiance
IC trains no longer have restaurant or cafe cars. Some may have a "rolling cart" snack/beverage service. IC trains have air conditioning and heating, but sometimes it does not function correctly (or at all). These are often older trains….
Many older Italians, who are used to the traditional layout of the IC trains (separate compartment with sliding glass doors), actually prefer these to the more modern layout (open railcar seating) of the ES and AV trains. There is more privacy in the separate compartments, and no constant foot traffic down the center aisle, as on the ES/AV trains.
The IC trains are relatively quiet, have huge picture windows (larger than the windows on the AV/ES trains), huge overhead luggage racks, and air conditioning/heating (when not malfunctioning). While the number of IC train routes is declining in favor of the AV/ES trains, the IC trains nevertheless remain a useful option to save money at the tradeoff of a longer travel time and a suitable alternative to the faster and nicer AV, ES-Fast, ES and ES-City trains.
Note that ALL SEATS ON ALL IC TRAINS ARE NOW AUTOMATICALLY RESERVED UPON TICKET PURCHASE (as on the AV, ES-Fast, ES, and ES-City trains). Some travellers have observed that some IC trains are considerably less well-maintained than the faster and more expensive AV/ES trains.
---
Regionale or Commuter Trains
The story is different as far as concerns "regionale" trains. VERY FEW regionale trains still have first class railcars. They are found primarily on longer-distance routes, such as Milan/Venice, Brenner Pass/Bologna, Pisa/Rome, Florence/Rome, Florence/Foligno and Rome/Perugia.
The most significant difference between first and second class on the regionale trains is that first class seats pivot forward to provide a modest recline, whereas second class seats do not. Consequently, first class seats are significantly more comfortable, and the extra cost (approx. 50%) can be justified on the longer trips approaching four hours.
The regionale trains between Florence and Rome have recently been modernized to the point that their comfort level approximates that of the traditional IC trains (indeed, they utilize converted IC railcars). Here is a description of these railcars (currently used between Florence and Rome) which points out differences between first and second class:
Each railcar has a combination of separate glass-enclosed compartments with sliding glass doors (as on the traditional IC trains), together with open-compartment seats (as on the AV trains). The closed compartments are at both ends of each railcar (two on one end and three on the other end). Each compartment seats six, three across, facing each other. Passengers travelling together can have more private conversations by choosing to sit in one of these compartments.
By contrast, the open-compartment seats, which are in the center of each railcar, either face each other or face in the same direction. They are four-across in second class and three-across in first class. There are 50 such seats in each second class railcar and 28 seats in each first class railcar. That makes for a total of 80 seats in each second class, and 58 seats in each first class, railcar.
Each regionale convoy between Rome and Florence has six second class and two first class, railcars. That makes the total seating capacity 480 in second class and 116 in first class.
Luggage can be wedged in the space between the seatbacks – seen above

The seats, in both first and second class, are very firm, contoured, and entirely upholstered in cloth, with no vinyl or hard rubber as on second class seats on other regionale railcars. First class seats pivot forward (by pushing the seat bottom forward) to provide a modest recline, but second class seats are fixed and do not recline at all. Second class can consequently be slightly uncomfortable for a four-hour ride. The seats in first class are slightly wider (more hip and shoulder room), and there is more leg room as well because there are fewer seat rows in first class. Only first class seats have folding tray tables.
There are electrical outlets incorporated into the bottom of the trash receptacles at each seat row (both first and second class), which is handy for using laptop computers, DVD/CD players, cell phones and other electrical equipment.


These regionale trains between Florence and Rome have plenty of overhead room for luggage, as well as a few spots on the floor for heavy suitcases. Most other regionale trains are NOT as nice as the regionale trains between Florence and Rome described above. Most regionale trains have only second class railcars, and are deployed on short-distance, high-density routes such as Florence/Viareggio and Florence/Pisa.
Upper deck of high-density "regionale" commuter train (second class only)
Some routes have double-decker regionale trains, with very little space for large pieces of luggage (upper deck is pictured above). Other routes still utilize much older railcars which are relatively noisy and not as smooth as modern railcars (although these are slowly being replaced by state-of-the-art rolling stock).
Not all regionale trains have functioning air conditioning (although many do), and it's not unusual for one or more washrooms to be locked and out of order. There is no smoking on the regionale trains (as on all trains in Italy). Travelling on the regionale trains is definitely the "budget" option.
There are NO RESERVED SEATS on any of the regionale trains. Tickets for the regionale trains must ALWAYS be "validated" before boarding by punching them in the little yellow machines at the head of the track. All other Trenitalia trains have reserved seats which are assigned contemporaneously with ticket purchase, and tickets for these reserved trains do not need to be validated (although there is no harm doing so).
There is no food or beverage service on the regionale trains. Not all regionale trains have functioning air conditioning (although many do), and it's not unusual for one or more washrooms to be locked and out of order. There is no smoking on the regionale trains (as on all trains in Italy). Travelling on the regionale trains is definitely the "budget" option.
---
More thoughts from GAC
I always recommend: whenever possible, try to book your long-distance Trenitalia train at least one or two days beforehand, particularly during the busy travel season, on typically busy days, and/or on busy routes:
• Tourist Travel Season: late March through late October;
• Busy days: Monday mornings, Friday and Sunday afternoons/evenings; periods around Easter, Christmas/New Year's, mid-June through mid-September;
• Busy routes: examples are: Milan/Venice (and cities in-between); Venice/Florence; Venice/Rome.
Sometimes, it's just not possible to book ahead; e.g. when arriving by plane from North America at FCO or MXP or VCE or PSA, and immediately taking a train to your final Italian domestic destination. In that case, it's possible that you won't get your train of first choice. But, departures of the AV trains are almost always HOURLY or better, so the wait won't be long.
Although it's counterintuitive, sometimes first class sells out before second class (particularly on routes heavily travelled by foreign tourists such as Venice/Florence/Rome). Remember, there are no seat reservations on the regionale (commuter) trains.
The Trenitalia help stations ("Desk dedicati") at the major stations are "sottobordo" or right by the rail tracks of the departing AV trains. These info points are extremely useful for passengers needing to make last-minute reservation changes, avoiding the need to stand in line at the main ticket counters and/or use the automated ticket kiosks. However, they do NOT have the ability to give refunds, i.e. no cash transactions, only reservation changes not requiring an exchange of cash.
My personal opinion concerning first versus second class is that it's not worth the extra cost on either the AV or the IC trains, and certainly not for trips under four or five hours. Nevertheless, I have found by reading thousands of postings on the subject matter, that there remain a fair number of travelers (many of whom are Americans) who prefer first class because of the perception that second class should be avoided and that first class is more comfortable (it is, but only by a small degree).
I continue to believe that, in the final analysis, it's purely a personal decision, based on expectation of service and style of travel. I continue to say that first class is often (but not always) a little cleaner and tidier than second class, largely because there is much, much more traffic in second class, and train maintenance (i.e. repairs and overhauls, in both classes of service) is largely lacking.
Again, Special Thanks to GAC for the thorough postings and allowing us to publish those insights here! Look for GAC's expert comments on all the major travel boards.
Photo Credits: Header Photo, Trenitalia Treno Eurostar Frecciargento Train First Class – MARK'N MARKUS
---
If you are interested in Luxury Travel Advice, Information, and Support…
Please contact me, Ron in Rome, at Ron Phillips Travel

An Independent Advisor for Brownell Travel
A Virtuoso® Agency

Website: www.ronphillipstravel.com
Email: info@ronphillipstravel.com
Phone: (404) 474-3851
FAX: (678) 528-2672
And if you'd like more updates on travel specials, news, and events LIKE us on Facebook at

---