What would Italy be without coffee? I'm not sure I want to find out! Certainly the most popular drink in Italy is a "caffé". Unfortunately, buying a caffé is one of the most confusing practices for folks visiting here.
Here's a link to a short cartoon by Bruno Bozzetto, a famous Italian cartoonist. In it, he explores the difference between Europeans and Italians. For those of you who have been to Italy, you'll laugh and nod your head… and in one slide he illustrates the challenge of ordering a coffee in Italy. In the States you order coffee and you pretty much get the same size cup and "similar" product. In Italy, it's a totally different story. Check out the short cartoon:
Yes, drinking coffee in Italy can be a little intimidating but well worth the experience! Coffee may not have started in Italy, but it certainly has been perfected here! There are social rules for drinking coffee in Italy. For example, don't order a cappuccino after 11 AM. Because it a milk based coffee it is considered "heavy" for the stomach. That's why you don't order it after 11 AM or after a meal. Conversely, you can order an espresso anytime. In Italy, if you order a caffé, you'll get an espresso. But don't expect a huge 12 or 20 oz. cup of coffee. Espresso is served in small cup called a "demitasse." It's a very strong cup of coffee. If you want a bigger coffee- and the jolt that goes with it – order a caffé doppio. It's simply a double espresso. Below we will define many of the coffees you can order in Italy.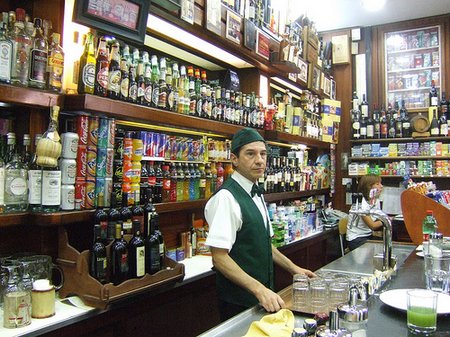 When you order a coffee in the morning, you'll often take your coffee standing at the counter. Now a coffee "bar" to us is like a cafe, so don't be intimidated by the word bar. An Italian bar offers everything from coffee to freshly squeezed juice, from Grappa to a shot of Jack Daniels. If you sit down at a table, your coffee is more likely to cost more. Many bars in Italy have a two-price structure. If you drink at the bar, your coffee will probably cost about half as much as it does when you sit at a table and are waited on. We do both – sometimes it great just to sit and relax and enjoy the scenery. In our neighborhood we pay about 60-80 centisimo for a caffé. If you want just want a quick caffé, just walk up and order at the bar.
---
---
Italians usually drink their coffee on the spot without even sitting. You'll see many locals in the morning on their way to work stopping at the bar for a quick caffé. In smaller bars, you order your coffee and then upon finishing, you pay. When you are finished and want to leave, you must usually return to the bar counter to pay (or a separate cassa). In our bar, we wait for either of the bartenders to head for the cash stand. Sometimes you have to remind the bartenders of what you ordered! At the larger bars, you'll pay at the cashier (cassa) first and then place your receipt on the counter from which the barista ("bartender") will take your receipt, often verify what you ordered and then go into action! To expedite our order in a crowded bar, many folks will place a small tip (10-20 centesimo) on top of the receipt – although few locals do this. When paying, always place your money in the tray near the cash register – money is not handed directly.
The challenge, as you saw from the cartoon, is here you can order more than just a caffé… so let's look at the myriad of coffee choices.
---
Italian Coffees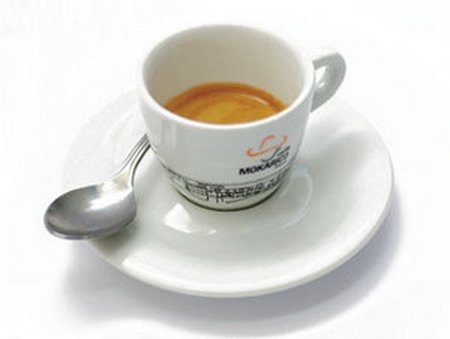 Caffé – In Italy the word "caffé'," as explained above is an espresso. The espresso will be served in a porcelain demitasse cup with its own saucer and a small spoon.
Caffé Macchiato Freddo – is an espresso served in a demitasse cup with cold or lukewarm milk on the side. It looks like a normal caffé placed next to a carafe of milk. Sometimes the smaller bars have a communal container of milk. If you want to order the milk yourself, make sure to say, "il latte a parte."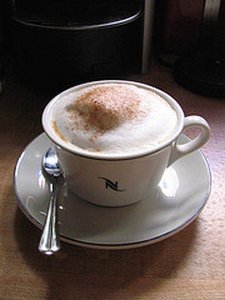 Cappuccino – Undoubtedly the best known and loved coffee drink. It is an espresso and steamed, frothy milk added to it. There will be a clean layer of milk foam on top (often in a pattern!) and it is served in a much larger cup, called a tazza.
Latte Macchiato – Milk "stained" with coffee, and served hot in a tall glass.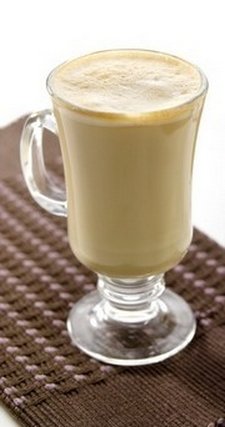 Caffé latte is quite popular amongst tourists. It's a shot of coffee with a lot of steamed milk and topped with a little bit of foam, also served in a tall glass.

Marocchino – This is my favorite drink. I was NOT a coffee drinker until I moved here. I saw this in bar served to a couple and when they left I reached over and grabbed their receipt to see what looked SO GOOD – and it was! This is an espresso served in a small glass demitasse with a sprinkling of cacao and milk foam spooned on top. Coffee and chocolate TOGETHER! For me it doesn't get any better than this!
Caffé Corretto – Another favorite – you get an espresso in a demitasse cup, with a "shot" of the liquor of your choice. Many folks drink their grappa this way (not my favorite "injection" but to each his/her own). Other popular "additives" include cognac, rum, Sambuca, and our favorite, Baileys Irish Cream. I often ask for a "Marocchino Corretto" with Bailey's.
Caffé Americano – A shot of espresso with hot water added and served in the larger "tazza." Okay, so it's NOT the same as American coffee but probably as close as you'll get. Waiters in restaurants will often "suggest" this coffee to American tourists – No, no, no – you're in Italy. Don't drink, as the description suggests, a watered-down espresso!
Caffé Lungo – which literally translated means "long coffee." If you order this, more water is being run through the filter, resulting in a "longer" coffee. The consistency and strength is not the same as an espresso – If you want a less "powerful" cup of espresso, just ask for "un caffé lungo", or "un espresso lungo". You will get about twice as much water, the same amount of coffee, in the same sized cup – and that may be just right for you! If it's still too strong, you can ask for "un caffé molto lungo". Better a caffé lungo, than a caffé americano. If, as an American you order a caffé lungo, you might get prompted by the waiter, suggesting a caffé Americano, stick to your guns and avoid the stereotypical drink for Americans!
Caffé Freddo – as the name suggests, it is espresso left to cool, or is sometimes refrigerated and served cold or lukewarm.
Caffé HAG – My wife's favorite coffee late in the evening after dinner. This is this the most popular brand of decaffeinated coffee in Italy. It's also the way many folks order a decaf – I would like a Caffé HAG. It's pronounced "Ahg" – the H is silent . You can order it as a single, double or macchiato.
Caffé Stretto or Ristretto – Made with less water than a normal espresso, this caffé' is more concentrated and strong and served in a demitasse. The more south I go in Italy, the more concentrated the coffee. The ristretto is an even tinier cup of coffee, but because its "stopped short" of a "Caffé", it's not as bitter.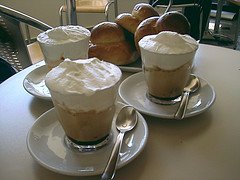 Granita di Caffé – If you're in Rome, especially in hot weather, you must try a Granita. It's an icy coffee treat and the best one I've found is at the famous Tazza d'Oro in Rome, right next to the Pantheon. If you're a coffee lover, it's not to be missed. In many local restaurants, it's served as a dessert choice. Iced coffee with fresh panna (cream)… I think I'll go get one NOW!
Caffé Completo – espresso with fresh whipped cream on top with a sprinkling of cacao.
Similarly, Caffé' con Panna – It's an espresso with fresh-whipped cream only on top. Not all bars will have whipping cream on hand so be forewarned.
Caffé Shakerato – Another great summer coffee. This is coffee shaken with ice and sugar (if requested). It's great all by itself, but many folks add Bailey's Irish Cream!
Some names you will not see in your coffee travels… How about mocha or frappuccino? Those are not Italian coffees so please do not go into a bar and ask for one.
---
Sweetening Your Coffee
There are a few "additions" you can add to your coffee if you don't want to drink it "amaro" – which can mean bitter or black.
Sugar here is called Zucchero. This is the plain, white, refined sugar – the most common. In many larger bars this is in packets with the "logo" of the bar. Many people collect these packets. In the smaller bars, it a communal glass sugar carafe, and would look "in-place" in a 50′s diner in the States!
Unrefined or cane sugar is called Zucchero di Canna. This is darker, and has larger grains. I like this in my coffee. Smaller bars may not have this available, but if it's there, try it.
The most popular saccharin sweetener in Italy is Dietor. It is very similar to Sweet & Low in the States.
Miele is honey. Many people use this as their sweetener of choice although it's not available everywhere. Again, it will be in packets or a glass carafe, much like zucchero.
Cacao, (unsweetened), is often added to coffees. It can be added to almost any drink to change the taste. Some bars will have a glass carafe on the counter but in most you will have to ask the bartender doe cacao.
Scuma is the foam served on top of a cappucino. You can ask for scuma on any coffee you order.
On a side note, if you have a NON-Coffee drinker in your party – Okay, in Italy shame on them – then perhaps encourage this "misguided" person to try a hot chocolate. In Europe, this is a truly unique experience. We'll save that for another post!
---
Some of the most famous cafes in Rome include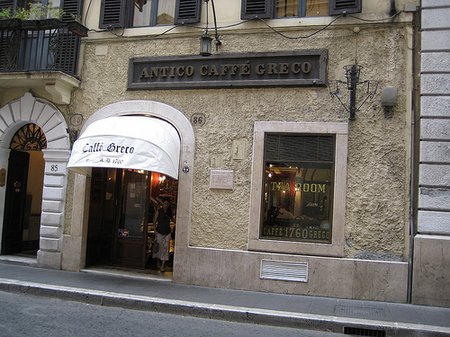 Antico Caffé' Greco – Via dei Condotti, 86; Telephone +39 (06) 679 1700.
This café' is billed as one of the three most ancient cafes in the world. Not sure how they back this up but with a sign on the door that says, since 1760, they probably have a good argument. This café' has a very classical atmosphere with red-velvet chairs and marble tables. Beautiful! This café's guest list has included Byron, Shelley, Keats, Goethe, and Casanova. It is certainly "established" and also quite expensive. With an address on Via Condotti, would you expect anything less?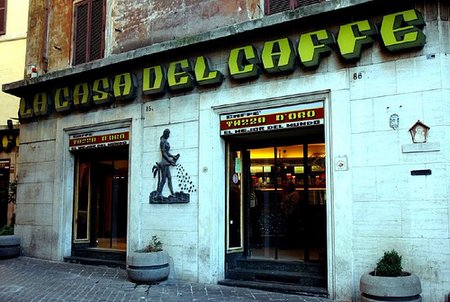 Tazza d'Oro – Via degli Orfani, 84; Telephone +39 (06) 678 9792.
The coffee roaster TAZZA D'ORO was founded (within meters of the Pantheon) in 1946 by Mario Fiocchetto. It's one of my favorite coffee shops. Despite a touristy location you'll find Tazza d'Oro packed with locals. The coffees are great and the "granità di caffé" mentioned above, is a must-try, especially in the summer. They also ship coffee all over the world. You'll see their brand name in coffee shops all over Italy!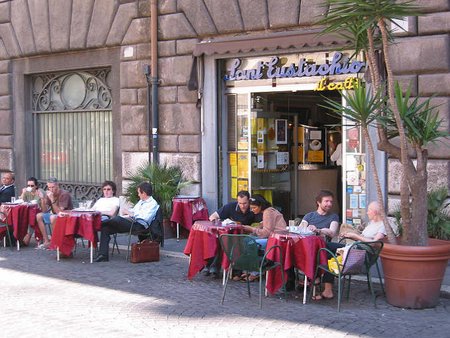 Sant'Eustachio Cafè – Piazza Sant'Eustachio, 82; Telephone +39 (06) 6880 2048
This is an old and well know establishment which has been producing coffee from beans roasted on the premises since the 1930′s. It's on the opposite side of the Pantheon from the Tazza d'Oro. The mosaics on the floor are original. It also has open air seating out front. The Stag's head, the symbol of the Sant'Eustachio Cafè, recalls the legend of the apparition and conversion to Christianity of the pagan Eustachio. The Sant'Eustachio Blend is unique and appreciated by connoisseurs all over the world. You should try the house specialty, the Grancaffè, famous for the creamy taste and special blend. A great spot to relax.
---







There's almost no substitue for sitting in a cafe in Rome drinking an espresso… but what if you could "almost" replicate that Italian coffee back home? Try some of these products or head to our Amazon.com Travel Store, or look in amazon.com for more coffee choices. Non-USA Guests can search for Italian coffee and related items at amazon.co.uk.

And to make the best cup of espresso, use one of these machines – or head to our amazon.com. Non-USA Guests can search for more machines at amazon.co.uk.
Header: Italian Espresso – Photo by Italy Travelista
---
If you are interested in more travel support, contact me – Ron in Rome – at:
Ron Phillips Travel
An Independent Advisor for Brownell Travel – A Virtuoso® Agency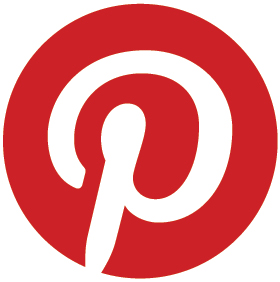 Website: www.ronphillipstravel.com
Email: info@ronphillipstravel.com
Phone: (404) 474-3851
FAX: (678) 528-2672
And if you'd like more updates on travel specials, news, and events LIKE us on Facebook at

---