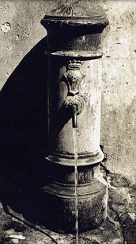 With the height of season – and the heat of Rome – rapidly approaching, it's a good time to talk about…. water! Rome probably has more public water fountains than any other city in the world. Yet visitors walk by them daily without even knowing they exist. Yes, you can get clean, great tasting, ice cold drinking water all over town – FREE!
Yep, rather than pay for that overpriced bottle of water, find one of the many "nasoni" in town. Nasoni, which translates as "big noses," are spread all over the city of Rome. There are more than 2,500 of these nasoni, mostly in a cylindrical style. In addition, there are also more than 90 fountains from which you can drink potable water… the most famous probably being La Barcaccia (the Broken Boat) fountain in Piazza di Spagna. Rome is certainly swimming in drinkable water!
A Nasone on a street corner in Rome
The water running through a nasone comes from the Peschiera reservoir. It runs through over seventy miles of channels all over the city of Rome and comes out cold – even in the summer – due to its underground location. The nasoni run all day long, every day of the year. But the constantly running water does not go to waste. It is recycled for use as non-potable water.
Drinking "fountain" opposite the Colosseo
The current versions of the nasoni were installed in 1872. Most today, like then, are primarily made of cast iron. The water that flows from the nasoni is licensed by the city of Rome. That's why locals call it l'acqua del sindaco, or the mayor's water.
Even the pigeons cool off at Nasoni
Nasoni are incredibly popular. In fact, you can take one home with you! Better to ship it – Most of the cast iron models weigh over 200 pounds. Go to NasoneRoma site for more info and history! Also on this website, go to the "SPECIFICATIONS" tab on the left and see how to "drink" from a nasone like the locals do!
There are a few sites that can provide you great insight into finding – and using nasoni. Probably the best is ACEA (www.aceaspa.it). From their website, "ACEA is a multiutility company, operating and developing networks and services in the energy, water and environmental sectors." That's a mouthful – but they do have a great flyer and map of the nasoni in Rome. Click on these links below for the ACEA information.
Roma Nasoni Map – Page 1
Roma Nasoni Map – Page 2
You might also look at this  GOOGLE MAP. It also has many of the nasoni scattered throughout Rome. For more info on the fountains of Rome and some great pictures, you might check out this pdf,  The Culture of Water in Rome
---
If you are interested in Luxury Travel Advice, Information, and Support…
Please contact me, Ron in Rome, at Ron Phillips Travel

An Independent Advisor for Brownell Travel
A Virtuoso® Agency

Website: www.ronphillipstravel.com
Email: info@ronphillipstravel.com
Phone: (404) 474-3851
FAX: (678) 528-2672
And if you'd like more updates on travel specials, news, and events LIKE us on Facebook at

---